Some of the links below are affiliate links, which means we will earn a commission on the products or services you purchase using the links. There is no additional cost to you and the earnings help keep this website running. Read the Affiliate Disclaimer for more information.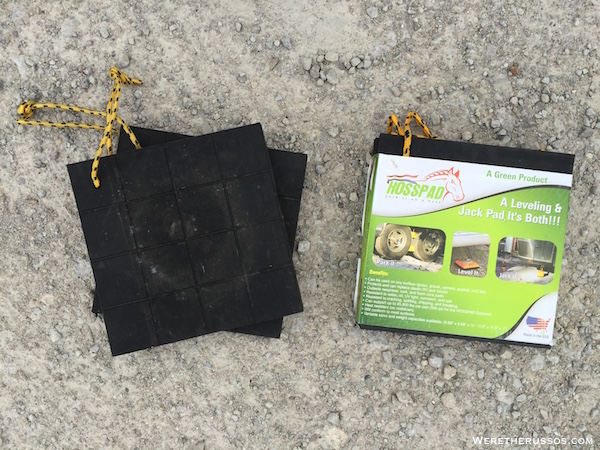 This post was originally published on June 20, 2016. It has been updated to include use of the RV jack pads and leveling pads with a Class B camper van.
We were first introduced to Hosspad at the Tampa RV Show in Florida. The timing was perfect because we were in the market for RV jack pads and leveling pads. Bruce from BSRM Inc provided us a full set to test. These rubber pads have been through quite a bit in the past 16 months. We tested these RV jack pads in many conditions with the Class A motorhome. Now we get to test it some more with the Class B camper van.
RV Jack Pads and Leveling Pads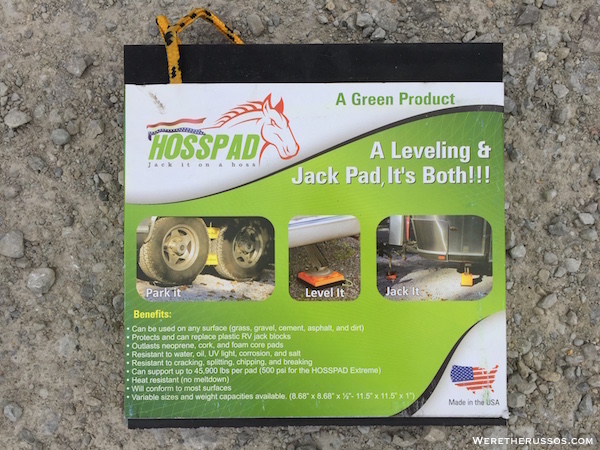 What We Received:
What We Like:
Sturdy. These composite rubber pads have held up well on gravel, dirt, grass and asphalt. They've been through 100 degree weather, severe thunderstorms and mild flooding without any issues. Compared to the plastic leveling blocks, these have not cracked, nor had mud stuck to them. According to the label, the pads can withstand temperatures as low as -20 and as high as 160 degrees Fahrenheit.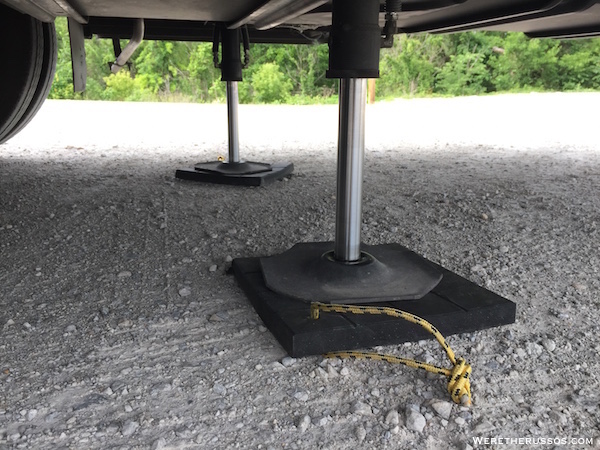 Leave No Trace Behind. When we park on a friend's driveway or on paved ground we put the pads under the jacks to prevent damage and protect the ground from any marks the jack stand may leave behind. Our friends and the business owners who've noticed, appreciate it.
Easy to Pick Up. The handles at the corner of each pad make it easy to reach under the coach and pull the pad out. A set of four pads can be rather heavy, the handles make it easy to carry the pads around.
Multiple Sizes. There are five sizes of Hosspads. You can visit their website to see which size is right for your RV. The motorcoach pads we have is 11.5″ x 11.5″ x 1′, can withstand up to 66,000 lbs per pad. If we didn't already have these pads, we would order the smaller size for the camper van.
Protect Leveling Blocks. When we need to use our plastic leveling blocks, we always put a pad underneath the blocks to protect it from damage. This prevents rocks, gravel and uneven ground from causing the plastic blocks to crack. We haven't had to purchase a new set of blocks since we started using the pads.
Made from Recycled Rubber Tires.
Made in the U.S.A.
What We Don't Like:
So far, we haven't found anything that we don't like about the pads.
Overall:
We are very glad to have these pads and consider them one of our must have items for RVing. Before we found out about the pads, we were on our third set of Lynx plastic level blocks ($40 a set) because they kept getting damaged from gravel. Now, our plastic leveling blocks sit on top of the pads and are protected from gravel or anything else that can damage them. We haven't had to buy another set of leveling blocks since we've started using the pads.
If you found this review helpful and decide to purchase the pads, please consider ordering through our Amazon affiliate link. There is no additional fee for the buyer and in return we receive a small percentage of the sale. Thanks for your support! We really appreciate it.
Disclosure: BSRM, Inc. provided the Hosspad free of charge in exchange for an honest review. This review represents our own opinions of the product.