Some of the links below are affiliate links, which means we will earn a commission on the products or services you purchase using the links. There is no additional cost to you and the earnings help keep this website running. Read the Affiliate Disclaimer for more information.
Meet our first camper van, a Hymer Aktiv 2.0 on the Ram ProMaster chassis. This fully built out conversion van was our full time RV for nearly two years.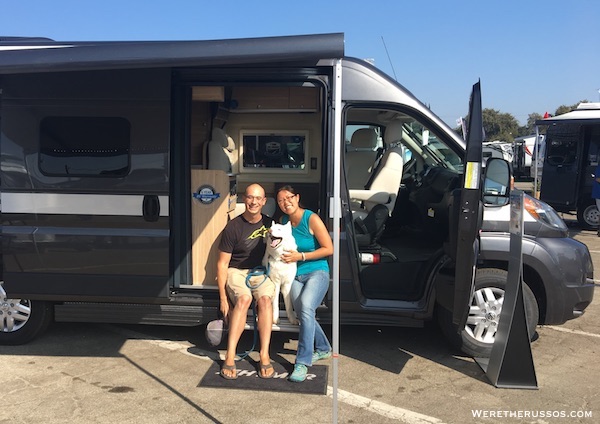 Hymer Aktiv Camper Van
There were several Aktiv models produced on the Ram ProMaster chassis: Aktiv, Aktiv 2.0, Aktiv Loft Edition, Aktiv 2.0 Loft Edition. This post will focus on the Hymer Aktiv 2.0 built on the Ram 3500 ProMaster chassis.
Erwin Hymer Group North America, the manufacturer of the Hymer Aktiv camper van closed its doors in February, 2019. We don't have information beyond what is publicly available from an internet search about what happened.
The Hymer Aktiv 2.0 we used and referenced in this post was on loan to us. We had a partnership with Erwin Hymer Group North America to the extent that they provided the van free of charge for us to use. No one told us what to write or say. All of the opinions are our own, 100%.
How We Ended Up with a Hymer Aktiv
In 2016, we decided it was time to downsize to a smaller camper. At the time we had a Class A gas motorhome towing a Jeep Wrangler. This posts explains in more detail why we decided on a Class B camper for full time RV living.
Earlier that year, we were at one of the largest RV Shows in the U.S. where we were introduced to Hymer, an RV manufacturer in Europe. On display was the Grand Canyon (video tour), which was later renamed to the Aktiv.
Seeing the camper got us wondering if we could live in a smaller RV. After we left the show, we thought the Florida heat had gotten to us. There was no way we could downsize to a camper van for full time travel…or was there?
Fast forward a few months and we're shopping for a Class B RV on Big Time RV. Although we didn't end up with the camper van from the show, the shopping experience reinforced our desires to downsize.
We created a list of Class B RV Manufacturers in the U.S. and Canada to help us keep track. The more we shopped, the more we found ourselves comparing each camper van to the Hymer Aktiv.
Later that year, we attended another RV Show to seriously consider the top contenders. That's when we met the team at Erwin Hymer Group North America. Our enthusiasm for the Aktiv created a partnership opportunity that allowed us to have a loaner van to use for the duration of the partnership which ended in February 2019.
Hymer Aktiv Camper Van Tour
We lived out of the van full time for nearly two years. For a portion of that time, we lived out of the van with our dog, Leo. We logged just over 33,000 miles traveling around the United States and Canada. Visit our Travel Destinations Page for a full list of places we've explored.
Watch the full van tour below.
Note: this is one of the first Hymer Aktiv 2.0 units that was completed. Changes and updates have been made since this unit rolled off the production line.
Hymer Aktiv Camper Van Specs
Below are some of the Hymer Aktiv 2.0 vans specs that people always ask about.
Ram ProMaster Van Chassis
2017 Ram ProMaster 3500 (based on the Fiat Ducato)
3.6L Pentastar V6
Automatic 6-speed transmission
Gas Engine
Front Wheel Drive
Long Body 20'10"
High Roof 99.4″
Standard Width 73″
Six airbags
Rear backup camera
Swivel front seats
Wheelbase 159"
GVWR: 9,350
Towing Capacity 3500 lbs
Tongue weight 350 lbs
MPG: 12 to 16 fully loaded, terrain made a significant impact
Hymer Conversion
Living area: seating for four: two on bench seat, two on swivel front seats
Kitchen: stainless steel sink, two burner propane stove, 3.1 cu ft AC/DC fridge. We deleted the microwave from the unit that was on loan to us.
Bedroom: non-standard size bed 73″x75″ that can be lifted and stowed out of the way
Bathroom: wet bath with cassette toilet system and shower
Tank sizes: 30 gallon fresh water tank, 23 gallon gray water tank, 5.9 gallon propane tank, 4.6 gallon black tank
Hot Water & Heat: Truma Combi gas/electric water heater/furnace combo, 14,300 BTU.
A/C: Roof mounted Dometic A/C unit, 110 volt, 11,000 BTU
Safety: smoke detector, CO detector and propane detector
Solar: 320 watts of solar, standard is 250 watts
Battery: 400 AMP lithium batteries, part of the EcoTrek lithium power modules
Inverter: 2,000 watt, 12/110 volt
Secondary Alternator: 280 AMP, 12 volt
VoltStart: proprietary system that will start the engine to charge the lithium battery when they have been drawn down to a certain level
Entertainment: 24" HD television and BluRay player
Storage: overhead cabinets throughout the van, storage underneath the platform bed
You can get an idea of how we utilized the space in the Moving In video below.
Essential Gear for the Van
This is a list of all the gears and gadgets we found essential for camper van life.
For camping gear and other items we use and love, head over to Our Store.
Van Life in a Hymer Aktiv
When we downsized to a Class B RV, we started a new video series to show what live is like living out of a van. Watch the camper van life series.
One of the more popular videos is this one where we share a typical day living out of the camper van.
Additional Resources
Hymer Aktiv Owners and Wannabees Facebook Group – a great resource for owners or anyone looking to purchase an Aktiv.
Class B RV Manufacturers – complete list of Class B manufacturers
Class C RV Manufacturers – complete list of Small Class C RV Manufacturers
Cost of Full Time RV Living – Monthly breakdowns for Class A RV Living and Class B Van Life
Frequently Asked Questions About Van Life – answers to popular questions about van life
Try It Before You Buy It – All types of Class B RVs are available for rent in the U.S. and Canada. You can even rent a camper in Hawaii.