Some of the links below are affiliate links, which means we will earn a commission on the products or services you purchase using the links. There is no additional cost to you and the earnings help keep this website running. Read the Affiliate Disclaimer for more information.
In all of our research about full time RVing, one recurring topic is choosing a domicile state. While some RVers choose to keep their domicile state, others will pick a new domicile state. We chose Texas as our domicile state and in this post we share what that process was like.
Choosing a Domicile State
There are many considerations when choosing a new domicile. Do as much research as you can in order to make the best decision for your situation.
Some things to consider when choosing a domicile state:
Driver's License Requirement – do you need a special license to drive an RV in that state?
State Income Tax – some states do not have state income tax
Insurance – cost of auto insurance, health insurance benefits
Jury Duty – what's the process for postponing jury duty if you're out of state?
State Laws – marriage, inheritance, divorce, business, etc… vary state to state
With many domicile states to choose from, we narrowed our decision down to three states ideal for full time RVers: Florida, South Dakota, Texas.
We choose Texas because of its central location, no state income tax and it is the state we are most likely to settle down in.
Changing Your Domicile
We changed our domicile by going to Texas, securing a mailing address with Escapees RV Club and taking care of all the paperwork in person.
In one day, we completed all the necessary paperwork to change our domicile to Texas.
For more detailed information on establishing your domicile in Texas, reference the Escapees step-by-step guide on becoming Texans.
How We Became Texans – Step-by-Step
This section details all the steps we took to change our domicile to Texas with Escapees RV Club.
Stay at Rainbow's End RV Park in Livingston, Texas. Since we decided to take care of everything in person, we booked two nights of camping at Rainbow's End, an RV park run by Escapees RV Club.
Sign up for Escapees RV Club Membership.
We paid for our membership when we checked into the campground. At $39.95 a year, membership benefits include discounts at hundreds of RV parks and access to their mailing forward service.
Sign up for Permanent Mailing Address
Thursday morning, we walked over to the Escapees office to check in. By 8:15am, we were sitting down with Romona to sign up for the mail forwarding service.
Note: only Escapee RV Club members can sign up for their mail forward service. Sign Up for an Escapees RV Club Membership.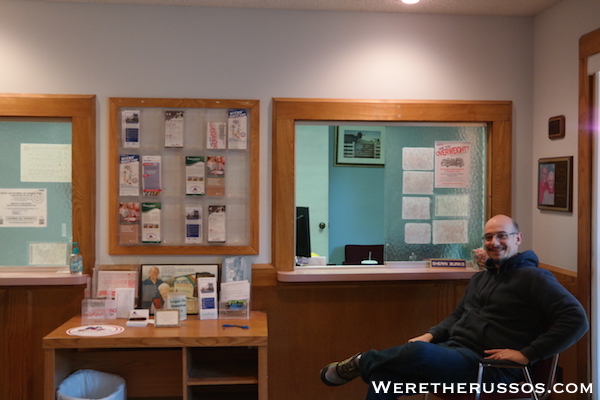 Application for Delivery of Mail Through Agent. This form allows Escapees to receive and sign for mail on our behalf.
Escapees Mail Service Agreement & Options. We decided to choose Category A for $195 for the first year with a $95 annual fee. Full cost breakdown. Category A is the most basic option and allows us to request mail sent to a destination as often as we want. The other two options offer the ability to limit the type of mail that is forwarded such as magazines and junk mail. One requirement with the mail forwarding service is we have to maintain a minimum balance of $25 in our postage account.
New Mailing Address. Once our paperwork was processed, we received our membership cards and mailing address. The entire process took about 30 minutes.
Update Vehicle Insurance
Joe called our insurance to get a new policy with our Texas address and it took just over an hour to get the new policy.
As a bonus the vehicle insurance dropped around 10% with the same coverage.
Be sure to double or triple check the information on the policy including the vehicle identification number. The address on our new policy was incorrect and we had to spend extra time dealing with that. We met a couple that ran into an issue with an incorrect VIN and had to go back and get it fixed before they could proceed.
Vehicle Inspection
We drove both vehicles to Harrison's Body Shop about 7 miles away for the inspection. The inspector drove the Jeep Wrangler and tested all the lights and functions. He also rode in our Class A RV and asked us to use the lights, horn, and windshield wipers to make sure they were in working order. The inspection for both vehicles took about 30 minutes.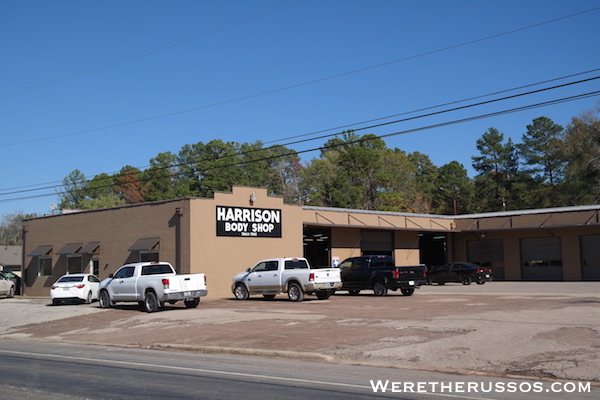 Once the inspection was complete, we received a Texas Department of Public Safety Vehicle Inspection Report for each vehicle good for 90 days to get our vehicles registered.
Vehicle Registration
By noon, we made it to the Polk County Tax office to register all our vehicles. The woman behind the counter asked us questions about each vehicle and highlighted all the fields we needed to fill out.
For each vehicle we had to pay a one time New Resident Tax and fill out two pieces of paperwork:
Application for Texas Title
Application for Registration Purposes Only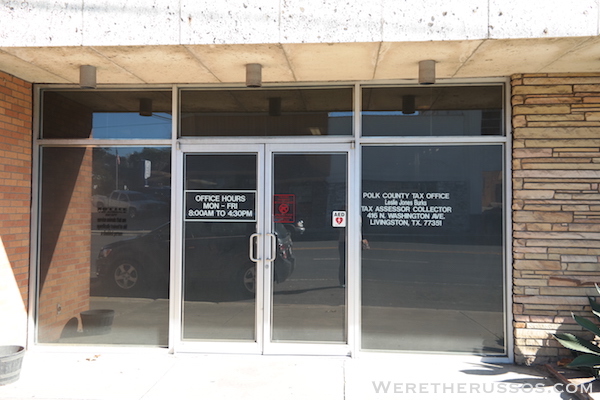 For the motorhome, we had to show proof of empty weight. An emailed photo of the GVWR sticker by the driver's side was sufficient.
By 1pm we had our vehicle registration, Texas plates and window stickers. Total cost for all the vehicles was under $450.
We surrendered the California title on our vehicle for TX at no additional charge. Estimated timeline to receive the new title was about two weeks.
Drivers License Application
We arrived at the Texas Department of Public Safety office at 1:45pm to apply for our Texas drivers license.
In order to apply for a Texas drivers license, we had to provide two proofs of Texas address. We used our vehicle registration and vehicle insurance.
The cost was $40 for each new drivers license application with motorcycle endorsement. The cost for a drivers license without any endorsement is $25.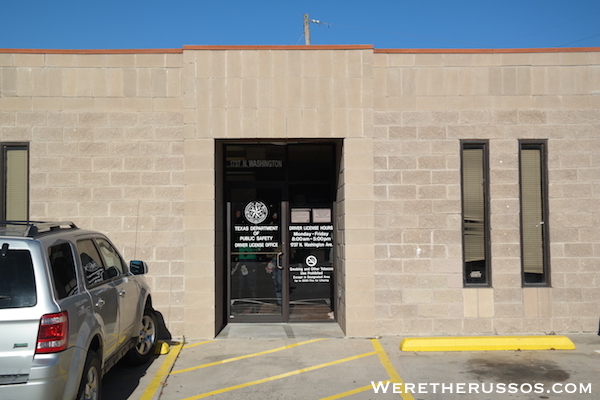 Since we each had a valid CA drivers license, we didn't have to take a test, but we did have to surrender the license.
If you have additional endorsements on your existing state license, it's worthwhile to include them in the application process. Otherwise, you may have to take additional tests and exams to add it later.
For proof of identity and address we used our U.S. passport, social security card, vehicle registration and our new vehicle insurance policy.
After a photo and eye exam, we each received our temporary paper license. The timeline to receive drivers license in the mail is two weeks. Texas drivers licenses is valid for 6 years and renewals can be done online.
We didn't have to take a written or driving test because we surrendered our valid CA drivers license and our motorhome is less than 26,000 pounds.
For motorhomes over 26,000 GVWR, Texas requires you to have a non-commercial class license which involves a comprehensive exam.
We're Texans Y'all!
By 3:30pm we were finished with the entire process and very glad we took care of it all in person. Once we got back to campground, we celebrated by putting Texas license plates on our vehicles.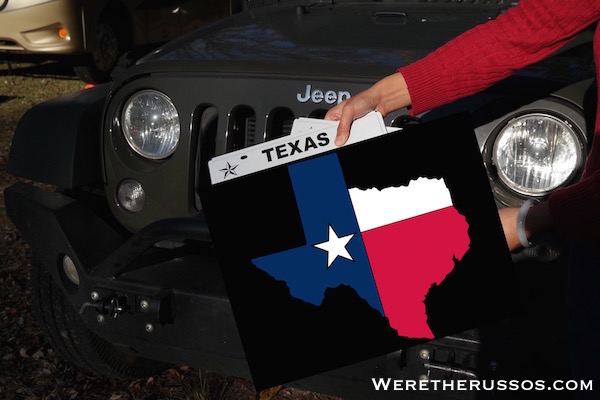 If we had to do it all over again, we would arrive a few hours earlier to Rainbow's End RV Park and take both vehicles for inspection at Harrison's Body Shop the day prior. This way we could have left the RV at Rainbow's End when we spent the next day running around town in the Jeep.
Thanks for reading! If you found this post helpful and decide to sign up for Escapees, please consider using our Escapees RV Club affiliate link.
Editor's Note: This post was originally published on December 15, 2015 and has been updated for comprehensiveness.
What's It Really Like to Live on the Road Full Time? Read Joe's Second Book.
Read Next: Getting Mail and Packages While Traveling