Some of the links below are affiliate links, which means we will earn a commission on the products or services you purchase using the links. There is no additional cost to you and the earnings help keep this website running. Read the Affiliate Disclaimer for more information.
This is a review of the Newmar Bay Star motorhome for full time RVing. We moved into our small Class A gas RV in July 2015. Since then, we have been traveling around the United States towing a Jeep Wrangler Unlimited. When possible, we use it for dry camping with a portable 100 watt solar panel. Other times we have partial or full hookups at a campground. Hope you find this Newmar Bay Star review helpful and good luck with your RV research!
For the entire RV shopping journey, check out Joe's book Take Risks.
Please note: this is NOT the Bay Star Sport.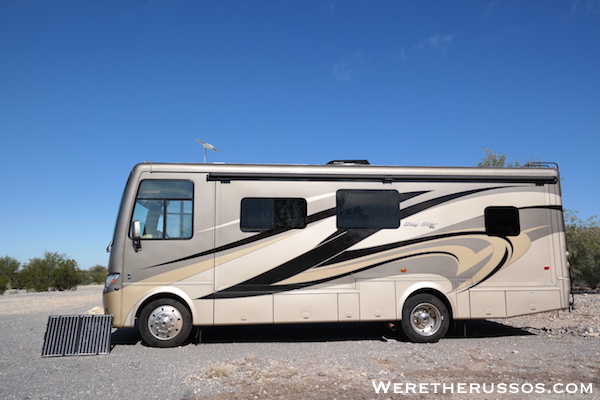 Newmar Bay Star Review
This is a review of the 2015 Newmar Bay Star 2903 gas coach. To read more about our thought process, check Why We Bought a Motorhome Under 30 Feet. To provide a point of reference, below are some of the main features of the Newmar Bay Star. Updates or additions we've made are under the Modifications section below.
Engine: Ford F-53 chassis 22,000 pound capacity with 22.5" tires
Length: 29' 11"
Tank capacity: 80 gallon gas, 75 gallon fresh water, 60 gallon gray, 40 gallon black, 25 gallon propane
Converter: 45 amp
House batteries: 2 12 volt
Electrical service: 30 amp with automatic transfer switch
Leveling jacks: Equalizer Systems hydraulic leveling jacks
Inverter: 600 watt modified sine
Fans: 2 RV roof vent fans
Slides: 1 full wall slide and 1 bedroom slide
AC: 1 central air conditioner with heat pump
Fridge: 1 Norcold 8 cubic feet refrigerator
Stove: 3 burner gas range with 30" over the range microwave and convection oven
Water heater: 6 gallon gas/electric heater with electronic ignition
Bathroom: 1 standing shower, single sink and toilet
Television: 2 Sony LED TVs with Bluray player and a Sony surround sound system upfront
What We Like:
Layout and configuration. The full wall slide on the driver's side is a great feature. It nearly doubles the living space inside and gives the coach an open feel. Both slides can be locked and unlocked easily. We've found locking the slides while driving makes the coach feel more stable. The layout is functional and livable when all the slides are in. It's not ideal for extended nights, but it's comfortable for a night or two in the parking lot of a Cracker Barrel, Walmart, Rest Area or Truck Stop. Outlets are conveniently placement throughout the coach making. This makes it easy to charge devices and plug items in.
Tank capacity. 75 gallon fresh water tank, 60 gallon gray tank and 40 gallon black tank. When dry camping, we can at around 10-12 days with ease. We put this to the test when we camped on BLM land in Tucson, Arizona. After multiple showers, many washed dishes and toilet flushes, we still had over 1/3 of fresh water. The gray and black tanks did get past the 2/3 mark. In our experience, the black tank will fill up before the fresh water level gets low or the gray tank gets full.
Black tank sprayers. There are sprayers that hose down the inside of the tank to keep solids from sticking. We run this whenever we dump the tank.
Propane/AC options. The refrigerator and water heater run off propane when we don't have electric hookups to run off AC. The gas stove and furnace runs off propane only. With the amount of dry camping and cooking we do, we can go two months before getting to the 1/4 mark on the 25 gallon tank.
Heavy duty chassis. Ford F-53 chassis with a 22,000 pound capacity and 22.5" tires. Similar Class A gas coaches we considered were built on 16,000 – 19,000 pound chassis. The smaller chassis would limit the amount of cargo we could carry. Larger tires provide higher clearance for going over bumps and dips. This is good when dispersed camping out in the middle of the National Forest. At our old house, we were able to get in and out of the driveway without laying down planks to avoid scraping the bottom. We had to put down the planks for another coach that camped in the driveway.
Plenty of storage. The storage bays are large. The back bay has a passthrough making it convenient for long items such as tables and chairs. All the bays can be locked with the exception of the bay for the propane tank. Each bay also has a light that can be switched on and off with individually or with a master switch inside the coach. Bay doors under a slide have a mechanism that stops it from opening up beyond 90 degrees and hitting the slide. When the slides are in, the doors can be adjusted to open beyond the 90 degrees with a quick twist on the door hinge.
Leveling system. The Equalizer Systems hydraulic leveling jacks are easy to use once we got the hang of them. In the beginning, we used the auto level function where the system levels the coach. We had several situations where the system was unable to level the coach so we decided to manually level the coach. This has worked out well for us when used in conjunction with the EZ level placed at the center of the coach. The system also has a safety feature. The parking brake has to be engaged before it will operate. It will automatically raise the jacks if we release the parking brake with the jacks still down.
Large front window and rear window. The giant window up front gives us an incredible view of the road ahead and the beautiful scenery. Driving over the Rockies on I-70 was so much more enjoyable with the large window.
Kitchen. When we first moved into the coach, we made a lot of one pot meals. After getting more comfortable with the setup and a better sense of water use, we started making more intricate meals that required all three burners. We didn't think a three burner gas stove would be sufficient to make multiple dishes at the same time, but it works for us. The double sink is great for washing dishes and the option to leave one sink covered gives us more counter space when we need it. The 8 cubic feet fridge is more than enough for two people. The vent fan above the stove and kitchen window helps air circulate easily.
High power vent fans. There are two fantastic high power fans in the coach: one in the kitchen area and one in the bathroom. There is a manual and automatic setting as well as a rain sensor that can be turned on or off. On warm days where the temperature is in the mid 80s, we can turn on both fans and get air moving in the coach to make it comfortable enough to hang out inside.
Shades. The large front window has a power shade that covers the entire window. The driver and passenger windows have a pull down black shade. The coach door has a white privacy shade. The rest of the windows in the coach have dual spring shades. One offers sun protection during the day and the other is a privacy shade for night time. We've had to adjust the spring in several of the shades to make sure it retracts correctly.
LED lights inside and in the closets. There are over 40 lights inside the coach. Most of them are LED, which makes a big difference when dry camping. There are also several light switches that allows us to turn on different sections of lights for optimal use. Instead of turning on all six overhead lights in the bedroom, we can switch on one of reading lights over the bed. There are three closets inside the coach, each one has a LED light with a switch.
Special features. A few special features we like: Sony surround sound system in the front of the coach, furnace and heat pad for those rare nights when the temperature dips below freezing and the remote for the awning. When it's raining outside, we put the awning out, get to the car and retract the awning with the remote before we drive off. Also, if it's raining while we are out, we can put the awning out before we get inside. If it's too windy, we leave the awning retracted and brave the rain.
What We Don't Like:
If we could order a brand new Newmar Bay Star 2903 from the factory, these are the items we would have on our order sheet.
2,000 watt pure sine inverter. This would produce clean electricity and allow us to run items such as space heaters using the outlets connected to the inverter. There are many great articles on the difference between pure sine and modified sine inverters. I highly recommend doing your research to understand the difference and what's installed your coach or the one you're going to buy.
4 coach batteries. Since we love to dry camp, having two more coach batteries would allow us to use electricity a bit more freely without having to run the generator. The portable solar unit we use does a good job of charging the two batteries on a sunny day, but if we had two more batteries, we could add another portable solar unit and be able to turn on a few more lights and charge our devices longer. Batteries for the new Bay Stars are in a bay instead of upfront by the engine which makes it easier to add batteries. Correction: Michael, a new Bay Star owner notified us that not all new Bay Stars come with batteries in the bay. Only the new models with the residential fridge option come with batteries in the bay. New Bay Stars with the standard fridge still come equipped with the batteries up front by the engine. To add two batteries to our coach, we'd have to hire someone to build a rack up front to hold the extra batteries or put them in a bay and wire them to the batteries up front.
Chair and tables. Instead of the dinette, we would get a table with two chairs. Instead of squeezing four adults into the dinette for dinner, we would prefer to have tables and chairs. This would also open up the hallway, which would make a significant difference when the big slide is in. More room to get into the bathroom and also to walk to the bedroom.
Recliners. Instead of the fold out couch we would order two stand alone recliners. We originally planned to host friends and family when they came to visit us on the road. So far, we've had one friend visit and our family stayed at hotels. It also didn't take us long to realize, having three or four adults in our coach for more than one night would not be ideal, especially when we're dry camping. Although our Flexsteel couch is very comfortable, we would much prefer to have individual recliners to sit in comfortably and read our books. Leo may object, but he has at least four other sleeping options to choose from.
Window above the bed. Instead of the headboard and cabinets, we would opt to have a large window above our bed that we can open for air flow. Our bedroom slide has two small windows that open, but it doesn't provide enough air flow unless we have the fans running. Also, when we're parked at a truck stop for the night with all the slides in, there is no air flow unless we crack open the emergency exit window in the bedroom. Since that doesn't have a screen, we can only do it when we're somewhere without bugs flying around, which is very rare. We do have the rear window option in our coach and if there's a way to convert that into a window with a screen that opens, we would consider that over the window above the bed.
1 TV. We would keep the TV in the bedroom, but we would remove the TV upfront and replace it with additional cabinets or leave it as is. We watch TV about once a week and there's no reason for us to have two. Although, on the rare occasions that we do get the Packer game over the air, I might miss the TV up front. All the more reason to find a Packer bar right?
Metal sink in the bathroom. The new Bay Stars come with metal sinks, but our coach came with a plastic sink. The plastic sink is functional and nice, but if I had the option to get a metal sink that's what I would choose. Joe doesn't care either way.
Modifications:
Replaced 12v house batteries for 6v deep cycle golf cart batteries
Replace mattress with our own latex mattress
Added switch to shower to turn water on and off
Installed a Fan-tastic vent cover over the kitchen fan
Overall:
We have been very happy with our Newmar for full time RVing. It's more room than we need and we are very glad we did not go with a bigger RV. We've had warranty work done and you can read about our experience with Newmar Warranty and Customer Service.
Below is a 47 minute video walk-through of our 2015 Newmar Bay Star 2903.
Update: We sold our Newmar Bay Star in January 2017. It was sad to say goodbye to our first home on wheels, but we look forward to downsizing to a smaller RV.
Newmar Bay Star Maintenance – Ford V10 RV – F53 Chassis
Newmar Bay Star Maintenance – Onan Generator
Protect your RV from electrical surge damage. Check out our Top 6 30 Amp & 50 Amp RV Surge Protectors & EMS.
Learn how we ended up with a Newmar Bay Star in Joe's book Take Risks.
Read about what it's like to travel in a Newmar Bay Star in Joe's book Tales From the Open Road.