Some of the links below are affiliate links, which means we will earn a commission on the products or services you purchase using the links. There is no additional cost to you and the earnings help keep this website running. Read the Affiliate Disclaimer for more information.
There are RV friendly businesses around the U.S. and Canada that allow overnight parking on their premises. These businesses range from farms and wineries to stores like Walmart, Cracker Barrel and Cabelas. Since we started traveling full time in 2015, we have had our share of Walmart RV parking experiences around the U.S.
Our most recent overnight parking experience was at a Walmart in Susanville, CA. You can catch a glimpse of what that was like in the video below.
Walmart RV Parking
Whether you're pulling in for a shopping trip or spending the night at Walmart, there is usually room in the parking lot for large and small RVs. When we had the Class A motorhome, we didn't have any issues pulling into a Walmart with the tow car attached.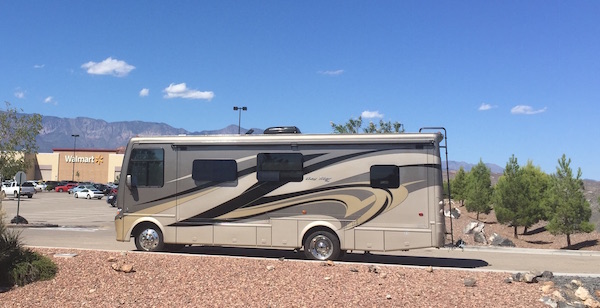 Now that we're in a Class B camper van, we fit in a standard parking spot.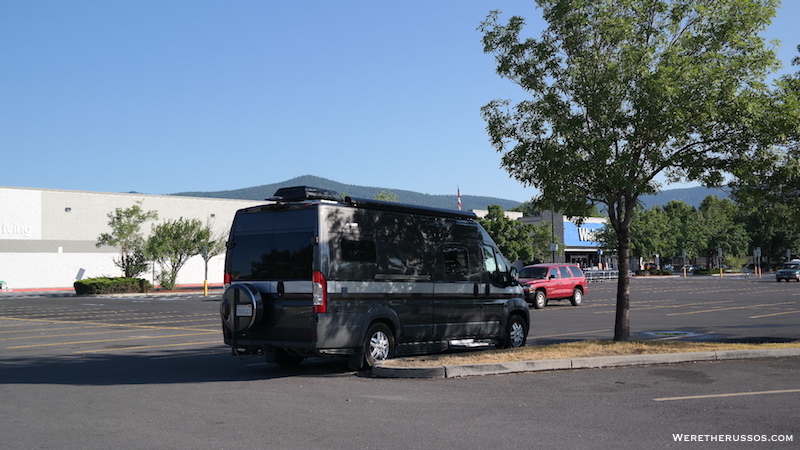 How to Find a Walmart That Allows Overnight Parking
We use the Allstays Camp & RV app to find Walmart stores that allow overnight parking. By applying the Walmart filter, the map will display all the stores nearby. The app has a notes section that usually contains user submitted information on their experience parking at the Walmart. Before we drive to a Walmart, we call to confirm that overnight parking is allowed.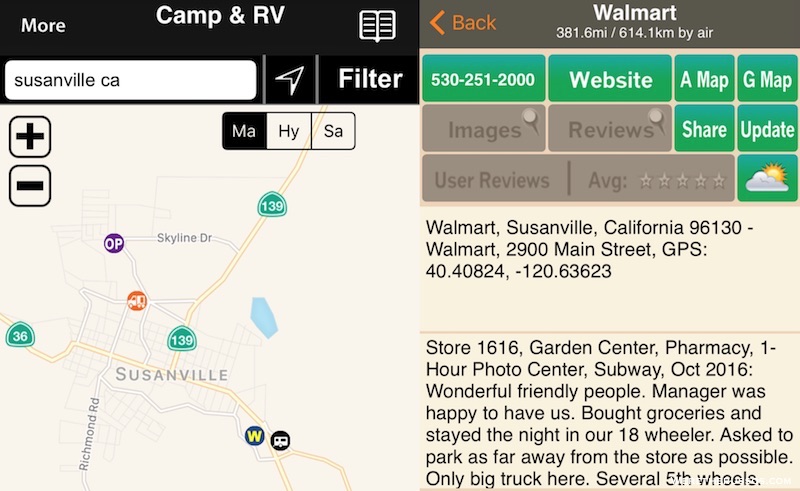 Another option is the Walmart Locator book which has a list of stores in the United States.
Where to Park at Walmart?
It depends on the store. The Walmart in Susanville, CA has dedicated RV parking, but when we called, we were told to park anywhere on the garden center side. Other stores have designated overflow parking for big rigs and RVs. The best thing to do is to call the store and ask.
Not all Walmart Stores Allow Overnight Parking
Certain cities have passed ordinances that prohibit overnight parking in parking lots. This means, even if a Walmart allows overnight parking, the police can kick you out and/or write a citation. A Walmart employee in Georgia informed us the local police will stop by and cite any RVs parked overnight in their lot.
Also, don't make the same mistake that we made at a Walmart in Las Vegas. A store that used to allow overnight parking may not allow it anymore. Another reason to always call ahead to find out about their policy.
Why Walmart Over a Campground?
Save Money. The cost of full time RV living can add up quickly including campground fees. Being able to take advantage of free parking opportunities helps keep costs down.
Shop for Supplies. Walmart has a RV accessories section where you can pick up popular items such as hoses, RV toilet paper and other camping gear. When we're able to plan in advance, we order from Walmart.com and have the items shipped to a store for pickup. Some items are less expensive online than in the store.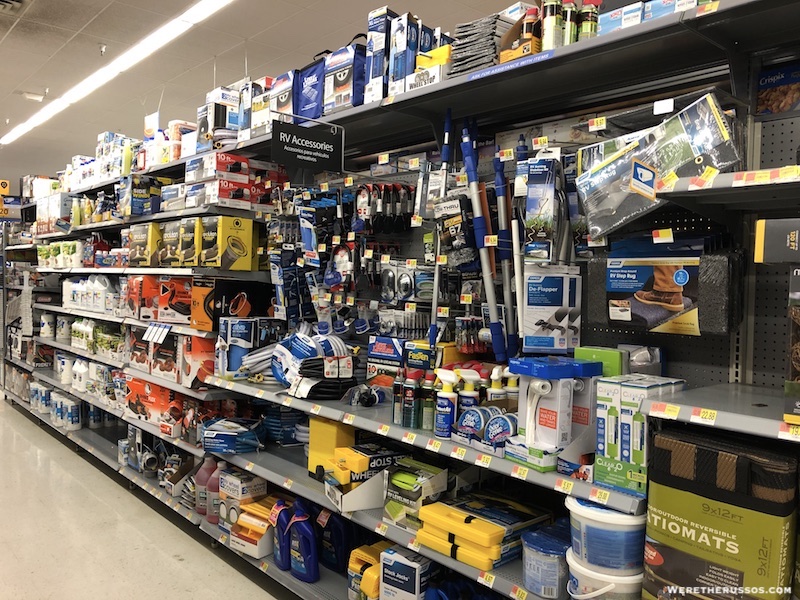 Vehicle Maintenance. Many Walmart stores have a tire center where you can get an oil change at a reasonable price, service tires or have new batteries installed. When we towed the Jeep Wrangler, we had the oil change done at Walmart.
Our First Walmart RV Parking Experience
We stayed at our first Walmart in Hurricane, Utah and had a great experience. The store was open 24 hours, very clean and had the nicest employees. The parking lot was large with RVs of all sizes scattered throughout. We were able to park in a spot towards the back corner that was out of the way. The parking lot was well lit and we felt safe our entire stay, allowing us to leave the RV for most of the day and come back without a worry. With the store's permission we were able to put out the bedroom slide without blocking another spot and run the generator for the AC.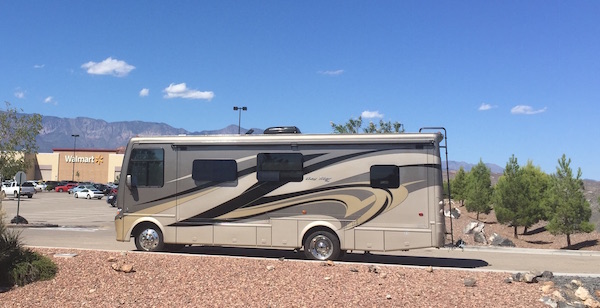 Overnight Parking at Walmart Stores in Canada
Walmart stores in Canada also allow overnight parking. Similar to stores in the U.S., some allow overnight parking and some do not. It's best to call the store or ask in person.
Tip: Walmart stores in Canada have a discount produce section where you can find some great deals. We recently picked up a few pounds of apples for $1 CAD.
Interested in more free overnight RV parking options? List of RV friendly business in Boondocking/Dry Camping post.