Some of the links below are affiliate links, which means we will earn a commission on the products or services you purchase using the links. There is no additional cost to you and the earnings help keep this website running. Read the Affiliate Disclaimer for more information.
You've probably heard the term "boondocking" at some point or another so what is boondocking? Boondocking, often referred to as dispersed camping by federal agencies, is camping without any hookups outside developed campgrounds. Other terms used to describe boondocking include dry camping and off-grid camping. This means that you can boondock out in the middle of the forest or the parking lot of a Cracker Barrel.
For those looking to camp in remote areas, away from the crowd, boondocking is a welcomed alternative and this article will provide what you need to know to boondock, where to find spots, how to properly set up your camper and things to watchout for.
NOTE: This article has been set up as a guide for you and while you're reading it, you'll notice a lot of hyperlinks in orange. These will take you to other articles on this website that dive deeper into that particular subject. In order to learn all there is about boondocking and how to be safe doing it, I suggest you take your time going through this article and exploring any of the links that seem interesting and then coming back to this article to continue going through it.
Boondocking 101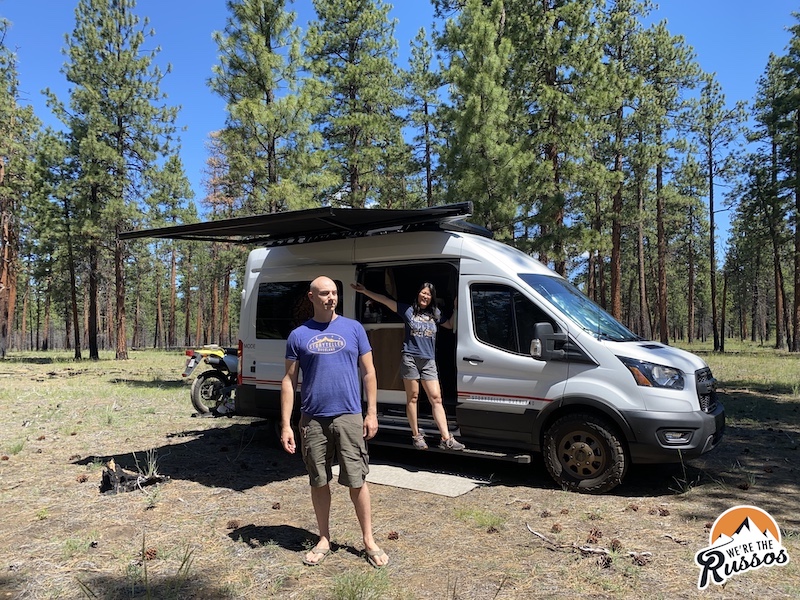 Why Boondock?
If you're looking to save money while traveling in an RV, then boondocking is a great option because it's typically free or low cost. Just need a quick overnight in your camper? Pop into a rest area or RV friendly businesses (listed below) and spend the night.
Want to enjoy nature and escape the hustle and bustle of RV parks? Find a dispersed camping spot on public land (many allow you to stay for up to 14-30 days at a time). Not only is it free but boondocking on public lands can offer incredible views, serene surroundings, and time to reconnect with nature.
Boondocking however is not for everyone. We have friends who prefer developed campgrounds and their amenities such as full hookups, pool, spa, laundry and play area. Some of our friends would love to boondock but they do not owns RVs that are properly set up for boondocking (more on this later).
Where to Boondock?
For us, the ideal place for boondocking is out in the wilderness on public land. Our favorite boondocking experiences have been dispersed camping in the national forests. Two great spots come to mind: boondocking near the Grand Canyon and boondocking near Flagstaff, Arizona.
In our article, How to Find Dispersed Camping, we walk through not only how to find spot but also provide some other considerations, "how-tos" and handy apps to pinpoint exactly where dispersed camping spots are.
Our second favorite boondocking experiences have been on farms, vineyards and museums through Harvest Hosts. The RV membership gives us the opportunity to spend a night or two on the owner's property, learn about their way of life and support their business.
Other Places to Boondock
Outside of camping in the wilderness without hookups, there are other boondocking options. Most of these places are for a quick overnight to catch up on sleep. After a long drive, it's convenient to pull into one of these places and boondock for a night (with the exception of Boondocker's Welcome).
Cabela's is an outdoors retailer that provides designated RV parking for their customers at select stores.
Casinos sometimes provide free overnight RV parking to customers in their lot.
Cracker Barrel is a popular roadside eatery that provides overnight RV parking at select locations.
Rest Areas in some states allow overnight parking.
Truck Stops such as Flying J, Love's, Pilot, T&A will allow overnight parking. Most spots are first come, first serve, but some do offer a limited number of reserved parking spaces.
Urban Camping is legal in certain cities and some even offer designated RV parking to encourage visitors.
Visitors Centers will sometimes allow overnight parking for free or a fee in their parking lot. One example is the visitor's center in Savannah, GA.
Walmart is a big box store that allows overnight RV parking at select stores.
Boondocker's Welcome is made up of RVers that allow fellow RVers to stay on their property. Boondocking arrangements need to be made in advance.
We always recommend calling a business ahead of time to ask if they allow overnight parking. Over the years, we've found that some businesses that, at one time allowed overnight parking, no longer do and this isn't something you want to find out at 2am when security is knocking on your door asking you to leave.
If you're interested in doing more urban camping (street camping, etc), we put together this handy guide to camping in urban areas without a stealth camper.
Boondocking Safety
When we meet RVers new to boondocking, safety is usually their number one concern. As with trying anything new, there is that fear of the unknown. For us, the more we boondocked, the more comfortable it became. If we arrive at a place and fear for our personal safety, we leave and find another place. Our best advice is to follow your instincts. If you don't feel good about a boondocking spot, don't stay there. It's not worth putting your safety in jeopardy. Also, always have a backup spot you can go to if you need to leave and if you can't find something, a hotel is always an option (plus you get unlimited hot water for a shower).
We've been boondocking since 2015 and we've only had one incident where we were afraid for our safety. We had rented a camper on the island of Maui and were parked along the side of a road trying to look up a place to park for the night. A local approached us and offered to let us stay in his village along the beach, which we happily accepted. Shortly after we fell asleep that night, a young man parked next to our van and began yelling at us, telling us we had to leave or he'd get physical. We tried explaining that other man had allowed us to stay but the he told us we had 15 minutes to leave or else and drove off. We packed up immediately (there was no cell service so we couldn't call the police) and as soon as we began to leave, the man drove back and blocked our exit. Luckily for us, he came up to the van and apologized to us, telling us that he'd called his uncle (the guy who offered to let us stay at this spot) who confirmed our story and then he made sure to let the rest of the village know we were okay and not to bother us.
We learned a lot from this encounter and if you're interested in reading our tips for staying safe while traveling in an RV…
Read: Safety While Traveling in an RV
Dry Camping
Dry camping is another term used to describe boondocking, but there is a slight distinction. While boondocking is camping without any hookups outside developed campgrounds, dry camping is simply camping without any hookups. The distinction is dry camping can take place at developed campgrounds.
We've found that many state and federal campgrounds only offer dry camping. While they won't have power, water or sewer at your site – most of these campgrounds will have a dump station and some sort of water available if you need to fill up a jug or your camper. Even if the campground has sites with hookups, we tend to book dry camping spots as they tend to be less expensive. We do the same thing at privately run campgrounds and will sometimes even ask if we can park in a tent spot since our camper can fit in a standard parking spot.
For example, when we stay at the Elk's Lodge, we always ask about dry camping. Dry camping helps keep our cost of RV living down.
Boondocking RV Setup
One of our main requirements for any RV is the ability to boondock comfortably for extended periods. Below is information about our last Class A motorhome and current Class B camper van.
Class A Gas Motorhome (Under 30 feet) with a tow car
Tank capacity: 75 gallon fresh water tank, 60 gallon gray tank, 40 gallon black tank. We did not have water cans or a portable holding tank. Some RVers use these to extend the length of time they can boondock in the same spot without having to break camp.
Electricity: 4,000 watt Onan generator, 220 amp hour 6 volt deep cycle batteries, 100 watt portable solar panel and 600 watt modified sine inverter.
Boondocking experience: starting with a full tank of gas and fresh water, empty gray and black tanks, we could boondock for 10-12 days without moving. The black tank always filled up first which meant we had to pack up and find a dump station. To save black tank space, we always used facilities outside the motorhome when we had the opportunity. If we had good sun, the solar panel could keep the batteries charged if we limited the amount of electricity used. Otherwise we would run the generator to charge the batteries and/or run the A/C and other appliances.
Class B Camper Van (Storyteller Overland MODE LT) without a tow car
Tank capacity: 21 gallon fresh water tank, 24 gallon gray tank, 2.5 gallon black tank in the form of a porta-potty.
Electricity: 8 kwh under the hood secondary alternator, 12 kwh (equivalent of 1,000 amp hours) lithium batteries, 90 watts of solar on the roof and 3,600 watt pure sine inverter with two Overland Solar Bug Out 130w solar panels.
Boondocking: with our external solar panels deployed we can stay out for 5 days or more without needing to drive to charge the batteries. If we're cautious with our water usage, during those 5 days we can each take two quick showers. We also carry a 5 gallon auxiliary water bladder to fill up if needed. The toilet is our biggest limiting factor. We have the Dometic (item #2 in the article about portable toilets). If we can, we go outside and dig a hole to minimize filling the small 2.5 gallon tank or we drive into town to dump it and restock on supplies.
Electricity/Solar
When we had the 100 watt portable solar panel, we could recharge the Class A batteries on a sunny day without having to run the generator. It also allowed us to charge the devices and watch TV, but we had to monitor our energy consumption.
The large battery bank on our Storyteller MODE LT has changed the way we use electricity. Since we got it, we almost never need to plug in or drive it to recharge the battery when camping. We're able to run the Instant Pot, electric kettle and charge all our devices without any worries. We can even run our A/C of the batteries for about 10-12 hours but if the weather is going to be hot, we may opt for a campsite with electrical hook-ups so we can keep the A/C going and not have to worry about charging.
Water
When we don't have access to another water source such as a river or stream, we rely solely on the fresh water tank. If we're boondocking near a river or stream, we can collect that water and filter it through the Travel Berkey and the Grayl. Both will filter out bacteria and other harmful chemicals so we end up with clean drinking water. Read our Berkey Water Filter review.
Internet
Since our full time job is creating content for this website and our YouTube channel, we need access to the internet. If we can't get a cell signal, we have to break camp and drive to a place with cellular service. One gadget we love is our RV cell signal booster. When we were boondocking in Mojave National Preserve we were able to boost Verizon 1x to LTE without having to break camp.
To learn more about staying connected on the road, check out our post on Internet for RV Living.
Boondocking Concerns
Limitations – dispersed camping on public land can have a 14 day to 30 day limit.
Ordinances – some cities have ordinances that make it illegal to park overnight on the street or at businesses. Not all cities enforce the rule, but the cities that do will cite violators. One Walmart informed us the fine was $300 and the sheriff will show up randomly to dish out citations.
Conserve – 2-3 days of dry camping is a breeze, but if we want to go for longer, we have to be conscious of our fresh water level and toilet capacity. When you're hooked up at a campground, you don't have to worry about water consumption or filling the waste tanks.
Inconsiderate neighbors – we've only had two experiences with inconsiderate neighbors in almost eight years, but it can happen to anyone while boondocking. One neighbor drove into our camping spot in the national forest and setup right next to us. Another neighbor drove his truck throughout the BLM boondocking area at night blasting music with spotlights and kicking up dirt.
Poor weather – we've shown up to dispersed camping spots on public land to find that rain had created a wash we couldn't get through or it was too muddy to risk getting stuck.
Have you tried boondocking in your RV? Share your experiences below.