Some of the links below are affiliate links, which means we will earn a commission on the products or services you purchase using the links. There is no additional cost to you and the earnings help keep this website running. Read the Affiliate Disclaimer for more information.
One of the perks of being an Elk is having access to RV parking at Elks Lodges around the United States. The cost and amenities do vary from lodge to lodge, but it's typically more affordable than other options in the area. Plus, we know there's a cold drink and hot meal waiting for us inside the lodge.
Elks Lodge RV Parking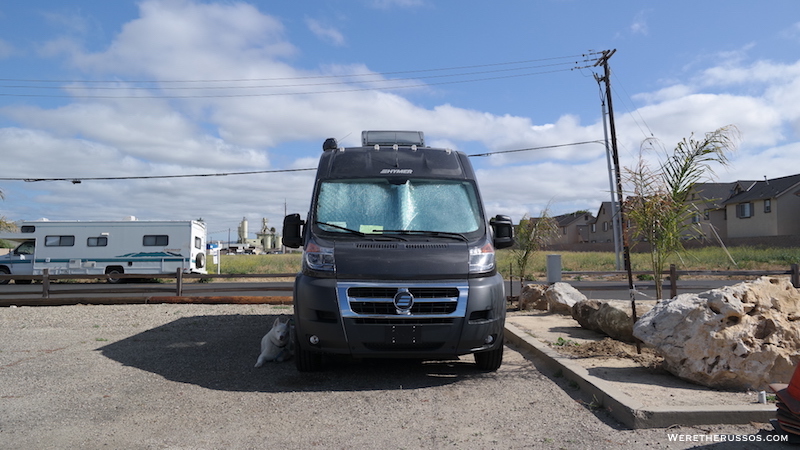 Every Elks Lodge sets their own price and rules for RV parking and some lodges don't offer RV parking at all. Our favorite way for finding Elks Lodges is through the Allstays Camp & RV App. There is a filter option to show all the Elks Lodges in the United States. Some take reservations, but we've found most to be first come first serve. This works out well for us since we never know where our journey will take us.
Elks Lodge 2274 Lompoc, CA
On our recent journey up the Central Coast of California, we stayed at the Elks Lodge in Lompoc, California. This lodge has dedicated RV parking along the back with water and electric hookups. With plenty of power from our solar and battery setup and half a tank of fresh water, we opted for the dry camping option. For a reasonable donation, we had a nice spot to park the camper van and access to the Elks Lodge. Watch the video below to get a glimpse of our stay at the Lompoc Elks Lodge.
Now that we're in a camper van, it's nice to not worry about being able to fit into a spot. We've stayed at a few lodges where it would be difficult for a 45' motorhome to get into a spot. It's best to call head and get all the details before arriving at the lodge.
Elks Lodge RV Parking Amenities
Amenities vary from lodge to lodge and you must be an Elks member to use them. Some offer full hookup sites with picnic tables and dog walks. Other lodges only have dry camping spots in their parking lot next to a busy freeway. There are lodges that offer only 20 or 50 amp service. RV dumps also vary in price and availability.
Which Elks Lodges have RV parking? Search for Elks clubs by state using this link to see which Elks clubs have RV parking, hook-ups, dumps, and other RV related information.
Interested in becoming an Elk and joining a lodge? You can fill the membership inquiry form to get started and be directed to your nearest lodge.
Although we prefer to camp in the national forest or on a farm or vineyard, having the option to stay at an Elks Lodge is a nice perk.
If you enjoyed this post, check out more Free Camping posts.