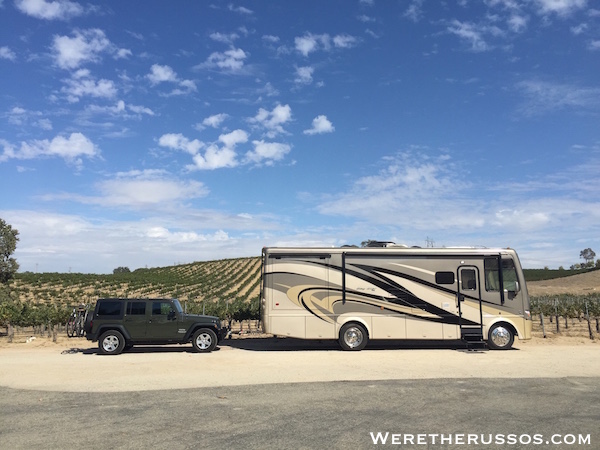 Rio Seco Vineyard and Winery is one of several Harvest Hosts in Paso Robles, CA and we had the pleasure of staying here for three nights in our 29 foot Class A RV. This was the first stop in our adventure across the U.S. and we could not have asked for a better location to call home. After a six hour trip from Los Angeles, we were happy to arrive at Rio Seco and take in the spectacular views. The sun was shining, the cows were mooing and the chickens were clucking as we maneuvered our RV in front of the vegetable garden complete with a view of the sunset.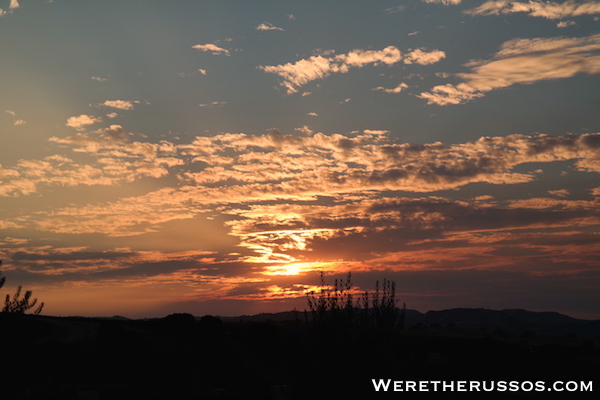 Tom and Carol Hinkle started Rio Seco in the 90s to pursue their dream of making wine. Before the transformation, the 64 acre vineyard was the movie set for 80s action packed car chase thriller The Junkman. Now, the small family run vineyard is known for its wines, spectacular views and hospitality. Their motto is, "Come as a friend, leave as family" and it rings true.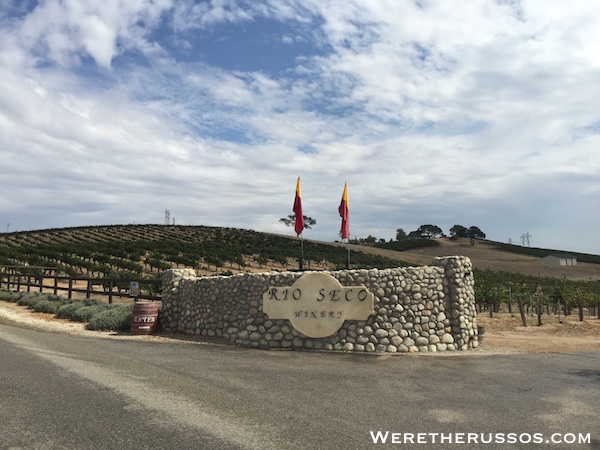 Carol poured us eight of their wines from the Clubhouse white to the 2006 MVP Reserve and ending with the 2009 Orange Muscat dessert wine. We enjoyed all the wines especially the MVP, which happens to be Rio Seco's flagship wine, a Boudreaux style blend of Cabernet, Cab Franc & Merlot. After purchasing two bottles of wine, we walked around the vineyard with our glasses enjoying the peaceful surrounding.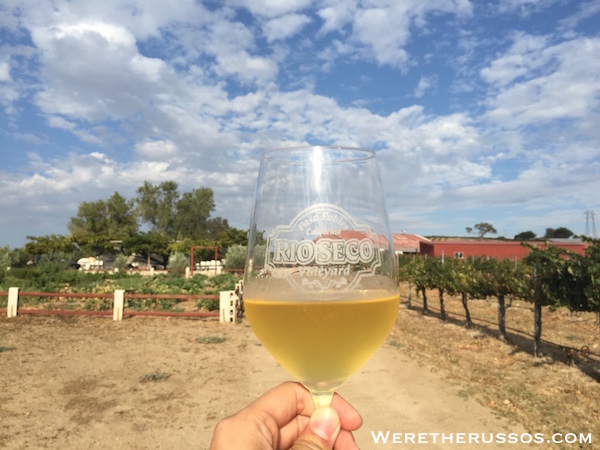 We were also invited to check out their vegetable garden and picked some grape tomatoes and green bell peppers to have with dinner. One thing we miss the most about our house is the vegetable garden and fresh eggs from the chickens. To have the opportunity to harvest from their garden was incredible. Thank you Carol!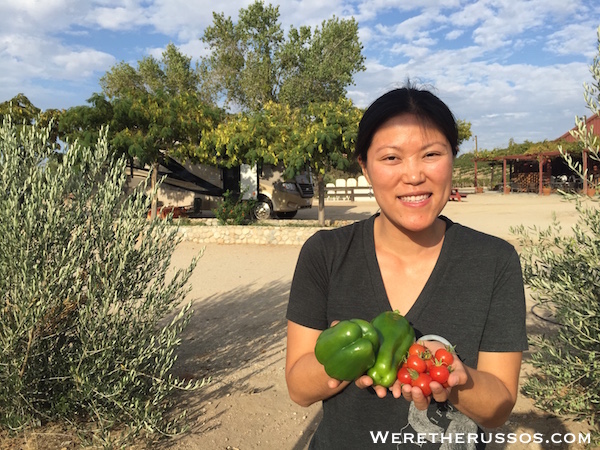 We highly recommend a visit to Rio Seco and the best part is you don't need a RV to experience this charming vineyard. There is a guest house with 4 rooms, each with a separate entrance and bathroom. The best part, you can pay for your stay in wine purchases. Can't beat that, especially since they have many great wines!
To get here, we took 101 to 46 east to Union Road. There are a few low hanging tree branches along Union Road, but we had no problems at 12'8″. All the roads are paved until we reached the driveway and parking area at Rio Seco which is gravel. The RV parking is towards the back, so we had to drive the RV around the buildings to get there. This road may get muddy in the rain and there is a tight turn which might be a problem for larger RVs (40'+). The gravel parking area is well maintained but is off-level so jacks and/or blocks will be needed. The hosts are very accommodating and had no problems with us putting our slides out and running the generator a few hours every day. They're also very dog friendly and have a farm dog and two cats on-site during business hours who like to come around to say hello.
Harvest Hosts is a network of farms, vineyards and breweries across North America offering RVers an unique opportunity to stay on their land and to learn about their way of life. We have been a member since July 2015 and this was our first experience with a host and couldn't be more happy to have joined. This experience alone has more than paid for the membership fee.