Some of the links below are affiliate links, which means we will earn a commission on the products or services you purchase using the links. There is no additional cost to you and the earnings help keep this website running. Read the Affiliate Disclaimer for more information.
We love wine and we love wine tastings. One issue we always have to work out before a tasting is "who's driving home?" To keep things fair, we take turns, but Joe will point out that I often forget it's my turn to drive home and end up having a little more fun. Soon, we won't have to worry about who's driving home because our home will be parked at the winery and we can simply walk home. How is this possible you ask? Harvest Hosts!
What's Harvest Hosts? It's "a network of wineries, farms and agri-tourism sites that invite self-contained RVers to visit and stay overnight for free." Falkner Winery in Temecula CA is a participant and we recently spent an afternoon eating, drinking and learning about full time RV life from Kristin and Jason of the Snowmads who were staying at the winery with their dogs.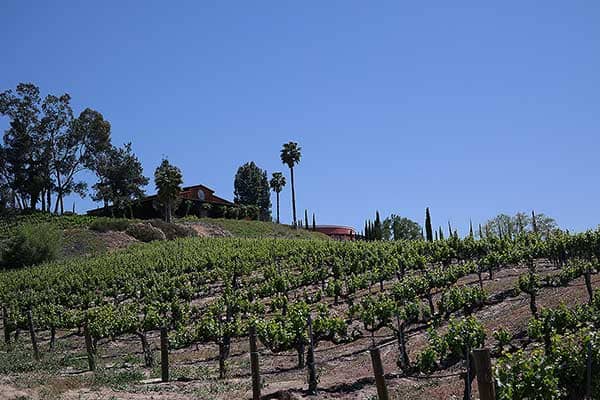 Falkner Winery in Temecula CA
The winery has been around since 2000 and their tasting room and restaurant was built on top of a hill offering nice views of the valley below. The driveway leading up to the top was beautiful this time of year with rows of grape vines covering the hill side. Once we arrived at the top, we immediately spotted our friend's RV parked right off the paved parking area not too far from Pinnacle, the winery's restaurant. While we were visiting, the Executive Chef, Gianni Ciciliot even stopped by to invite us all to have lunch. How could we say no to a personal invite from the chef?
Pinnacle Restaurant was definitely designed for weddings and parties with its wide open floor plan and panoramic view of the valley. Their menu featured a variety of items that included gluten free and vegan options. We all ended up with entrees that went with the bottle of wine we ordered (thanks to the wine suggestion next to each entree). After an enjoyable meal we headed to another winery down the road before returning to Falkner. For $10, Joe and I each received 4 pours of their award winning wines thanks to the 2 for 1 deal on winery'e website.
Sadly, we had to head home at the end of the day, but we can't wait to return and experience the winery in a whole new light. Have you stayed at any cool spots with your RV? Leave a comment below and tell us about your experiences and any recommendations you have.