Some of the links below are affiliate links, which means we will earn a commission on the products or services you purchase using the links. There is no additional cost to you and the earnings help keep this website running. Read the Affiliate Disclaimer for more information.
We are actively shop for a new (or used) RV which will be a big part of the next step in our lives – more to come on that in the next couple weeks. We were looking at the larger (38-45′) diesel RVs until our friends spent a weekend boondocking in our driveway and helped us realize that we want an RV under 35′. A smaller RV would give us more access to state/national parks, roads and smaller RV parks/destinations. One thing we didn't want is to be limited to staying in RV parks with a bigger RV. Now we're going to stay under 35′ and look at gas powered RVs, which would bring the price point down considerably.
One RV that has caught our eye is the Fleetwood Southwind 32v and its larger brother the 34a. The Southwind is the higher end of Fleetwood's gas Class A line. Walking into the Southwind, we really felt at home and comfortable. The salesmen at the dealership let us just hang out in the Southwind for half an hour and just play around – exploring all the nooks and crannies to see if we really liked it.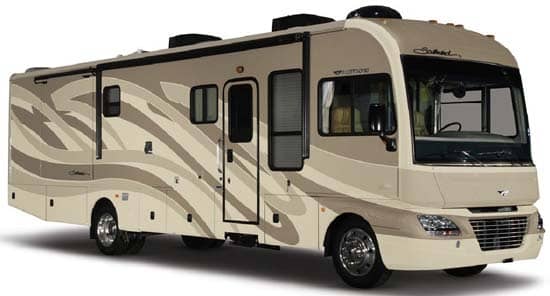 In the process of exploring the 32v, we put together a video of our walk-through to share with everyone. We'd love to know what you think of the Southwind in the comments below and let us know if there are other RV's you think we should consider.