Some of the links below are affiliate links, which means we will earn a commission on the products or services you purchase using the links. There is no additional cost to you and the earnings help keep this website running. Read the Affiliate Disclaimer for more information.
When we decided to live out of a RV full time we looked at nearly every option. From new and used RVs, to a 45ft diesel pushers and back down to a small travel trailer that can be towed with a Jeep. In the end, we decided to look for a small motorhome under 30 feet that we could live in comfortably and RV with our dogs.
After many weekend trips to RV dealers, meeting with private sellers, and attending one of the largest RV shows in the U.S. we ended up getting a Newmar Bay Star 2903. This post highlights our journey of finding a motorhome under 30 feet and why we purchased a Newmar Bay Star. If you're interested in a full review, head over to our Newmar Bay Star review.
Our Motorhome Under 30 Feet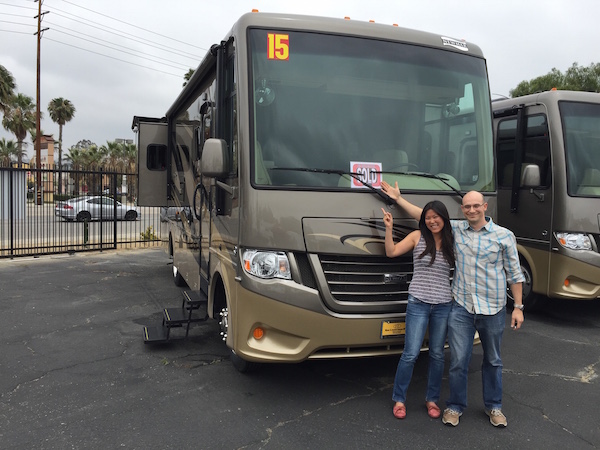 Why We Purchased a Newmar Bay Star 2903
1. Newmar Bay Star 2903 Layout
From the moment we walked into the Newmar, we felt at home. The full wall slide out and rear bedroom window made the space feel larger than a motorhome under 30 feet. We also liked that the kitchen was away from the couch and dinette.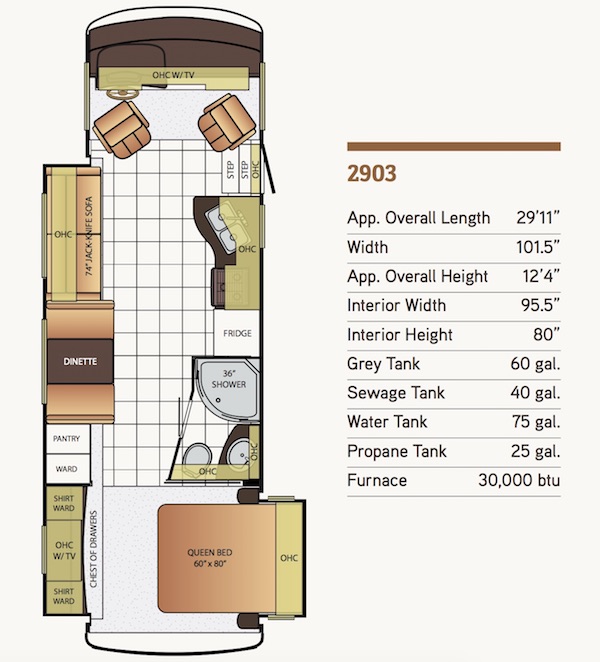 2. Newmar Quality
When we walked into most new RV's, we noticed trim falling down, broken fixtures and various other things that didn't work. Apparently many RV manufactures ship their product with these defects expecting the dealer to fix them. Newmar is different in that they deal with these items BEFORE the coach leaves the factory.
When we stepped inside the Newmar, we immediately noticed that everything was not only buttoned up, but the overall fit and finish of the interior was superior to that of the other RVs we looked at. Going through the Newmar Bay Star, we can attest that other than some very minor items, the motorhome was in tip top shape from the factory.
Newmar's warranty is the standard one year. However, customers can go to any mechanic to have the issue fixed or opt to have a mobile RV tech sent to the customer's location. They also process and ship all stocked ordered parts within 24 hours followed by a phone call to ensure customer satisfaction. Read about our experience with Newmar warranty and customer service.
3. RV Length Under 30 Feet
One of our main criteria was to find a motorhome under 30 feet. At one inch under 30 feet, this coach will give us many more options on where we can camp. Our favorite national park campgrounds is Mather Campground in Grand Canyon, which has a 30 feet limit on RVs.
4. Gross Vehicle Weight (GVW)
The 22,000 pound chassis gives us over 4,000 pounds to work with including all the tanks, ourselves, the dogs and all our supplies. Most other coaches in this size are on 16,000 or 18,000 pound chassis limits carry capacity.
5. Interior and Exterior RV Storage
Because of the heavier duty chassis and the way Newmar has built the rails on the chassis, most of our bays have pass through storage. This can be hard to find in a gas coach at this size. The bays plus the cabinets in the coach gives us a good amount of storage space.
6. RV Holding Tank Capacity
80 gallon gas tank, 75 gallon fresh water, 60 gallon gray and 40 gallon black tank.
7. Gas vs. Diesel RV
This was a tough decision for us. Initially we were completely sold on getting a diesel RV. Then we quickly realized that for a similar sized RV, we'd pay about $50k more. That extra money was going towards something that is built to last a million miles when the house portion of the RV would never live to see that. Although the ride isn't as nice with the gas RV, we were happy to put the money we save on diesel towards the purchase of gas and other RV living costs. This post details our first year of full time RVing costs.
Why We Didn't Buy a Used Newmar
When we first started shopping for an RV, we thought we wanted to buy used since the depreciation is so high on a new RV. After checking out countless used RVs at dealerships and with private sellers, we found two issues that we couldn't compromise on:
1. Used RV Smell
Every RV we looked at had a "used" smell and these ranged from lightly used (less than 5,000 miles) to ones that were almost ten years old. We quickly realized that there was a big difference between buying used houses versus used RVs. Our single story home built in 1953 was completely empty when we moved in. The opposite is true with used RVs. Of course, there is the option to rip everything out and put in new couch, chairs, etc… but that was not a route we wanted to go. Plus, we had to deal with the second issue that we kept running into.
2. Water Damage in Used RVs
Joe spent several weeks researching how to shop for used RVs and one of the main items to pay attention to is water damage. Once we knew what to look for, it seemed liked every RV we looked at had noticeable water damage. One of those RVs is highlighted in Joe's first book along with our entire RV shopping and decision making process.
Tick tock…
We were working with a timeline of when we wanted to get on the road. With more time, I believe we could have found the right used RV. However, with the Newmar Bay Star it felt like everything came together. The 2903 was the model and layout we wanted within our budget, which was the hardest part of the shopping process.
Since, we were running out of time and the right RV for us was within reach, we made the decision to buy a new RV. If you're in the market for an RV, check out our post on Shopping for and Buying an RV.
Other RVs We Seriously Considered
Tiffin Allegro
Fleetwood Southwind 34A
Fleetwood Excursion 35B
Jayco Seneca 36 FK
Interested in Class B RVs? Build Your Dream Class B RV with Sportsmobile Custom Camper Vans.
Thinking of getting a Small Class C RV? Check out our list of the Best Class C RV Manufacturers.