Some of the links below are affiliate links, which means we will earn a commission on the products or services you purchase using the links. There is no additional cost to you and the earnings help keep this website running. Read the Affiliate Disclaimer for more information.
One of our favorites Ventura Beach camping spots is Rincon Parkway on Old Pacific Coast Highway. This campground offers beachfront RV camping in Ventura, California with beautiful views of the coastline. For a fee, RVers can claim a parking space as their "beach home" for up to 7 days to 14 days depending on the time of year. While there are no amenities besides onsite portable toilets, the location and relaxing beach vibes make this a worthwhile campground to check out for RVers.
Ventura Beach Camping – Rincon Parkway
The first time we stayed at Rincon Parkway, we were on an RV shakedown trip in our first motorhome. We were getting ready to travel around the U.S. in an RV with two large dogs and wanted to get some experience under our belt, before we officially hit the road full time.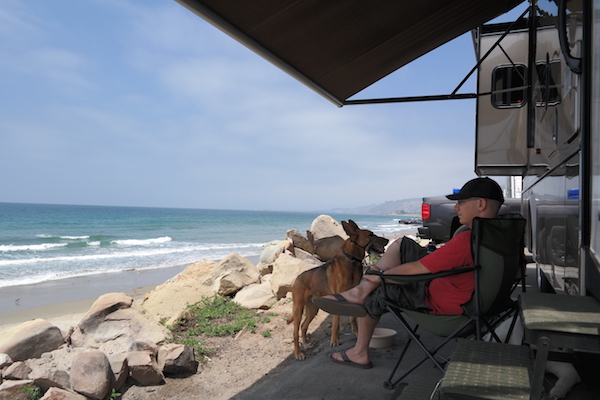 The morning is usually overcast so we stay inside to have breakfast and enjoy the sound of the waves. By mid-day the marine layer will burn off making it a great time to sit outside to enjoy the sunshine. Joe shared a detailed recount of our first time camping at Rincon Parkway in his first book, Take Risks: One Couple's Journey to Quit Their Jobs and Hit the Open Road.
Since that first trip to Rincon Parkway, we have returned twice. The last time was in a ProMaster camper van and you can check out that experience in this video.
Here's a highlight of some of the reasons why we love staying at Rincon Parkway.
incredible views of the Pacific coastline
being steps from the sand
sound of soothing waves crashing in the background
less than 70 miles to Universal Studios and other fun things to do in Los Angeles
Rincon Parkway Campground Details
Rincon Parkway has 127 paved sites. Most sites measure in at 15′ wide x 46′ long. There are some larger sites at the north end of the campground to accommodate larger RVs. Our favorite site at Rincon Parkway is site #60 with easy beach access from the site.
There is a rock wall between the sites and sand making it more difficult to access the beach from certain sites. However, there is public beach access at Hobson Park and Faria Park.
The cost to park overnight at Rincon Parkway has gone up since our first visit. In 2015, the cost was $28 per night, now it's $36 per night during off season and $39 per night during peak season plus a reservation fee. Each RV site can have up to 6 people which brings the cost down per person if you have a large family or several friends along.
Quiet hours are 9:00 pm to 7:00 am which means no generator use during that time. The train tracks do run next to the parking area, which means you'll certainly hear them at some point during your stay.
The only "amenities" at this campground are dumpsters and portable bathrooms. Since there is no RV dump facility, a third party "honey wagon" service will come to your site for pumping and water refill. In 2018 the posted price was $60 to pump out the tanks with 50 gallons of water or $40 without water.
For those who work on the road or require good internet access on the road, there is LTE Verizon coverage at this campground.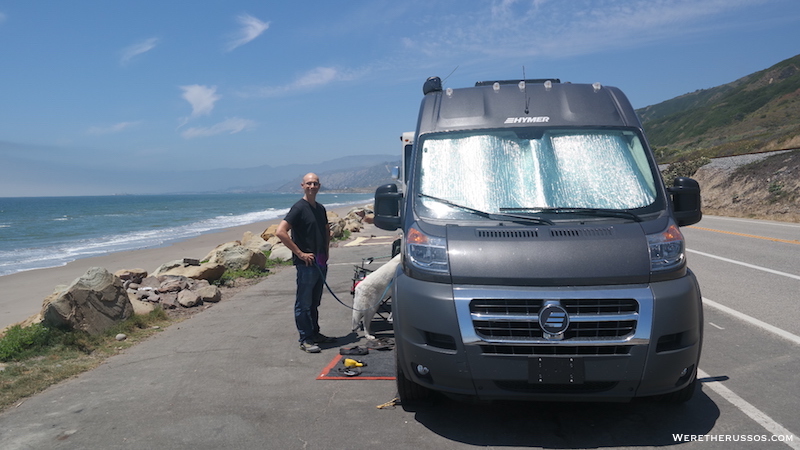 We've enjoyed RV camping at Rincon Parkway throughout the years and look forward to staying there in our pop-up truck camper. It will probably have to be sometime in the off season as sites here are hard to come by during the summer months.
Have you stayed at Rincon Parkway Campground in your RV? What are some of your favorite beach camping spots?