Some of the links below are affiliate links, which means we will earn a commission on the products or services you purchase using the links. There is no additional cost to you and the earnings help keep this website running. Read the Affiliate Disclaimer for more information.
Joe and I lived in the San Fernando Valley area of Los Angeles before we transitioned to full time RV living. With family and friends scattered all over Southern California, we make time to visit Los Angeles as often as possible. Plus, we like to revisit this list of our favorite things to do in Los Angeles, especially in "The Valley." Don't forget to keep reading for our R living tips around Los Angeles including RV dump options and where to stay in your RV.
Things to Do in Los Angeles

1. Find a Doosy at the Nethercutt Museum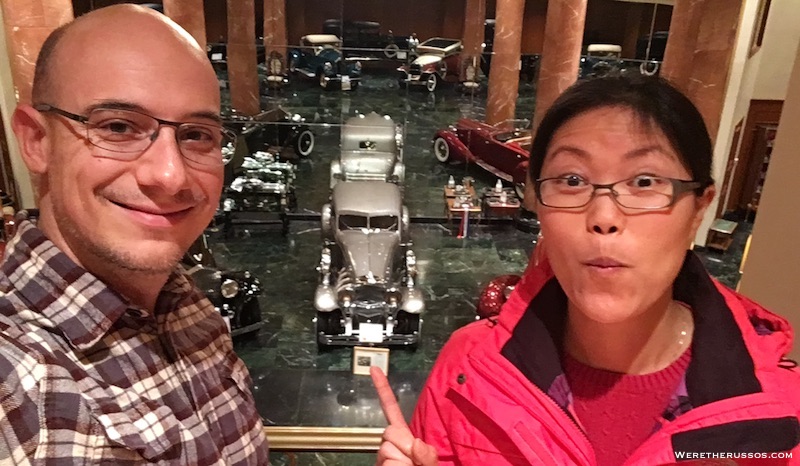 Ever heard of the expression "It's a doosy?" It was born from the famous Duesenberg and you can see one up close at the Nettercut Museum in Sylmar. Sign up online for a guided tour to view all the classic cars and musical instruments in the collection. The best part is admission is free and it's a living history museum, which means everything works.
The main exhibit also has a great collection of vehicles on display that rotate on a regular basis. On our most recently visit, the Tool Time van featured in the television show Home Improvement with Tim Allen was on display. While you're there, be sure to check out the wall of fun car facts where you'll learn most American car horns beep in the key of F.
2. Grab a Tasty Bite at San Carlo Italian Deli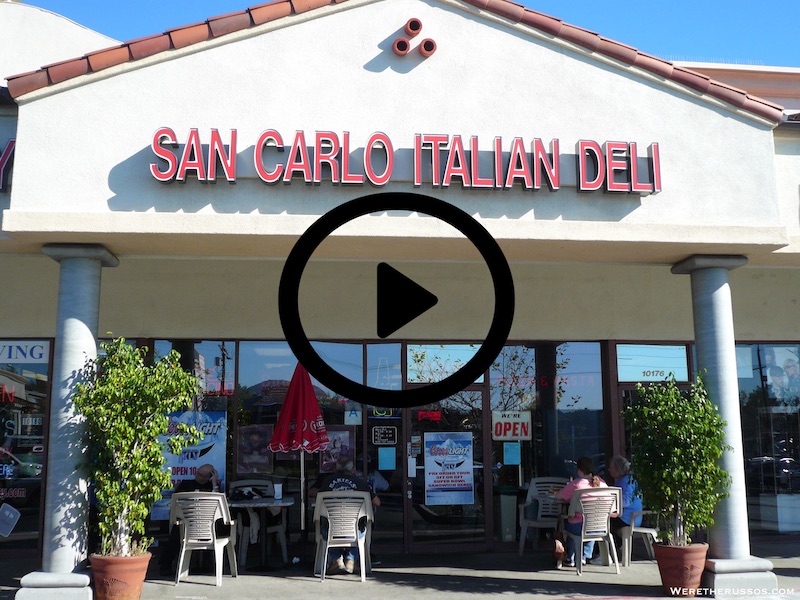 San Carlo Deli in Chatsworth has been serving up delicious Italian deli style food for decades. Their sandwiches are made with rolls baked in house each morning. Joe's favorite sandwich at San Carlo is the large hot roast beef sandwich in red sauce with pastrami on a soft roll. My favorites dishes are the tuna salad and homemade tiramisu, but you can't go wrong with the San Carlo special Italian sandwich.
If you decide to stop by, tell them the Russos sent you and ask for a Panzarotti. You will not regret it! Watch the video where we visit San Carlo Deli.
3. Get In Touch With Your Inner Rock Climber
Royal Robbins, one of the world's most influential rock climbers trained at Stoney Point Park in Chatsworth. If you're wondering who Royal Robbins is, watch Valley Uprising, a riveting documentary about the history of rock climbing in Yosemite National Park.
4. Find Seasonal Fruit at Encino Farmers Market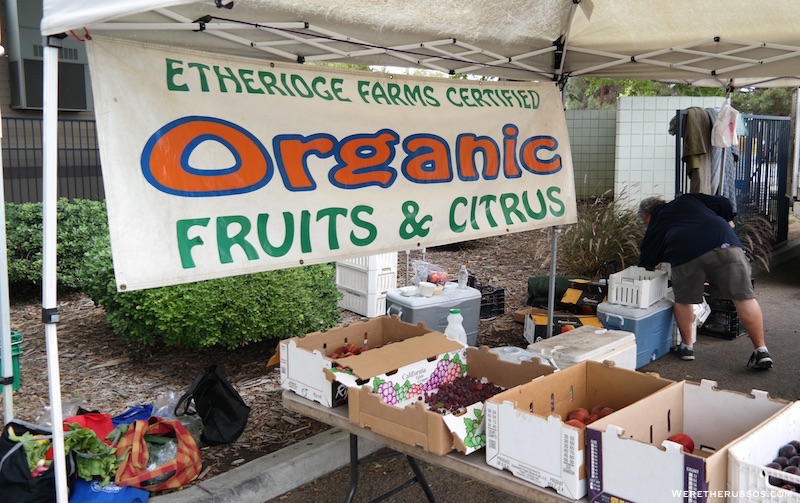 Etheridge farms sells the best seasonal fruit at the Encino Farmers Market every Sunday. Stop by their booth to sample the fruits, nuts and juices. My personal favorite are the jujubes, apples, peaches and persimmons. Be sure to ask for Gene when you visit and tell him the two kids traveling around in an RV sent you.
5. Rolls, Rolls, and More Rolls!
Sushi rolls that is! Hikari Sushi in Chatsworth has a good selection of rolls, sushi and other dishes that will keep you going back for more. Joe and I had our fill of rolls the last time we were in town. You can go for the all you can eat option like we did or order a la carte.
6. Hang Out with Gru, Homer and Harry Potter
Now, if you want to splurge, a trip to Universal Studios Hollywood is a must. Our favorite rides include Despicable Me Minion Mayhem, The Simpsons Ride, and Harry Potter and the Forbidden Journey.
7. Take a Bite of Real Sourdough Bread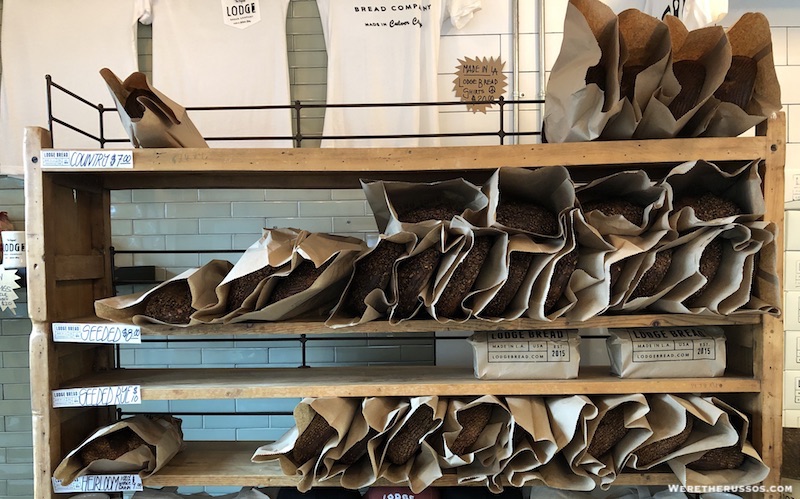 On the hunt for a great loaf of traditional sourdough bread in Los Angeles? Swing by Lodge Bread Company for a loaf of their California Heirloom made from locally sourced stone-milled red wheat. Be sure to check out their breads of the day which vary from cinnamon raisin to olive.
For those of you with a sweet tooth, Lodge also makes some incredible desserts and sweet treats including a brioche cinnamon roll topped with freshly made whipped cream. The flaky buttery croissants and pain au chocolat are also amazing and better than some of the ones we had in Paris, France.
If you're really hungry, Lodge also has a food menu complete with pizzas, vegan caesar salad, and our favorite breakfast sammie with homemade brioche buns. Anytime we're in Los Angeles, we make the trip to this artisanal bakery.
8. Take a Hike Through the Canyons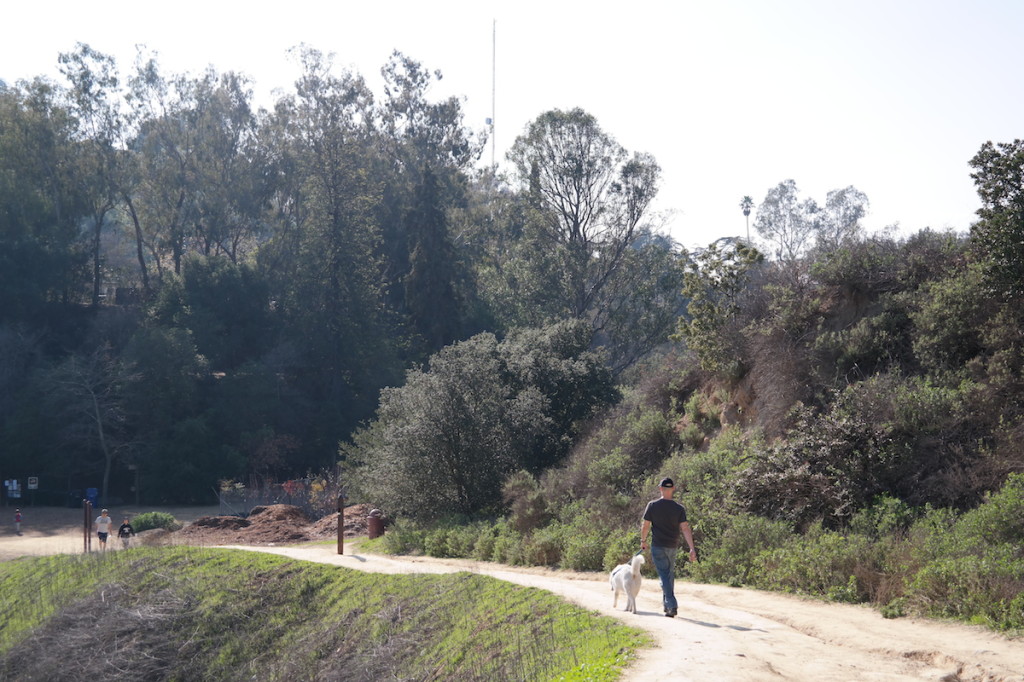 Fryman Canyon is a dog friendly trail ideal for an early morning hike. The trail head greets you with asphalt that quickly turns into a well maintained dirt trail leading into the hills. Bring plenty of water and sun protection and keep and eye out for rattlesnakes.
9. Experience an Omakase Meal
Many people find themselves in Beverly Hills during a visit to Los Angeles. If you're a sushi fan, check out Nozawa Bar where you'll experience a well paced omakase meal with Chef Osamu Fujita. This is for the serious sushi fan who appreciates a thoughtfully designed meal and the warm rice, lightly sauced fish that Chef Nozawa was known for. It's definitely a splurge, but isn't that was "fun funds" are for?
10. Order a Double Dipped Sandwich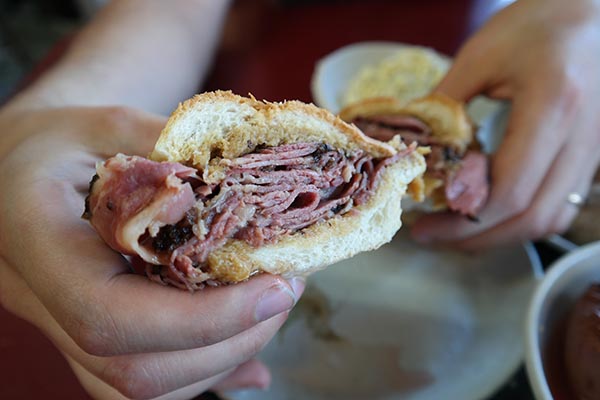 Maybe Beverly Hills isn't your style, then I recommend heading to Downtown Los Angeles for the famous sandwiches at Philippe the Original. All rolls are made fresh daily and available for a dunk or two in the house made beef jus. Make sure to order the double dipped sandwich! Joe's favorite is the NY pastrami double dipped. The fatty and tender pastrami is all natural and shipped in from New York City.
11. Don't Forget About Dim Sum!
There are a ton of places for dim sum in Los Angeles, but if you happen to be in Downtown, one option is Ocean Seafood in Chinatown. Watch the video above to get an idea of what to order at dim sum. You can work off the meal by going for a stroll around Chinatown and discover all the area has to offer including dragons at the Gateway Monument and three temples.
12. Expand Your Natural History Knowledge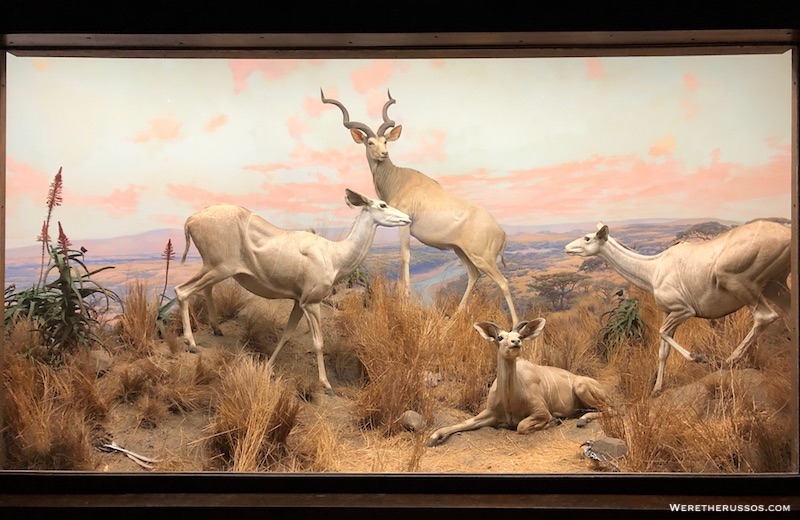 The Natural History Museum of Los Angeles has a wide range of activities that will keep you busy all day. From the nature gardens to the special exhibits, there is something for everyone to enjoy. My favorite are the halls of different mammals as well as the hall of gemstones.
13. End Your Day With Relaxing Yoga Practice
The teachers at Marydale's Param-Yoga Healing Arts Center will guide you through a well needed yoga practice that will leave you relaxed and rejuvenated. My favorite classes are the evening daily practice and slow burn yoga with Marydale. The yoga studio is temporarily closed right now but you can still take classes online.
There are so many ways to spend your time in Los Angeles, I hope this gave you a few ideas for your trip.
RV Living Tips for Los Angeles
For those of you camping in Los Angeles area, here are a few tips:
Where to Camp in Los Angeles
There are a limited number of RV parks and campgrounds in Los Angeles. We have stayed at the Elks Lodge in Canoga Park but usually street camp or driveway surf with our family and friends.
Find nearby Harvest Hosts. Members have access to vineyards, farms, museums, breweries and more. Read our Harvest Hosts Review or use our referral link to receive a discount.
Check Boondockers Welcome to see if there's a host member in the area that can accommodate an overnight RV stay. Read our Boondockers Welcome Review or use our affiliate link to sign up.