Some of the links below are affiliate links, which means we will earn a commission on the products or services you purchase using the links. There is no additional cost to you and the earnings help keep this website running. Read the Affiliate Disclaimer for more information.
Yosemite National Park is so breathtakingly beautiful, it almost looks surreal in person. From the scenic overlook at Tunnel View to the varying sights of Half Dome and the majestic falls throughout the park, it's easy to fall head over heels for Yosemite. Camping in Yosemite Valley is one of the ways to explore the park because it's considered the heart of Yosemite National Park. If you can get a reservation at Upper Pines Campground or one of the other campgrounds, take it!
Upper Pines Campground in Yosemite Valley
There are four campgrounds in Yosemite Valley: Upper Pines, Lower Pines, North Pines and Camp 4 (no trailers/RVs, no pets). Upper Pines campground is open all year and accepts online reservations. It is also the largest campground with 238 individual sites. Some sites can accommodate RVs up to 35 feet and trailers up to 25 feet.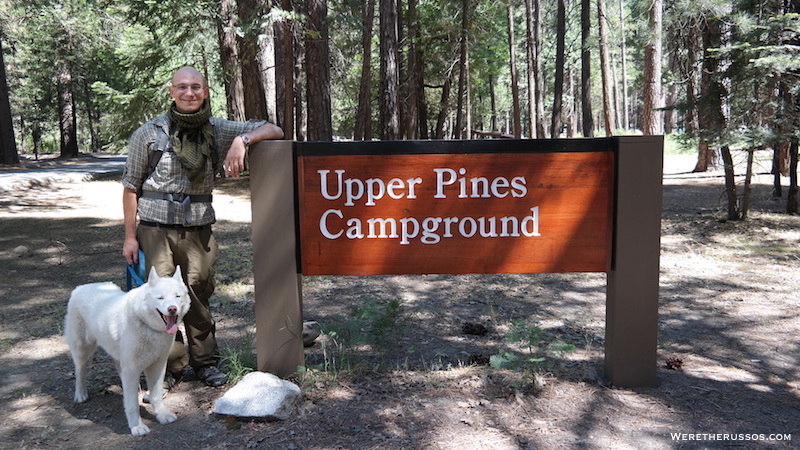 While camping at Kings Canyon, I was able to book a last minute reservation at Upper Pines on reservation.gov. From our experience, reservations seem to open up in the afternoons and on days with rain in the forecast. We were happy to visit Yosemite rain or shine so it didn't make a difference to us.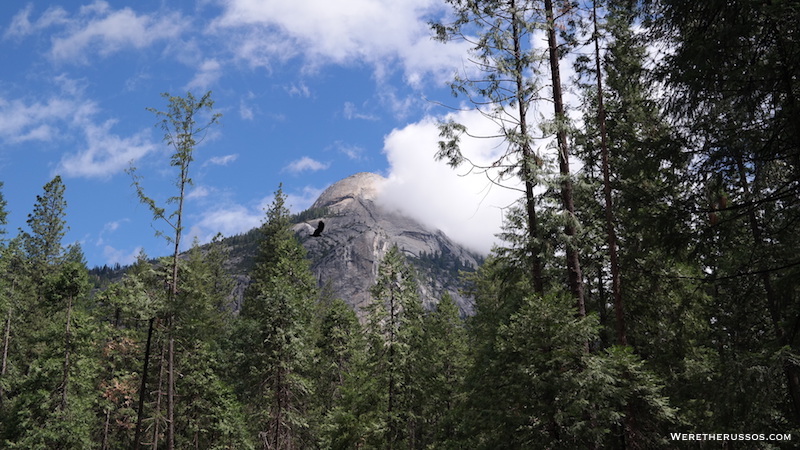 Being able to camp in Yosemite Valley made our experience all the more enjoyable. Each time we stepped out of the camper van, we were greeted by the park's iconic granite dome. The Ahwahnee Yosemite Hotel, Yosemite Valley Visitor Center and Half Dome Village are all walking distance from Upper Pines. We even walked to Mirror Lake Trail and the John Muir Vernal Falls Trail Head.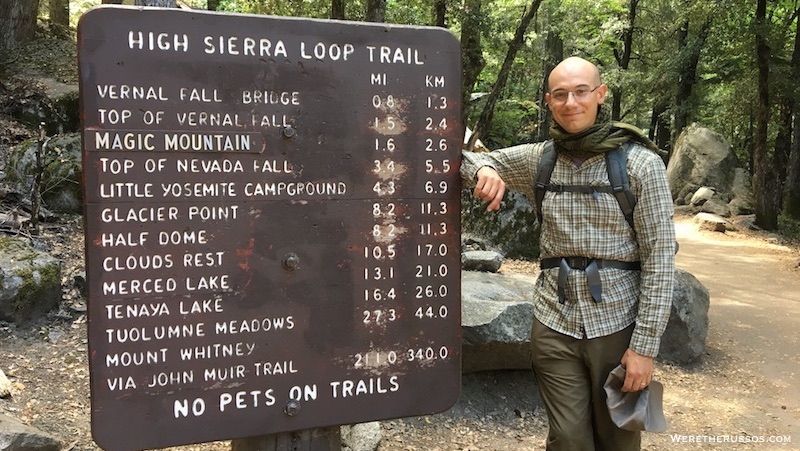 Best Campsites at Upper Pines Campground
Our campsite (#222) was in the last loop that backed into the woods. We think it was one of the best campsites at Upper Pines along with sites 202, 204, 206, 207, 208, 210, 211, 216, 220, 226, 228, 230, 238, 239 and 240. The max vehicle length does vary from site to site, so double check when you make the reservation. One benefit of being under 21 feet is the camper van can easy fit in any of these sites.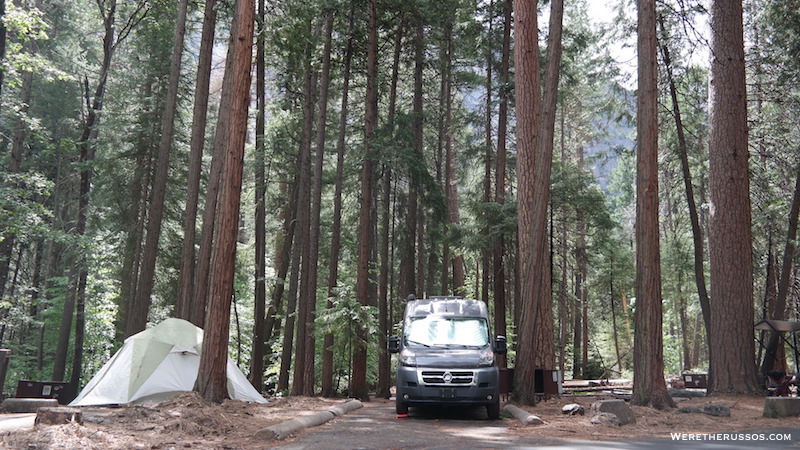 Campground Amenities
With the high amount of snow melt, a few sites were partially flooded and the mosquitos were out in full force. Luckily, we were able to keep them at bay with the mosquito repellent lantern.
Similar to Crystal Creek Campground, each site has a fire ring, picnic table and bear proof box. Firewood gathering is not permitted in Yosemite Valley, but wood is available for sale. Someone in a truck drove by every afternoon with boxes of firewood and bags of ice for sale.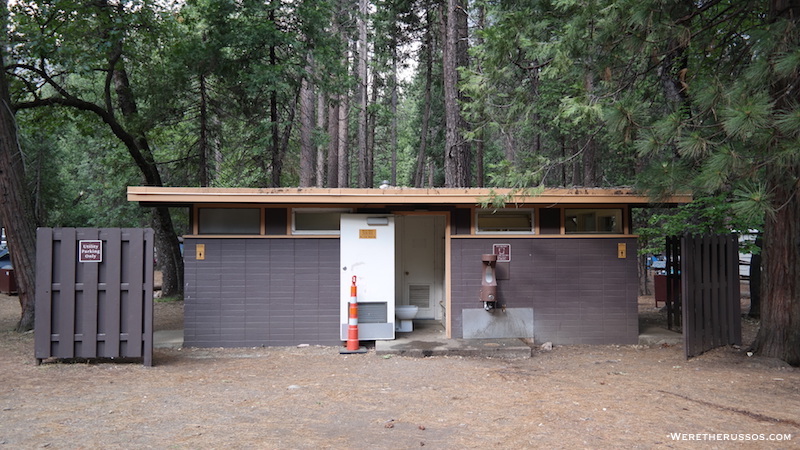 The bathrooms at Upper Pines are clean with flushing toilets and running water. Even with the campground being full, the staff did a great job of keeping the bathrooms clean and well stocked with toilet paper.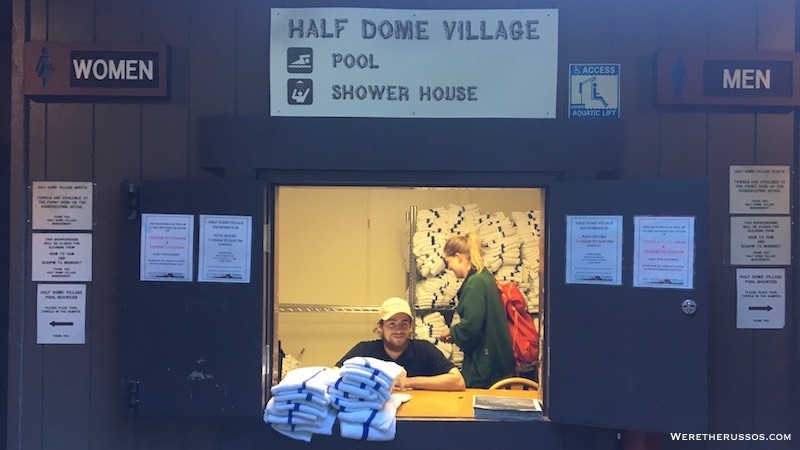 The closest shower facility is at Half Dome Village. For $5 (cash only), you get a towel, access to individual shower stalls and unlimited water. The showers are open 24/7 except when closed for cleaning. According to the shower facility staff, 7-9pm is the busiest time.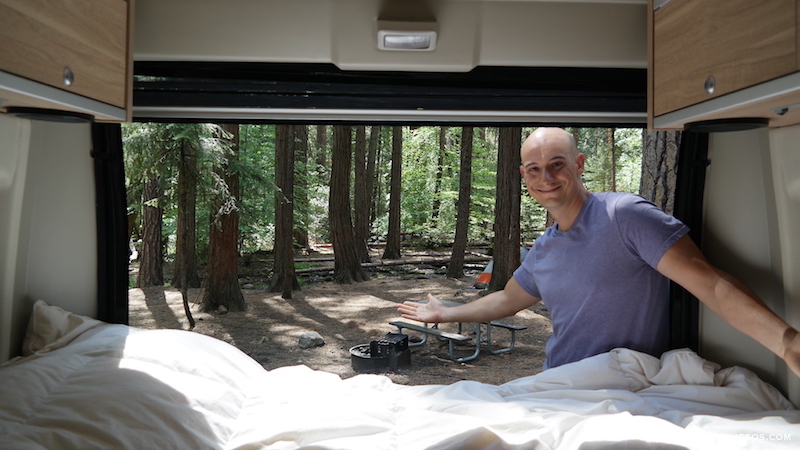 We spent three unforgettable nights camping at Yosemite National Park. With so much to see and do, it would be easy to spend a month camping in different parts of Yosemite. Staying at Upper Pines Campground now ranks as one of our favorite camping experiences.
Notes:
$26/night no hookups, dump station at campground
Reservations highly recommended
35 feet maximum RV length
25 feet maximum trailer length
Bathroom with flushing toilets and running water
Bear box at each site
Dog friendly
LTE Verizon cell service – data can be extremely slow to unusable during prime hours at the campground when all the campers are back, best data from 5-7am
Hiking Yosemite – Vernal Falls via Mist Trail and John Muir Trail