Some of the links below are affiliate links, which means we will earn a commission on the products or services you purchase using the links. There is no additional cost to you and the earnings help keep this website running. Read the Affiliate Disclaimer for more information.
Kings Canyon National Park in southern Sierra Nevada is home to some of the world's largest trees. It's difficult to comprehend the size of The General Grant Tree until you see the giant sequoia in person. There is so much to see and explore at Kings Canyon National Park, we decided to focus on the Grant Grove side of the park and save The General Sherman Tree for another visit. With several Kings Canyon camping options to choose from, we took a chance on the first-come, first-served campgrounds.
Kings Canyon Camping
There are three Kings Canyon camping options near Grant Grove: Azalea, Crystal Springs and Sunset. Azalea and Crystal Springs campgrounds were open during our visit. However, Crystal Springs campground was scheduled to close for the summer because Sunset campground was scheduled to open in a few days. According to one of the park rangers, they don't have the funds to keep both campgrounds open this summer.
Azalea campground has 110 first-come, first-served campsites with several bathroom facilities with flushing toilets and running water. Some of the sites can accommodate larger RVs, we saw a Class A motorhome around 40 feet. Many of the open sites we found were fairly off level and better suited for tent campers.
Crystal Springs campground has 36 first-come, first-served campsites and one bathroom facility with flushing toilets and running water. Most of the sites are smaller, with the majority of campers in vans, truck bed campers and tents.
Since we arrived on a Monday afternoon, we had no issues finding campsites in both campgrounds. We ended up camping in Crystal Springs because it was a smaller campground, more secluded and peaceful compared to Azalea. If you are tent camping or have a small camper, we would recommend Crystal Springs over Azalea. Each site has a fire ring, picnic table and bear proof box. We enjoyed sitting around the campfire with our mosquito repellent lantern every night.
Keep in mind there are no dump facilities at these campgrounds. This really made us appreciate the cassette toilet even more because all we need is a flushing toilet to dump the cassette.
If you happen to run low on supplies, Grant Village Market has a decent selection of items for sale. Bananas were $.39 each, while blueberries were $6.29/box. We stocked up at Costco before heading into the mountains and being in a camper van means we didn't have to use the bear box.
Notes:
$18/night no hookups
No reservations
Bathroom with flushing toilets and running water
Bear box at each site
Dog friendly
LTE Verizon cell service
The General Grant Tree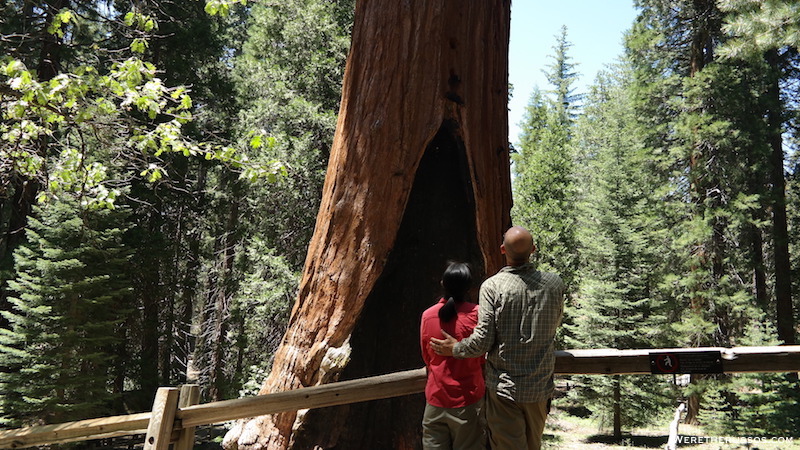 The trail to Grant Village and Grant Grove is a short walk from Azalea and Crystal Springs campgrounds. To catch the trail to The General Grant Tree, walk over to the tent only camping area at Azalea campground. Between campsites 10 and 11 is a trail marker. Follow the easy trail and it will lead you to The General Grant Tree.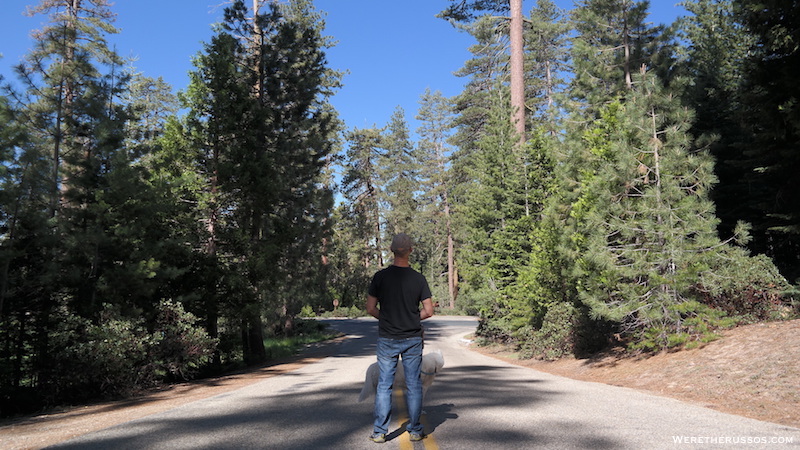 Unfortunately, dogs are not permitted on the trails inside Kings Canyon National Park. The good news is, there are national forest trails not far from the campground that do allow dogs including Chicago Stump Trail. Since dogs are allowed on paved roads and in campgrounds, we found plenty of paths to take Leo on.
Kings Canyon National Park is an incredible place to visit and we can't wait to go back and explore more of it.
If you enjoyed this post, check out Mather Campground at Grand Canyon National Park.