Some of the links below are affiliate links, which means we will earn a commission on the products or services you purchase using the links. There is no additional cost to you and the earnings help keep this website running. Read the Affiliate Disclaimer for more information.
Mather Campground is one of three South Rim Grand Canyon RV camping options located within the national park boundaries and offers prime camping year round. The other two RV camping options are Desert View Campground and Trailer Village RV Park. In this post I'll share our camping experiences at Mather Campground along with tips and information to help plan your trip to Grand Canyon National Park.
Mather Campground Grand Canyon National Park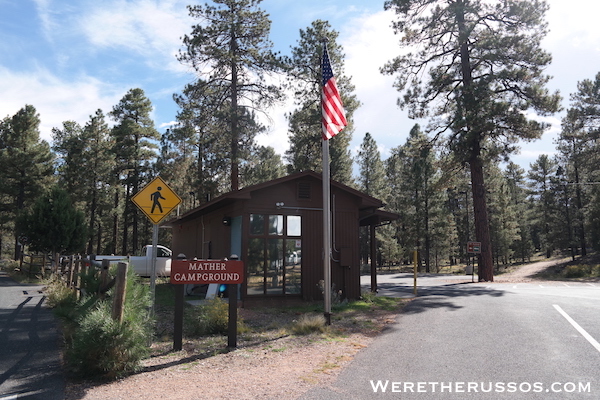 Mather Campground has 327 sites and 55 of those sites are designated as tent only. During peak season (March 1st through November 30th), most sites can be booked through the Mather Campground reservation page and according to the NPS website, there are 10 first-come, first-served sites available during this time.
To book a site, visit the Recreation.gov page for Mather Campground Reservations.
During the winter season (December 1st through February 28th), Mather Campground reservations are not available. Campers can use the self-pay machine at the campground entrance to secure a first-come, first-served site.
Family sites are $18 per night for a RV nonelectric, standard nonelectric or tent only site. Keep in mind this rate does not include discounts such as the 50 percent discount offered to Senior Pass holders.
Group sites are $50 per night and can accommodate up to 50 people and 3 vehicles. Keep in mind that bus and RV parking is not allowed at group sites.
The max RV length allowed at Mather Campground is 30 feet. According to the NPS website "trailers which are 30-feet long should be booked into one of the following sites: 120, 121, 128, 172, and 185." Based on our experience at the time, our RV was just under 30′ and we had some issues navigating it through the campground. While some sites are big enough to accomodate an RV longer than 30′ the limiting factor is the tight loop roads. We ended up scratching our motorhome on a branch driving around one loop so be cautious.
There are bathrooms located throughout Mather Campground with flushing toilets that are open year round.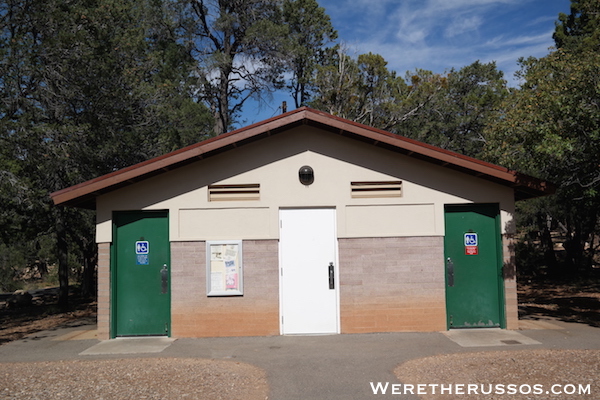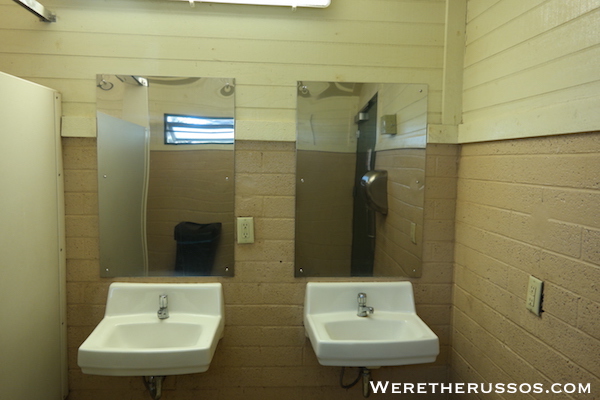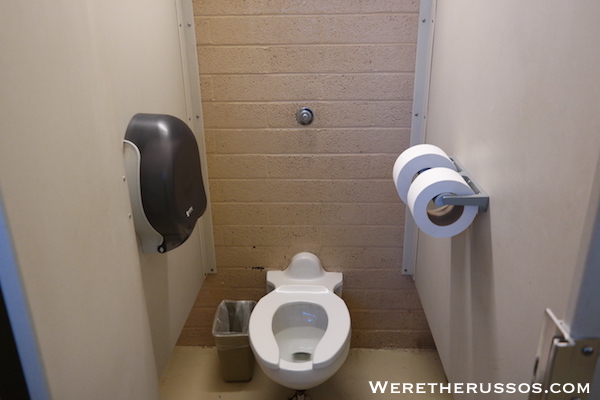 Mather Campground showers are located near the entrance to the campground inside the "Camper Services" building. For the latest shower rates, check with the park services. The last time we were here, it was $2 for an 8 minute shower with hot water.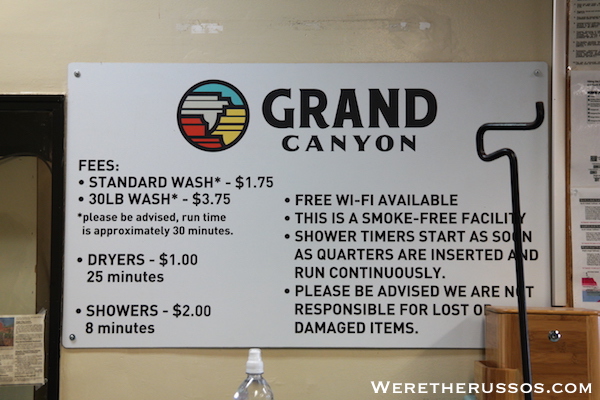 Below is the Mather Campground map from the NPS website to get an idea of the campground layout and where the bathrooms are located, trails, shuttle bus stops, and accessible sites.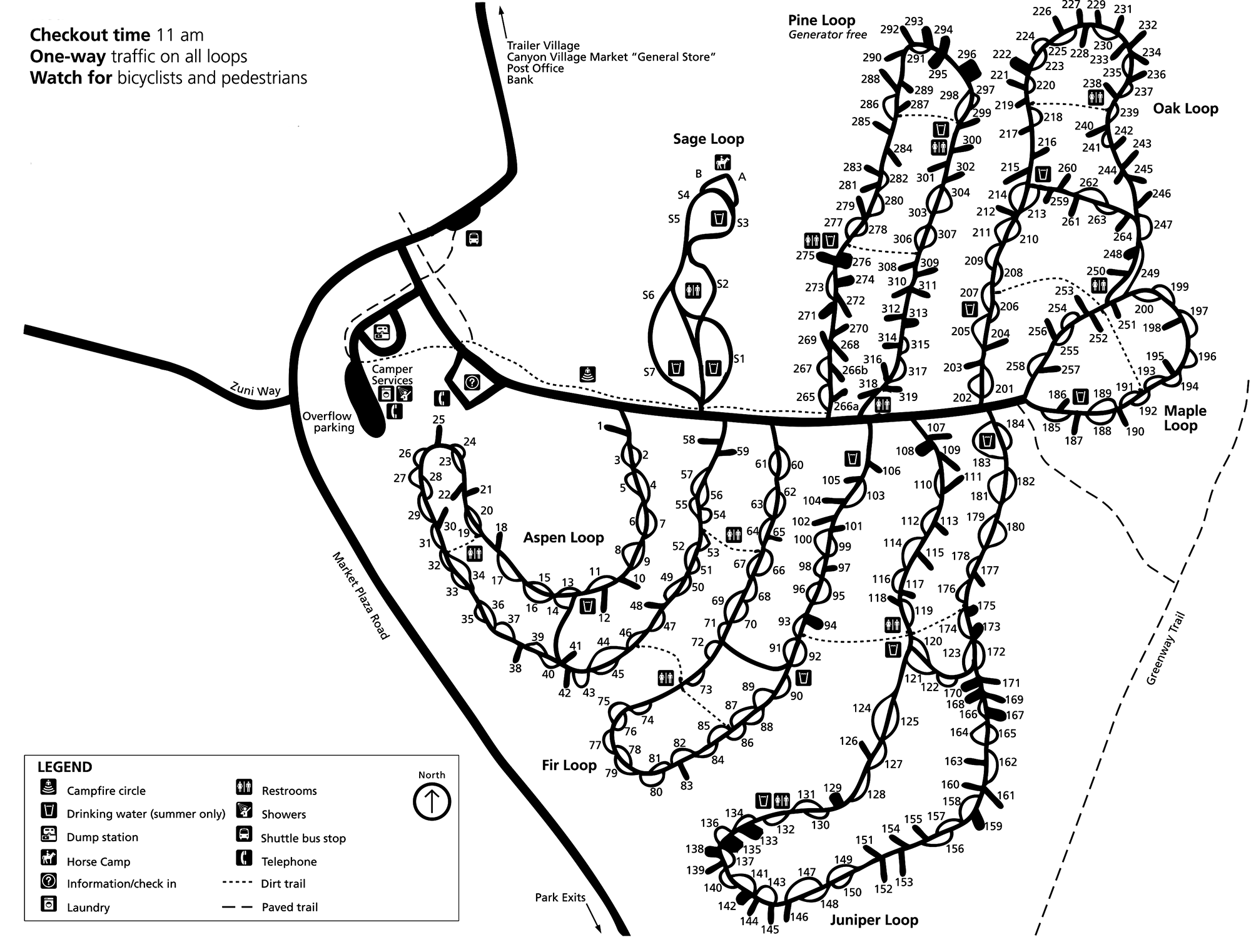 For those who will be RV camping at Mather Campground, keep in mind that it will be dry camping since all the sites are nonelectric.
Are generators allowed at Mather Campground?
Generators are allowed at Mather Campground during certain hours. However, Pine Loop is a tent only loop and a designated generator free zone. When we camped here, the generator hours were 7am-9am and 6pm-8pm.
The RV dump station is located at the campground entrance with potable water fill for the RV fresh water tank. There is no additional fee to use the dump station.
The first night we camped in site 188. The second night we camped in site 185. Both pull thru sites had more than enough room for a 29′ Class A motorhome and Jeep Wrangler tow vehicle. Besides light road noise, Mather campground was very quiet and peaceful.
Each site comes with a picnic table and fire ring.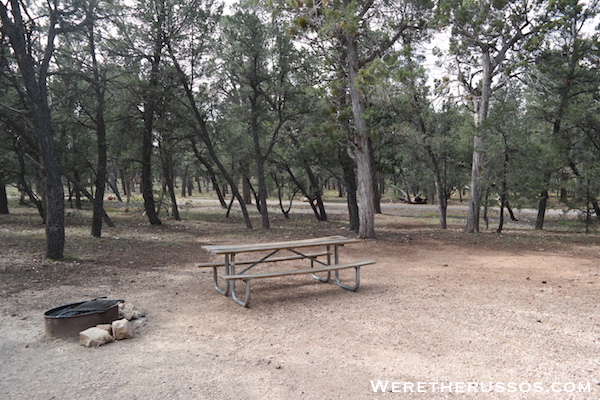 Since the sun was shinning our first day at the campground, we took advantage of the beautiful weather by cooking outside. Check out our favorite kitchen gadgets for RVing.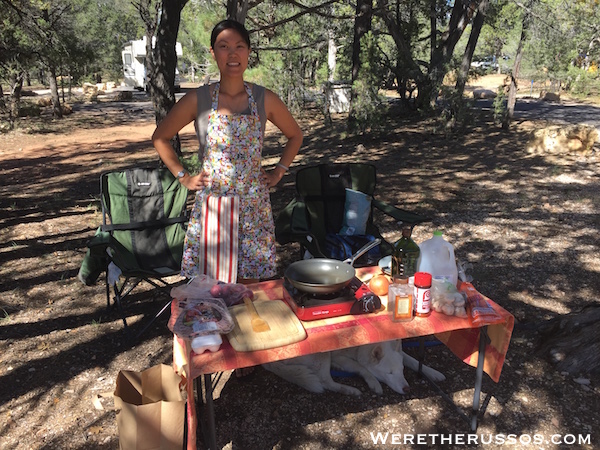 During our stay we walked around the campground with our dog and saw plenty of RVs including small travel trailers, Class B camper vans, small Class Cs and truck campers. Don't be surprised if you come back to wildlife relaxing at your campsite as we saw many deer and elk roaming throughout the campground.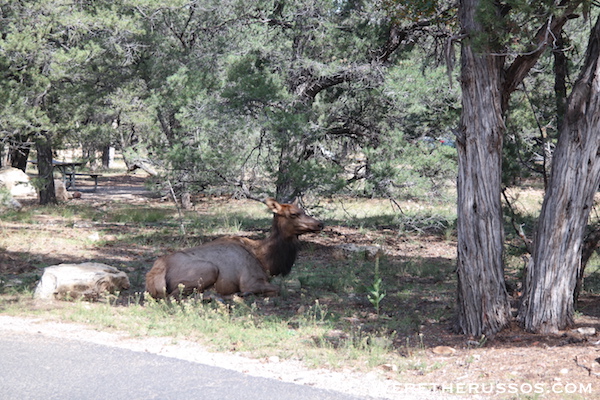 There is cell coverage at Mather Campground and the service has improved since our first visit in the fall of 2015. Check out Internet Guide for RVers for tips and information on staying connected at Mather Campground.
Pets are allowed at Mather Campground and must be kept on a leash. Leo, our Siberian Husky enjoyed many afternoon naps at our campsite.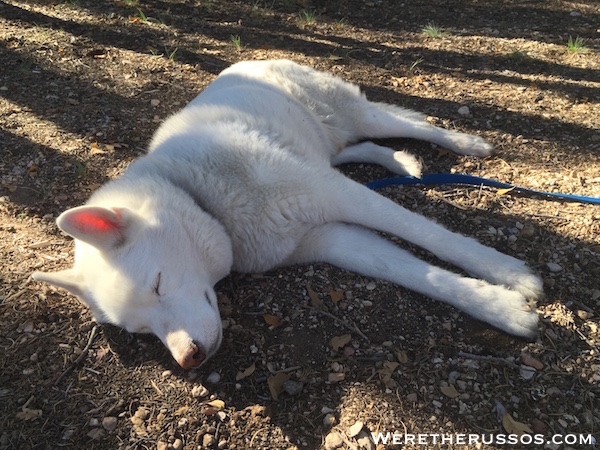 This was our first camping experience inside a national park. If you're able to get a campsite, I would highly recommend spending at least one night camping inside the South Rim of Grand Canyon National Park. Watch our Mather Campground Review video for an overview of what it's like to camp here.
Grand Canyon RV Rental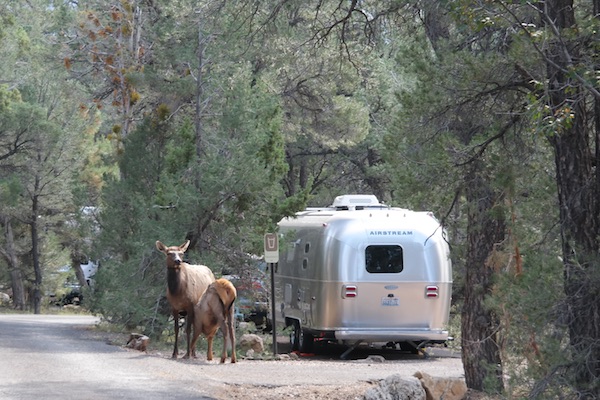 Want to camp in an RV at Grand Canyon National Park, but don't own one? RV rental companies make it easy to find the right RV for your next trip. Use this link to browse Grand Canyon RV rentals.
If Mather Campground is full or if you're looking for alternative RV camping options outside the Grand Canyon, check out our post on free camping near Grand Canyon South Rim.