Some of the links below are affiliate links, which means we will earn a commission on the products or services you purchase using the links. There is no additional cost to you and the earnings help keep this website running. Read the Affiliate Disclaimer for more information.
Big Bend National Park had been on our list of places to visit for years before we finally had the chance to check it out in 2021. It had eluded us partly due to how out of the way it is and its sheer size, making it a park we wanted to dedicate a few days to. Named after a large bend in the Rio Grande river, this park is full of diversity in its geology, plant and animal life, and history. In this article, we share some tips and recommendations to consider if you ever find yourself looking for an incredible National Park to explore in West Texas.
Big Bend National Park Guide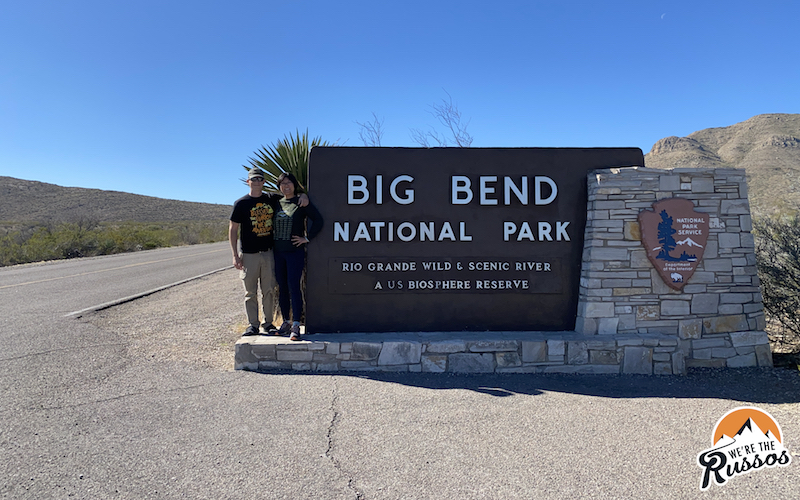 What to Do at Big Bend National Park
On our visit to Big Bend, we spent four days exploring various trails, roads, and exhibits (keep reading for our full itinerary). We could have easily spent more time there to cover every corner of the park, but no matter how many days you have to spend, there are many different things you can do at Big Bend National Park to get the most out of your visit.
1. Drive Big Bend's Roads
Driving through a National Park is a great way to experience it, especially when you have limited time or if the weather or other limitations make activities like hiking difficult. On our 2021 trip to Big Bend National Park, we were in our 4×4 pop-up truck camper and had a blast driving the park's paved and primitive roads.
A good starting point is the Ross Maxwell Scenic Drive, a paved road with a number of scenic overlooks like Sotol Vista, Mule Ears Overlook, and Tuff Canyon. You can also get a feel for the park's ranching history by stopping at various ranches along the route. The road ends with a short but incredible walk into Santa Elena Canyon, one of the most scenic spots in Big Bend. Other paved roads to explore in any vehicle are Chisos Basin Road, that spans from the park's lower desert to the mountains; and Panther Junction, which leads to Rio Grande Village and includes the opportunity to stop and take a soak in the Historic Hot Springs.
If you have the vehicle for a more adventurous drive, there are options for that as well. While Big Bend's improved dirt roads (like Dagger Flat Auto Trail and Old Maverick Road) can usually be driven by any vehicle, they can be rough and muddy in some spots so we recommend checking to make sure your car can handle them before venturing out.
Since we had our four wheel drive truck camper, we were able to traverse the park's primitive dirt roads, including Old Ore Road, a 26-mile route used in the early 1900s to transport ore from Mexican mines to the railroad station in Marathon, Texas. We took this road to Ernst Tinaja Trail which was a short but fun and scenic walk. While beautiful, the road is definitely unmaintained and we were glad we aired down our truck camper's tires before driving it. Other primitive roads to consider include Glen Springs Road, that runs along the east side of the Chisos Mountains; and The River Road, which is the most primitive area of the park and takes a full day to drive from end to end. Just note that all primitive dirt roads require high clearance 4WD vehicles. Off-roading and off-road vehicles are not permitted anywhere in the park.
Tip: Always check current road conditions before heading out as some could be closed or become impassable during or after heavy rains. On our visit, there were also periodic road closures due to construction and knowing the closure schedules saved us both time and headaches.
2. Enjoy the Park on Foot
Big Bend has more than 150 miles of desert, mountain, and river hikes to enjoy. The Chihuahuan Desert makes up about 80% of Big Bend and there are a number of desert trails to explore this sparse but lively ecosystem, including the easy Tuff Canyon Trail, the moderate Mule Ears Spring Trail, and the more difficult Mariscal Canyon Rim Trail. Be sure to bring plenty of water and avoid peak heat hours when hiking the desert.
Big Bend National Park also offers fantastic day hikes in its Chisos Mountains, which are also great alternatives to the desert hikes if you're looking for cooler temperatures at higher elevations. For an easier mountain trek, try the Window View Trail (this trail is also wheelchair accessible and is a great place to watch the sunset). Moderate hikes like the Lost Mine Trail and strenuous hikes like Boot Canyon Trail allow you to experience the varying elevation within the park and the lush and diverse plant and animal life in the mountains. Keep an eye out for bear, mountain lion, and fox tracks on these mountain trails!
One of Big Bend's defining features is the Rio Grande, providing the opportunity for river hikes within the park. We loved taking an easy stroll on the Rio Grande Village Nature Trail to do some bird watching and enjoy sunset (which we did on our first night). If you have a bit more time, we highly recommend the moderate Santa Elena Canyon Trail which we hiked on our last day in Big Bend. It ended up being one of our favorite parts of the park.
Tip for pet lovers: Pets are not allowed on trails, off roads, or on the river in Big Bend; they can only go where your vehicle can go. Pets are also not allowed to cross into Mexico at the border so plan ahead if you're bringing your furry friends.
3. Take a River Trip
Not only can you hike along the Rio Grande, you can also enjoy being on the river itself in Big Bend. There are multiple river routes you can travel by kayak or canoe, but you'll need a day or more to do them. The most popular overnight or multi-day river trip is the Santa Elena Canyon (downstream). The put-in and take-out areas are easily accessible by car, and the route has the tallest cliffs of any of the canyons (1,500 feet), making it one of the more stunning experiences in the park. The middle of the deepest channel of the Rio Grande is the international boundary which you can cross freely. It was pretty surreal walking along the river and looking across to Mexico. However, you'll want to avoid docking your boat on the Mexican bank of the river as this is considered an illegal crossing.
Note: Backcountry permits are required for day-use and overnight river trips and are available at Panther Junction and Chisos Basin Visitor Centers up to 7 days before your trip.
4. Explore the Border with Mexico
One of the unique things about Big Bend is that it shares a border with Mexico for about 118 miles. You can add a visit to Mexico to your park itinerary by legally crossing at the Boquillas Crossing Port of Entry. Unfortunately, the border crossing was closed when we visited, but we look forward to experiencing the culture and history of Boquillas on our next trip. Just be sure to research all of the documentation you'll need to cross in and out.
Tip: Given its proximity to the border, you may see border patrol checkpoints as you drive in and out of Big Bend. Stops are routine and shouldn't take too much time, but you may want to factor it into your schedule.
5. Other Activities at Big Bend National Park
Cycling: Big Bend is a great park to explore via bicycle with generally light traffic and its varying terrain. Cycling is permitted on any road within the park, but is not allowed off-road or on any of the trails.
Bird Watching: The Rio Grande River and Big Bend's various springs make it a fantastic place to spot birds. 450 species have been reported in the park, with 56 calling it home year-round. Hot spots for bird watching include Rio Grande Village, Cottonwood Campground, and Dugout Wells. Bring a good pair of binoculars with you. We love our 10×50 binoculars.
Fishing: It's not too often fishing makes our list of "things to do" in a National Park, but Big Bend is an exception. Fishing in the Rio Grande is free and does not require a Texas fishing license, but you will need a permit which you can get at any of the park's visitor centers.
Exhibits: There are a good amount of exhibits throughout the park that tell its rich history and are worth stopping at if you have time. A highlight is the Fossil Discovery Exhibit (one of our first stops after entering the park) which has incredible information and displays about the dinosaurs and other creatures that inhabited the park long ago. We list other exhibits we stopped at in our full itinerary below.
Stargazing: We've recommended stargazing at most of the parks we've covered, but did you know Big Bend actually has the least light pollution of any National Park in the lower 48 states? Don't miss out on the chance to experience the park after dark, and enjoy some of the darkest skies in North America.
Where to Stay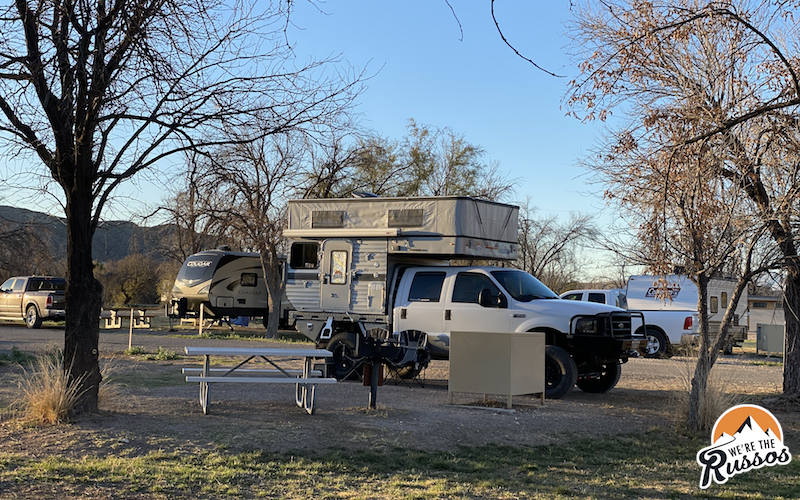 Big Bend National Park Campgrounds
Being such a large park, we highly recommend spending a few days at Big Bend and taking advantage of the four campgrounds within its boundaries: three campgrounds run by the National Park Service and one full hook-up RV camping area operated by the park concessioner. Reservations are required for the park's campgrounds and can be made at recreation.gov. Here are some details about the Big Bend National Park campgrounds:
Rio Grande Village – We enjoyed spending the first night of our trip at this campground which is located near the Rio Grande. Flush toilets, water, and a dump station are available year-round. There's also a camp store with showers, laundry, and a park visitor center nearby. Campsites cost $16/night and RVs can be accommodated with the exception of the group sites.
Chisos Basin Campground – We stayed here for the final two nights of our trip. This campground also has flush toilets, water, a dump station, and a camp store nearby. Sites are $16/night but it's important to note that trailers over 20 feet and RVs over 24 feet are not recommended due to the narrow, winding road to the Basin and its small campsites.
Cottonwood Campground – We wanted to stay at this campground on our visit but it was fully booked. It's known as the least crowded and quietest campground in the park and is dry camping with no hookups and vault toilets only. Sites are $16/night and should accommodate most RVs. We hope to stay here in the future for a more remote camping experience.
Rio Grande Village RV Park – This is the only full hook-up RV campground in Big Bend (water, electrical, and 3-inch sewer connection available) and offers 25 sites at $36/night. The RV Park also has amenities like showers, laundry, and is conveniently located next to the Rio Grande Village camp store.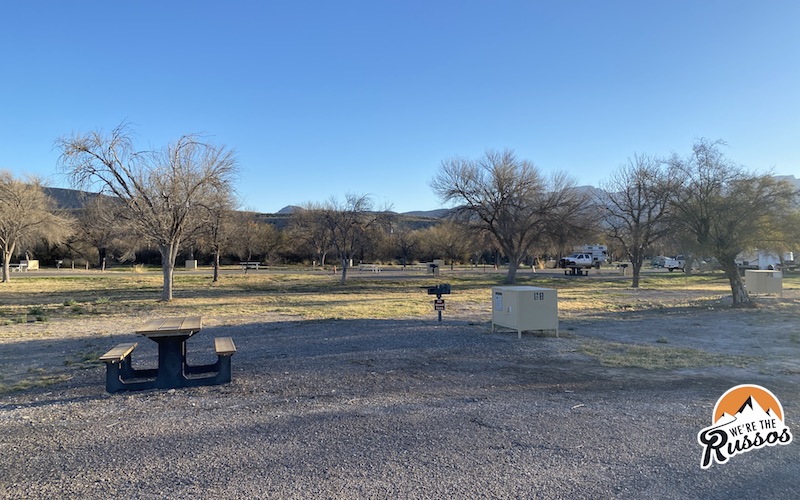 During our trip to Big Bend National Park, we camped at Rio Grande Village Campground for one night and Chisos Basin Campground for two nights. We wanted to stay at Cottonwood Campground near Santa Elena Canyon but it was fully booked.
To check for Big Bend National Park campground availability and to make a reservations, visit Recreation.gov. These campground links below will take you directly to the booking page for the three NPS managed campgrounds in Big Bend National Park.
Tip: Reservation requirements, campground amenities and operations can change so it is best to check the park's website for the latest information and policies.
Somewhat of a rare find within a National Park, Big Bend also has two fueling stations: Panther Junction Service Station (which has gas, diesel, and groceries) and Rio Grande Village Service Station (which has gas, propane, and groceries).
RV Dump Stations at Big Bend National Park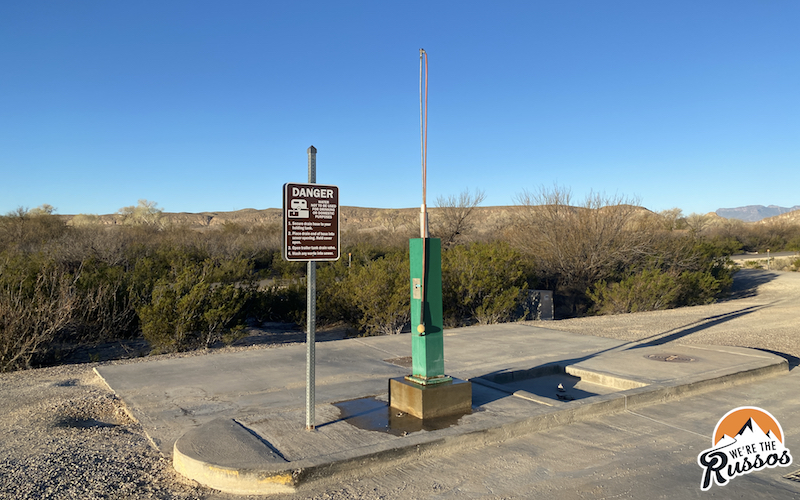 Chisos Basin Campground and Rio Grande Village Campground both have an RV dump station. There is no RV dump station at Cottonwood Campground.
Drinking Water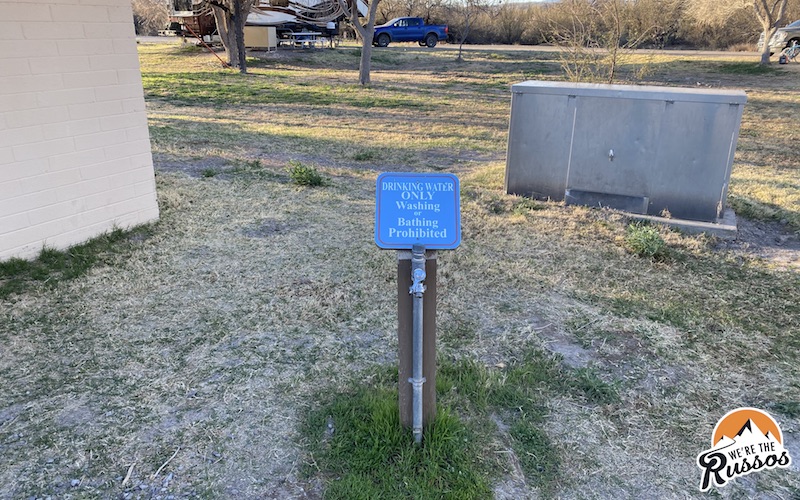 Drinking water spigots are located throughout the campgrounds and at the visitor centers. During our visit there was a five gallon per person per day limit on the drinking water.
Campground Generator Zone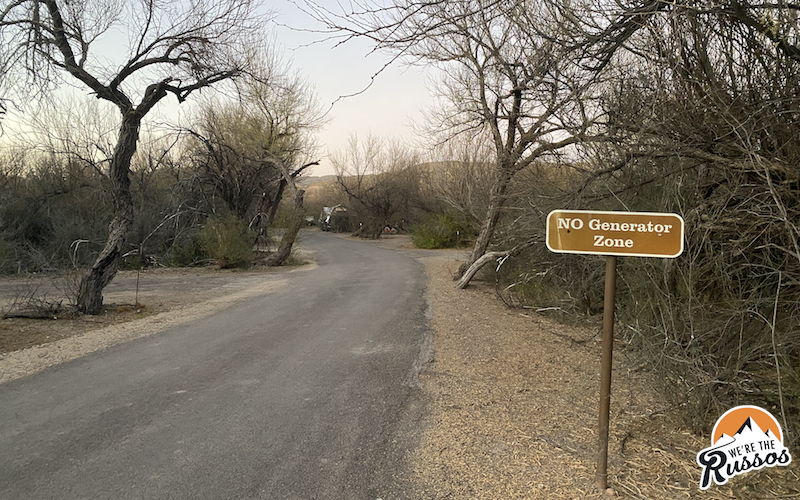 If you're camping in Big Bend National Park be aware of the generator zones at the campgrounds. The easiest way to see which sites are in the generator zone is to open the campground map on the NPS website. Below are links to the map for each campground.
We camped in the generator zone at Rio Grand Village Campground and in the no generator zone at Chisos Basin. While the early morning generator noise did wake us up early, it didn't keep us up all night like the crying baby in the no generator zone. We were glad to have campground reservations inside Big Bend and didn't have to drive out of the park each day.
Big Bend Backcountry Camping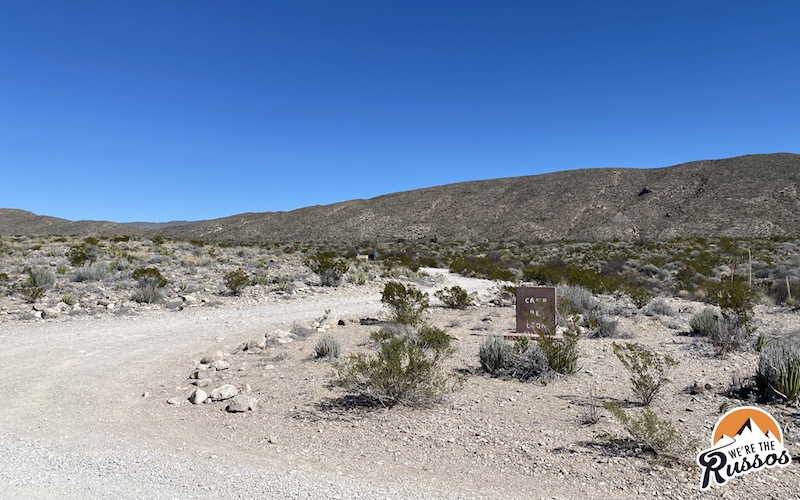 Backcountry camping is also available inside Big Bend National Park. These are considered primitive roadside campsites and "will not accommodate large RVs and trailers" according to the NPS website. You can book these primitive roadside campsites through this page at Recreation.gov.
We drove past a few primitive roadside campsites along Old Ore Road and look forward to booking one of these sites for our next Big Bend camping trip.
These sites simply offer a place to camp for the night. There are no amenities of any kind, similar to dispersed camping in national forests or dry camping/boondocking. That means pack it in and pack it out. Learn how you can minimize your impact at Big Bend National Park.
There are also backpack-only campsites adjacent to Chisos Basin Campground that do not have any vehicle access.
Bonus Option: If you're not the camping type, you can make a reservation at the Chisos Mountains Lodge, located within Big Bend National Park. It has a variety of rooms and cottages, along with a camping store and the park's only full-service restaurant.
Camping Near Big Bend National Park
If you find Big Bend's campgrounds full, you may need to look into an option outside the park. There isn't any public land to camp on nearby but luckily, there are a number of campgrounds and parks in the surrounding areas. Below are a few camping options we had as backups in case we were unable to get a campsite reservation inside Big Bend National Park.
We usually use Allstay Camp & RV to locate nearby campgrounds and reference the reviews on Campendium. Read our Allstays Review for more information.
We also found Get Lost Tours as an overnight option through our Harvest Hosts membership. Based in Terlingua, Texas, Get Lost Tours offers several tour options, one of which is the six hour Big Bend National Park guided tour complete with a little off-roading. Learn more about Harvest Hosts.
Cell Service in Big Bend National Park
Since we work remotely, cell service is always something we keep an eye on. Although there is WiFi at the visitor centers, we were pleasantly surprised to have 3G and LTE Verizon service at Chisos Basin Campground. The data was good enough to stream videos and post content to our social media channels. We were also able to get 3G service on most of the drive to Santa Elena Canyon and at the trailhead. However, there was no Verizon service in the Rio Grande Village area, including the campground.
WiFi is available at the Chisos Mountain Lodge, Rio Grande Village Store, and Panther Junction Visitor Center.
For more information on staying connected on the road, check out our post Internet for RVers.
Best Time to Visit Big Bend
Like many National Parks, Big Bend has seen a spike in popularity in recent years, with annual visitors increasing by about 50% since 2016. The busy season runs from October through April so you should expect full parking lots and campgrounds during these months. When Big Bend is at capacity, a "one in, one out" policy may be put in place so as with most parks, we recommend entering as early in the morning as possible and having back-up plans during the busiest times (mid-March can be the most crowded time in the park so it's recommended to avoid planning a trip during that stretch if possible). We went to Big Bend in early February and found it to be a great time to go, though we weren't able to stay at one of the park campgrounds because it was full.
Of course, the months with peak attendance are also the nicest times to visit weather-wise. Late fall through early spring sees pleasant temperatures that are ideal for exploring all Big Bend has to offer. While far less crowded, summer months (June – August) are quite hot with desert floor temperatures easily surpassing 100°F (though the park's mountain areas are often 10-20 degrees cooler, providing some nice relief from the heat). If you decide to visit during this time to avoid the crowds, make sure you're well prepared for the heat and limit activities to early morning and evening hours. As always, be sure to research weather averages for the time of year you're planning to visit and monitor current conditions while in the park to ensure your safety and comfort.
Bonus tip: Big Bend's rainy season runs from May – September and can bring thunderstorms and flash flooding, sometimes closing roads and trails. However, as long as you're prepared and follow safety recommendations, this can be a great time to visit as the rains have a welcomed cooling effect on the summer heat. Check out our post on RV Safety and Preparedness.
4 Day Trip Itinerary
Watch the video of our trip to Big Bend National Park above or keep reading for an outline of our four day Big Bend National Park trip itinerary. It includes where we camped, exhibits we checked out and hikes we went on. We were there February 5th through February 8th which ended up being a great time of year to visit Big Bend National Park. I hope you find this information helpful in planning your Big Bend camping adventure.
Day 1: Marathon to Big Bend National Park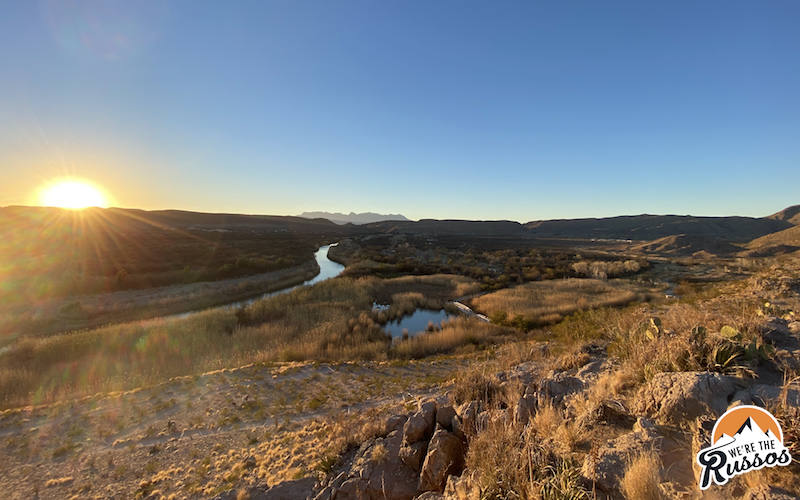 We started the day in Marathon, Texas and drove south on highway 385 to Big Bend National Park. Points of interest and hikes included:
Fossil Discovery Exhibit
Panther Junction Visitor Center
Dugout Wells Exhibit and Desert Nature Trail
Boquillas Canyon Overlook
Boquillas Canyon Trail
Rio Grande Village Nature Trail (for sunset viewing)
Night 1 Camping: Rio Grand Village Campground
Day 2: Rio Grande Village to Chisos Basin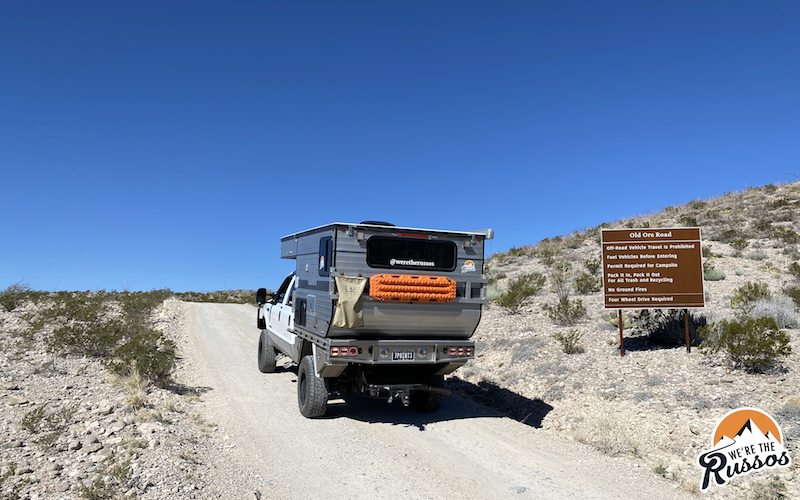 On the second day, I woke up early to check out River Spur Trail which goes down to the Rio Grande River. It was a very peaceful morning stroll and a great spot for morning meditation.
After we packed up camp, we went for a drive on Old Ore Road to Ernst Tinaja Trail. This ended up being one of the highlights of our Big Bend camping trip. Make sure to check the NPS page on Old Ore Road conditions before taking your vehicle.
After spending several hours on the primitive road we made our way to Chisos Basin. There were road closures during our visit, but we were able to miss the delays and traffic by arriving in the late afternoon.
Night 2 Camping: Chisos Basin Campground
Day 3: Chisos Basin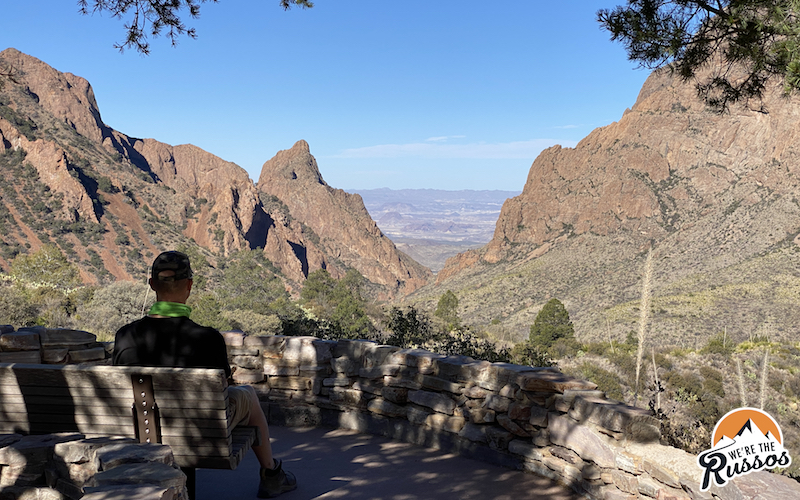 With several trails starting in Chisos Basin, we were glad to have a full day in the area. Points of interest and hikes included:
Basin Store (for basic supplies and breakfast burritos)
Window View Trail
Window Trail
Night 3 Camping: Chisos Basin Campground
Day 4: Chisos Basin to Santa Elena Canyon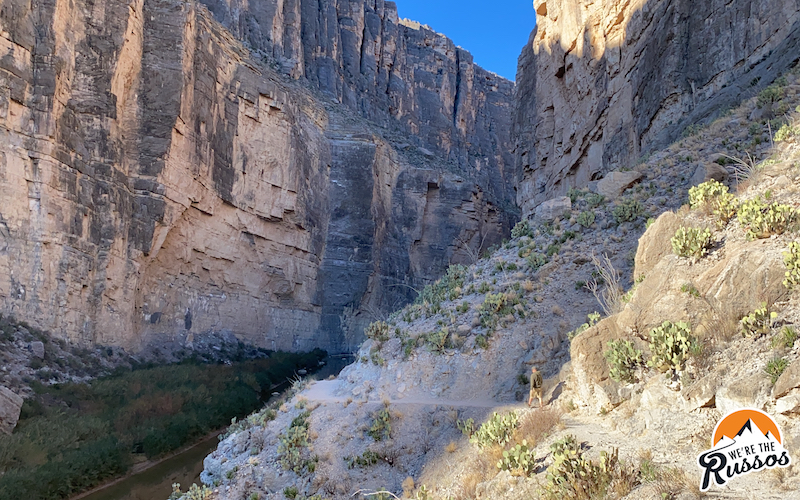 With this being our last day at Big Bend National Park, we woke up early and drove to Santa Elena Canyon. Although we missed a lot of the trails and exhibits on this side of the park, we did get to hike the Santa Elena Canyon Trail and stop in at the Castolon Visitor Center.
We're so happy we finally made the trek out to Big Bend National Park. Ideally, we would have preferred five to seven days as there is so much to see and do in this sprawling, undeveloped part of Texas. This was a great introduction to Big Bend and we can't wait to go back.
Do you have your own Big Bend tips? Leave a comment on this article!