Some of the links below are affiliate links, which means we will earn a commission on the products or services you purchase using the links. There is no additional cost to you and the earnings help keep this website running. Read the Affiliate Disclaimer for more information.
In January 2020, Kait and I took delivery of our Four Wheel Campers Flatbed Hawk pop-up camper and in this post I will share a detailed build list of our Hawk flatbed camper, all the modifications we made along with a review after two years of living in it full-time.
Four Wheel Campers Flatbed Hawk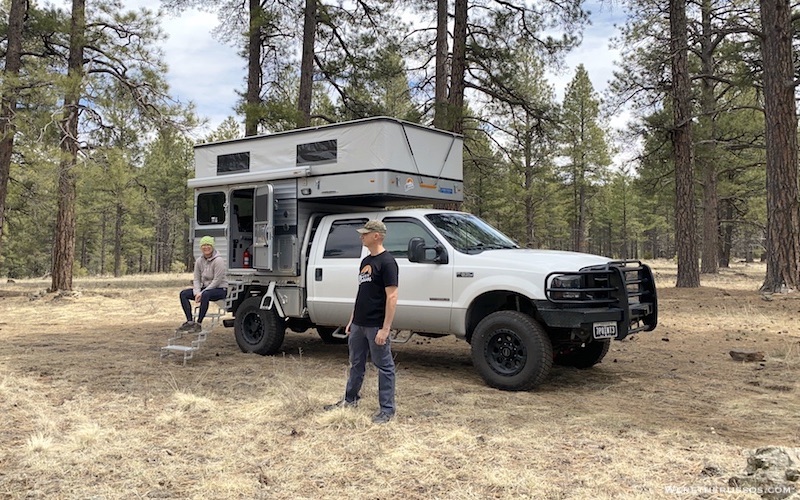 Let's start off with the basics of our Four Wheel Campers Flatbed Hawk build by answering some of the most popular questions we get.
How much does a Four Wheel Camper weigh? Our Hawk flatbed camper had a dry weight of 1,640 lbs from the factory with the options we selected, which are listed under the build specs.
Do Four Wheel Campers have a bathroom? Yes, we built our FWC Hawk flatbed with an indoor toilet, indoor shower and an outdoor shower.
Where are Four Wheel Campers manufactured? They are manufactured in Woodland, California.
Do Four Wheel Campers have air conditioning? Some Four Wheel Camper models offer air condition as an option. When we ordered our Hawk Flatbed camper, air condition was not an option on the Flatbed model.
What year is your truck? We mounted the pop-up camper on a 2000 Ford F350 Super Duty. Check out our 7.3 Powerstroke article for all the specs and details of the truck.
Watch this full walk-through video of our Four Wheel Campers Flatbed Hawk filmed shortly after we took delivery to get a better idea of our camper build. Keep reading for the complete list of build specs and modifications we made over the two years we lived out of this pop-up truck camper.
Build Specs: Hawk Flatbed Camper
Kait and I went back and forth on quite a few options before we placed our order. In this section I'll list all the options we picked for our Hawk flatbed camper and what we would do differently if we ordered another one.
Hawk Flatbed Camper Options:
Model: Hawk_FB
Siding Color: Silver Spur
Fabric: Gatlinburg Mesa
Options:

Jack Bracket – Aluminum Upgrade
2-Way Refrigerator/Freezer – 85 liter
Forced Air Furnace w/ Thermostat
DSI 6 Gallon Water Heater w/ Outside Shower
Powered RV Vent Fan
Extra Roof Vent
8′ Side Awning Fiamma F45S
Yakima "Tracks Only" Installed on Roof
Side Wall Steps

Rear Floodlights – LED Exterior
LED Lighting
Thermal Pack
Flush Mount Glass Top Sink/Stove Upgrade
Hot Water, Inside & Outside Shower (FB)
Watertank Cushion
Silver Spur Interior Only (UTE)
Lithium Battery System
UTE Rear Rack only
Dual 160W Solar Panels with .8 ga wiring
Norweld Deluxe Weekender 7' Tray
Stir Up Step for Norweld Tray
Flat Bed Tray install
Things we would do differently:
Order the camper without the Yakima tracks on the roof. Given the height of the camper and the weight of the roof, we don't plan to store anything up there.
Order the clip on table for the Norweld tray.
Lithium Battery System
One of our must have requirements for the Four Wheel Campers Flatbed Hawk build was a lithium battery system that could power all our electronic devices daily and be able to recharge those batteries without having to plug into shore power.
The lithium battery system option installed in our Hawk flatbed camper gave us that ability. There are three Battle Born LiFePO4 Deep Cycle Batteries for a total of 300Ah. Enough to run my coffee gear, Kait's multi-cooker, our laptops, smart phones, a two-way fridge and more through a 2000 watt inverter.
The Manager30 by REDARC Electronics is a 30A battery management system that handles the charge of the three lithium batteries. This management system has multiple functions including an MPPT solar regulator.
The two 160 watt semi-flexible solar panels mounted on the roof charge the batteries when the sun is out and a secondary alternator on the truck charges the batteries while driving. The portable solar panel came in handy on partly cloudy days or when the roof mounted solar panels on the camper were covered by shade.
Check out our post on portable solar panels vs rooftop solar panels.
Order and Install Process
Mike Olds was our sales contact at Four Wheel Campers. He managed the changes to our order form and processed all the paperwork.
A 15% deposit was required to secure our production spot and to get the order started. It was 12 weeks from when we paid the deposit to when we took delivery of our completed Four Wheel Campers Flatbed Hawk.
Since we ordered a Hawk flatbed camper, it took a week for the installation at the Four Wheel Camper factory in Woodland, California. We dropped off our truck on Monday morning and picked up the completed truck camper mid-day on Friday. In that time, they removed the steel flatbed on our truck, installed the 7′ Norweld Weekender tray with boxes, mounted the Hawk Flatbed camper and gave us a full walk-through.
Below is a video of the install and build process of our Hawk flatbed truck camper.
Aftermarket Modifications
Below is a list of the modifications we made to our Four Wheel Campers Flatbed Hawk over the two years we lived out of it. Some of our favorite truck camper upgrades are highlighted in the video below.
Permanent gray tank. I made a 3 gallon gray tank that mounted to the chassis of the truck to catch the gray water from the kitchen sink. We have the collapsable gray tank bag, but this permanent solution makes it more convenient to live out of a lightweight flatbed truck camper full time.
Seal around inside shower and toilet. I added extra all purpose silicone sealant around the edges of the inside shower and toilet area to prevent water from seeping through any cracks.
Truma AquaGo on demand hot water system. We replaced the factory 6 gallon hot water heater with this instant hot water heater by Truma. Although we lost the extra 6 gallon water capacity in the camper, we still have the 11 gallon auxiliary water tank in the Norweld tray.
Truma VarioHeat. This lightweight and compact propane heater replaced the factory furnace in our camper. It is ducted in three places throughout the camper for better heat distribution. Kait's favorite duct is the one next to the bed by her feet. Mule Expedition Outfitters did the Truma upgrades on our Hawk flatbed camper.
Maxxair 6200K. The MaxxFan Ventillation fan with smoke lid has 10 speeds. The lowest speed is whisper quiet compared to the factory vent that came with our Four Wheel Camper. One feature we love is the smoke lid which allows us to run the fan in the rain and high winds. There is a version of this Maxxair vent with a remote control which costs more than the version we bought. Watch our video review of the Maxxair vent fan or check out our post on RV roof vent fans.
Custom mattress. We ordered a custom mattress from Mattress Insider to replace the one that came with our Four Wheel Campers Flatbed Hawk. It is extremely comfortable and fits well as we were able to provide exact measurements over the phone. Our custom mattress is 5 and 1/2 inches thick which allows enough room for us to latch the roof. Since everyone has different mattress preferences, we really liked the idea of being able to customize the thickness and the material for the mattress. Our custom mattress is made up of 1 inch gel foam and 4 and 1/2 inches high density foam with a firmness level of 6.
Accessories for Hawk Flatbed Camper
These are some of the essential accessories we used in our Hawk Flatbed camper. Check out our full list of essential camping gadgets for more.
Water Purification System. Access to clean drinking water is important when filling up from various water sources on the road. We use an inline water filter along with a gravity fed water purification system. To learn more, check out our post on RV water filtration systems.
5 Foot Propane Adapter Hose. This adapter allows us to use camping grills and small BBQs with the onboard propane tanks instead of using the 1 pound propane bottles that they typically use.
Push button lights. Kait placed battery operated push button lights in different cabinets and compartments so we can better see the items inside. We use the one for our under bed storage compartment regularly.
Portable dehumidifier. To help control the dampness and humidity inside the camper, we sometimes run a small and quiet dehumidifier at night.
L-Tracks and Single Stud Fittings. I installed aluminum l-tracks around the camper to keep things secure while we're driving down the road.
Roof Vent Fan Insulated Covers. These roof vent covers are held on by magnets and easy to install. Each one can also be folded to allow airflow when the vent is open or when the fan is running. It's also great for blocking out the early morning sunlight.
Element Fire Extinguisher. The E50 Professional fire extinguisher is mounted to the ceiling of our Hawk Flatbed camper towards the middle for easy access. We can grab it while in bed or in the kitchen should we need to put out a fire.
External Trash Bag. Overland Gear Guy makes a variety of sturdy exterior bags that can be hung on the outside of the camper. We secured the Pack It Out Bag to the rear rack and it's great for holding aluminum cans and other items.
Counter Top Organizers. We worked with Rob at Overland Gear Guy to design a set of kitchen organizers that work with the velcro on the thermal pack. Now we can keep all our kitchen items on the counter without having to put it away when we drive.
Awning Extension. One of our favorite accessories for the camper is the Fiamma awning extension made by Dragon Fly Tarps. This tarp easily attaches to the rail on the awning and provides additional sun production when we're sitting outside.
Cell Signal Booster. Since we work while traveling and require internet access, there are times when we need to boost the cell signal. We've had the weBoost cell phone signal booster for several years and it has saved us from having to break camp in the national forest to drive into town for better cell service. Learn more about staying connected while traveling by checking out our Guide on Internet for RVers.
What It's Like to Travel in a Four Wheel Campers Flatbed Hawk
Kait and I created a series of videos sharing what life is like living out of a Hawk Flatbed camper. Videos include what it's like living out of a truck camper full time, exploring national parks, going on group trips (including one of our favorites to Baja California), and some of the ins and outs of truck camper life.
Rent One Before You Buy One
We considered quite a few options before we made the decision to buy a Four Wheel Campers Hawk flatbed.
Getting to take a Four Wheel Campers rental truck camper out for a spin helped us make the decision. Whether you are considering a truck camper or another type of RV, I would highly recommend renting one for a few days to see what you think.
Having lived out of a Class A motorhome towing a Jeep Wrangler, then downsizing to various Class B camper vans, and then two years of living full time out of a pop-up truck camper, I can tell you there are pros and cons to each.
If you're trying to figure out which camper to get, my recommendation is to do your research to figure out what works for you. Luckily, there are camper rental companies that make it easier to try different types of before you make a decision.
Resources for Four Wheel Campers Owners and Researchers
These are some of the helpful resources we found during our research of Four Wheel Campers. Some of these also offer a great way to meet other Four Wheel Camper owners and learn from each other's experiences.
2 Years Later: Our Four Wheel Campers Review
After living out of our Four Wheel Campers Flatbed Hawk for two years we filmed a video review of the pros and cons. Watch the video for all the details.
Whether you already own a Hawk flatbed camper or doing research for a future camper build, I hope you found this post helpful! Want to discuss your camper build with us or want to pick our brains about truck camper life? Learn more about booking a 60 minute call with us.