Some of the links below are affiliate links, which means we will earn a commission on the products or services you purchase using the links. There is no additional cost to you and the earnings help keep this website running. Read the Affiliate Disclaimer for more information.
Mojave National Preserve is a 1.6 million acre park in Southern California. Travelers on Interstate 15 between Nevada and California will have seen road signs for this popular desert getaway offering cinder cone volcanoes, singing sand dunes and more. On one of our first off-grid camper van adventures in 2017, we ended up finding a great Mojave National Preserve camping spot that still ranks high on our list of memorable free camping spots around the country. In this guide, I will share tips on how to find camping near Mojave National Preserve and our personal experiences along with some tips.
Mojave National Preserve Camping
There are many options for camping near Mojave National Preserve including free camping and pay to camp options within the park's boundaries. Most of these camping spots are considered primitive off-grid camping because there's no water and no toilets. The trade off is a beautiful camping spot in nature. Some sites are only accessible by foot, ideal for tent campers while other sites are large enough to accommodate RVs of all sizes. Then there are those camping spots that are only accessible with a four wheel drive vehicle.
How to Find Mojave National Preserve Camping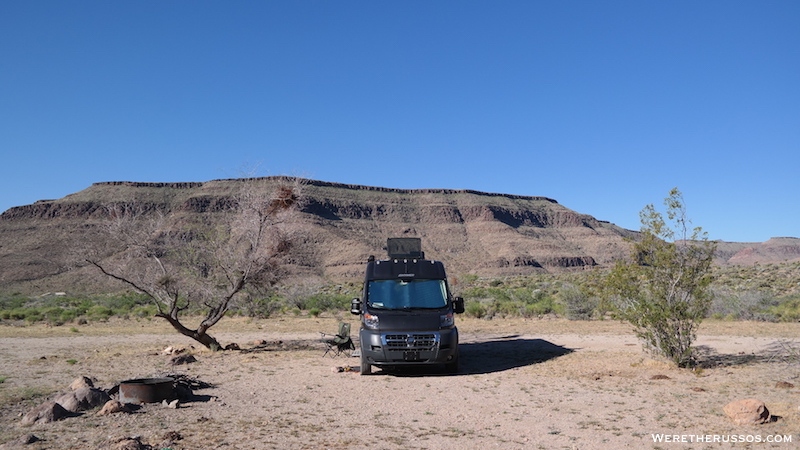 1. Use an RV Camping App
One of our preferred ways to find Mojave National Preserve camping options is through the Camp and RV App by Allstays. Search for "Mojave National Preserve" on the map screen and the app will display options for camping near Mojave National Preserve.
The brown and white icons are Mojave National Preserve campgrounds including the popular Hole in the Wall Campground and Kelso Dunes. The green and teal icons are Mojave BLM camping options.
To only see free camping near Mojave National Preserve, use the advanced filter and turn on the "Avg Rate – Free" option.
Below is an example of what the filtered map results looks like in the Allstays app. For more information about each Mojave camping spot, simply tap on the icon to display more details. In this photo, Hole in the Wall campground is selected and tapping the white banner will show location information which includes GPS coordinates, directions, number of campsites, reviews, and more.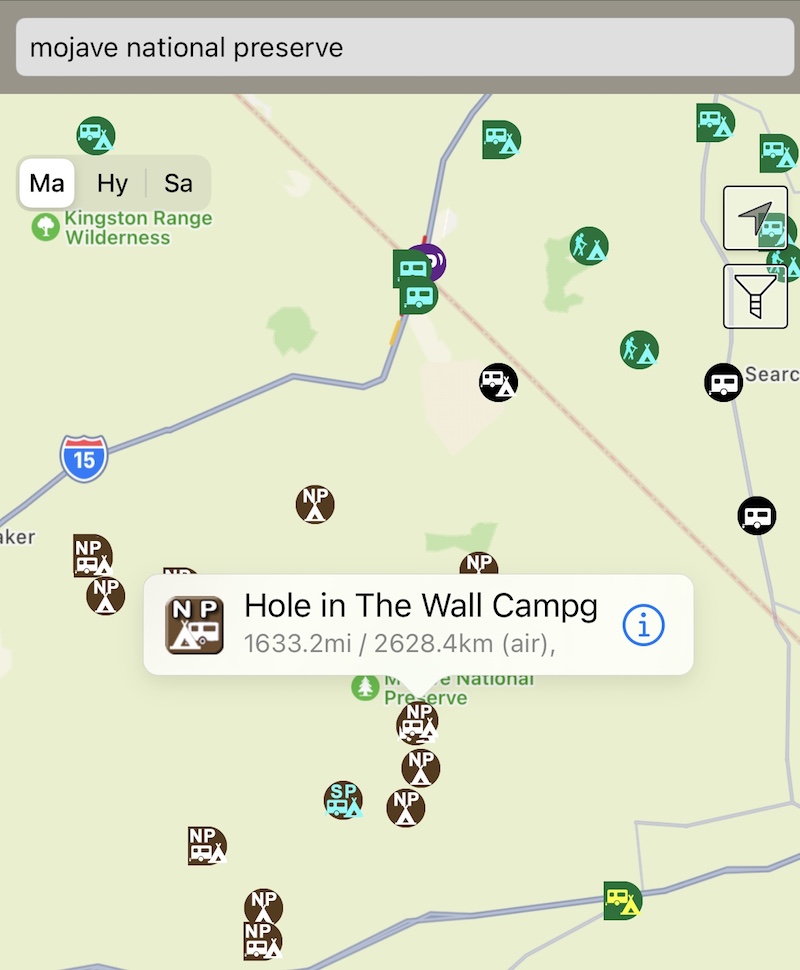 Don't have the Allstays Camp & RV app? Check out our review of this must have RV camping app or use Allstays Pro, which has even more features.
2. Take Mojave Desert Tour
Guided overland tour operators like Off-road Safety Academy offer multiple day trips through the iconic desert landscape. These types of tours are a great way to learn, explore and travel with a group while experiencing different options for camping near Mojave National Preserve.
We took one of these guided tours through Parashant National Monument and found many great camping spots along the route that we saved in our Gaia GPS app for future trips.
Check out our list of Overland Events and Expos to find more tours and trips.
Tips for Mojave National Preserve Camping
Now that you know how to find camping near Mojave National Preserve, here are some tips based on our personal experience.
Hole in the Wall campground is one of two developed campgrounds within Mojave National Preserve and is available on a first-come, first-served basis. There is a fee to camp here as there are limited amenities including an RV dump with fill station for potable water, pit toilets and trash receptacles.
February, March and April are considered the best months to visit Mojave National Preserve because the wildflowers are in bloom and the temperatures are mild. We visited in May and it was getting quite hot during the day.
Since most Mojave National Preserve camping spots do not have any amenities or services, be sure to plan ahead and know how to dispose of waste properly. We follow the Leave No Trace Principles.
Depending on where you are within the preserve, there may or may not be any cell signal. We were able to get Verizon LTE service at Banshee Canyon with our cell booster. Check out our post on Internet for RVers for more and the gear we use.
Four wheel drive/high clearance vehicles are recommended for some of the undeveloped campsites within Mojave National Preserve. Be sure to check the NPS website and/or ask a ranger for more information on current road conditions.
Banshee Canyon Mojave National Preserve Camping
This is a recap of our Mojave National Preserve camping experience. Watch the video below or keep reading.
We took a two wheel drive ProMaster camper van down a 15 mile dirt road to Banshee Canyon to an established free camping spot in the Mojave National Preserve. To avoid the washboard dirt roads, you can access the campground from the south side. Take Black Canyon Road north, then make a left onto Wild Horse Road.
We camped in the first undeveloped campsite off Wild Horse Road – GPS coordinates: 35.03878, -115.39853. There was a fire ring at the site along with a stack of deadwood the previous camper collected.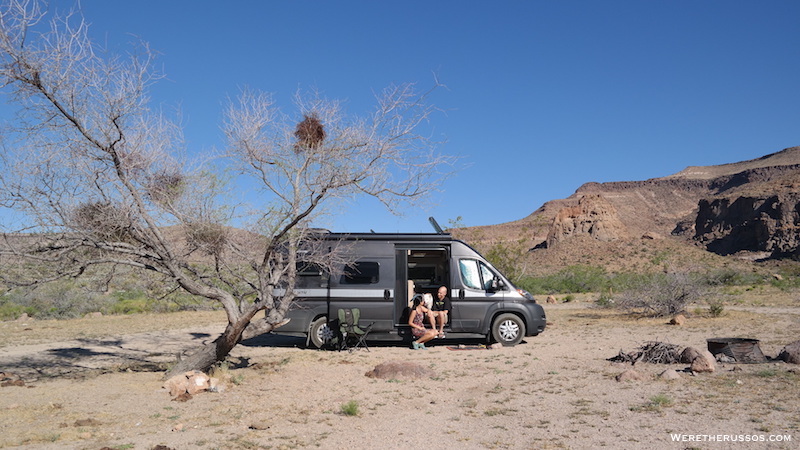 We enjoyed camping here with our dog Leo and would have stayed longer if it the temperature was milder. One of the big considerations for us while RVing with dogs was keeping them comfortable inside and outside the camper.
Some of the highlights of our time camping at Banshee Canyon were the abundance of wildlife from rabbits to birds and looking up at the clear night sky blanketed with brilliant stars.
Share your Mojave National Preserve camping experiences by leaving a comment below.