Some of the links below are affiliate links, which means we will earn a commission on the products or services you purchase using the links. There is no additional cost to you and the earnings help keep this website running. Read the Affiliate Disclaimer for more information.
Throughout the United States, there are beautiful free camping spots on public land and national forests. Our most recent off grid camping adventure lead us to a great free camping spot in the Mojave National Preserve. Most of these spots are considered off grid camping because there's no water and no toilets. The trade off is a free camping spot in nature. Some sites are only accessible by foot, ideal for tent campers. Other sites are large enough to accommodate RVs of all sizes. Then there are those spots that are only accessible with a four wheel drive vehicle.
Mojave National Preserve Camping – Banshee Canyon
We drove the camper van down a 15 mile dirt road to Banshee Canyon. This is an established free camping spot in the Mojave National Preserve. To avoid the washboard dirt roads, access the campground from the south side. Take Black Canyon Road north, then make a left onto Wild Horse Road.
Mojave National Preserve Camping Video
We camped in the first established site off Wild Horse Road – GPS coordinates: 35.03878, -115.39853. There was a fire ring at the site along with a stack of deadwood the previous camper collected. The is no shade at this spot and there is a hiking trail at the base of the hill with light traffic. There's an abundance of wildlife to enjoy from rabbits to birds. At night, the clear sky is blanketed with brilliant stars.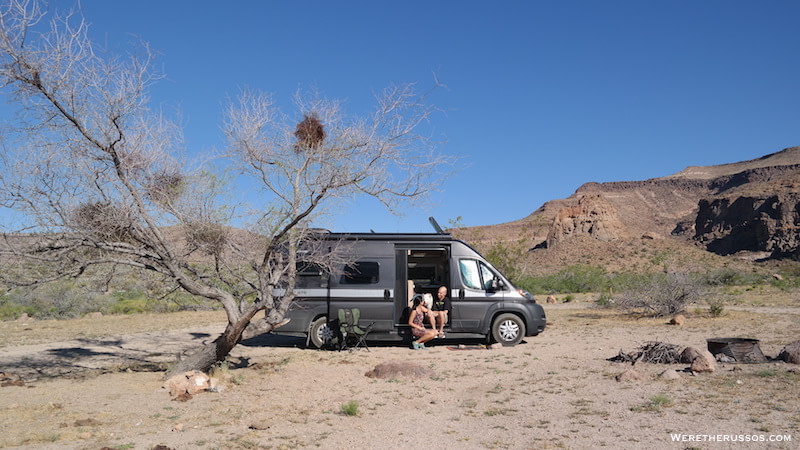 With 320 watts of solar on the roof, we had no issues keeping the 2 lithium ion batteries fully charged. The 30 gallon fresh water tank and 23 gallon gray tank would be the marker on how long we could go off grid.
Notes:
Free camping
No amenities
Dog friendly
No dump. Hole-in-the-Wall campground has fresh water and a dump.
1X to 3G Verizon cell service. We were able to get LTE service using the weBoost cell signal booster. Read How RVers Get Internet on the Road.