Some of the links below are affiliate links, which means we will earn a commission on the products or services you purchase using the links. There is no additional cost to you and the earnings help keep this website running. Read the Affiliate Disclaimer for more information.
Our first taste of Grand Teton National Park was just a quick drive through it, so we were excited to finally spend a couple of days exploring it back in 2020. Located in northwestern Wyoming, Grand Teton is home to majestic mountains, pristine lakes, and no shortage of wildlife. We got to experience it all during our visit and want to share some of our experience and things to know about Grand Teton National Park to help you plan yours.
Grand Teton National Park Guide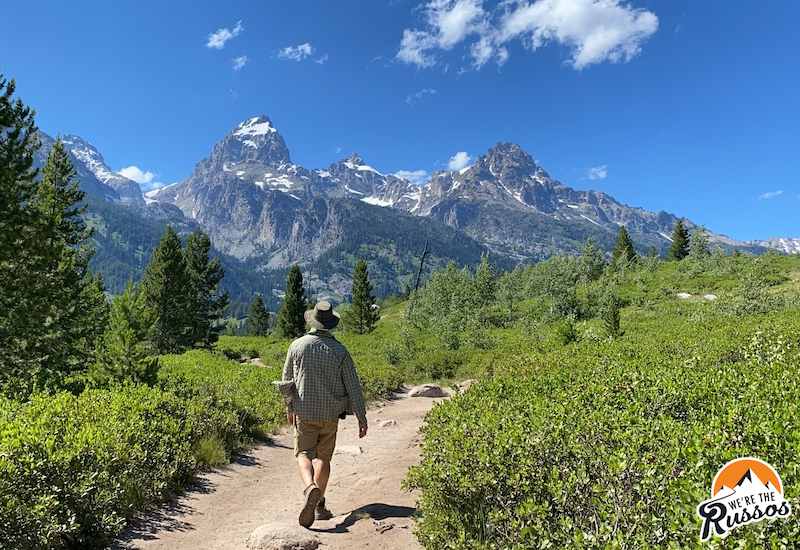 When to Visit Grand Teton National Park
Grand Teton National Park is beautiful year-round, but there are things to consider when deciding what time of year to go. The park's peak visitor season is May – September.
We visited in July and encountered some of the summer crowds, especially when trying to find somewhere to camp (more on that later). If you do go during the busy season, we recommend reserving a campsite or other accommodations in advance, or being up for an adventure when trying to find dispersed camping.
As with all parks, the earlier you can arrive in the morning, the better you'll fare with beating the crowds and finding parking at the popular trailheads. You'll also want to plan for the summer weather which can be sunny and hot (bring sun protection and water) but also sees fairly common thunderstorms having some rain gear isn't a bad idea.
Visiting in the off-season (October – April) will allow you to explore the park with fewer people and will give you a whole different experience, one worth considering.
In the fall, the changing leaves provide a stunning backdrop of vibrant colors along with the chance to see herds of bison, pronghorn, and other animals who use the park as a corridor to migrate to their winter homes. It's also mating season for the park's moose, elk, and deer, so it's not uncommon to see or hear bulls challenging each other for the affections of potential partners.
In winter, the snow-covered park takes on an especially peaceful and serene feeling, and you can enjoy winter activities like cross-country skiing, snowmobiling, and snowshoeing.
While the temperatures in fall will be more moderate (with some rain), winters in the park are no joke with frigid temperatures and plenty of snow. In fact, the snow often sticks around in the park until late May (and into July up in the mountain areas).
It's also good to note that during the off-season, some roads, campgrounds, and visitor facilities will be closed or have reduced hours/services. Be sure to check the park's website for full operating schedules depending on when you're going.
Tip: If you plan to visit Grand Teton National Park during the winter, vehicles with four-wheel drive, all-wheel drive, or all-weather tires are strongly recommended. Some roads may also be closed during blizzards so it's especially important to plan ahead and keep an eye on current weather conditions. Check out our post on RV Safety and Preparedness.
What to Do at Grand Teton National Park
No matter what time of year you visit, there is plenty to see and do inside Grand Teton National Park. It's a nature-lover's paradise with some of the world's most beautiful scenery and wildlife. We tried to do as much as we could during our short visit and can't wait to go back to explore more.
Scenic Drives
We highly recommend experiencing some of the park's scenic drives and taking advantage of the many turnouts and overlooks to enjoy views of the Teton Range, lakes, and wildlife. Popular drives include Jenny Lake Scenic Drive (a 15-30 minute route that skirts the lake and offers amazing views of the mountain peaks), Signal Mountain Summit Road (a 30-60 minute drive that has panoramic views of the Teton Range and Jackson Hole), and Moose-Wilson Road (a 20-60 minutes route connecting the towns of Moose and Wilson with turnoffs that are ideal for spotting moose).
Any of the park's roads will have you feeling like you're driving through a postcard so you really can't go wrong. Just make sure you always keep an eye out for animals that may be crossing the road.
Tip: National Parks occasionally undergo construction and maintenance projects which can lead to long-term closures of roads and other areas. For example, as of this article's publication, Moose-Wilson Road is partially shut down due to construction throughout the summer. It's always smart to check for changes to normal operations before visiting any park.
Hiking
Hiking is a must in Grand Teton National Park, but be aware that the terrain, while beautiful, can create some challenging conditions. You should research different trails ahead of time and talk to park rangers about trail conditions. That's what we did when we first arrived at the park and got some good recommendations.
We started off doing the Bradley Lake Loop, a fairly short and easy hike that was a great primer to our park experience. Being that it was July, it was quite hot but we were prepared with sun protection and plenty of water. When we reached the lake itself, it was so refreshing to dip our hats into the chilly water to cool off. We ended up taking a longer route back which was a bit of a steep climb but the views at the peak were well worth it.
On our second day, we did the Jenny Lake Loop. It's a bit of a longer trail but with minimal elevation gain and incredible views of the lake and mountain range. Our only regret was that we didn't bring chairs so that we could sit along the lake's shore for longer. It was one of the most picturesque places we've been to and we weren't surprised to see people sunbathing and swimming nearby, enjoying the natural beauty. There are dozens of other hiking trails to explore and we can't wait to check more of them out on our next trip.
Tip for pet lovers: Pets are not allowed on any trails, pathways, or in any bodies of water inside the park. A good rule of thumb is that your pets can only go anywhere your car can, like roads, campgrounds, and picnic areas.
Take in the Wildlife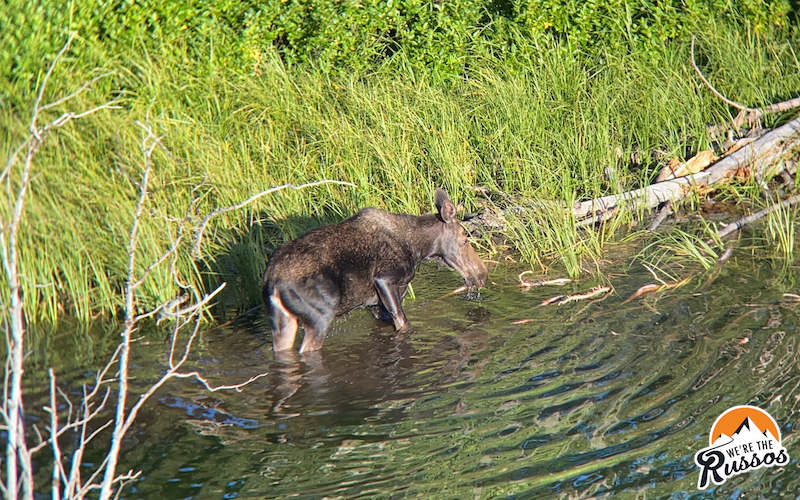 One of the best parts about Grand Teton is the variety of wildlife you can find there. We didn't waste any time on our quest for animal sightings and spent part of our first day in the park watching moose graze and wade through the water at a spotting area off Moose-Wilson Road. It was the closest we had ever been to these animals and it was a pretty thrilling experience. The spot was recommended to us by one of the rangers who also gave us the tip that the best time for moose sightings is dusk. We spotted a beaver in this area too, and it turned out to be a perfect place to sit and finish some dinner among the wildlife.
On the second day of our trip, we did our best to find the park's elusive grizzly bears but ended up striking out as we've done many times when searching for grizzlies. Even if you're as unlucky as we've been in the bear department, there are so many other mammals, birds, fish and more to see in Grand Teton National Park. Pack your binoculars and your patience so you can take in as much wildlife as possible.
Tip: While exploring Grand Teton, we recommend bringing along some bear spray. We had ours with us the entire time we were there (even when wading into the lake) just in case. The many large animals roaming the park make it an incredibly special place, but you wouldn't want to be caught in a bad situation with one. Bear spray is good, non-lethal protection to have with you while exploring this National Park.
Take a Boat Ride
Grand Teton is home to the Snake River and a number of lakes where you can enjoy boating, fishing, and other water activities. Be aware that the river can be challenging to navigate due to its winding channels, logjams, and changing currents. You'll definitely want to plan your route ahead of time and check the conditions before you get onto the water.
All boats require a permit which you can purchase online or at permit desks within the park's visitor centers. There are also restrictions on where you can go with motorized vs. non-motorized boats, so make sure you know where you can explore based on the type of boat you have. If you don't have your own vessel, there are authorized concessionaires that offer rentals and various boating tours.
Bonus Activities
Fishing: One of the biggest draws to Grand Teton is its world-class fishing. You'll need a Wyoming fishing license to enjoy this activity which can be purchased at Flagg Ranch, Colter Bay Marina, Signal Mountain Lodge, or online.
Cycling: Cycling is allowed on all paved roads in Grand Teton and is another great way to explore the park. Be aware that bikes are not allowed on any park trails or in any backcountry areas.
Climbing: Thousands of people come to Grand Teton every year to climb the iconic mountains. You don't need a permit for day climbs but will need a backcountry permit if you're planning to do an overnight trip. Permits must be picked up at the Jenny Lake Ranger Station from June – September.
Check out our Grand Teton travel video to get a feel of exploring the park.
Where to Stay
Grand Teton National Park Camping
Grand Teton has a variety of campgrounds to choose from, all of which require reservations which you can make up to 6 months in advance. We highly suggest making reservations as soon as you can, especially if you're planning to visit during peak season as campgrounds fill up quickly.
Signal Mountain Campground – We drove through this campground to check it out and definitely want to try and reserve a spot here someday. Site 12 stood out to us with a nice view of Jackson Lake. There are pay showers and laundry nearby, plus a dump station, flush toilets, and seasonal potable water. RVs up to 30 feet can be accommodated with 25 sites offering electric hookups.
Gros Ventre Campground – This is the park's largest campground and offers flush toilets, seasonal potable water, and a dump station with limited availability (check with campground staff for use information). RVs up to 45 feet can be accommodated and 39 of the sites have electric hookup.
Jenny Lake Campground – This is a small, tent-only campground near the east shore of the lake. No trailers, campers, or generators are allowed and vehicles cannot be over 8 feet high or 14 feet long. There are flush toilets, seasonal potable water, and pay showers nearby.
Colter Bay Campground – Another large campground, Colter Bay offers hundreds of standard sites (13 with electric hookup), pay showers and laundry nearby, flush toilets, and potable water. RVs up to 45 feet are allowed in Colter Bay.
Colter Bay RV Park – This full hookup RV park has more than 100 sites that can accommodate RVs up to 45 feet. There is potable water, pay showers, and laundry available.
Colter Bay Tent Village – This unique campground has 66 tent cabins you can reserve and is a great option for those who may not have their own camping gear. RVs are not allowed here, but the village has flush toilets, seasonal potable water, plus pay showers and laundry.
Lizard Creek – Located in a remote part of the park, this campground has easy access to both Grand Teton and Yellowstone National Parks, so it could be a great option if you're looking to explore both. There are seasonal flush toilets and potable water, and RVs up to 30 feet can be accommodated.
Headwaters – This campground has tent sites, full-hookup and pull-through RV sites, and 40 Camper Cabins to choose from. Showers are available along with flush toilets, laundry facilities, and potable water.
Tip: Cell service can be spotty or non-existent within the park and its campgrounds. One area we did find usable Verizon data at was Willow Creek Overlook.
Dispersed and Backcountry Camping
If you're feeling more adventurous or find the park's campgrounds full, you can do what we did and try your luck at finding a dispersed camping spot outside the park. The forest roads to these spots can get a bit rough and technical, and we were surprised (and impressed) when we passed a brave soul who had brought an airstream up one of the roads we were on.
Since we were there during peak season (in July), all of the dispersed spots we tried to snag were full and we ended up driving into the night in search of one. Eventually we cashed in on some good karma and a couple let us share their spot for the night. The spot ended up being a bit noisy with cars coming and going and people partying nearby, but we were grateful to find somewhere to stay.
There are also backcountry camping spots which require a permit that you can reserve online in advance (January – May only), or are issued on a first-come, first-served basis no more than one day before the start of your trip.
Bonus Option: If you're not the camping type, there are a number of lodges, ranches, and cabins you can book. Check out the park lodging page for these options or search for hotels near Grand Teton National Park.
Grand Teton National Park is truly something special. It's one of the most scenic places we've been and offers truly unmatched opportunities to view wildlife. The couple of days we spent there did not disappoint and we look forward to going back to make even more memories.