Some of the links below are affiliate links, which means we will earn a commission on the products or services you purchase using the links. There is no additional cost to you and the earnings help keep this website running. Read the Affiliate Disclaimer for more information.
With over seven years of RV experience under our belts, one of our Essential Mobile Apps for RVing is still the Allstays Camp and RV app. This must have app for RVers is useful for planning your next RV trip and for when you're on the road. The Allstays app has saved us money, helped us find places to camp and so much more. Keep reading for more reasons on why the Allstays Camp and RV app is a must have for RVers.
Note: the Allstays app is now only available for iPhones and iPads. If you are an Android user, an alternative is Allstays Pro, which has even more features.

Allstays Camp and RV App Review
Main Features
When you launch the Allstays Camp and RV app, it will use location services to determine where you are to display the services in that area. You can zoom in/out, move the map, search for a specific area and choose from three map views: standard, hybrid or satellite.
We prefer the standard map view below.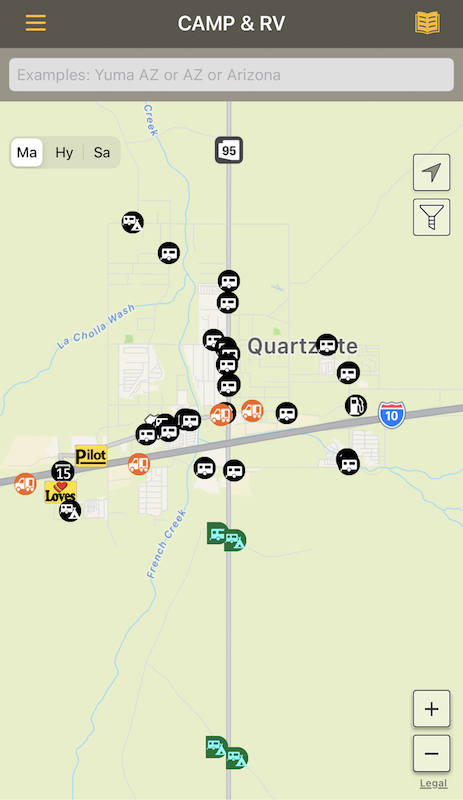 Without applying any filters, there will be six main categories displayed on the map:
How to Use Allstays App
Tap on any of the services to bring up a quick overview. In the example below, I tapped on the Pilot Travel Center near Quartzsite, Arizona. This quick view also includes the distance by air from my current location.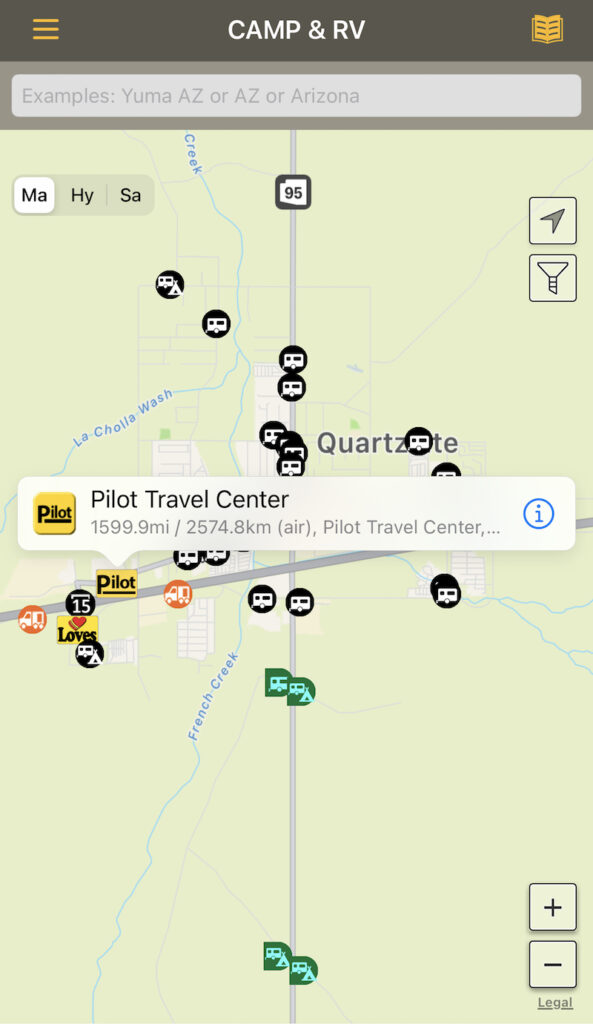 To see additional information, tap on the white banner with the (i) icon. In the truck stop example, you will be able to see the exact location, reviews, phone number, website (if available), get driving directions, as well as detailed location information.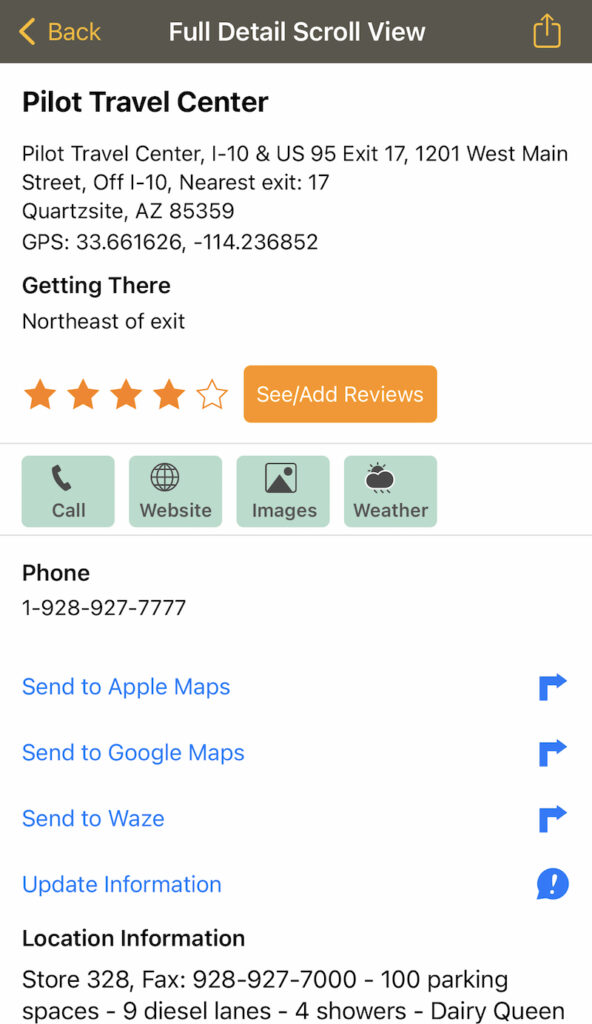 Keep in mind that location information will vary depending on the type of business. In the truck stop example, there are details about the number of showers, diesel lanes, parking spots, dining options and more as you scroll down.
Users have the option to submit updates about each business by tapping on "Update Information" which will open a draft email. When we come across outdated or missing information, we will send an update to help keep the information relevant and accurate for fellow Allstays Camp and RV app users. For example, we might send an update with "overnight parking is no longer allowed at this Walmart location" or "there are 4 RV parking spaces at this Cracker Barrel".
Standard Filters
The six main categories displayed can be filtered by tapping the options you want to see on the map. To access the filters, tap on filter icon in the main screen. We use this feature the most when we are looking for specific services in an area.
For example, if we want to look for a free dump facility, we select "RV Dumps – Extra Places" to see what's available beyond campgrounds and truck stops.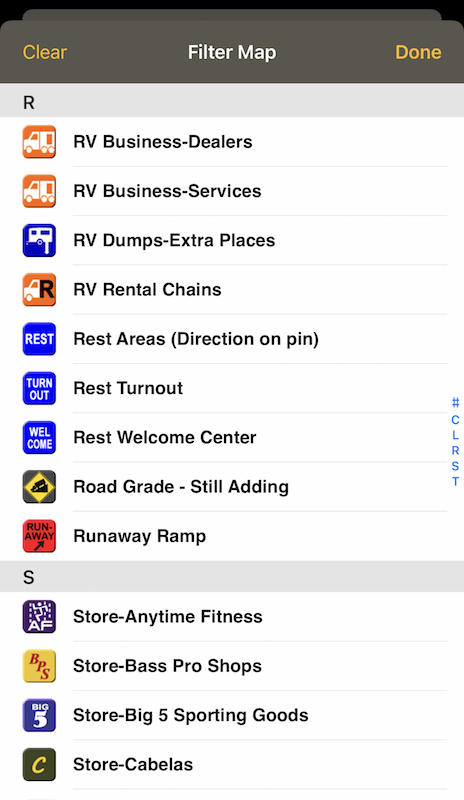 The Allstays Camp and RV app has over 50 standard filters to choose from. Here are some of the options that we use frequently:
Advanced Filters
Beyond the 50+ standard filters, there is also a long list of advanced filters to choose from. At the top of the filter screen, tap "Select Here for Amenities, Clubs, Rates and Much More" to access the advanced filters.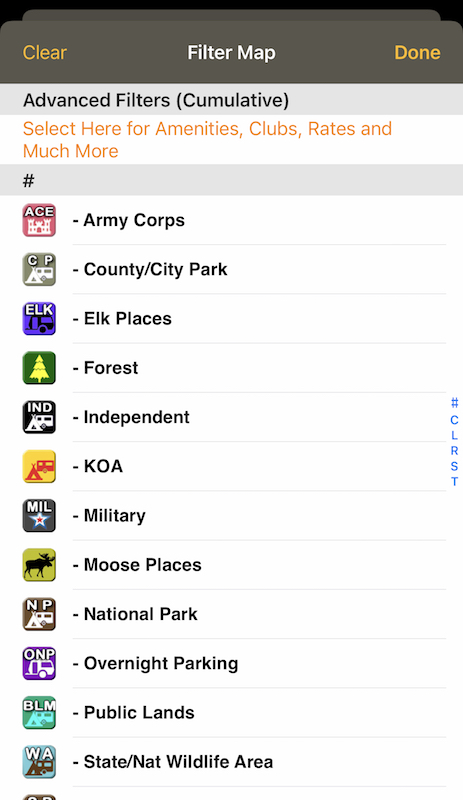 This is where you can search for free campgrounds or only see rest areas. Other advanced filters options within the Allstays Camp and RV app include amenities such as firewood, boat launch, fishing and pet friendly places for those who RV with dogs or other pets.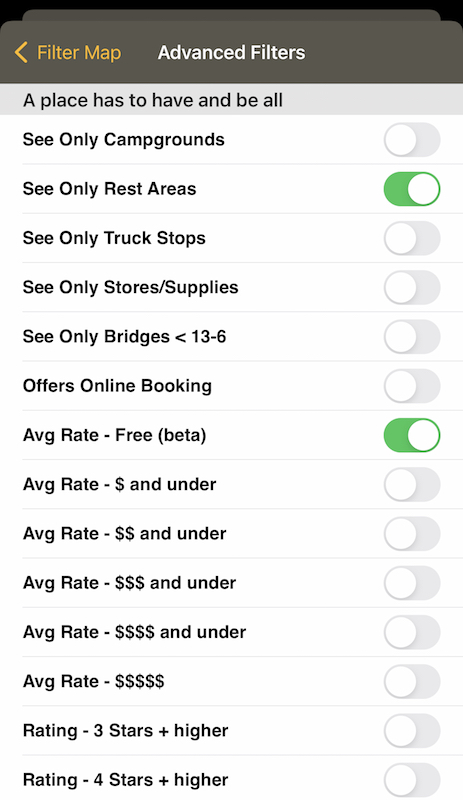 Offline Access
The Allstays Camp and RV app does have offline access and this feature comes in handy when there is no cell service. Keep in mind, only parts of the Allstays app will work without internet connection.
One issue we've encountered is that the map doesn't always load in the background. To get around the issue we view the map area we are traveling to ahead of time and at the level of zoom that we want. This will load the map into the memory of the iPhone. When we view it again offline the information displays without an issue.
Check out our post on Internet for RVers for tips on staying connected on the road.
Save Money with Allstays Camp and RV App
Free dump stations – use the "RV Dumps-Extra Places" filter. Some Camping World locations also have free RV dumps, make sure to call ahead to verify.
Free RV camping – use the "Avg Rate – Free" advanced filter or "Forest", "Overnight Parking", "Public Lands", "Walmart Ask to Park" and "Rest" filters. Be sure to check the rest area for restrictions on overnight parking. We wrote a post about overnight parking at rest areas.
Cheaper camping options – use the "Avg Rate – $ and under" advanced filter.
Elks and Moose members – use the "Elk Places" and "Moose Places" filter to see which clubs have RV facilities. We wrote a post about RV Camping at Elks Lodge.
There are many ways to use the Allstays Camp and RV app and we can't imagine life on the road without it.
A great alternative to the mobile app is Allstays Pro, a desktop version with even more information. This version works on phones and tablets, just login using the browser on your device.
Is there an Allstays App for Android?
In 2017, the Android version of the Allstays Camp and RV app was removed due to increase map fees. If you are an Android user and want to access Allstays Camp and RV app, the next best option is to purchase Allstays Pro. This version works on phones and tablets, just login using the browser on your device.
It's worth noting that founder Adam Longfellow sold Allstays in 2022. So far the main change I have noticed is the Allstays Camp & RV App is now free in the Apple App Store with in-app purchases. The one year price of Allstays Pro has remained the same.