Some of the links below are affiliate links, which means we will earn a commission on the products or services you purchase using the links. There is no additional cost to you and the earnings help keep this website running. Read the Affiliate Disclaimer for more information.
Quartzsite is a small town in West Arizona, less than 20 miles from the California Arizona border. Any motorist who has driven on Interstate 10 between the two states has driven through the town of Quartzsite, Arizona. Known as the "The Rock Capital of the World", this small town is a popular winter destination for RV travelers. In this guide to free camping near Quartzsite Arizona, I will share our personal experiences boondocking on BLM land near Quartzsite along with tips, resources and things to do.
Free Camping Near Quartzsite Arizona
Free camping, sometimes referred to as dispersed camping, BLM camping or boondocking, is one of the main draws that attracts RVers to Quartzsite, AZ every winter. From free camping on public land to paid camping at RV parks and campgrounds, there are many options for ways to camp in Quartzsite, Arizona. Since this post is all about finding free camping near Quartzsite Arizona, we'll start there.
How to Find Free RV Camping in Quartzsite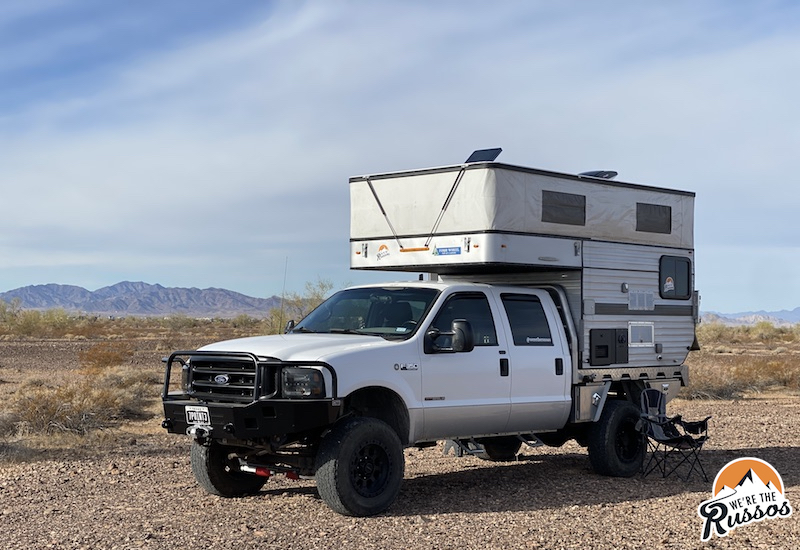 1. Use an RV Camping App
One of our preferred ways to find free RV camping in Quartzsite is by using Allstays Camp & RV, a must have app for RV living. Simply type "Quartzsite" in the search bar on the map and it will display the various Quartzsite RV camping options. The black and white icons are RV parks in Quartzsite, the green and teal icons are Quartzsite BLM camping options. Use the advanced filter "Avg Rate – Free" to only display free camping near Quartzsite Arizona on the map.
Below is an example of what the filtered map results looks like in the Allstays app. For more information about each Quartzsite BLM camping location, simply tap on the icon to display more details. In this photo, Plomosa Road BLM camping is selected and tapping the white banner will show location information from GPS coordinates, directions, limit of stay, reviews and more.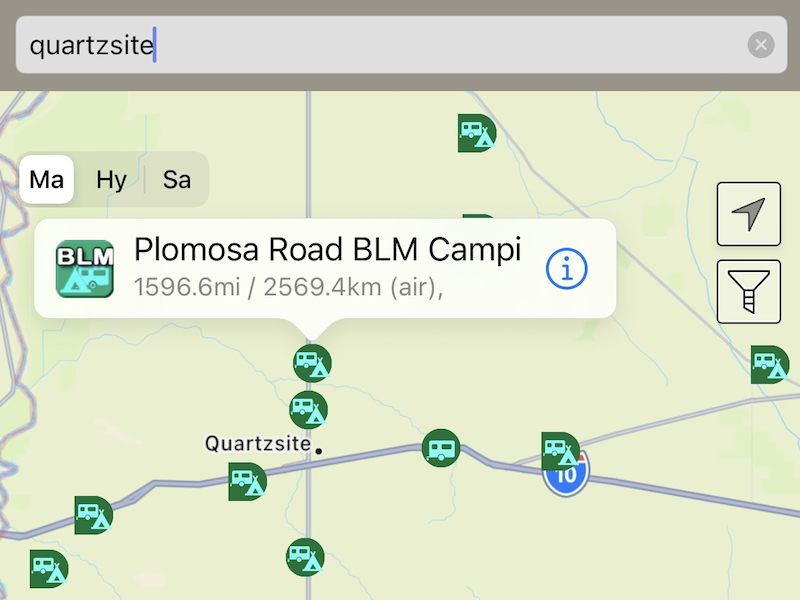 Don't have the Allstays Camp & RV app? Check out our review of this must have RV camping app or use Allstays Pro, which has even more features.
2. Attend a Quartzsite Rally
January is a popular month to visit Quartzsite Arizona and it's also when many of the rallies and events take place. Attending a Quartzsite rally is another way to find free camping near Quartzsite Arizona, especially for first time RV travelers heading to the area.
The first time we experienced free camping near Quartzsite Arizona, we were attending the Xscapers Convergence. Watch our video to get an idea of what free camping in Quartzsite is all about along with a driving tour of Bob Wells' Rubber Tramp Rendezvous.
RTR (Rubber Tramp Rendezvous) put on by the Homes on Wheels Alliance is perhaps the most popular annual rally in Quartzsite every winter. Check the RTR event page for a list of options for free camping near Quartzsite Arizona. This massive gathering in the desert is free to all and also featured in the RV movie "Nomadland" starring Frances McDormand which you can check out below.
3. RV Forums and Groups
There are countless RV travel forums and groups with information on free camping in Quartzsite. Use the search feature to look up topics related to Quartzsite BLM camping and you'll likely find additional information such as other considerations when choosing where to camp in your RV.
Popular forum iRV2 has a Quartzsite tag to help readers quickly find topics related to the town. Whether you belong to a owner specific RV forum/group or a general RV travel one, be sure to check for posts on free camping near Quartzsite Arizona and add it to your list of resources.
Tips for Free Camping Near Quartzsite
Now that you know how to find free camping near Quartzsite Arizona, here are some tips based on our experiences RV camping in Quartzsite.
January is a popular time to visit Quartzsite because that's when many of the events and rallies take place. RTR, Escapees Quartzsite Rally, Desert Gardens Rock, Gem & Mineral Show and the Quartzsite RV Show all take place during this time, each one drawing a large crowd of RVers to the area.
Quartzsite BLM camping is typically limited to 14 days. Read the signs at each free camping area for up to date information on camping limits and restrictions.
Free camping on public land means there are no amenities or services. We follow the Leave No Trace Principles by planning ahead and preparing for BLM camping, including disposing of waste properly.
When it comes time to dump the RV tanks, there are several RV dump stations in Quartzsite, Arizona. Pay to dump at one of several RV parks in Quartzsite or go to RV Pit Stop at 425 N. Central Blvd. where the dump fee varies depending on the size of the RV.
You can also fill up on potable water for the RV at the RV Parks or RV Pit Stop for a fee.
RVs of all sizes can find free camping near Quartzsite Arizona. The vast desert landscape provides all types of spots for RV camping. It doesn't matter if you're in a 45′ luxury motorhome towing a large cargo trailer or an off-road adventure van with 4 wheel drive, you'll be able to find RV camping in Quartzsite.
Best Free Camping Near Quartzsite Arizona
Based on our two winters RV camping in Quartzsite, the best free camping near Quartzsite Arizona is in the Plamosa Road BLM area.
From Interstate 10, get off at exit 17 and head north on US-95 towards Parker. In about 5.7 miles, make a right onto Plamosa Road and drive the paved road east. You'll see numerous turn offs on both sides of the road. Find an area you like and head off the pavement until you find a BLM camping spot that works for you and your camper.
If you continue on Plamosa Road, it will eventually end at the town of Bouse Arizona about 20 miles north east of Quartzsite.
Since we prefer to camp away from the crowds, we will drive a bit further off the main road to find a quieter spot.
Verizon cell service is good at Plomosa Road BLM. For more information on staying connected while traveling, check out our Guide on Internet for RVers.
We've always felt safe boondocking in this area of Quartzsite and find that most people are respectful of noise levels in the evening. See our post on RV Safety and Preparedness for more information.
The Fisherman Intaglio is an archaeological site that's worth visiting if you decide to stay in the Plomosa Road BLM area.
Wherever you end up free camping near Quartzsite Arizona, make sure to plan a trip to The Desert Bar in Parker Arizona. Watch the video to get an idea of what to expect when you visit.
Also known as the Nellie E Saloon, this unique watering hole runs off solar powered batteries and is only open on the weekends from October through April. Expect live music, bar food, cold drinks and a good time at The Desert Bar. Oh and make sure to bring cash and be prepared to disconnect as there's no cell service.
Thanks for reading! I'd love to read about your Quartzsite RV camping experiences. Leave a comment below.