Some of the links below are affiliate links, which means we will earn a commission on the products or services you purchase using the links. There is no additional cost to you and the earnings help keep this website running. Read the Affiliate Disclaimer for more information.
Not too long ago while touring around the east coast in our camper van, we decided to take a few days and finally explore part of the famous Blue Ridge Parkway—and to say the drive was amazing is an understatement. The Parkway, established in 1936, spans 469 miles of North Carolina and Virginia–from the Great Smoky Mountain National Park to Shenandoah National Park.
Driving the Blue Ridge Parkway gives you an incredible look at what makes this region of the United States so special. After our trip, we definitely understand why it's known as "America's Favorite Drive." We loved it so much that we wanted to write this article to share some of our recommendations and help you plan your own adventure on the Blue Ridge Parkway.
Blue Ridge Parkway Travel Guide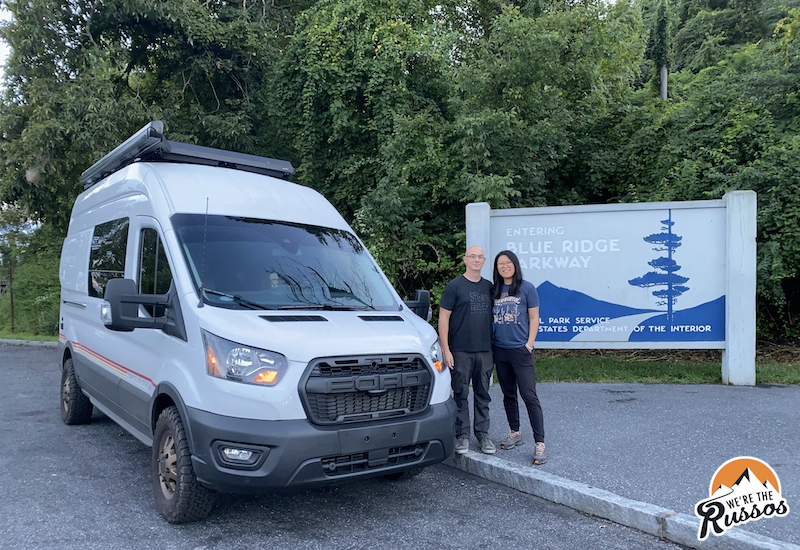 When to Visit Blue Ridge Parkway
The Blue Ridge Parkway is generally open and accessible all year round, and each season offers a unique and beautiful experience. However, you'll want to consider weather conditions during the different times of year to determine when you'd like to explore the Parkway.
There is a large range of elevation along the Parkway, from just under 650 feet to over 6,000 feet. With the varying elevation comes different weather depending on the season and location.
Spring is generally the season with the most unpredictable weather, especially during the month of March. If you're traversing the Parkway during spring, expect wide swings in temperature and regular precipitation (including snow).
Summer months see heat and humidity along Blue Ridge, although the high elevation of many areas provides a nice cooling effect. Rain and thunderstorms are also common during summer, and high winds can sometimes lead to road closures due to downed trees.
Fall is the driest season on the Blue Ridge Parkway. With warm days and cooler nights, it can be one of the most pleasant times of year to explore America's Favorite Drive, especially if you're seeking out the stunning colors of the changing leaves.
Winter brings snow and ice to the region (typically starting in November), especially at the Parkway's higher elevations. This can cause parts of the route to be shut down so you should plan ahead and keep a close eye on the forecast. While there are sections of the Parkway that are gated and can therefore be closed off during dangerous conditions, other parts are ungated so it will be up to you to determine if it's safe to proceed. Also keep in mind that the Parkway's campgrounds are all closed during winter months so you'll need to find alternative accommodations if you go during the offseason.
You may also encounter construction or maintenance projects (like the clearing of vegetation on the side of the road) along the Parkway throughout the year which could lead to closures and delays. We recommend checking the National Park Service website for current road conditions before heading out. We also encourage you to stop by one of the visitor centers along the Parkway to chat with the rangers who can mark a map with any current closures (this is what we did at the beginning of our trip and it was very helpful).
Things to Do Along the Blue Ridge Parkway
While some may think the Blue Ridge Parkway is just a means of getting from one point to another, that couldn't be farther from the truth. There is a ton to see and do along this historic route and you can spend days exploring it. Here are just some of the points of interest we experienced, and some others that you may want to add to your itinerary.
Enjoy the Drive
This may be an obvious one, but simply driving along the Blue Ridge Parkway and taking in the surrounding beauty is a destination in itself. While you may not have time to do the entire Parkway or make many stops along the way, you can enjoy smaller sections through different access points along the route which you can find on the Parkway map.
For our trip, we picked up the Blue Ridge Parkway in Asheville, NC (at milepost 384 to be exact) and took it north to mile marker 0 near Shenandoah National Park. While we wished we'd had time to drive the entire Parkway, the chunk we did do was worth every mile and we look forward to doing the rest of it in the future.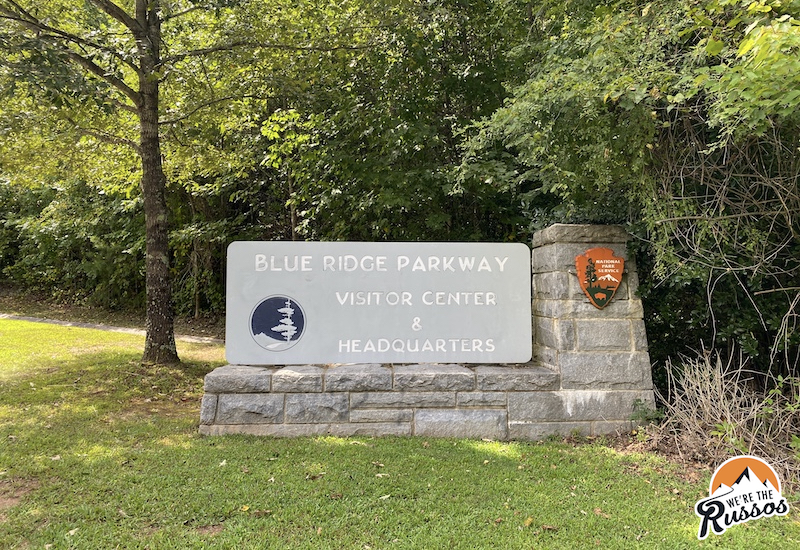 Regardless of where you start your Blue Ridge Parkway drive, it's worth making a stop at the Visitor Center and Headquarters in Asheville, North Carolina to learn more about the Parkway, take a break and speak with the park rangers for recommendations and tips.
Keep in mind that driving each 30 miles on the Parkway typically takes about an hour, with a maximum speed limit of 45 mph. There are also no gas stations along the Parkway itself, but there are places to fuel up in the surrounding communities. We averaged about 11 miles per gallon along the Parkway in our camper van due to the winding nature of the road and its steep grades.
If you're driving an RV, you'll also want to check the heights of the Parkway's 26 tunnels (which account for 36% of all road tunnels found in U.S. national parks) to ensure your rig can fit through them. If the clearance isn't high enough for your vehicle, you can always hop off the Parkway to avoid the tunnels and get back on further down the road. We also encountered periodic tree branches that protrude into the roadway. They were high enough to not impede most smaller vehicles, but we had to navigate around some in our RV.
There are over 300 scenic overlooks where you can pull over to soak in the incredible views that make this much more than a typical roadway. We found ourselves feeling extra lucky to be driving in our Class B van which has a roof deck, allowing us to climb on top of the van for even more of a bird's eye view. No matter how much of the Parkway you drive, or how many (or few) stops you're able to make along the way, we guarantee the drive is one of the best you'll ever take.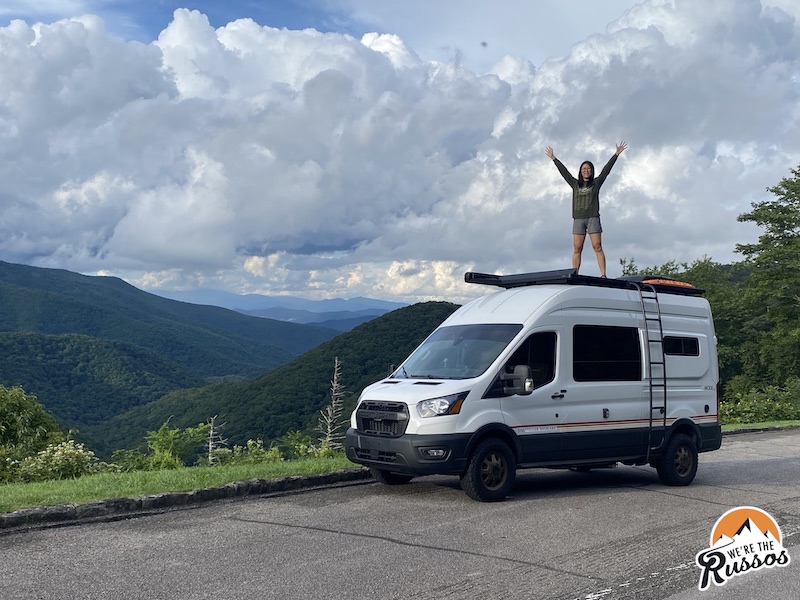 Safety Tips: Be sure to drive the Blue Ridge Parkway with care. The speed limit is mostly 45 mph (but drops to 25 in some areas). There are also some steep grades, narrow road shoulders, and lots of curves that require attentive driving. We also saw a good number of deer bouncing across the road during our drive, so be aware of animals crossing as well. The Parkway was built for motorists, so there are no bike lanes. Cycling should be done with extreme caution and drivers should always be aware of cyclists sharing the narrow road.
Get Crafty at the Folk Art Center
There are many places to stop and explore along the Blue Ridge Parkway and we made it just over a mile on our journey before making our first stop at the Folk Art Center (at milepost 382). The center is a great place to learn about and see Appalachian arts and crafts. You can even watch the artists themselves doing demonstrations of their work. Most of the items inside are for sale so you can take home a piece of the local handmade art if you wish. We found it to be very impressive and recommend stopping by to check it out.
Stand At the Highest Point East of the Mississippi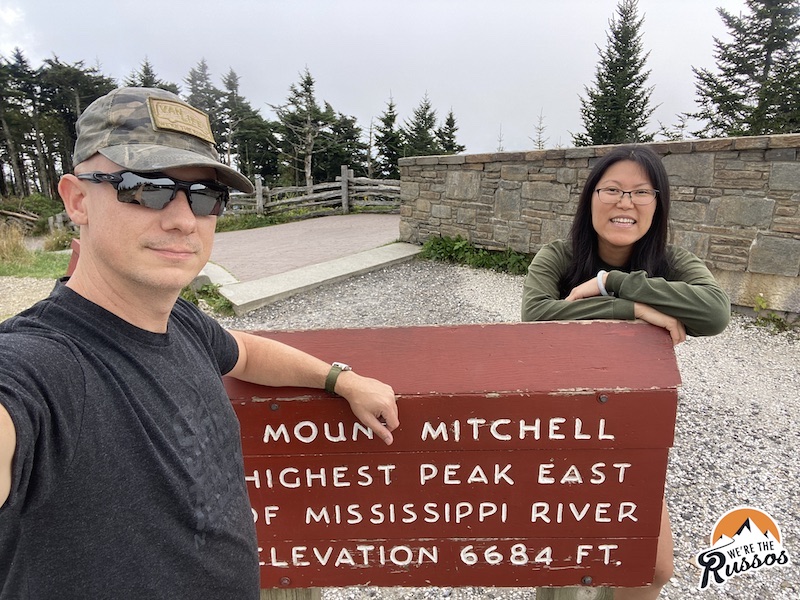 Another must-stop location for us along the Parkway was Mount Mitchell, the highest peak east of the Mississippi River (at an elevation of 6,684 feet and located at milepost 355). Despite being a bit overcast and foggy that high up, the views were stunning and we were glad we took the time to get out of the van and walk to the peak. Mount Mitchell also has a seasonal Natural History Museum, restaurant, picnic areas and camping (some of these are open seasonally, so check operating hours before visiting).
Rock Out at the Mineral Museum
Another highlight of our trip was the Museum of North Carolina Minerals, located at milepost 331. We (especially Kait) love rocks and it was nice to learn about the area's rich mineral resources and mining history at the museum. There are also some cool interactive exhibits that explore the creation of the Blue Ridge Mountains which will give you a greater appreciation of the geologic wonders you'll see as you drive the Parkway.
Enjoy the Serenity (and Breakfast) of the Mabry Mill
We had read in a guide book that the Mabry Mill (located at milepost 176) is one of the most picturesque places along the Blue Ridge Parkway, so after passing it along our route, we decided to call an audible and quickly found a campsite nearby so we could visit the mill the following day. It was well worth stopping for.
We enjoyed a fantastic breakfast of biscuits and gravy and the best sweet potato pancakes we'd ever had at the mill restaurant. We then walked the postcard-worthy grounds and saw the original sawmill and blacksmith shop that still stand today. There are also cultural demonstrations and Sunday afternoon music and dancing during certain seasons. Be aware that the mill isn't open all year round so you'll want to check the operating hours before making a stop here.
Hit the Trails
There are over 369 miles of hiking trails along the Blue Ridge Parkway, too many to list here. No matter your level of experience or how much time you have, you're bound to find plenty of hikes to do if you want to get out and stretch your legs. Two of the trails we experienced on our trip were Linville Falls (a somewhat strenuous hike down to a roaring waterfall where you can dip your feet in the refreshing water) and the Cascades Trail (an easier, leisurely loop leading to Falls Creek). Other popular trails to check out include Peaks of Otter, Cumberland Knob, and Crabtree Falls.
And Much More…
With 469 miles of Parkway, there are simply too many points of interest to cover in this article, so you'll want to do your research to choose what stops you'd like to add to your itinerary. Here are just a few more highlights we recommend:
The Orchard at Altapass (at milepost 328), a 100+ year-old orchard where we stopped to get some delicious local apples and take some fun photos.
Moses H. Cone Park (at milepost 294), an impressive estate built by a textile magnate where you can tour the manor, soak in beautiful views of the valley below, and walk miles of winding carriage trails.
Blue Ridge Music Center (at milepost 213), where you can enjoy live performances and learn about the music that's embedded in the history of the mountains at the "Roots of American Music" exhibit.
Humpback Rocks (at milepost 5.8), offering hikes to high rock outcroppings and historic farm buildings that will give you a sense of life in Appalachia during the late 1800s.
Check out our Blue Ridge Parkway travel video to see more of what we did on our trip.
Where to Stay
Given the nature of the Blue Ridge Parkway and its proximity to many communities along the way, there are plenty of options for staying overnight depending on what you're looking for…from hotels and lodges, to developed campgrounds and backcountry camping.
Blue Ridge Parkway Camping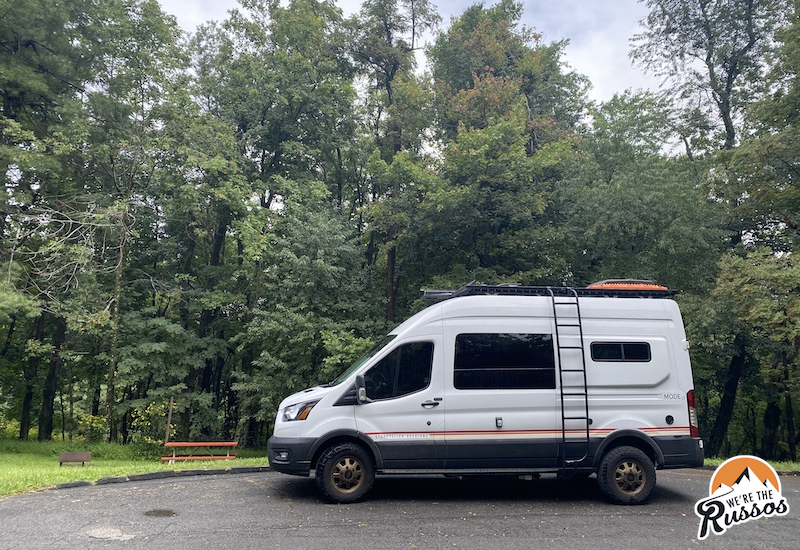 There are eight campgrounds along the Parkway itself that are open from May through October (they shut down during winter months). All of the campgrounds have potable water, flush toilets, and a dump station (note that showers are only available at Julian Price and Mount Pisgah campgrounds). Advance reservations can be made for all campgrounds up to 6 months in advance, otherwise spots are first come, first served.
We made a last-minute decision to stay at the Rocky Knob Campground (at milepost 167) during our trip and were lucky to find the campground fairly empty, allowing us to snag a spot the day of. Since Rocky Knob isn't one of the campgrounds with showers, we showered inside our van and enjoyed a relaxing night and slow morning there. We'd recommend spending a night here if you want to explore Mabry Mill or other surrounding attractions. There was decent cell coverage at site T-21 where we camped. For tip son staying connected, check out our RV Internet Guide.
The Parkway also has three backcountry campgrounds if you're looking for a more primitive camping experience. Permits are required to camp in the backcountry and are issued on a first-come, first served basis. You can get a permit at the campgrounds themselves from June through October. From November through May, permits are available at the corresponding District Office. There are limits to how many people can camp in the backcountry, so advance reservations are recommended.
Of course there are plenty of other campgrounds and RV parks in the communities that surround the Blue Ridge Parkway, as well as businesses where you can stay overnight in your RV. We spent our first night in a local Walmart parking lot which was surprisingly quiet and peaceful.
Lodges
If camping isn't your thing, there are also two lodges on the Blue Ridge Parkway: Peaks of Otter Lodge in Virginia (at milepost 86) and Pisgah Inn in North Carolina (at milepost 408.6). Both lodges are open seasonally so be sure to check their operating calendar and make advance reservations if you can.
Hotels, Motels & More
If the campgrounds and lodges on the Parkway are full or don't suit your needs, the communities nearby offer a variety of hotels, motels, bed & breakfasts, resorts, and other accommodations, so you shouldn't have any trouble finding a place to stay.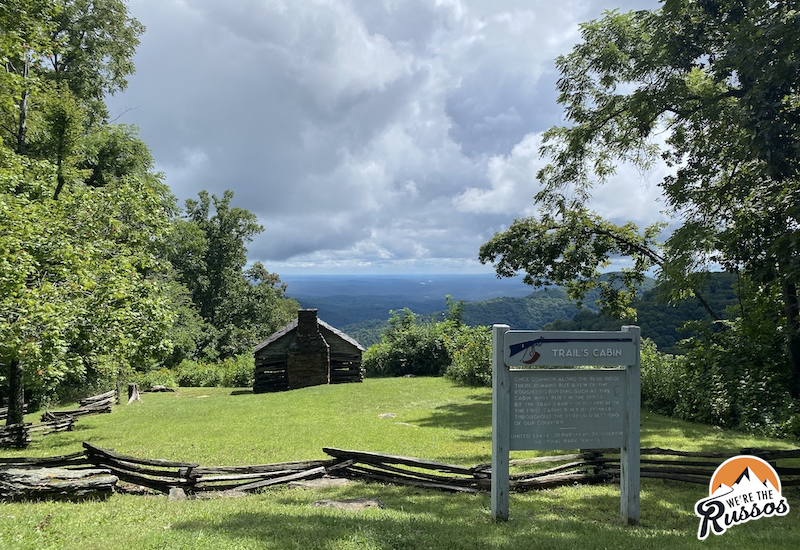 Our trip on the Blue Ridge Parkway was unforgettable. Driving from milepost 384 to milepost zero gave us a great taste of the natural and cultural beauty of the Appalachian region. We could have spent many more days driving the rest of the Parkway and exploring all of the stops along the way, and can't wait to do more of it in the future. There's truly something for everyone on the Blue Ridge Parkway, and we encourage you to discover your favorite parts of America's Favorite Drive by experiencing it for yourself.