Some of the links below are affiliate links, which means we will earn a commission on the products or services you purchase using the links. There is no additional cost to you and the earnings help keep this website running. Read the Affiliate Disclaimer for more information.
After spending three winters camping and exploring Tucson, Arizona, we can easily say it's one of our favorite places to be during the winter months. In this post I'm going to share some of our favorite things to do in Tucson Arizona and a few tips for fellow RVers and campers.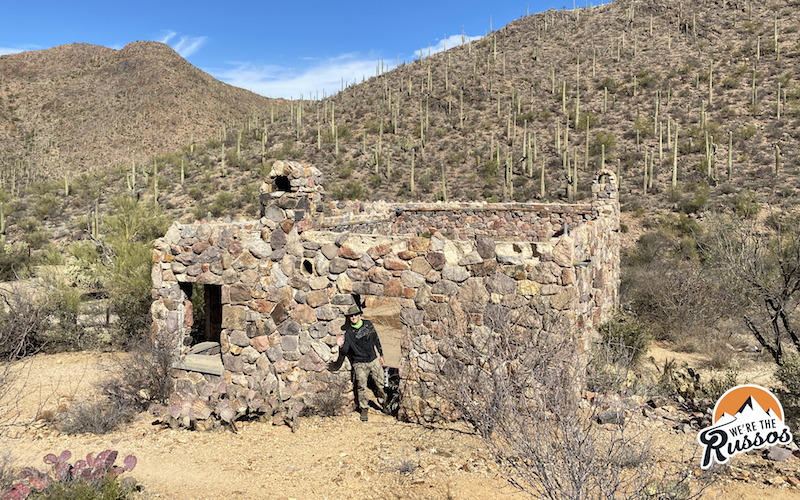 Things to Do in Tucson Arizona
During our first visit to Tucson the locals told us "when the hills are pink, it's time for a drink." Thanks to the beautiful sunsets in Tucson, the hills are always pink in the evening. So have a cold or hot beverage handy for when the sun is going down.
What about when the hills aren't pink? Well, there are plenty of great hikes, delicious food and museums to keep you busy until the next sunset. This video is from our second visit to Tucson and features some of the things to do in this post.
1. Pick Up A Loaf of Artisan Bread from Barrio Bread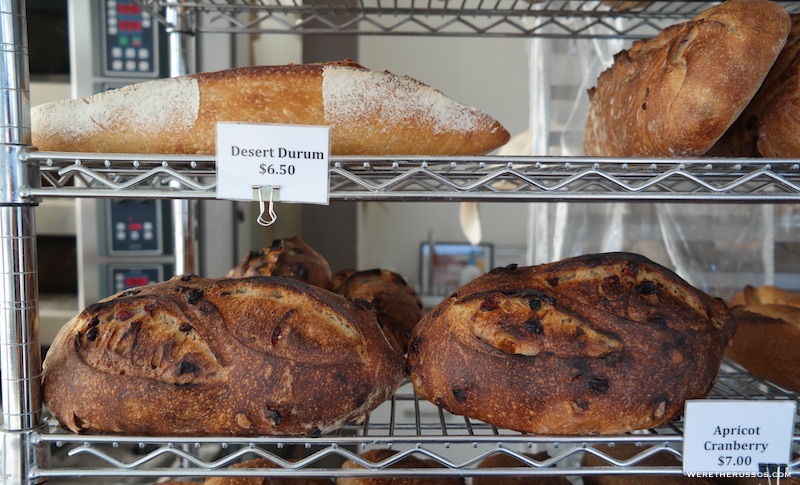 For delicious award winning artisan bread, head to Barrio Bread at 18 S Eastbourne Ave. Don Guerra has been baking sourdough bread using a traditional method for several decades. The organic breads are baked daily with a wide selection to choose from including breads made with ancient grains.
Some of our favorite Barrio Bread creations include the rustic olive, Epi, whole wheat walnut, and community loaf. Make sure to check the daily bread menu to see what's available. I can tell you that every loaf we've purchased has been fantastic, so you really can't go wrong.
2. Spend the Day with 350+ Historical Aircrafts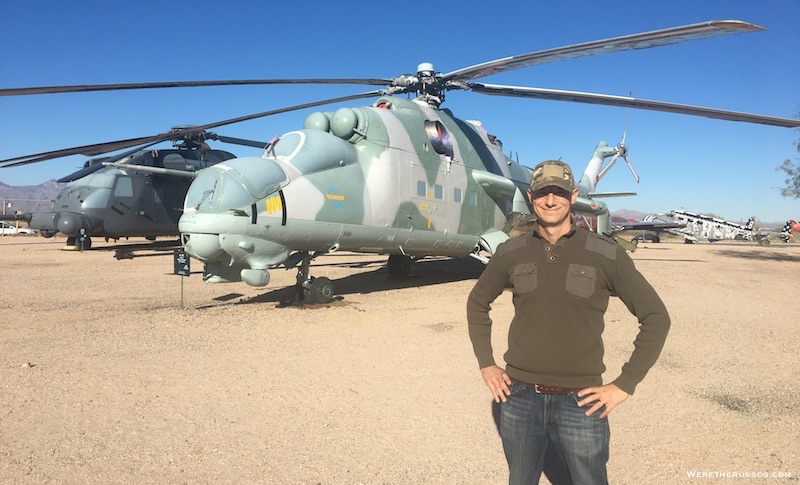 Across the street from Davis Monthan Air Force Base is the Pima Air and Space Museum. With over 350 historical aircrafts on display including six indoor exhibit hangars, there is a lot to see. If you're able to plan in advance, check out the "Boneyard"/AMARG tour (reservations have to be made 16 business days in advance). Timing didn't work out for us, but we heard the narrated tour of over 4,000+ military aircraft is worth taking.
3. Go For a Hike or Two or Five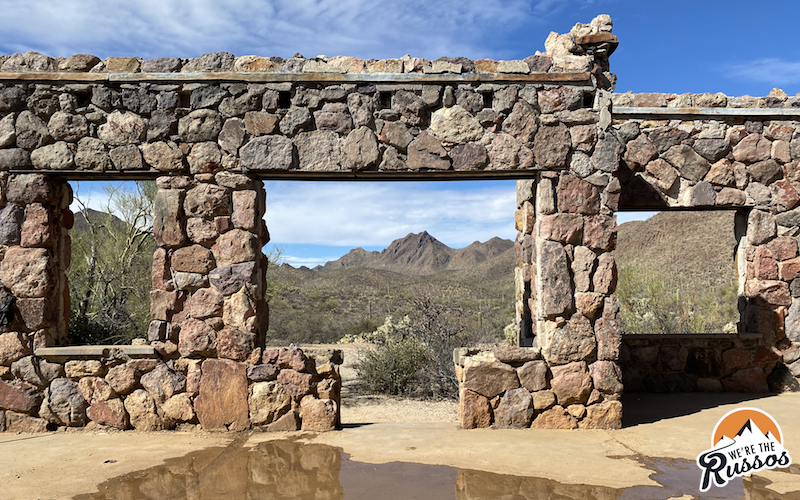 There is plenty of hiking in and around Tucson, Arizona. Below are some that we've hiked or are on the list for next time.
Tucson Mountain Park borders Saguaro National Park west and offers many trails including a few options to get to Bowen Stone House Ruins. We started our hike at Hidden Canyon and ended at Bowen Trail. You can easily spend a day exploring this park and all the trails.
Picacho Peak State Park north of Tucson has several trails that range from easy to difficult. The trail that was recommended to us is the Hunter Trail, a difficult trail that is not for the faint of heart. As described by the park's website it's "steep and twisting, with steel cables (gloves are recommended) anchored into the rock in places where the surface is bare."
Sabino Canyon Recreation Area on the east side of Tucson and the start of the popular Seven Falls Trail. If you'd prefer to explore the area on horseback, there are also guides that run tours throughout the area.
Another great place for hiking and must do in Tucson is Saguaro National Park. We drove the scenic loop that starts on Hohokam Road and took in the amazing views on the Valley View Overlook Trail. Wasson Peak is a popular hike and starts right next to the Arizona-Sonora Desert Museum (more on that next).
There is an entrance fee for Saguaro National Park. Don't forget to pick up an America the Beautiful Pass if you plan to visit several national parks within a year. Check out our post on Money Saving Memberships for RVers.
5. Visit the Arizona-Sonora Desert Museum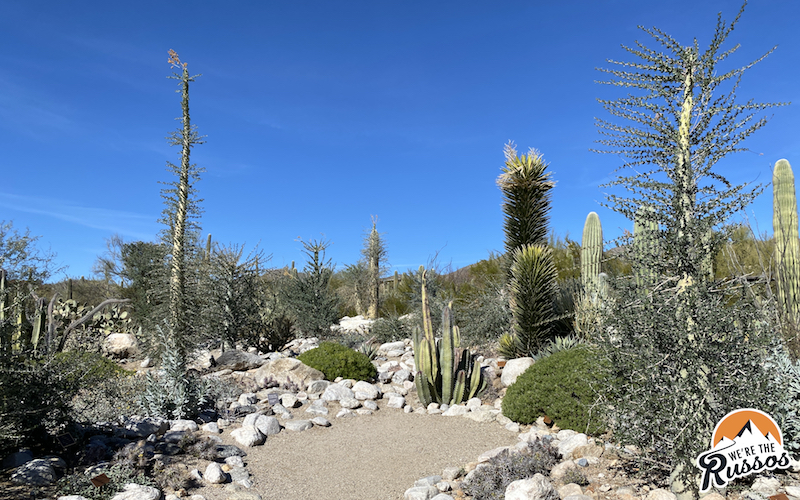 One of our latest discoveries is the Arizona-Sonora Desert Museum in Tucson. In addition to having a wide collection of cactus on display throughout the gardens, there are stingrays, coyotes, a walk-in aviary, and even a Mexican gray wolf that reminded us of our white husky, Leo.
The museum offers a great introduction to the Sonoran Desert which stretches from Southwestern Arizona and California to Northwestern Mexico in Sonora and the Baja California Peninsula. Check out our post on RV Travel in Baja California.
6. Breakfast Burritos at Barista Del Barrio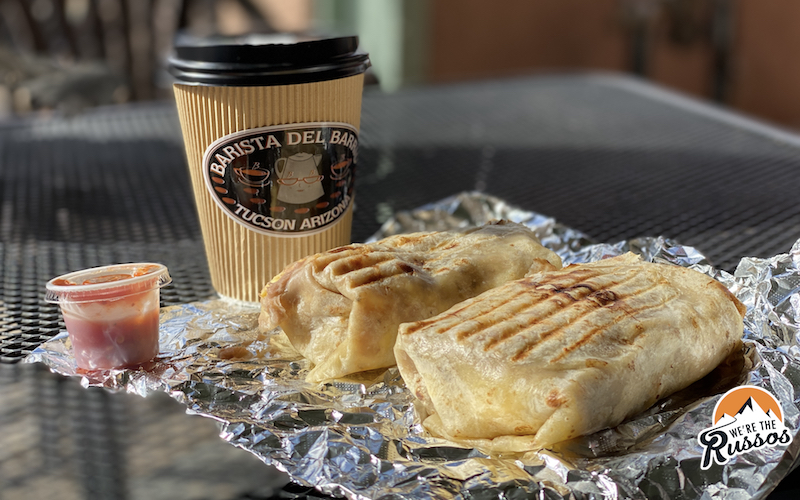 I don't know about you, but all that talk about hiking has me hungry for some good food. Thanks to our friends Kenny and Jane who live in Tucson, we found a great pre-hike or post-hike breakfast burrito spot. Barista Del Barrio is a great local gem that you'll be glad you tried.
The thing that makes their breakfast burritos special is you get two small grilled breakfast burritos instead of a giant one. Depending on how hungry you are, you can share an order or save the other half for later.
I ordered the vegetarian breakfast burrito with potato, eggs, bean and cheese served with their spicy salsa. Joe had the chorizo breakfast burrito with the Barrio Hochesso which is an espresso drink made with horchata.
7. Buy Seasonal Produce at the Farmers Market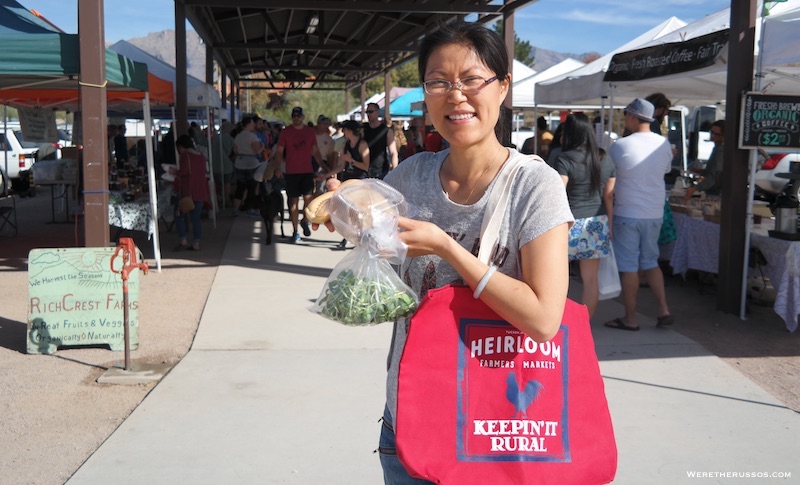 There are no shortages of local farmers markets in Tucson. The Sunday Rillito Park farmers market we like is organized by Heirloom Farmers Markets. There is a wide variety of seasonal, local produce to choose from and local food vendors serving up coffee, raw honey, goat cheese and more.
One of our favorite farm stands is SouthWinds Farm, dedicated to growing good food using organic and sustainable methods. We loved the produce so much I ended up doing a one day work exchange on the farm.
8. Tour a Real Missile at Titan Missile Museum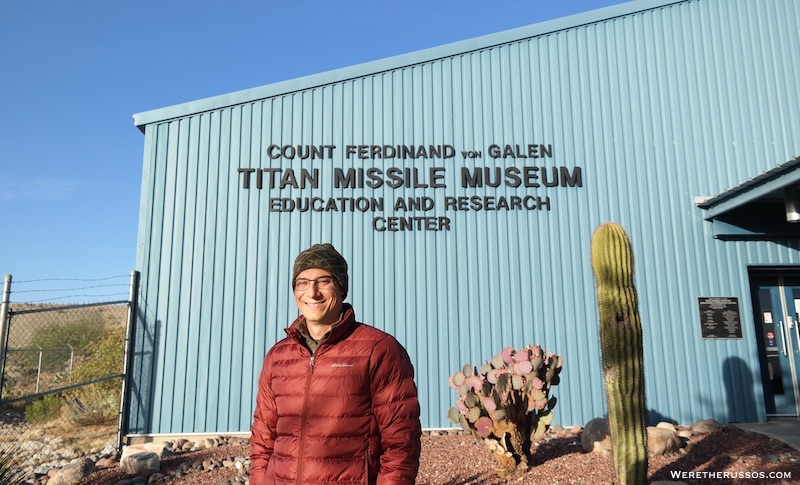 South of Tucson is the Titan Missile Museum, where visitors get a top-to-bottom tour of a real Titan II Missile. A total of 54 Titan II missile sites were built across the Unites States, this site (complete 571-7) is the only one left.
There are five tour options to choose from starting with a one hour guided tour all the way up to an overnight experience. Ken was our tour guide and he was a wealth of knowledge. You can see a portion of our tour in our Tucson video.
9. Catch a Flick at the Dine-In Movie Theatre
Roadhouse Cinemas is the best dine-in movie theatre in Tucson. Complete with reclining seats, a full bar with local beers on tap and a menu that ranges from burgers and nachos to salads and sandwiches.
With happy hours and early bird specials, you don't have to break the bank to watch a movie. We watched a movie for $5 per ticket, now it's $6 per ticket. For all you popcorn lovers, buy a Roadhouse t-shirt and receive free popcorn each time you wear your shirt to the movies.
10. Explore Tucson in a Rental RV
If you ever thought about renting an RV, Tucson is a great destination to explore in a rental RV. From free camping on BLM to luxury RV resorts, there is no shortage of places where you can stay in a rental RV. Two popular sites for RV rentals are RVShare and Outdoorsy.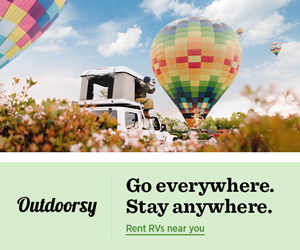 Read about our RV Rental Experience on Maui.
RV Living Tips for Tucson, Arizona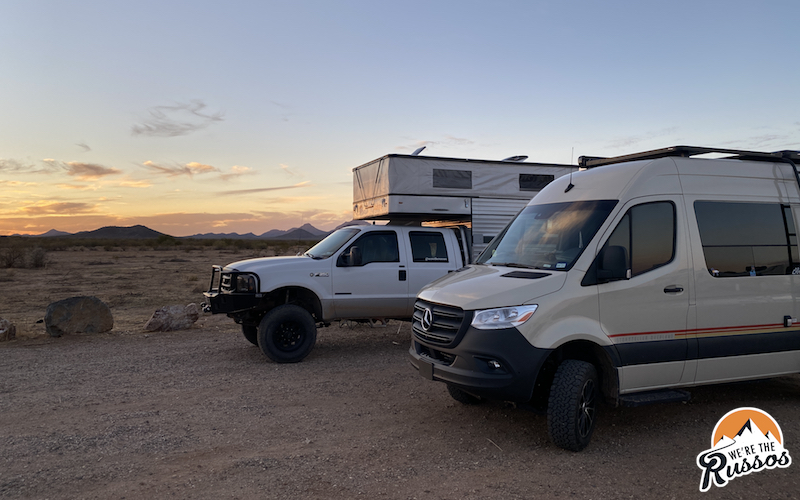 For those of you RV camping in Tucson, here are a few tips for your time in the area:
The UPS Store at 3849 E Broadway Blvd will accept packages from any carrier starting at $5 (price will go up depending on the size of the package). Check out our post on Ways to Get Mail on the Road. If you also need to print documents, this store has a $2 minimum service charge, which means if you are picking up a package and paying the $5 fee, you only have to pay for the number of pages printed.
There are plenty of laundromats in town. The one we've used is Campbell Laundry located at 1800 E Fort Lowell Rd Suite 120.
The Costco north of town (3901 W Costco Drive) will fill propane for a very competitive price. That's our favorite place to fill up, otherwise we go to the Tractor Supply Store or West Ajo Feeds for propane. Check out our post on Ways to Save Money with a Costco Membership.
Reid Park in town is a good place to hang out and work for a few hours if you need to be in the city. If you're RVing with dogs, there's Miko's Corner Playground Dog Park with a big parking lot, flushing toilets and trash cans.
To quickly find campgrounds, RV dumps, propane fills, potable water and more RVing/camping resources we use Allstays. Check out our AllStays Review.
Where to Camp in Tucson, Arizona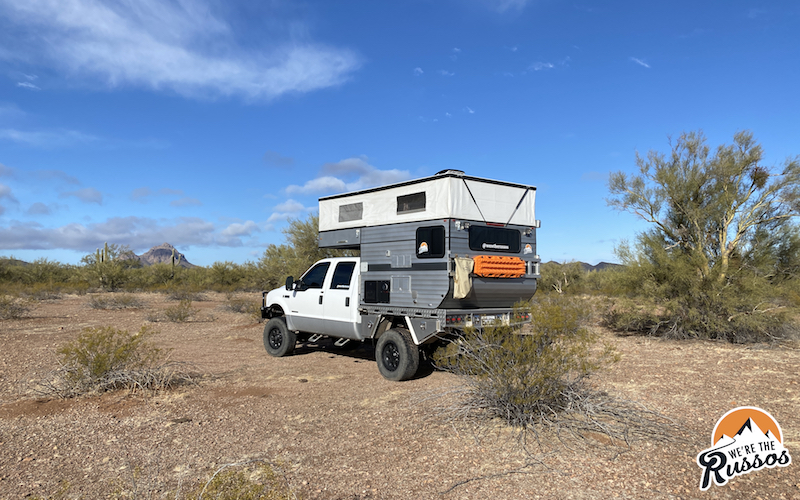 The great thing about being in Arizona is the abundance of public land. Although we have friends that live in town with a driveway for us to park on, we prefer to find a dispersed camping spot outside of the city.
Snyder Hill BLM west of Tucson is where we stayed in our Class A motorhome back in 2015. Now the area is very crowded and not very well kept. Depending on what type of camper you have and how capable it is off road, you might be able to explore further on the unpaved and unmaintained roads to find boondocking options that are less populated.
For tips on finding free camping around Tucson, check out our post on how to find dispersed camping on public land.
Find nearby Harvest Hosts. Members have access to vineyards, farms, museums, breweries and more. Read our Harvest Hosts Review or use our referral link to receive a discount.
Check Boondockers Welcome to see if there's a host member in the Tucson area that can accommodate an overnight RV stay. Read our Boondockers Welcome Review or use our affiliate link to sign up.
I hope you enjoy Tucson as much as we do!