Aloha! Are you ready to experience a different kind of Maui vacation? With so much to do and see, booking a Maui RV rental is one of the best ways to explore the island.
Watch the video below or keep reading to see what it's like to explore Maui in rental camper.
Maui RV Rental with Campervan Hawaii

The team at Campervan Hawaii has a selection of Maui camper rentals from luxury Class B camper vans to VW Westfalia campers with the pop-top.
Since we travel around the mainland in a camper van, exploring Maui in a rental RV was an easy transition. That said, prior RV experience is not necessary to rent a camper on Maui.
"Ho'okipa" – The Maui Camper Rental
With severals Maui RV rentals to choose from, we picked "Ho'okipa" – a fully converted camper van that I refer to as a fully furnished vacation rental on wheels.
This Maui rental camper has a toilet, shower, a very comfortable bed with a mattress topper, beach chairs, towels, fully stocked kitchen with a sink, refrigerator and microwave. Oh and there's an A/C for those hot summer days by the beach and a furnace for the cool mornings at the summit of Haleakalā.
Two items included with the camper van that made our Maui vacation extra special were a pair of binoculars and the Maui Revealed guidebook.
And if you dig the cool artwork inside this camper van, the artist is Colin Redican.
>>Check Out All the Campervan Hawaii Rentals<<
Get $50 off your rental with discount code RUSSO50

Picking Up the Camper Van on Maui
Before our arrival, we received an email detailing the pick up time and location along with a video walk-through of rental camper.
From the Kahului Airport, we met the Campervan Hawaii team at baggage claim and took a short walk over to the parking lot where the camper was waiting for us.
The detailed camper tour explained every component in the rental RV and we were provided with a phone number to call with any questions.
Armed with a long list of recommendations, we were off on our island adventure.
Check out the video at the beginning of this post to get a better idea of the RV rental process.
Camping Options on Maui
There are quite a few established campgrounds on Maui which are described in detail on Campervan Hawaii's camping page.
We camped at Papalaua Wayside Park, Kipahulu and Hosmer Grove.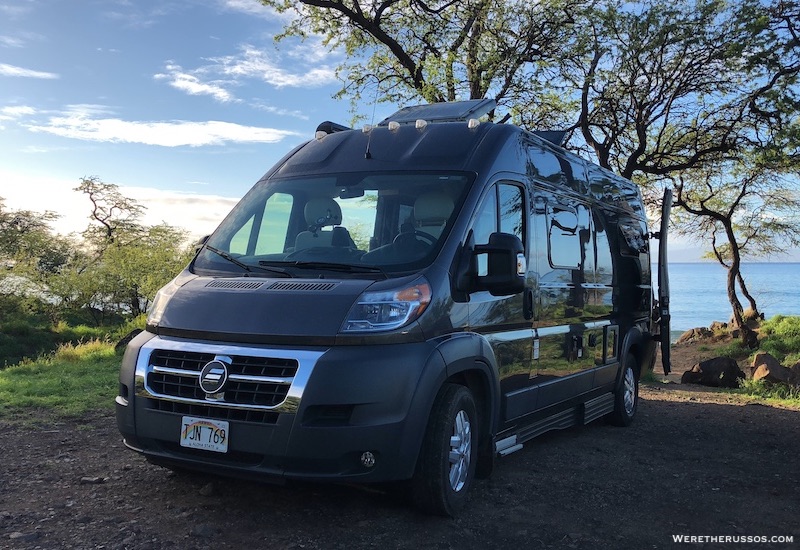 On the drive to Hana, we stopped by YMCA Camp Ke'anae, a very well kept campground with showers and beautiful views.
We also checked out Wai'anapanapa State Park, which has a designated area for van camping.
With camper rentals becoming more popular on Maui, I have a feeling more established campgrounds will become available.

RV Rental Agreement
Renting a camper van isn't like renting a regular vehicle. There are components that you may not be familiar with like the cassette toilet. The rental camper is also taller than a regular vehicle. The last thing you want to do is to drive your rental into a tree branch causing damage to the roof mounted A/C or scratching the solar panels.
Read the rental agreement in detail as it covers security deposit, insurance, maintenance, condition of rental, responsibility for repair, allowed use of the rental, etc…
Watch the van tour video in the booking e-mail to familiarize yourself with the ins and outs of the Maui rental camper. This will help prevent any unnecessary damages.
Maui RV Rental Tips
Get a copy of Maui Revealed (included with Ho'okipa rental). This guidebook is essential for finding the most up-to-date information on all things Maui. Many of the gems we discovered where in this book.
Plan to spend at least one week on Maui. We spent over a week on the island in February and wished we had planned for two to three weeks. Even our two day drive to Hana felt a bit rushed.
Stock up at Costco. To avoid those "hurt me" prices on the island, plan to shop at Costco for just about everything. You'll find local items like Maui Gold pineapple and locally grown mushrooms. When it comes time to fuel up your rental, Costco also has the least inexpensive gasoline on the island.
Drive the Hana Highway. In this video you'll see sunrise Whale Watching Tour, black sand beach at Waiʻānapanapa State Park, and fun things to do on the Road to Hana.
Go to Haleakalā National Park. There are so many reasons to make the trip to this beautiful national park on Maui. In this video you'll see the 7 Sacred Pools, Camping, and things to do at the Summit.
Travel Gear to Pack for Maui
List of essential gear we packed for our Maui vacation.
Mahalo for reading! Have a wonderful time in your Maui camper rental!
Get $50 off your rental with discount code RUSSO50
Disclosure: Rental van provided for free by Campervan Hawaii. All of the opinions are our own, 100%.