Some of the links below are affiliate links, which means we will earn a commission on the products or services you purchase using the links. There is no additional cost to you and the earnings help keep this website running. Read the Affiliate Disclaimer for more information.
One of the challenges that face RVers, snowbirds and travelers is figuring out how to get mail on the road. Joe and I have been full time RVers since 2015 and in this post I share a list of ways to receive mail and packages while traveling.
6 Ways to Get Mail on the Road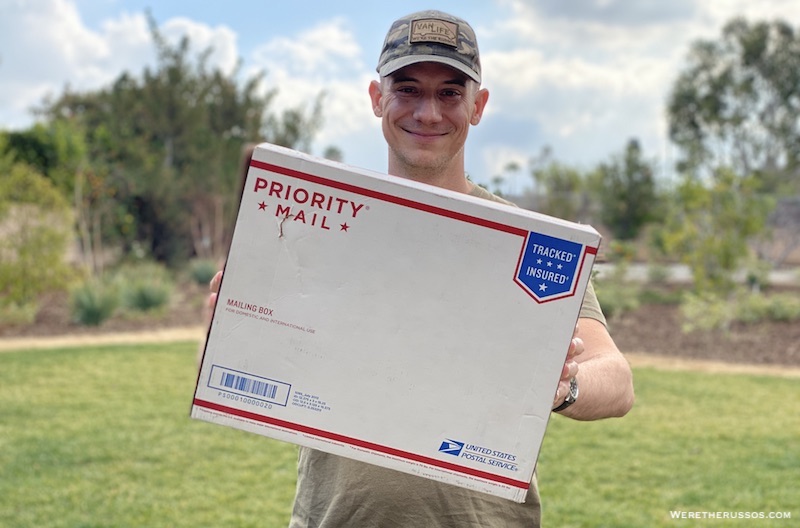 Receiving Mail and Packages When Traveling
1. General Delivery U.S. Postal Service
The U.S. Postal Service offers general delivery for those who need a temporary mailing address to receive mail.
You can find a participating Post Office location by visiting the USPS website or calling the location in the area you need to have mail sent. Not all Post Offices accept general delivery.
Keep in mind, mail sent General Delivery has to be addressed in a specific format and the zip code may be different from the actual Post Office. Also, do not send packages via UPS, FedEx or any non-USPS service general delivery as it will most likely be returned as undeliverable (we've had this happen).
2. Send Mail to a Friend or Relative
Are you or will you be visiting a friend or relative on the road? Ask for permission to send your mail to their address.
Use C/O in the address to avoid delays or issues with your mail. C/O stands for "Care of" and is often used when mail is sent somewhere the addressee does not usually receive mail.
For example, if we're sending mail to our friend Jane Doe's house we would use:
Joe and Kait Russo
c/o Jane Doe
123 Abc Street
City, ST 12345
3. Businesses – Campgrounds/RV Parks/Hotels
Send mail to your lodging establishment. Campgrounds, RV parks, and even hotels may receive mail on your behalf. Be sure to ask for and use the correct address for this type of mail. Some business have a different mailing address for guest mail.
Not all business will accept your mail. Ask the front office staff before sending your mail or packages. We have stayed at campgrounds and RV parks that will not accept mail on behalf of their campers.
Pay a mail service to receive your mail. There are mail service business located throughout the U.S. that will accept your mail and/or packages for a fee. For example, while RV camping in Quartzsite, Arizona, you can pay a fee for a service to receive mail and packages for you. This is different from the mail forwarding service in that you're not signing up for a permanent address.
5. Amazon Lockers
Easy and convenient way to pick up your Amazon order. When placing an order online, see if that item is available through Amazon. This will give you the option to pick up at an Amazon locker, avoiding the hassle of trying to figure out an address for the delivery.
6. Choose In-Store Pickup
Easy pickup and returns. Large chain stores such as Walmart are located throughout the United States making it a convenient option for ordering items online for in-store pickup.
Issues with Getting Mail on the Road
We've had our fair share of issues with receiving mail and packages on the road. Below are some of those experiences and things to consider.
Delayed Delivery is Inevitable. Somewhere along your travels, you'll find yourself waiting for mail that should have arrived. We've had a few experiences where USPS Priority Mail was routed incorrectly to another part of the country and did not arrive until a week later. It's not the norm, but it does happen so have a plan if your mail is late.
Lost Mail. This has happened to us a couple times and I hope it never happens to you. One instance, we had two packages sent UPS to a U.S. Post Office in Arizona. The packages were lost and neither USPS nor UPS could locate it. Fortunately, the sender replaced the lost package at no cost to us.
Returned to Sender. As mentioned above, use C/O when sending mail to a residential address where you don't usually get mail. This will help the mail courier know not to use that "Return to Sender" stamp.
Sign Up for a Mail Forwarding Service
Using a mail forwarding service gives you a U.S. mailing address where you can send all your mail. Bills, packages, birthday cards, catalogs, even junk mail will be collected at this address.
The mail forwarding service we use is through the Escapees RV Club, popular among full time RVers in the United States.
Since each mail forwarding service is different, the rest of this section will be based on our experience with Escapees mail forwarding service.
Request mail to be forwarded to your current location. When it's time to get mail, contact Escapees and have them send all the mail to your current location. We usually have our mail sent USPS Priority Mail but you can request overnight delivery or regular mail.
Plan ahead for mail delivery. For example, when we're on the move, we will have our mail forwarded to where we plan to be in a few days instead of our current location.
Don't send everything to your mail forwarding service. Forwarding packages can become expensive so plan to have packages sent to directly to your current location or your next destination.
Save money on postage by eliminating junk mail. For a fee, Escapees mail forwarding service has an option where they throw out all the junk mail. The money saved on forwarding junk mail around the country more than pays for the added cost of the service.
Receive your mail digitally. Mail forwarding services usually offer a scanning option where they will open and scan your mail. If you are waiting for a bill or blood work results, you can have it scanned and forwarded electronically.
Where do you send your forwarded mail? You've signed up for a mail forwarding service. Now it's time to request your mail and have it forwarded to your next destination. We prefer to forward our mail to a friend's place for safe keeping until we arrive.
And that's a wrap on how to get mail while traveling. Best of luck with getting your mail and packages sorted out!