Some of the links below are affiliate links, which means we will earn a commission on the products or services you purchase using the links. There is no additional cost to you and the earnings help keep this website running. Read the Affiliate Disclaimer for more information.
Lance Camper has been manufacturing truck campers since 1965. They have a large campus in Lancaster, California where they manufacture travel trailers and truck bed campers.
For anyone in the market for an RV, we highly recommend taking a factory tour of each manufacturers you're considering. There are many benefits to going on a factory tour:
See how the RVs are made
Get answers from factory representatives instead of dealer sales reps
Meet owners and ask them about their experience
When we decided to downsize from a Class A motorhome to a smaller camper, one of our considerations was a lightweight travel trailer. Since we were in California at the time, we drove up to Lancaster to take the Lance Camper Factory Tour.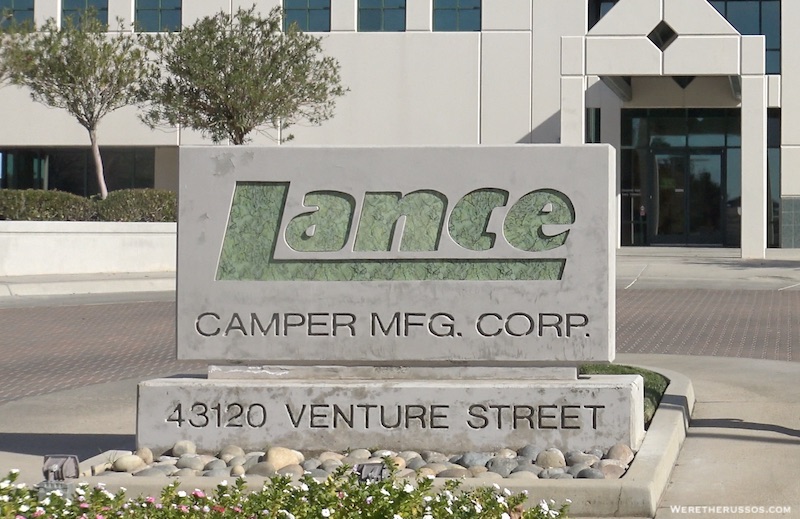 Lance Camper Factory Tour
In this video, you can see a recap of our Lance factory tour which goes into detail about how the truck campers and travel trailers are built from start to finish.
Topics covered in the Lance Factory Tour video include:
Lamination room where the side walls are constructed (01:00)
CNC machine with guided router (02:31)
Wiring for each camper (04:29)
Upholstery department (05:53)
Slide-out assembly (06:13)
Lance travel trailer build (07:39)
Lance truck camper build (11:56)
You can schedule a Lance Camper Factory Tour by visiting their website.
Below are some of the cool Lance campers we have come across along with a video walk-through.
Lance Hellwig Concept Overland Truck Camper
Lance and Hellwig partnered to build this concept overland truck camper for the 2016 SEMA show in Las Vegas.
The camper is a standard Lance 650 truck camper with an exterior wrap. The truck is the Nissan Titan XD diesel.
According to the representative from Hellwig, the cost of the concept vehicle was just under $120,000.
Lance 2075 Euro-Inspired Travel Trailer
Most recently, we got to check out the all new Euro-inspired travel trailer by Lance. This no slide travel trailer is towable by a one ton truck and our favorite feature are the big windows in the bedroom.
Are you considering a Lance Camper? Do you own one? Leave a comment and let me know.
Editor's Note: This post was originally published on November 14, 2016 and has been updated for comprehensiveness.