Some of the links below are affiliate links, which means we will earn a commission on the products or services you purchase using the links. There is no additional cost to you and the earnings help keep this website running. Read the Affiliate Disclaimer for more information.
Famous for its incredible cobalt blue color, Lake Tahoe is the second deepest in the U.S. at 1,645 ft. Take a drive around the lake and you'll see why Lake Tahoe is a popular vacation destination. The first time we visited the area, we ended up camping in South Lake Tahoe at the Tahoe Valley Campground.
Keep reading to see what it's like RV camping at Tahoe Valley Camground or watch the video below.
Tahoe Valley Campground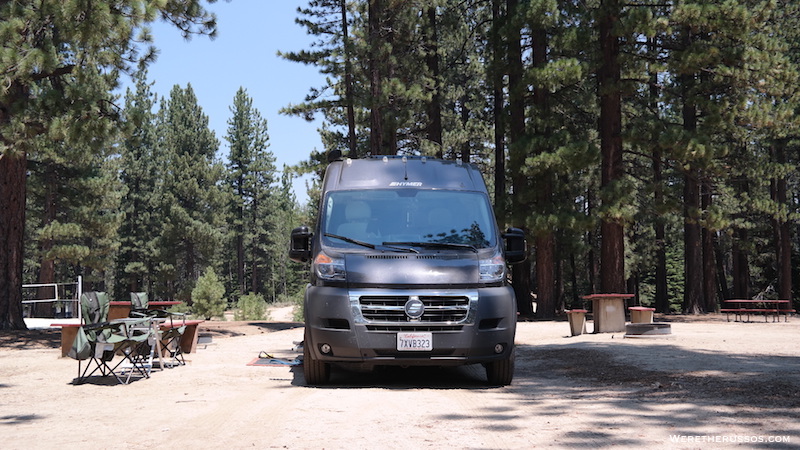 The campground is wooded with large trees that provide shade throughout the day. We camped in a premium full hookup site that happens to be wide open, which we preferred.
This is a large campground with over 400 RV sites and tent sites to choose from. The site we were in (#385) could have easily fit several camper vans or a large Class A motorhome and tow car.
Tahoe Valley Campground is located in town with easy access to grocery stores, restaurants, and shops in South Lake Tahoe. The Raley's grocery store is within walking distance or a short bicycle ride away.
For being such a large campground, it was peaceful and quiet during our stay. The only noise was from helicopters flying around, which didn't bother us.
Bathhouses need an upgrade. Compared to other campgrounds, the showers are in need of an update.
Prices have increased. The retail rate for campsites have increased quite a bit since 2017. If you are open to boondocking, check out Fallen Leaf Campground inside the national forest.
There are a few bears that frequent the garbage cans at this campground. Although we didn't see any bears our neighbors saw them go through the dumpster. It's also not uncommon to see bears roaming through town. While shopping at the Goodwill, an employee told us a bear walked into the store a few days ago.
Notes:
$66-$80/night for full hookups*
30/50 amp pull thru and back-in sites
Restrooms, showers and laundry
Dog friendly
LTE Verizon cell service
*this is a Thousand Trails property which means you can stay here with your membership and not pay the full retail rate for a campsite.
Things to Do in South Lake Tahoe
Take your pup to Kiva Beach, an off leash dog beach not far from the campground. Bring your lawn chair, pack a picnic and enjoy the sunset from the beach. Parking is free and there is a portable toilet in the parking lot.
Drive to Inspiration Point to see Emerald Bay. Once you see this place you'll get a better understanding of what Mark Twain meant when he said "To breathe the same air as the angels, you must go to Tahoe."
Explore the trails and check out the beach at Emerald Bay State Park. For $10 you can explore the trails and go down to the beach. We decided to skip the park it since dogs are not allowed on the trails, roads nor beach.
For more ideas, swing by the visitor center in town. It's a great way to discover things to do and more options for camping in South Lake Tahoe.
Looking for a unique overnight RV camping experience? Read our Harvest Hosts Review and discover their camping on farms, winery camping, and museum programs.
Editor's Note: This post was originally published on August 28, 2017 and has been updated for comprehensiveness.