Some of the links below are affiliate links, which means we will earn a commission on the products or services you purchase using the links. There is no additional cost to you and the earnings help keep this website running. Read the Affiliate Disclaimer for more information.
10 days, 40+ Manufacturers, and over 1,300 RVs all in one place. The California RV Show is one of the largest and longest RV Shows in the U.S.
Attending an RV show of this size is a great way to see a huge selection of RVs all in one place and talk to the RV manufacturers.
The 2019 California RV Show will be held at a new location: Auto Club Speedway in Fontana with free parking. For those of you who have attended this RV show in the past, you may know it as the Pomona RV Show.
It is the best RV show in Southern California and one we highly recommend. We have been to the show four years and look forward to attending this year!
Meet us at the show! Information at the bottom of this post.
2019 California RV Show
Below are the details for the 2019 California RV Show.
Location: Auto Club Speedway, Fontana, CA
Dates: October 4-13, 2019
Hours: 10am – 6pm daily
Tickets: $15 at the door, $13 online, 12 years and under free
Food available for purchase
Dogs are welcome
Parking is free
Facebook Page: https://www.facebook.com/TheBestRVShow/
A wide range of RVs will be on display for visitors to walk-through.
Things to Know Before You Go
Given the size of the California RV Show, there is a lot to do and see. Below are some tips we've learned from the four shows we've attended to help you have a better experience.
Plan to spend the whole day
Go during the week to avoid the crowds
Grab a show program to plan your day
Attend a seminar or two
Talk to the manufacturers and suppliers
Check with your local RV dealership for free tickets to the show
Watch this video for more tips or head over to RV Show Survival Guide
Our CA RV Show Experiences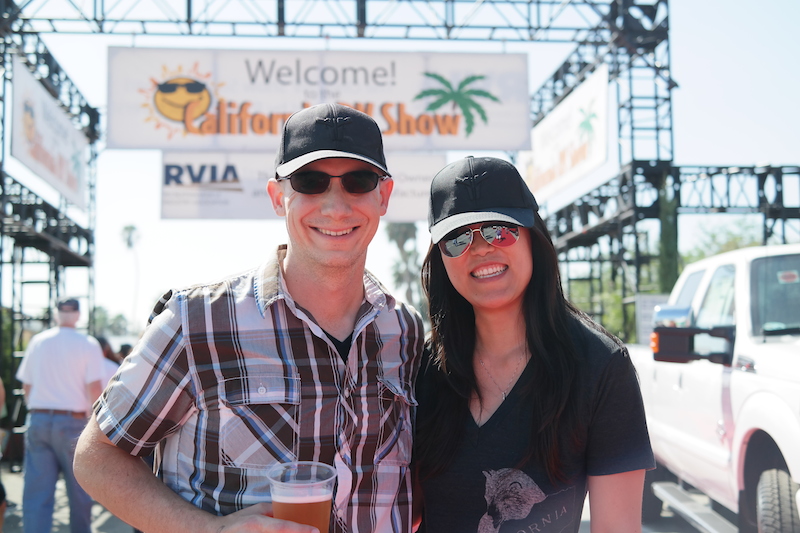 Shopping for a Class A Motorhome
2014 was the first year we attended the Pomona RV Show. At the time, Kait and I were shopping for our first RV. The show was held at the Pomona Fairgrounds and the cost of admission was $10/person plus $10 to park.
We went in hopes of seeing a wide array of different motorhomes side by side so we could compare and find that perfect motorhome for us.
To learn more about our first RV Shopping and Buying experience, check out my book, Take Risks.
A few dealers had demo RVs that you can take out for a drive. We took a Tiffin Allegro Bus out for a test drive, the first time either of us had ever been in an RV that large (the "Bus" is 42′ long). After the ride we were sold on wanting a big Class A RV.
It was extremely helpful to be able to walk from one model to another and compare each one without having to drive from one RV dealer to another.
In 2016, we returned to the California RV Show to shop for a smaller RV. To learn more about what it was like to live full time in a Class A motorhome and our decision to downsize, read my book Tales From the Open Road.
This video will give you an idea of what the RV Show was like when it was held at the Pomona Fairgrounds.
There was a wide selection of small RVs at the California RV Show. Watch the video below to see some of the highlights.
Meet Us at the CA RV Show
Come chat about RV living, favorite travel destinations and check out some cool campers. Look forward to meeting some of you!
Dates: October 5th & October 6th
Chat: 11am – 12pm
Meet & Greet: 12pm-2pm
Location: Storyteller Overland booth
Can't make this show? Find an RV Show Near You
Thinking of the best van chassis for your camper conversion? Check out our Top 6 Van Chassis for your Camper Van Conversion.