Some of the links below are affiliate links, which means we will earn a commission on the products or services you purchase using the links. There is no additional cost to you and the earnings help keep this website running. Read the Affiliate Disclaimer for more information.
Looking for a custom Super C RV on an over the road truck chassis? These custom motorhome conversions are quite impressive and worth checking out if you find yourself in Indiana. Below is a video of our factory tour with Lonnie from ShowHauler Motorhomes.
Custom Motorhome Conversions by ShowHauler
Based in Middlebury, Indiana, ShowHauler makes custom Super C RVs as well as toterhomes and toyhaulers on truck chassis. After talking to the company reps, it seems like the options are limitless. Which type of chassis do you want your custom motorhome built on? Freighliner, Volvo or Peterbilt are some of the more popular options. If you don't want to spring for a brand new truck chassis, they will let you bring in a used one.
Factory Tour
If you're in the market for a custom motorhome, or even a high end luxury motorhome, we suggest taking the time to visit each factory to learn about their process. Out of all the factory tours we went on in Indiana, ShowHauler was the only company that allowed us to film and take photos.
Check out their website for more information on factory tours: ShowHauler Custom Motorhomes.
Custom Super C RVs
Considered safer than Class A motorhomes, Super C RVs are built on truck chassis that have been crash tested. This one happens to be our favorite, a 4×4 built on the Freightliner M2 112 chassis.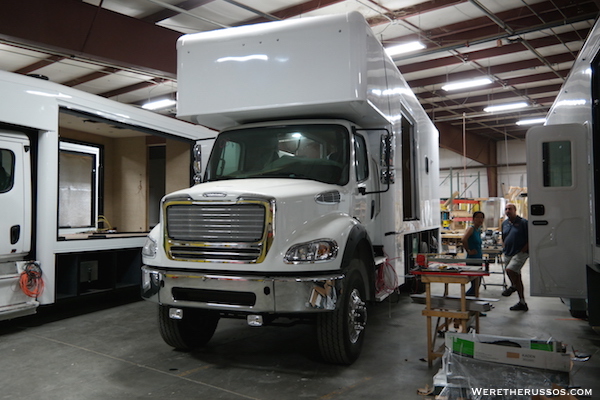 This is a custom motorhome conversion built for RedBull on the Volvo chassis.
When we were at EAA AirVenture Oshkosh, we checked out a custom Super C with a garage.
Showhauler can also build wheelchair accessible motorhomes.
Build Your Dream Class B RV with Sportsmobile Custom Camper Vans
Want a smaller motorhome? Check out this list of Small Class C RVs.