Some of the links below are affiliate links, which means we will earn a commission on the products or services you purchase using the links. There is no additional cost to you and the earnings help keep this website running. Read the Affiliate Disclaimer for more information.
Every year aviation enthusiasts gather in Oshkosh, Wisconsin for one of the largest air shows in the world. The EAA AirVenture Oshkosh Air Show is a one week long event complete with workshops, seminars, daily air shows and my favorite, warbirds. The video below highlights some of our experiences at the 2018 EAA AirVenture Oshkosh Air Show.
EAA AirVenture Oshkosh Air Show

EAA AirVenture Parking, Camping & Tips
Parking – Parking on site costs $10 per vehicle per day. There are three general parking lots to choose from, the one closest to the entrance will fill up first. If you end up in one of the lots further away, there are complimentary shuttles that drop you off close to the main gate. We parked our camper van in the gray lot along with many other RVs.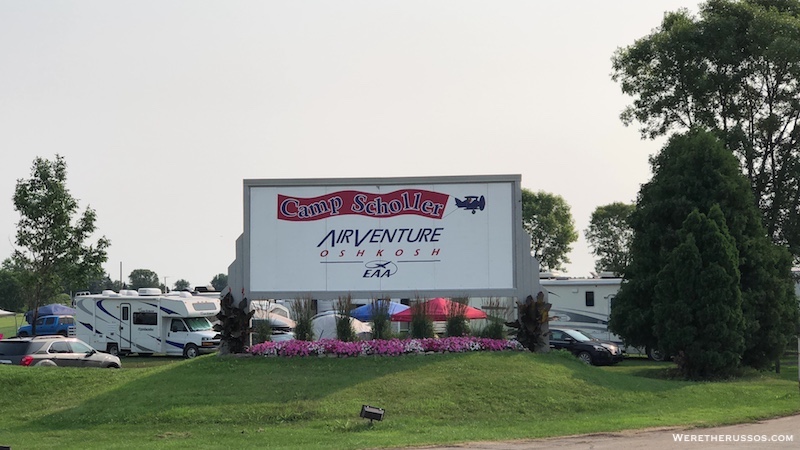 Camping – Whether you're tent camping, renting a camper or bringing your own RV, there are several options for camping at the air show. EAA's website has a list of camping options.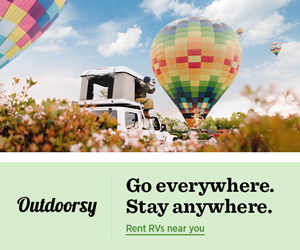 Tips – It's our second year at the air show so I thought I'd share a few tips we've learned.
– Comfortable walking shoes. There are trams tours and shuttles, but expect to walk at least a mile or two. We averaged four miles a day walking around the air show.
– Sun protection. Bring the right gear to protect you from the sun. I personally love my Tilley hat which offers good sun protection for my face and neck.
– Weather. The weather can change quickly in Oshkosh. Be prepared for hot and humid or windy and rainy.
– Reusable water bottle. $2 for a bottle of water can add up quickly if you want to stay hydrated. Save some money and fill up at the drinking fountains.
More EAA AirVenture Videos
These videos are from the 2016 air show including a warbirds compilation at the end.
Day 1: Boeing B-17, P-51 Mustang, Curtis P-40 Warhawk, Canadian Harvard Aerobatics Team.
Day 2 – Grumman F8 Bearcat, P-51 Mustang, F4 Corsair, B-25 Mitchell, F-16 Falcon, A-10 Warthog, and various other planes and warbirds. This video was shot from "the Ditch."
Day 3 – Martin Mars a.k.a. the Hawaii Mars, Grumman G-21 Goose from EAA Seaplane base.
Day 4 – C5 Galaxy and the various vendors at the air show.
Day 5 – 1924 Model T Ford tour around the air show grounds.
Day 6 – Canadian Forces Snowbirds (431 Air Demonstration Squadron), air show complete with fireworks.
Warbirds Compilation Video
Compilation of the warbirds at the Oshkosh air show. Some of the warbirds in this video: P-51 Mustang, P-40 Warhawk, F4U Corsair, B-25 Mitchell, B-17 Fortress, T-6 Texan, A-1 Skyraider, A-10 Warthog, F-16 Falcon, F-18 Hornet, C-5 Galaxy, Martin Mars, Grumman Goose
Ford AirVenture 2018 Hat (Giveaway Ended)
Each year, Ford releases a special edition EAA AirVenture Oshkosh Air Show hat. This year, we have two hats to giveaway to our readers. To enter, be a newsletter subscriber AND leave a comment on this post with the timestamp of your favorite plane featured in our 2018 video at the beginning of this post. Deadline to enter is August 5, 2018 at 11:59pm ET. Only U.S. residents over the age of 18 can enter. Winners will be notified via email and will have 24 hours to provide a mailing address that the hat can be sent to.
Congrats to Ted Selb and Chris H. winners of the Ford hat giveaway.