Some of the links below are affiliate links, which means we will earn a commission on the products or services you purchase using the links. There is no additional cost to you and the earnings help keep this website running. Read the Affiliate Disclaimer for more information.
Milwaukee is one of the best places to visit in the U.S. If you're looking for a great city to spend a vacation, add Brew City to your list. Watch our travel guide below or keep reading for a list of fun things to do in Milwaukee.
Things to Do in Milwaukee
What's so great about Milwaukee, Wisconsin you ask? The people are genuinely nice, plenty of festivals to attend, it's a walkable city that's also easy to get around by car, there are activities on the Milwaukee River, history, culture, great food, a whole lot of breweries and cheese curds! Plus, the city gets extra bonus points for being dog friendly.
Walk, Bike, Kayak or Cruise the Milwaukee Riverwalk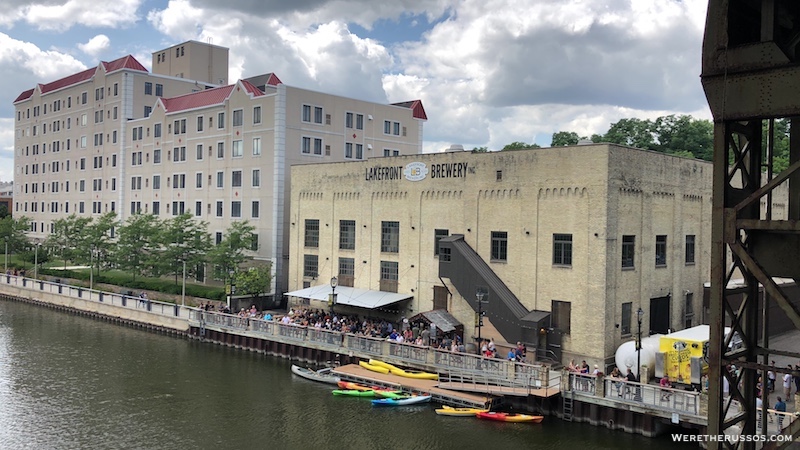 Depending on how active you want to be, there are many ways to enjoy the Milwaukee River. Take a stroll or go for a bicycle ride on the Riverwalk. The paved path stretches along both sides of the river offering breathtaking views of downtown Milwaukee.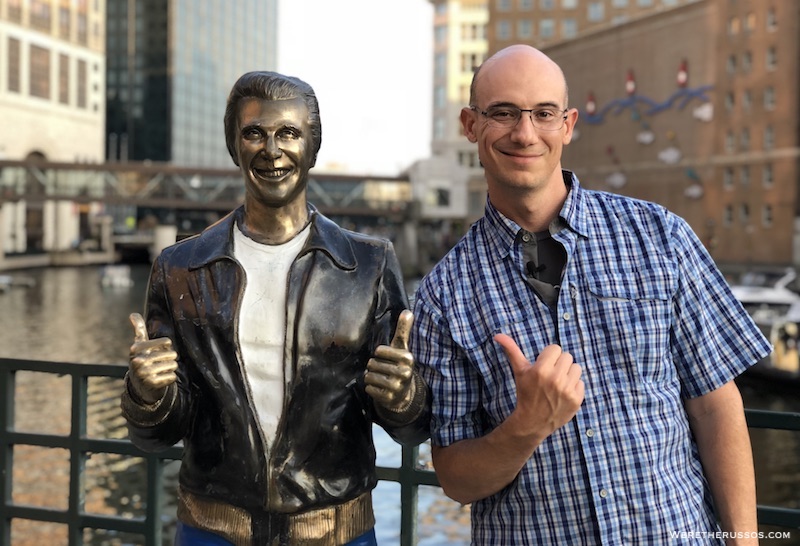 Where is the Fonz from Happy Days? You can find the Bronze Fonz statue in Downtown Milwaukee where Wells Street crosses the river. While you're in the area, keep an eye out for Gertie the Duck and her six ducklings.
One of our favorite things to do in Milwaukee is to kayak the river. The city is known for its architecture and rich history which you can experience from a different perspective. There are public boat docks to take a break or to grab a bite to eat. Our four hour kayak rental was enough time to explore the channels and the harbor.
Brewery Tours: Lakefront, MKE Brewing & Best Place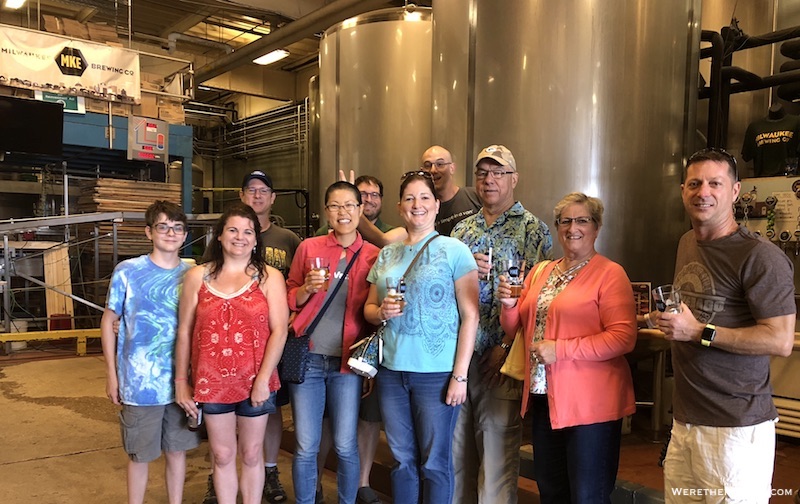 A visit to Milwaukee would not be complete without going on a brewery tour. Our favorite brewery tours are Lakefront Brewery, MKE Brewing Company and, while not a tour of the brewery, Best Place offers a lot of history while sipping an ice cold beer.
For a funny tour with great views and good eats, head over to Lakefront Brewery. The hour long tour starts off with a beer sample of your choice followed by an entertaining tour. Grab a seat on the patio after the tour to enjoy a few more samples. Note: dogs are allowed in the outdoor patio area.
For a "taste all the beers you can handle" tour, head over to MKE Brewing Company. The informative tour allows you to sample every beer on tap with several refills along the way. Don't leave without trying O-Gii, one of their most popular beers. We had a WTR Family meet-up at MKE Brewing where Joe fell in love with the coffee stout.
To learn about how Pabst Blue Ribbon came to be and the rich beer history in Milwaukee, head over to Best Place at the Historic Pabst Brewery. Enjoy a pint of PBR on this fascinating tour about Pabst.
Meet the Beer Barons that Made Milwaukee Famous
Milwaukee is often referred to as the "Beer Capital of the World." Remember these four names as you explore the city: Schlitz, Pabst, Blatz, and Miller. If you only have time for one tour, then head to Pabst Mansion. The guided tour reveals fascinating history about the Pabst family with a detailed look inside their 20,000 square foot mansion. One of the highlights for me is Captain Pabst's My Dear Children letter on display in his study.
Spend a Day or Two at the Museums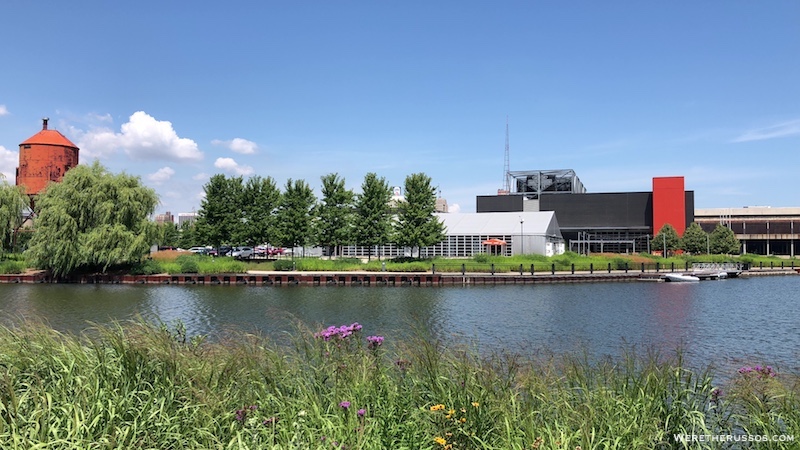 Two of the most popular museums in Milwaukee are the Milwaukee Art Museum and the Harley Davidson Museum. You don't have to be a motorcycle fan to enjoy the Harley museum. History buffs can learn about the role Harley Davidson played in WWII.
If you're looking for more options there's the Betty Brinn Children's Museum featuring interactive learning and the always free Haggerty Museum of Art at Marquette University.
Tip: Milwaukee Art Museum offers free admission on the first Thursday of each month.
Dine at Some of the Best Places to Eat in Milwaukee
There is an incredible selection of restaurants in Milwaukee. These are some of our favorites.
Friday Fish Fry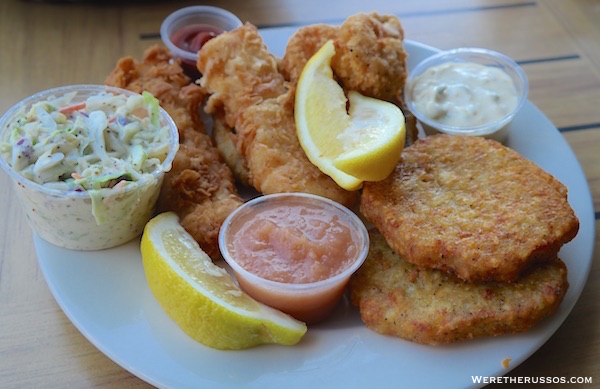 If you find yourself at Lakefront Brewery on a Friday, check out the beer battered fish fry. The combo platter comes with beer battered cod and potato pancakes. For more fish fry options, head over to OnMilwaukee's Fish Fry Guide.
Cranberry Walnut Bread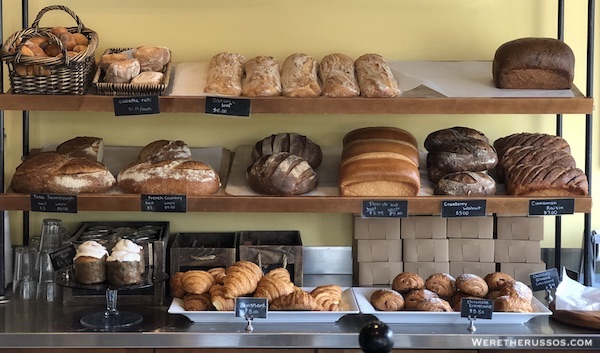 Treat yourself to a loaf of freshly baked artisan bread at Rocket Baby Bakery. Whether you need a baguette with dinner or a whole wheat sourdough, this artisan bakery has you covered. Our favorite is the cranberry walnut sourdough made with whole wheat and rye.
Garlic Cream Sauce Pizza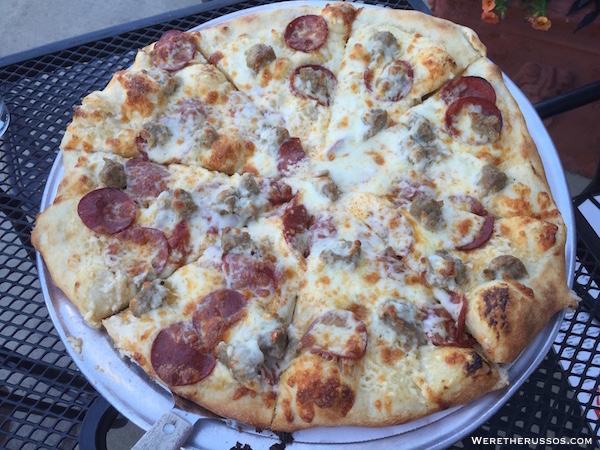 Transfer yourself into garlic pizza heaven at Transfer Pizzeria Cafe. This garlic lovers pizza with sausage and pepperoni makes for a great post kayaking meal. If garlic isn't your thing, they have traditional red sauce pizzas as well as gluten free pizzas.
Brunch Any Day of the Week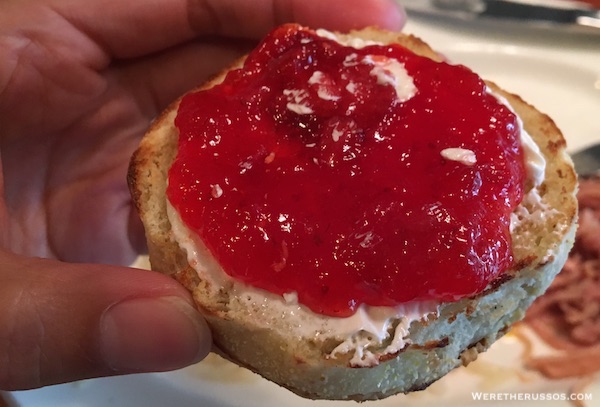 You don't have to wait for the weekend to enjoy brunch in Milwaukee. Blue's Egg offers house made baked goods and favorite brunch items everyday of the week. Snag a seat at the bar to avoid the long wait for tables. My favorite item is the house made english muffin served with whipped butter.
Bratwurst in a Pretzel Bun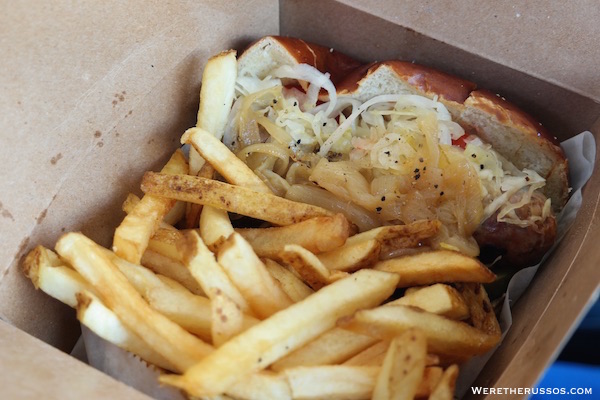 The Milwaukee Public Market is a unique food destination in downtown Milwaukee featuring local fare. The wide variety of stalls serve dishes from bratwurst to lobster all under one roof. In the mood for a pour over coffee or custom made salad? There are stalls serving that too.
Spice Up Your Cupboard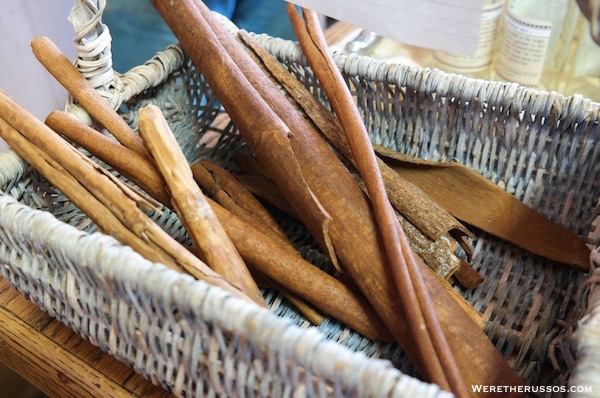 For anyone who loves to cook, a visit to The Spice House is a dream come true. The wide selection of high quality spices will have you wondering if there's room in the cupboard for all of it. The best part is you can sample every spice before you buy. Just be careful with some of their chili powders.
Squeaky Wisconsin Cheese Curds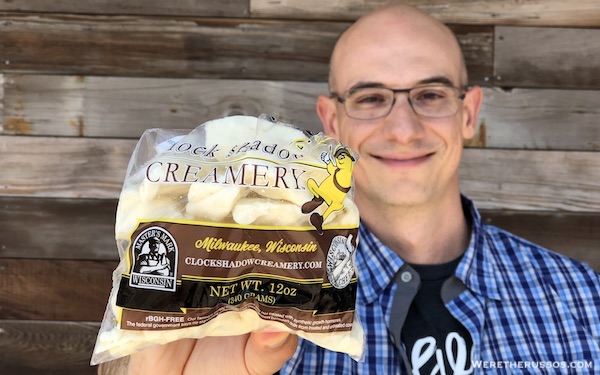 Wisconsin is proud of their cheese, especially squeaky cheese curds. Whether you like it fresh or deep fried, there are plenty of spots to try Wisconsin cheese curds. We love the fresh cheese curds at Clock Shadow Creamery, conveniently located across the street from MKE Brewing. For the best deep fried cheese curds, head over to our Green Bay Travel Guide!
Where to Camp in Milwaukee, Wisconsin
We've camped at Cliffside Park in Racine about 30 minutes south of Milwaukee. Below are some other options.
To quickly find campgrounds, RV dumps, propane fills, potable water and more RVing/camping resources we use Allstays. Check out our AllStays Review.
Find nearby Harvest Hosts. Members have access to vineyards, farms, museums, breweries and more. Read our Harvest Hosts Review or use our referral link to receive a discount.
Check Boondockers Welcome to see if there's a host member in the area that can accommodate an overnight RV stay. Read our Boondockers Welcome Review or use our affiliate link to sign up.