Some of the links below are affiliate links, which means we will earn a commission on the products or services you purchase using the links. There is no additional cost to you and the earnings help keep this website running. Read the Affiliate Disclaimer for more information.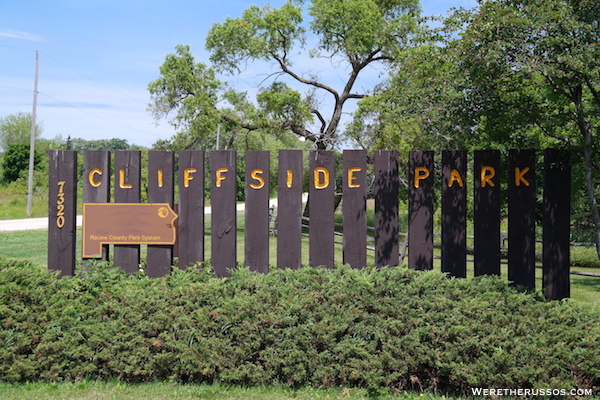 This is one of those times where I had to ask myself "do I really want to share this gem?" It's rare for me to feel that way about a place especially a campground, but Cliffside Park is special. We spent a week RV camping and if it weren't for the reservations we had in Door County, we would have stayed an extra week or two.
Video review of this campground at the bottom of the post.
RV Camping Cliffside Park Racine
The tall lush trees, large clean sites, pristine bathhouses made our stay enjoyable. The great weather made it special. We had to drag Leo into the RV every night for bed and after his morning walk he would lay on the grass, refusing to go inside.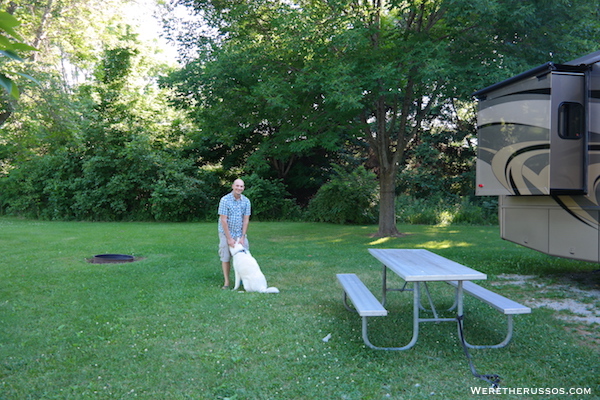 As for us, we spent most of our time in our camping chairs or at the picnic table. We worked outside, played outside, cooked outside and even ate outside.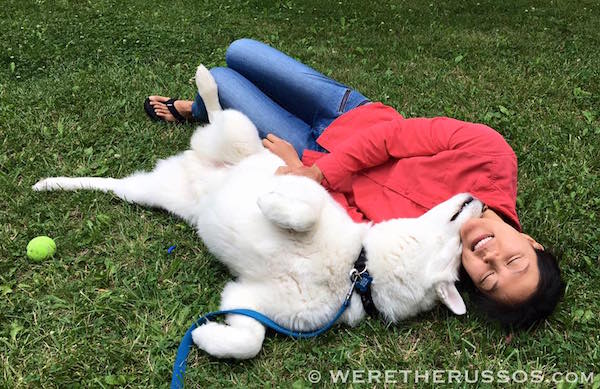 The one thing that would make this park perfect is full hookups. With the exception of the host camper's site, the sites at Cliffside Park are water and electric.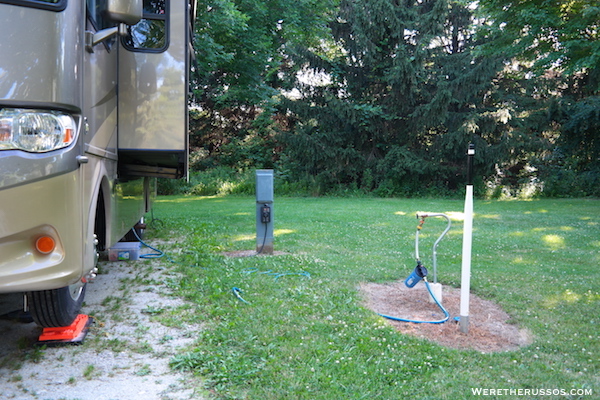 There are a total of 92 individual sites, #1-41 are walk-on sites, #42-92 require advance reservation. The cost is $23 per night for a back-in site. This campground map shows electric only sites, but those have been upgraded to electric and water.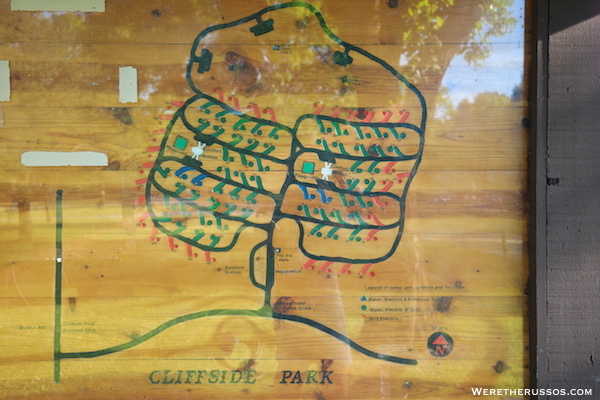 The walk-on sites were mostly taken during our stay. If possible, try to make a reservation in advance either through their website or by phone.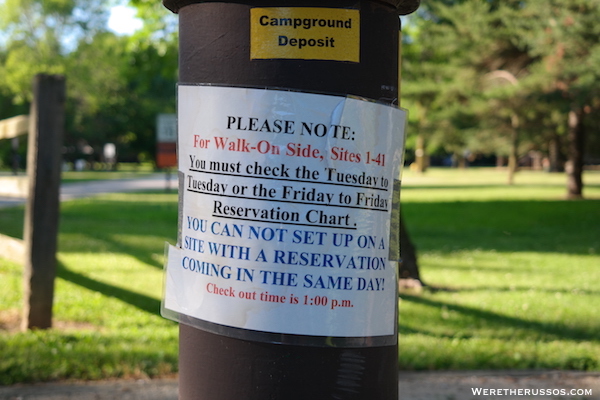 We reserved site #51 along the edge of the park. When we arrived, our reservation card was already posted with our information. Check-in is 3pm. Check-out is 1pm.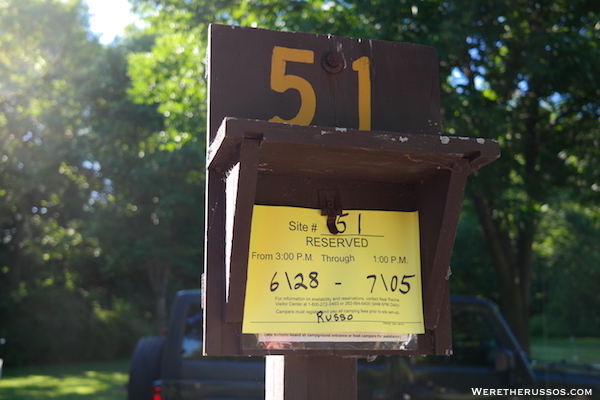 The sites are large with parking on gravel. Every site is equipped with a picnic table and fire ring. Note: some sites have a grill over the fire ring and others do not. Site 51 had a regular fire ring without a grill.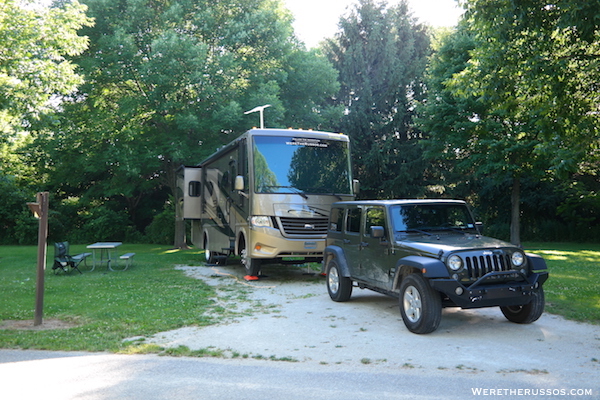 There are two bathhouses at the park that are cleaned daily. The showers have a button to turn on the water. There is no temperature knob.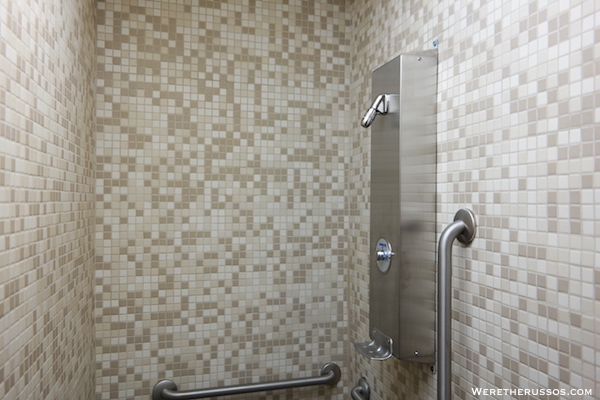 Dogs are allowed at the campground, but not allowed in the park. We saw this sign posted at another Wisconsin campground. Wonder why they have this policy.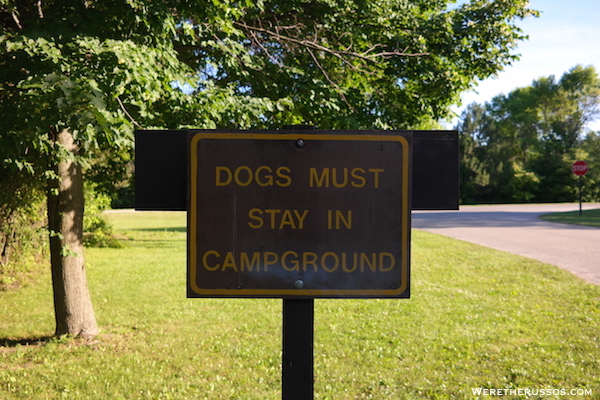 The dump station located at the entrance of the campground is free for campers to use. The seasonal campers use a portable holding tank and take them to the dump so they don't have to move their RV. Cost to dump for non-campers is $6.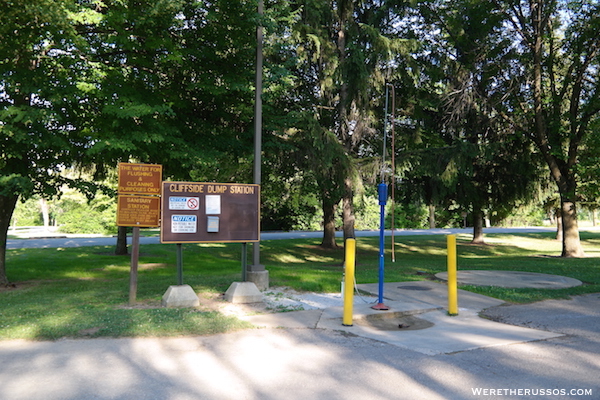 Overall, we loved our stay at Cliffside Park and as much as we enjoyed Milwaukee. I have a feeling we'll be back. The campground is open from April to October and we hear there was snow on the ground early in the season. Since weather played a major roll in how much we loved camping at Cliffside Park, I would say the best time to come is probably in the summer. There are coal trains that come and go so expect to hear some noise from that. Cliffside Park is a 30 minutes drive from Milwaukee making it a great home base. Check out our list of Things to Do in Milwaukee.
Notes:
$23/night for water and electric hookups
30/50 amp
Back-in sites
Restrooms and showers
Dog friendly
Decent AT&T cell service
RV Camping Cliffside Park Racine Video