Some of the links below are affiliate links, which means we will earn a commission on the products or services you purchase using the links. There is no additional cost to you and the earnings help keep this website running. Read the Affiliate Disclaimer for more information.
We reached a huge milestone in June by earning over $1K! This means we covered 40% of our expenses in June. Most of the income is through advertising and affiliate sales on our website and YouTube channel. If you are interested in starting your own site, read our post on How to Setup a Self Hosted WordPress Website. Our aggressive year end goal is to generate enough income to cover our expenses each month, which we estimate to be about $2,700. Below is the full breakdown of our June 2016 income report.
Learn More Ways to Make Money Online
June 2016 Income Report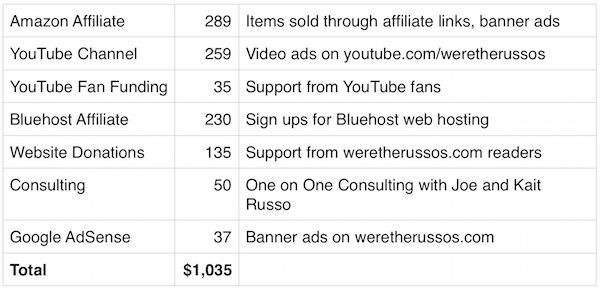 A new source of income in June is our consulting service. If you'd like to pick our brains you can book an hour of our time for a fee and we can speak over the phone. The topic can be about RVing, how we make money, or something else you'd like to discuss.
Amazon and YouTube continue to be our top income generators. This month, YouTube beat out Amazon for the top spot by $5. YouTube brought in $294: $35 through Fan Funding, the rest through advertising. Amazon brought in $289: $234 through affiliate sales, $54 through advertising.

In our May report, we mentioned that we scaled down the number of Google Adsense ads because we noticed Amazon ads were performing better. We are still testing this and the two are not an apples to apples comparison. Amazon ads are CPM based where as Google Adsense are CPM/PPC based.
Bluehost Affiliate was a big surprise for us in June with a total of $230. Our post on how we setup our website generated three sign ups this month.
Learn More Ways to Make Money Online