In this Flywheel review, I will share why we switched to this managed WordPress hosting provider in 2017 and what we think after two years.
Flywheel Review
When we launched this website, we decided to go with an economical hosting option. At that time, we had a handful of visitors a day.
As the website continued to grow, we realized that our hosting needs changed. After extensive research and comparing the top WordPress Hosting service providers, we decided to move the website to Flywheel and have been very satisfied with the WordPress hosting service.
Why We Switched to Flywheel
These are some of the reasons why we switched the Flywheel and continue to use their WordPress hosting service today.
Save Time.
Flywheel provides many features that will help you save time. We can quickly and easily make changes to the website or restore a backup from the dashboard.
With our previous hosting service, we managed everything. Each time there was an issue or update, we took care of it. For example, when the site was hacked, our previous hosting provider referred us to a third party company who wanted to charge $300 to fix the issue. Flywheel migrated our site and fixed all the issues for free.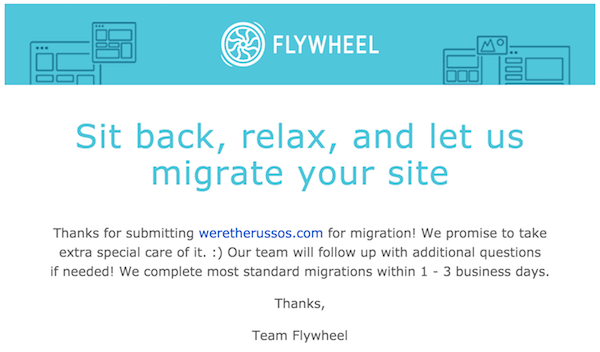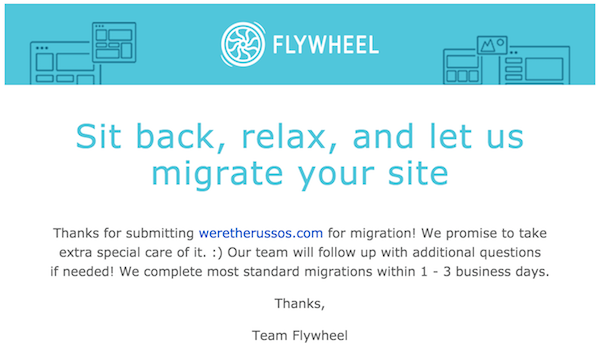 Security.
Flywheel monitors each website for hacks and malware. If there is an issue, they will fix it as part of the hosting plan. Other security features include SSL certificate, data encryption and two-factor authentication.
Customer Service.
The customer service team at Flywheel gets two thumbs up. We have contacted numerous times over the years and each time they respond quickly and resolve the issue to our satisfaction.
What a breath of fresh air to have great customer service. Below is an example of a response that prompted me to say "this email alone makes me feel great about switching to Flywheel!"
"Hey Russos –
Good news! I was able to fix the issue with the video not showing up.
Because you've got SSL enabled on your site, the browser wants to load only secure assets whenever someone visits the page. The browser needs to see the 'https://' in the youtube embed link for it to load properly. I simply changed the http to https, and voila!
Let us know if we can do anything else to assist! We're always happy to help.
Cheers!
Luke"
Not only did Luke fix the issue right away, but he explained why it happened. The best part is, I didn't have to spend the time to figure it out myself. Having Flywheel managed WordPress hosting means I'm no longer on my own to troubleshoot issues.
WordPress Experts.
The fact that Flywheel specializes in managed WordPress hosting means the people behind the scenes know WordPress. As their website states, "No need to read through forums to find out how to fix that esoteric Apache error. We're on it." No Apache errors yet, but all our minor issues/requests have been taken care of.
It's worth mentioning that in June 2019, WP Engine acquired Flywheel.
No Overages.
Flywheel does not charge overages if our website has more than the allotted amount of visitors per month. This means, if our website receives an unexpected traffic spike one month, we will not receive an invoice for the overage.
More Features Than We Know What to Do With.
There is so much more that Flywheel offers. Many of the features are beyond what we currently need such as staging and site cloning. One day we may need to add team members or decide to resell hosting which is not likely, but the option is available.
Final Thoughts.
The cost of Flywheel is well worth it. With managed WordPress hosting, I can sleep easier and know that when an issue comes up, it will be handled by awesome team over at Flywheel.
If you enjoyed this Flywheel review, consider using our affiliate link to sign up.

Have questions about our Flywheel experience? Leave a comment below.
Editor's Note: This post was originally published on January 10, 2017 and has been updated for comprehensiveness.