Some of the links below are affiliate links, which means we will earn a commission on the products or services you purchase using the links. There is no additional cost to you and the earnings help keep this website running. Read the Affiliate Disclaimer for more information.
Are you considering the RV lifestyle or already a seasoned traveler on the road? If you're not yet a member of Escapees RV Club, you might be asking, 'What is Escapees RV Club, and is it worth joining?' In this Escapees RV Club Review, I will delve into the benefits of this RV membership and share the reasons why we have been proud members since 2015.
If you're pressed for time, here's the key takeaway from our Escapees RV Club Review: We firmly believe Escapees RV Club is one of the best RV memberships available. For those ready to join and support our blog in the process, we invite you to sign up through our Escapees affiliate link. Your use of the link not only gains you access to a fantastic RV community but also supports the ongoing content we provide on this blog.
Escapees RV Club Review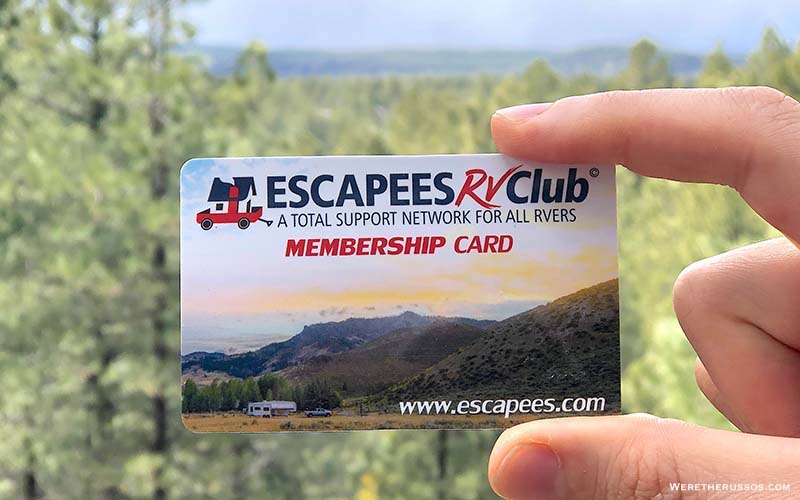 Kait and I became RVers in 2015 and since then, we've had countless adventures in different RVs, traveled with our dogs (then without), and have discovered some incredible places around the United States. If I had to pinpoint the moment when Kait and I began to feel like "real" RVers, it might be when we joined the Escapees RV Club.
After being part of the Escapees RV Club for over eight years, Kait and I decided it was high time to go all in – we just signed up for the lifetime membership! This isn't just any Escapees RV Club review; it includes our experiences as full-time RVers and part-time RVers and the value we find in being members. I hope my take on the Escapees RV Club will help you decide whether it's the right RV membership for you.
What is Escapees RV Club?
The Escapees RV Club is one of the largest and most active RV clubs, boasting around 75,000 members and counting. Founded in 1978, the club has continuously strived to address both the practical and personal needs of all types of RVers, from full-timers to weekend warriors.
The club's focus has always been on building a community on the road, and keeping that community connected.
When we first started researching RV clubs, we got the impression that they were mostly for retired RVers. But, nothing could be further from the truth. We've met Escapees members of all ages and backgrounds, and there's even a branch specifically for working-age RVers called Xscapers.
Escapees membership opens up access to social gatherings all over the country, the Escapees mail forwarding service, and many other benefits.
How Much Does It Cost?
When we joined in 2015, the annual membership cost for Escapees RV Club was $39.95 per year for U.S. citizens.
As of the time of writing this post, the annual fee has increased to $49.95 for U.S. citizens, with a slightly higher fee for international members. For the most current membership pricing, I recommend visiting the Escapees website.
Based on our years of experience, it's well worth it cost for all the benefits that come along with an Escapees membership.
Here are the Escapees benefits that really stand out to us.
Escapees Membership Benefits
Mail Forwarding Service
One of the most popular perks to accompany Escapees RV Club membership is their mail forwarding service. You can enroll with this service to get a physical mailing address in Texas, South Dakota or Florida. (These are all desirable states for residency if you're a nomad; more on that in a moment).
They offer different tiers of service, but the gist is that for a monthly fee, Escapees will receive and hold your mail at the address they provide. They will then send it along to you wherever you are. Mail can be forwarded on a regular schedule or by request.
You can even give them permission to open and scan your mail so that you don't have to pay for shipping all that paper. This is great for getting important information (like medical test results, for example) right away. It also means that you don't have to figure out what to do with all that paper.
One huge benefit to having a mailing address in Texas, South Dakota or Florida is establishing legal domicile. There's a ton of great information on the Escapees website about how to do this and which state to choose.
We chose to domicile in Texas and wrote about our experience. Escapees made that process easy for us, we got everything done in a single day! (That's saying something when you're visiting multiple government offices.)
Ultimately, these three states are popular for RVers because there is no state income tax, and state laws make it relatively easy for RVers to renew their driver's license and vehicle registration remotely.
To establish domicile in a state, you need a physical mailing address and proof that the address belongs to you. The Escapees mail forwarding service offers you this option, so it's a huge benefit.
Community of RVers
We talk about community a lot on our blog and in our videos. It's one of the things we missed most when we first moved away from our friends and family in southern California.
Apart from the practical benefit of mail forwarding and domicile, the Escapees community is the biggest benefit we've found. We've made some great friends, and nearly every person we've met has been incredibly kind and supportive.
The organization hosts "convergences" (their word for rallies) across the country every year where you can meet other members. Most of these convergences are for RVs, but they have hosted specialty trips like cruises.
We attended an Xscapers convergence in Quartzsite, Arizona back in 2018. Everything was incredibly well-run, even though the event involved hundreds of people boondocking on public land. In fact, we had such a good time that we had to leave after a few days just so we could get some work done.
If you think the Escapees RV tribe looks too big and general for you, think again. There are local chapters as well as the Xscapers, a group specifically designed for working-age RVers like us. There are also "Birds of a Feather" groups for members with shared interests, like solo travel or photography (or motorcycles …).
Whatever you're interested in, you can pretty much guarantee that you'll run into other members who have similar interest as you.
In a recent newsletter from the club, numerous events were highlighted, including a 'Body, Mind, and Spirit Hangout' in New York. This seven night gathering includes daily meditations, yoga, sound baths, kayaking, hiking, workshops and more. Escapees RV Club events are so popular, this event is already sold out, however there is a waitlist.
Escapees RV Parks
Escapees runs 8 RV parks and 11 SKP co-op parks nationwide. Most parks allow either short-term or long-term stays. They also have relationships with hundreds of RV parks across the country that extend campground discounts to Escapees members.
An Escapees RV Club membership can even get you discounts on other overnight subscription services RVers love, like Harvest Hosts and Boondockers Welcome.
We've camped at Rainbow's End RV Park in Livingston, Texas. You can read more about that in Becoming Texans through Escapees RV Club.
RVer Job Exchange
Escapees has an entire section of their site dedicated to matching job seekers with employers who want to hire RVers. This could be seasonal, part-time or full-time work. We've seen everything from camp host or workamping positions to more traditional jobs, where other Escapees members are looking to hire from within the community.
Whether you're looking for someone to hire or looking for work, the job exchange is a great resource that's unique to Escapees.
Read: How to Make Money as Full Time RVers
CARE Nonprofit Organization
CARE is the nonprofit arm of Escapees, and something that Kait and I are very passionate about. For us, it goes a step further to really set this organization apart from other RV clubs.
The purpose of CARE is to provide assistance to RVers who can't travel or care for themselves anymore, whether due to old age or to illness. Members are provided with affordable care and a safe place to stay for as long as they need it.
CARE also runs an annual health fair, open to all Escapees members, which provides access to low-cost tests and screenings.
If you end up loving Escapees as much as we do, you might consider volunteering for CARE. Monetary donations are great, of course, but their biggest need is for able-bodied volunteers.We love finding ways to give back to the community and it feels great to be a part of a group of people helping one another.
Advocacy for RVers
The advocacy arm of Escapees has become increasingly important over the past couple of decades, as the number of full-time RVers continues to grow year after year.
A perfect example of their efforts is their response to the COVID-19 pandemic. Campgrounds nationwide were forced to close as states deemed them 'non-essential' businesses. As a result, many full-time RVers had to relocate, despite shelter-in-place orders designed to prevent the spread of the virus.
In response to this situation, Escapees petitioned state governments, advocating for the protection of RVers' rights and the safe reopening of parks."
Here's a quote from their website, which sums up the mission of Escapees advocacy:
"Adversity is not an easy contender. As a club, we've stood toe to toe with our adversaries in court, unrelenting in our pursuit to protect full-time RVers' right to vote. As an industry, we've continued to withstand the repercussions of a strong economy suddenly gone limp. As a nation, we felt the shiver of evil but have not allowed it to cripple our democracy. All of these challenges have simply forced us to grow stronger. We must continue to persevere. We must dedicate time, energy and resources to help educate our government about people who live the RV lifestyle, so that when laws and statutes are written, these special kind of people are not unfairly hampered. We must be willing to share our lifestyle with others so that the quality living it offers does not die a secret inexperienced by our grandchildren and future generations. We must be careful that our government, in an earnest attempt to protect us, doesn't strip away the very liberties that make us a free nation."

– Cathie Carr, 2002
Other Escapees RV Club Benefits
As if those things were't enough, Escapees offers some additional perks as well.
Escapees Magazine
Whether you like to digest your content in printed or electronic form, Escapees has you covered. Your membership includes a year's worth of print and digital issues. We've found that we learn something new each time we flip through an issue.
Our DIY RV Shades post was even featured in one of the issues.
Roadside Assistance
For an additional annual fee, Escapees offers roadside assistance created with full-timers in mind. It's worth checking out, especially if roadside assistance isn't covered by your current provider. This can be a great tool to have in your "RV safety toolbox".
Partner Discounts and Endorsed Vendors
In addition providing their members discounts on Boondockers Welcome and Harvest Hosts memberships, Escapees has partnered with many industry-leading brands to provide special discounts. Battle Born, Passport America, and Fulltime Families are just a few of these.
If you're looking to jump headfirst into full-time RV life, Escapees makes it easy since they have already partnered with so many full-time friendly organizations.
Summary
I hope this Escapees RV Club review explains why it's at the top of our list for the best RV membership. For the cost of a night in a typical RV park, you get access to some truly valuable programs and perks.
If this Escapees RV Club review has guided you towards making a decision and you're ready to join, we'd be grateful if you signed up through our affiliate link. Your choice to use the link not only gets you access to great benefits but also supports the content we create here on this blog. Thank you for your support!
Already an Escapees member? Let us know what you think by leaving a comment.