Some of the links below are affiliate links, which means we will earn a commission on the products or services you purchase using the links. There is no additional cost to you and the earnings help keep this website running. Read the Affiliate Disclaimer for more information.
Life in a small space can go from organized to cluttered mess in a New York minute. Organization is even more important now that we live in a space less than 120 square feet. Whether you're living in a large RV, small camper van, tiny home or a studio apartment, these 10 RV hacks will help you stay organized in a small space.
Simple RV Hacks to Stay Organized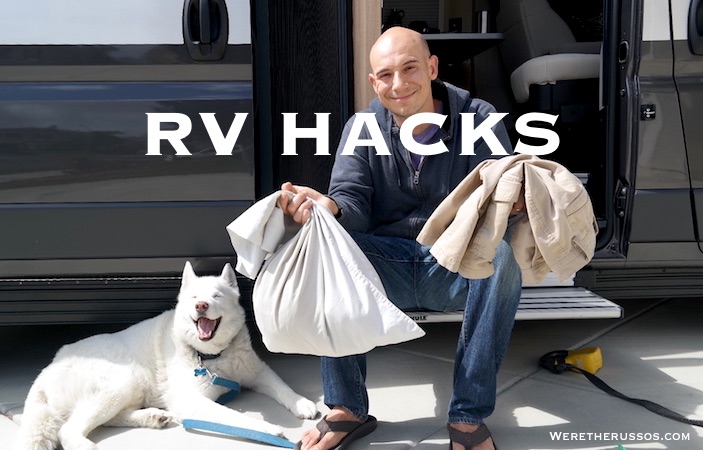 Canvas Shoe Bag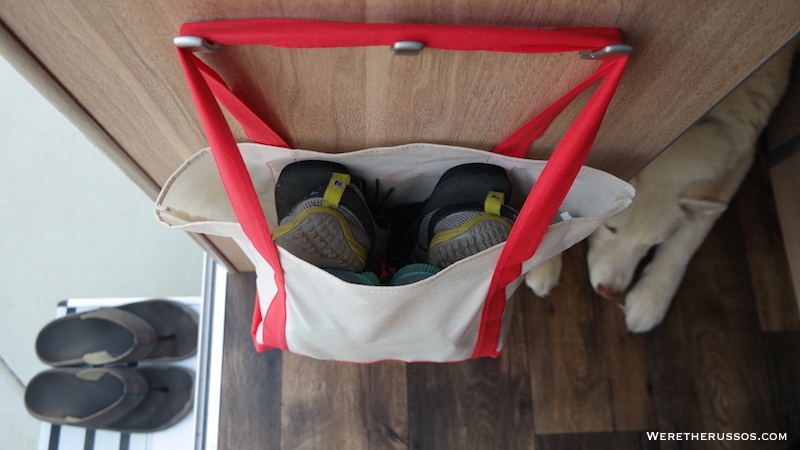 Repurpose that extra canvas bag into a shoe bag. Joe and I take our shoes off when we're inside the camper van. We found the best way to keep shoes out of the way is to put them in a bag by the entrance. You can keep the bag on the ground or hang it on sturdy hooks.
Cost: Free
Tension Rod Towel Rack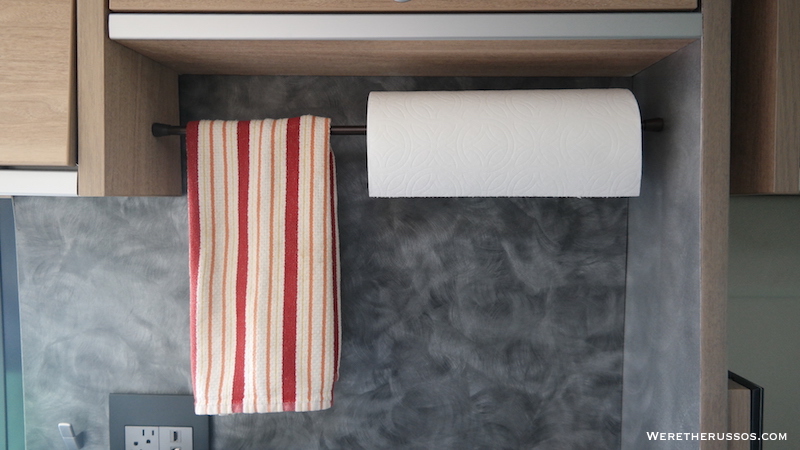 Use a tension rod to hang paper towels, hand towels, or kitchen towels. We use a 24 inch tension rod in the kitchen to hang a roll of paper towels. There's also plenty of room leftover for a kitchen towel.
Cost: $3+ Buy on Amazon
Damage Free Hooks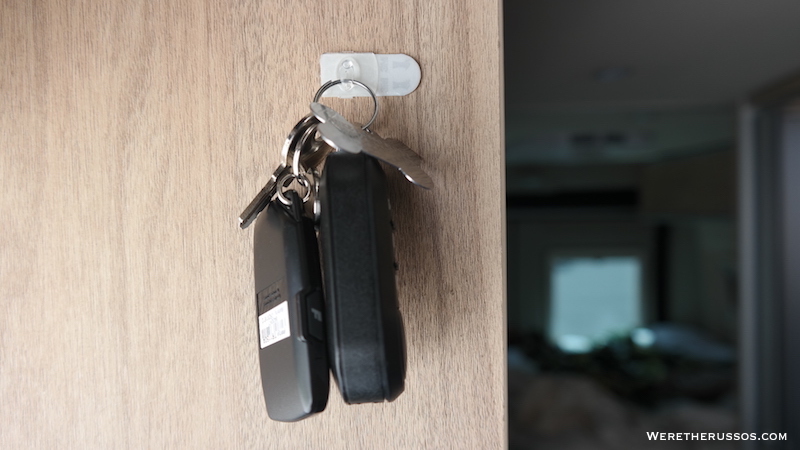 Hooks are handy when it comes to organizing keys or little trinkets. We have a variety of damage free hooks we use to keep things organized. The small hooks are also good for hanging photos/postcards throughout the space.
Cost: $4+ Buy on Amazon
Roll Clothes To Maximize Space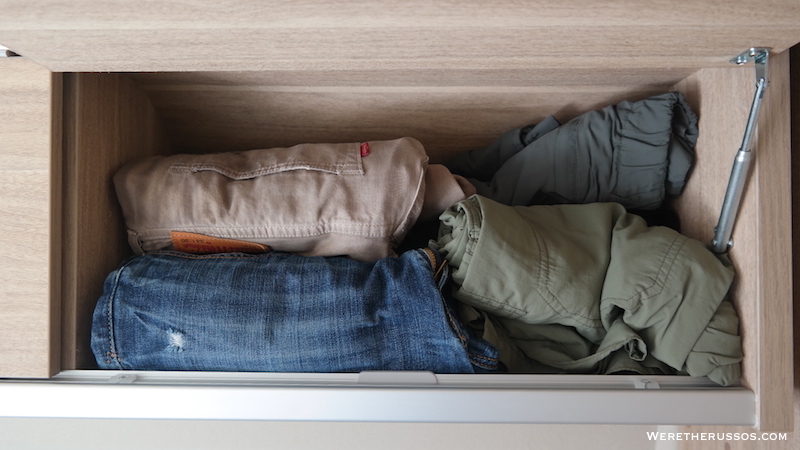 Although there is a surprising amount of storage in our new home, we still practice space saving by rolling our clothes. Joe is able to fit 5 pairs of jeans, 3 pairs of convertible pants, 2 pairs of shorts inside a cabinet that's 10' tall, 19 1/2' wide, 11' deep at the bottom and 4 1/2' deep on top.
Cost: Free
Pillowcase Laundry Bag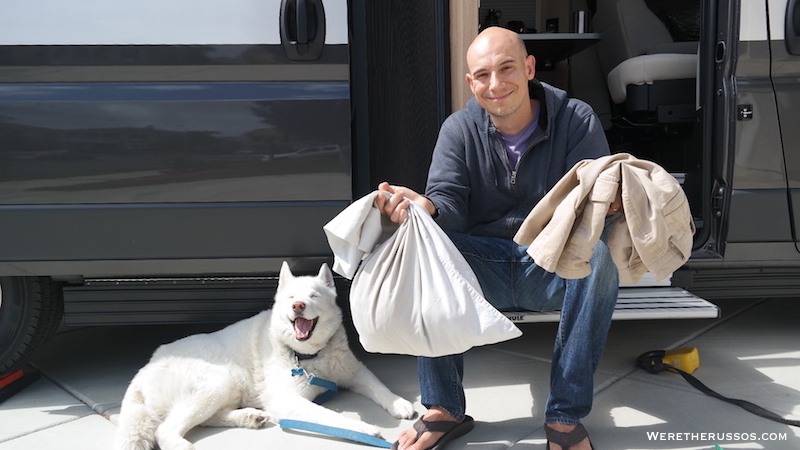 Don't throw out that extra pillowcase. Turn it into a laundry bag. It's easy to store in the corner or put inside a closet. When it's time to do laundry, you can throw the pillowcase in the wash too!
Cost: Free
Trinkets Box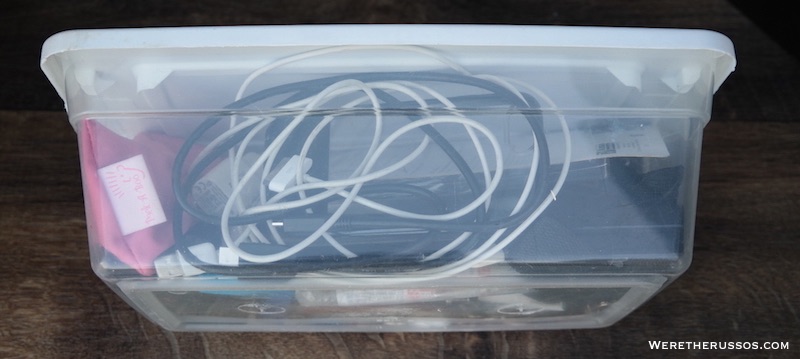 Charging cords, batteries, headphones, scissors, tape. The list goes on. Stay organized by placing these items inside a small storage box. It also makes life a lot easier the next time you're looking for those AA batteries. No more digging through different drawers to find the things you need. Keep all the trinkets in one box in a designated spot.
Cost: $5+ Buy on Amazon
Belt Straps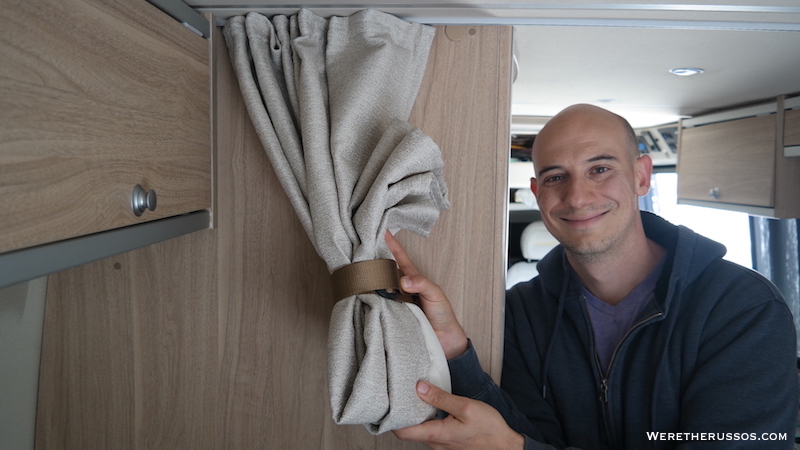 Have an extra belt? Use it as a strap. Our convertible pants came with nylon belts that double as straps. Use it to keep cords organized or to hold the curtains open.
Cost: Free
Small Towels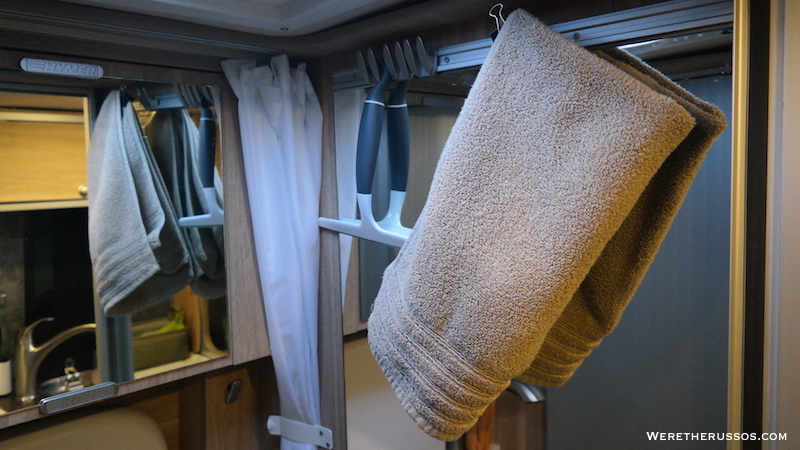 The towel I grew up using in China is the equivalent of an American hand towel. The smaller towel is enough to dry my body after a shower and it takes up less space. The smaller towel will help keep the bathroom more organized. Don't have a hand towel? Cut that bath towel in half and give it a try.
Cost: Free
Collapsable Storage Bins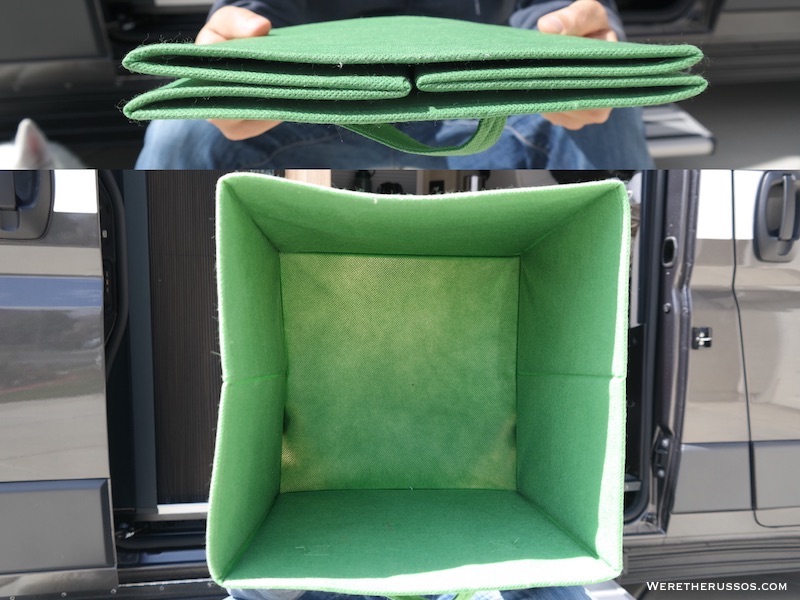 The key to staying organized in a small space is to prevent things from exploding all over the place. Certain temporary items find their way to our small space such as shipping boxes or packaging for new camera gear. A collapsable storage bin is perfect for organizing these temporary items in one place. Once we decide to chuck these items, we can collapse and stow the bin away.
Cost: $4 Buy on Amazon
Socks to the Rescue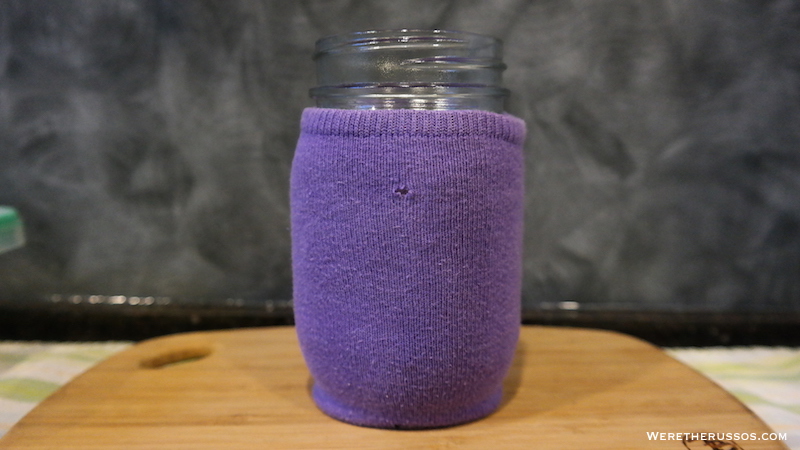 If you live in a small space that also drives down the road, items will rattle. To protect glassware or anything that may rattle, we repurposed our old socks. Slip a long sock over a wine bottle and an ankle sock over a glass jar. You can also put a few trinkets inside a sock and put that inside the jar.
Cost: Free
Need More Inspiration? Check out Marie Kondo's best selling book on tidying up.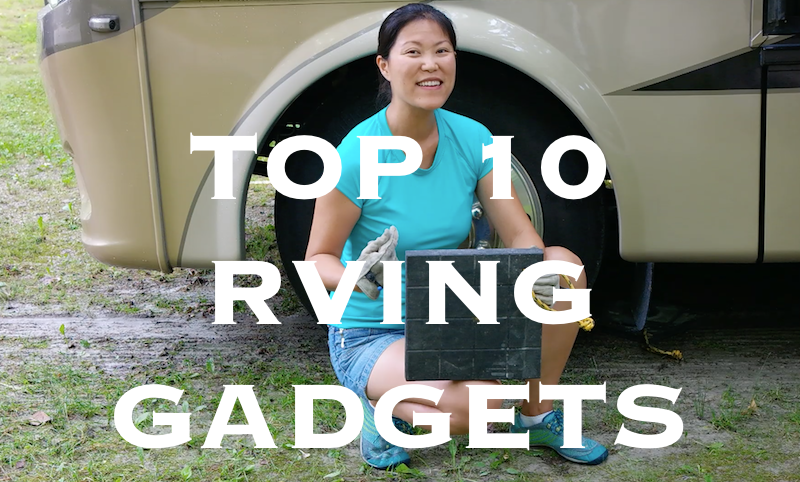 How do you stay organized in your small space? Share your RV hacks with us by leaving a comment below.