Some of the links below are affiliate links, which means we will earn a commission on the products or services you purchase using the links. There is no additional cost to you and the earnings help keep this website running. Read the Affiliate Disclaimer for more information.
This is the story of how I convinced Joe to build a bucket composting toilet for the RV and actually use it for two weeks. Everyone thought we were crazy to use a composting bucket toilet in our brand new RV. Even Joe thought I had gone off the deep end when I suggested the idea, but after scanning through the Humanure Handbook, I was inspired to try it because why poop in drinking water when there's an alternative.
Bucket Composting Toilet
How did we get here? Neither of us had RVed before we bought our 29′ Class A motorhome. We had no idea what dumping was like. After reading the countless horror stories on RV forums, we decided to research composting toilet options for RVs.
We seriously considered the Nature's Head composting toilet and Joe even looked into installing the unit himself.
It required drilling a hole through the RV to route the vent and AC cord. Given the location of the bathroom, there didn't appear to be any way to route the vent without drilling through the roof. Joe even contacted the RV manufacturer about this and they had no idea how it could be done. At this point Joe wanted to use the regular RV toilet, but I was determined to find another solution.
The 5 Gallon Bucket Toilet Solution
Imagine the look of shock on Joe's face when I proposed pooping into a 5 gallon bucket toilet. When you're used to flushing everything down the pipe never to be seen again, it's hard to wrap your brain around going in a bucket and letting the waste collect.
By some phenomenon, Joe agreed to give it a shot. After all, it was the perfect solution to avoid drilling holes in the motorhome, avoid the awful black tank dumping experience, increase gray tank capacity and save on fresh water.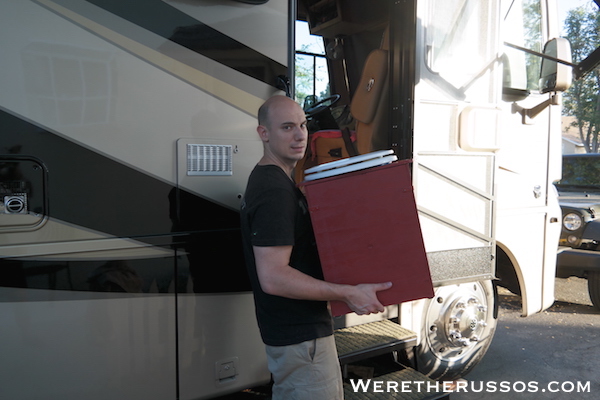 DIY Bucket Composting Toilet
Fourth of July weekend, Joe built a composting bucket toilet modeled after the Loveable Loo and it just so happens the toilet turned out to be red, white and blue. A quick trip to the local feed store and we were up and running with our plush fine pine shavings and our toilet fit for a king.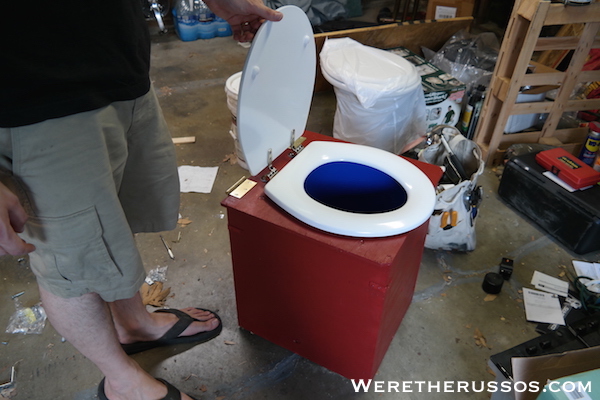 Without getting into too much detail, the toilet works by adding organic material such as fine pine shaving or untreated saw dust to the base of the bucket and covering with more material after each use. Once the bucket is full, empty and start over.
Material for Composting Toilets
Does it smell? The key to a good working composting bucket toilet is using the right organic material. Pine shavings did not work for us and the smell will forever be ingrained in our memories.
I was able to hunt down a large bag of untreated saw dust, which worked really well until we ran out. Then the question became, where on earth are we going to find untreated sawdust while traveling around the country and how are we going to store it?
Final Thoughts on our Bucket Toilet Experiment
Unable to find a good solution to sourcing sawdust on the road we both agreed to re-install the original RV toilet and give it a go. How bad could dumping be anyway? As it turns out, dumping isn't so bad after all.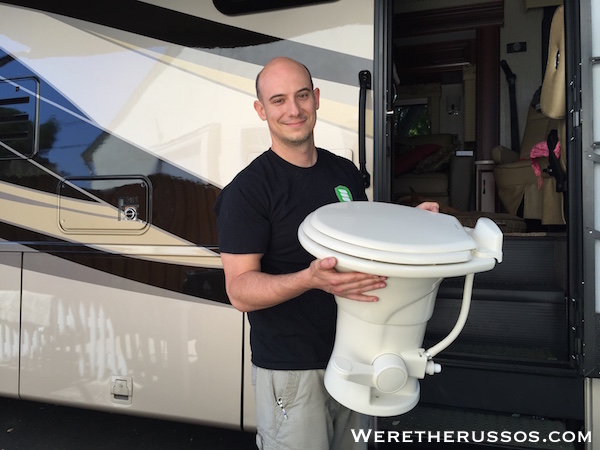 We've dumped the black tank countless times and haven't had a bad experience (knock on wood). Read our post RV Dumping Isn't so Bad. Had we known then what we know now about dumping, we would not have considered other options. It was an interesting exercise to say the least and now we know we belong to the category of people who poop in drinking water.
"The world is divided into two categories of people: those who [s]hit in drinking water and those who don't." – Joseph Jenkins, The Humanure Handbook: A Guide to Composting Human Manure
Enjoyed this post? Read our Cassette Toilet Review.