Some of the links below are affiliate links, which means we will earn a commission on the products or services you purchase using the links. There is no additional cost to you and the earnings help keep this website running. Read the Affiliate Disclaimer for more information.
If someone were to ask you what the United States' deepest lake is, would you know? Well if the title of this article didn't tip you off already, the answer is Crater Lake. Located in southern Oregon, Crater Lake and the mountains, waterfalls, meadows, and forests that surround it is the fifth oldest National Park in the country. While it's a favorite destination for photographers, we discovered on our visit that the magnitude of its beauty can't be captured on camera; it's a place you have to experience for yourself. In this guide, we share some information about what you'll find at Crater Lake National Park and tips for planning your trip.
Crater Lake National Park Guide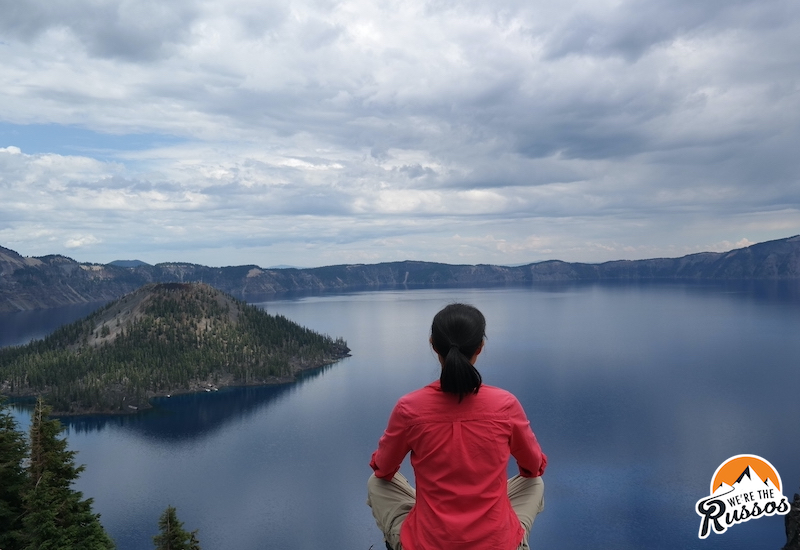 When to Visit Crater Lake National Park
As with most National Parks, the weather often determines when people visit and thus, when the busiest and least busy times are at Crater Lake. If you're looking to avoid the crowds, May, June, and October are generally the quieter months to visit. The busiest time in the park is between July and mid-September.
For those who want to enjoy warmer, dry weather for activities like hiking or boat tours, those busy months (July, August, and September) are your best bets. Spring, late summer and fall months see more sporadic rain, snow and hail showers (which we experienced during our visit) so you'll need to be prepared for changing weather if you explore the park during those months.
Another fun fact is that Crater Lake is one of the snowiest inhabited places in the U.S. with an average of 41 feet annually. This means that some of the park's roads and other amenities, like campgrounds, are closed during the winter months (usually by November 1 each year). However, the heavy snowfall also makes the park a great place for winter activities like snowshoeing, skiing, and snowmobiling. Even when visiting in spring and summer, it's not uncommon to find snow cover in some higher elevation areas of the park.
Obviously, a trip to the park wouldn't be complete without seeing Crater Lake itself, and the weather conditions when you visit could impact your view. Crater Lake is actually completely invisible about 50% of the time in the winter, so you'll want to make sure you plan for this before you go. We witnessed the drastic change in the lake's appearance in the short time we were there when the weather turned from sunny and clear to cloudy and rainy. To help you out, the park has a webcam you can check out to get a real-time assessment of the lake's visibility.
What to Do at Crater Lake National Park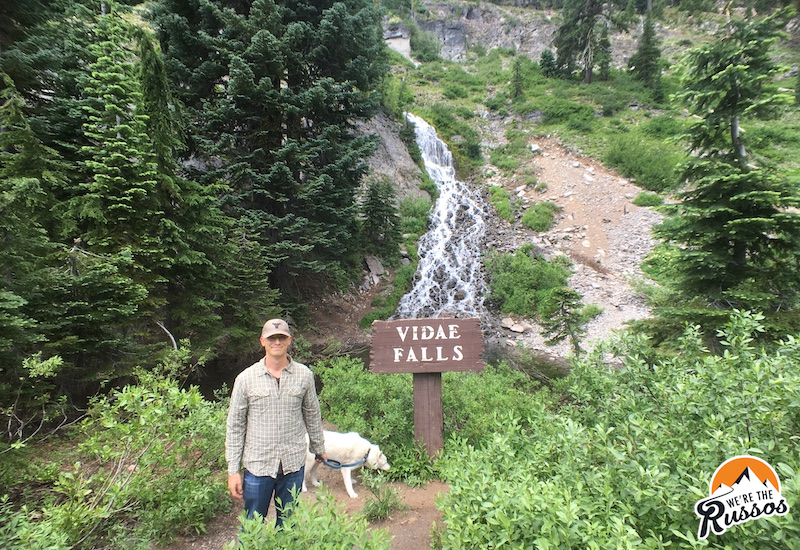 To enjoy all that Crater Lake National Park has to offer, we recommend spending at least a couple days there. With over 90 miles of hiking trails, a 33-mile scenic drive, and much more, there is no shortage of activities. Here are some of the highlights we think you should add to your itinerary.
Cruise the Scenic Rim Drive
We spent a large part of our first full day in Crater Lake National Park exploring Rim Drive, a 33-mile route with 30 overlooks where you can enjoy the park's postcard-worthy landscapes. You should plan to spend at least two hours doing the drive, but realistically will want to give yourself more time so you can stop at different points of interest and maybe even do some short hikes along the way.
One of our favorite stops was Vidae Falls where we encountered the tranquil sights and sounds of the rushing waterfall, but also lots of mosquitoes. You'll definitely want to consider having bug protection handy if you're planning to get out of your vehicle to hike or walk around.
Of course, Rim Drive will also lead you to the park's namesake, Crater Lake. The lake is even more amazing than we'd imagined—videos and photos really can't do it justice. While soaking in the lake and its famed "phantom ship" (one of the lake's two islands that bears a striking resemblance to a ship), we got to let our dog Leo, who was traveling with us at the time, play in the snow that still blanketed some of the ground at the higher elevations…even in late summer. A rain storm blew in while we were at the overlook and gave us a totally different view of Crater Lake. It was impressive to see firsthand how the weather impacts the park's look and feel.
Large recreational vehicles, buses, and vehicles with a tow are permitted on all park roads, including Rim Drive. However, keep in mind that some of the roads can be challenging to navigate due to their narrow, winding nature, lack of shoulders, and potential closures due to snow and falling trees and rocks.
Overall, doing Rim Drive was a fantastic way to spend a day and is a must-do when visiting the park. It's important to note that the West and East Rim Drives and North Entrance Road close to vehicles on November 1, or with the first heavy snowfall, each year. They generally reopen in May.
Bonus Tip: If driving the winding road yourself isn't your cup of tea, trolley tours are also available. During summer months (July-September), you can purchase a ticket to hop on board daily trolley tours and enjoy the historic Rim Drive without worrying about navigating it yourself. Each trolley makes stops at significant overlooks and there is a ranger on hand to share facts about the park.
Rim Village Walking Tour
If you want to stretch your legs, consider doing the Rim Village Walking Tour. Rim Village is an area that concentrates a handful of visitor services in one place and features nature-inspired architecture, dog-friendly walkways, and even a drinking fountain shaped from a boulder. We recommend starting at Kiser Studio (the Rim Visitor Center) where you'll be able to chat with rangers to learn more about the area's history.
Other points of interest include the Sinnot Memorial Overlook (a "trailside museum" where you can learn about the geology of Crater Lake); the Community House (an old venue for entertainment and ranger programs); Rim Campground (which was the park's first official campground before being re-designated as a picnic area); and Crater Lake Lodge (a 71-room lodge that opened in 1915).
WiFi Tip: Public Wi-Fi is available at Annie Creek Restaurant in Mazama Village. Cell service is spotty around Rim Village and Rim Drive but is mostly nonexistent, so the park is a good place to disconnect.
Check out our RV Internet Guide for ways to stay connected while traveling.
Take a Boat Tour on Crater Lake
During summer months, there are daily boat tours on Crater Lake where you can get a water-level experience of the park. A ranger is on board most tours as well so you'll be able to ask questions and get a better understanding of the country's deepest lake. We didn't have time to do the boat tour but hope to on a future visit. Keep in mind that there is a bit of a steep trail to get down to the boat dock which could be tricky for some.
Take a Dip at Cleetwood Cove
If you want to truly immerse yourself in Crater Lake, Cleetwood Cove offers the only legal access to the lake's shore where you can swim, wade, or fish. To get to the shoreline, you'll take Cleetwood Cove Trail which is a moderately strenuous 1.1 mile hike that drops 700 feet in elevation, so be aware that it may not be suitable for everyone.
Important Note: Like many areas of the U.S., Crater Lake is currently dealing with water restrictions. You can find tips for water conservation on the park's website.
Hit the Trails
If you're looking for more hikes to do or if Cleetwood Cove Trail is a little too steep for your liking, Crater Lake National Park offers over 90 miles of additional trails. All of them begin at 4,000 feet in elevation so keep that in mind as you're choosing your routes. The park does offer easier hikes as well as pet-friendly trails (which isn't always the case in National Parks) and many have great views of Crater Lake.
If you're looking for a less strenuous hike, try the Plaikini Falls trail, an easy walk through wildflowers and forest that leads to a beautiful waterfall. If you're traveling with a four-legged friend, consider exercising them on the pet-friendly Grayback Road trail. With scenic views and creeks to follow, it's also great for birding and is the only trail for mountain biking. Note that due to the many potential hazards of the park's roads, only cyclists experienced riding with high vehicle traffic should consider biking at Crater Lake.
A more moderate trail to try is Crater Peak, which takes you through grasslands to the summit of a volcano. For the more adventurous (and those who don't mind heights), take Mount Scott trail to the park's highest peak (8,929 ft). It's the oldest trail at 425,000 years old, and is also the only place to get a view of the entire lake from within the park.
Check out our Crater Lake National Park travel video to see more of what we did on our trip.
Where to Stay
Whether you're camping in an RV or tent, or prefer a more structured stay, there are a few great options to spend the night at Crater Lake National Park.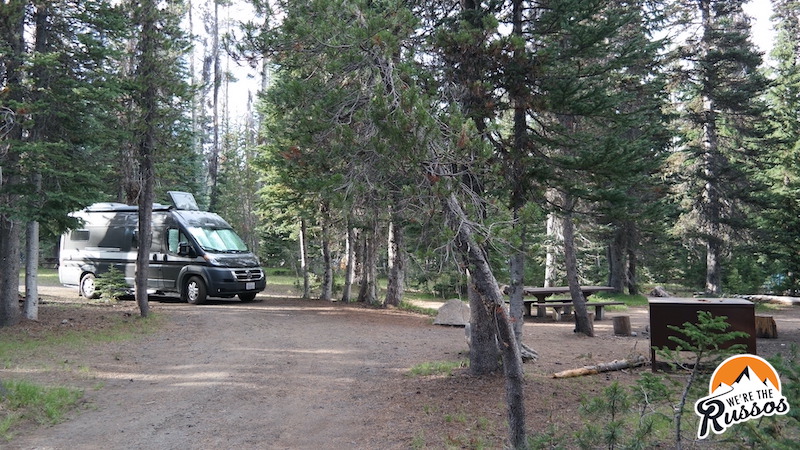 When we visited the park, we stayed at Mazama Campground. Located near the south entrance, it's the most popular campground with over 200 tent and RV sites. Some of the RV sites can accommodate rigs up to 50 feet but since we were in a smaller camper van at the time, we were able to snag one of two remaining tent sites when we finally made it to the registration kiosk around 3pm. We got very lucky because usually any remaining sites are gone by 11am.
It's important to note that Mazama is only open in summer and while early season sites are on a first come, first served basis, advance reservations are required during peak months.
There are some nice amenities at Mazama, including coin operated showers and laundry, a general store (where you can purchase WiFi), flush toilets, and even a restaurant that serves breakfast, lunch, and dinner. We opted to cook our meals in our Instantpot inside the van, but it's nice to know there are other food options available. Also, when we visited, the showers didn't have hot water and only a meager amount of water pressure.
We really enjoyed our stay at Mazama Campground and found it to be clean, quiet, and peaceful (even when a brief but intense hail storm rolled through during our first evening). We would definitely camp here again on future trips.
You can read more about our stay in our article about Mazama Campground.
The park's only other campground, Lost Creek, offers tent camping only. It usually opens in early July and closes in mid-October but as of the writing of this guide, it has been closed all year. Be sure to check the website for current operating hours.
Lost Creek also doesn't have the amenities of Mazama, with no potable water or showers, portable toilets only, and no wood fires allowed.
Backcountry camping is also allowed in some areas of the park as long as you have a permit, which must be obtained in person at the park headquarters.
If camping isn't your thing, Crater Lake Lodge is a great option. The lodge is generally open from mid-May to early October and has 71 rooms (some even have views of Crater Lake). Advance reservations can be made up to one year in advance and are strongly encouraged. The lodge also has a full service restaurant and a stunning Great Hall with a large, stone fireplace where you can relax with a drink and play board games, or take in the lake views from the rocking chairs on the back porch. Ranger programs are also presented daily here, either indoors near the fireplace or outside on the porch.
In-park accommodations are usually booked up months in advance so if they're full when you plan to visit, there are also plenty of other options just outside of the park for camping and lodging.
Crater Lake National Park is up there on the list of the most beautiful places we've visited. Nothing can prepare you for the awe-inspiring beauty of one of the world's deepest and clearest lakes. We can't wait to return to the park and spend more time disconnecting from the outside world and reconnecting with nature. If you have your own tips or recommendations for visiting Crater Lake, leave a comment below.