Some of the links below are affiliate links, which means we will earn a commission on the products or services you purchase using the links. There is no additional cost to you and the earnings help keep this website running. Read the Affiliate Disclaimer for more information.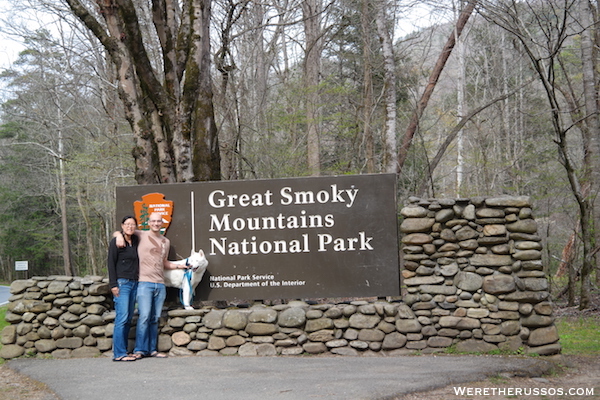 Black bears, wildflowers and endless hiking trails are a few of the reasons that make Great Smoky Mountain National Park the most visited national park in America. We spent four days exploring Great Smoky Mountain National Park in April when the trees were still bare and the snow was still melting at the top of Clingmans Dome. No black bear sightings for us, but we met several people who saw the bears roaming throughout the park.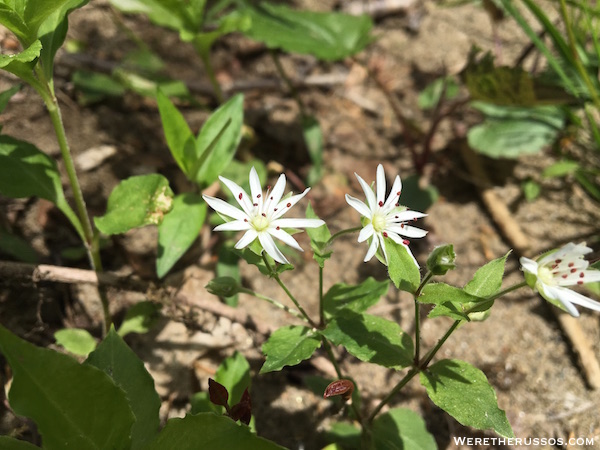 Great Smoky Mountain National Park
During our short visit, we were able to take Leo for a walk on one of two dog friendly trails in the park, climb Clingmans Dome, drive on the Blue Ridge Parkway and take the Jeep down a forest road to see the backcountry. Watch our video about our time at Great Smoky Mountain National Park.
6,643 feet – the highest point of the Smokies. Although it was a cold and misty day, we enjoyed the half mile climb to Clingmans Dome. When the sky is clear, the view from the observation tower can expand over 100 miles. Although we didn't get to see the grand views, we enjoyed the heavy mist and cool temperatures. Surprisingly, Joe was not the only one wearing sandals on this trail.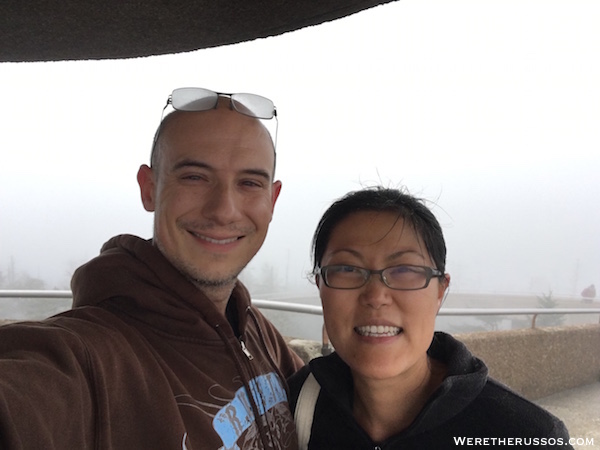 Two dog friendly trails. This National Park is not as dog friendly as Great Sand Dunes, but there are two trails that allow dogs: Gatlinburg Trail and the Oconaluftee River Trail. We took Leo on the Oconaluftee trail that starts behind the visitor center and goes along the river all the way out to the park sign on Highway 441. There were ticks on the trail so don't forget to check your dog and yourself.
Casino Camping in Cherokee, North Carolina. There are several campgrounds inside Great Smoky Mountain National Park, but we opted to stay at the Harrah's Casino in Cherokee, North Carolina. It's dry camping in the casino's parking lot and there is a one night limit. We did speak to security and received permission to stay longer. One of Joe's favorite sandwich spots Earl of Sandwich also just opened inside the casino. Read our post about casino camping.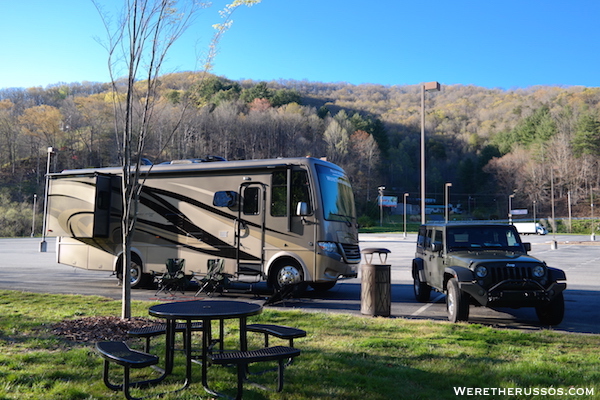 Smokemont Campground. We didn't stay at Smokemont, but we did use their RV dump facility on our drive over to Gaitlinburg on U.S. 411. There are 142 campsites and the price ranges from $17-20 depending on the time of year. It is dry camping and there were several sites large enough to accommodate our Class A gas coach. I believe the size limit for this campground is 40′ which makes sense as some of the turns are a bit tight.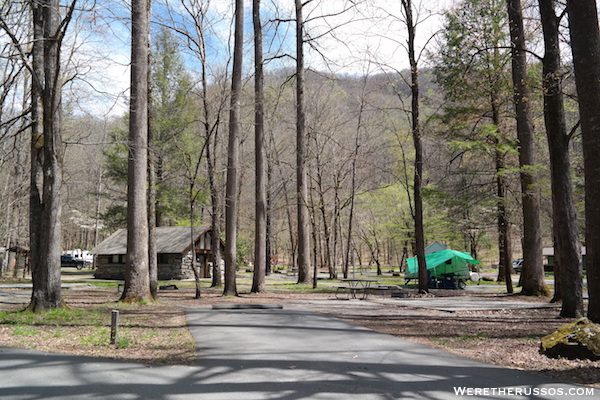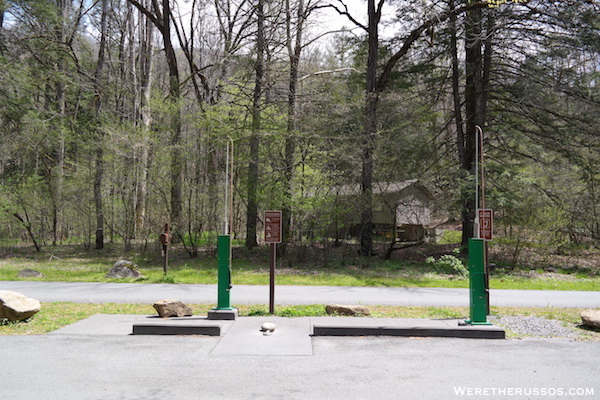 High pollen count in April. Our portable solar panel was covered in a thin layer of yellow pollen every day due to the high pollen count. To say our allergies were bad would be an understatement. If you suffer from bad seasonal allergies like I do, don't forget to check the pollen count and bring your remedies.
Synchronous Fireflies Lottery Opens in April. To enter each year, visit the Great Smokey Mountain National Park website for all the details.
If Great Smoky Mountain National Park isn't on your list of places to visit, we would highly recommend it. There is so much to do and see we can't wait to go back and see the rest of it and maybe even spot a black bear!
Below is footage of our drive on US 441 in our 29′ Class A motorhome.