After many missed opportunities, we finally spent the night at a truck stop in Tifton, Georgia right off I-75. Many of you have left positive comments about spending a night at a truck stop in your RV and I must say, it was quite a pleasant experience and the engine noise didn't bother us at all.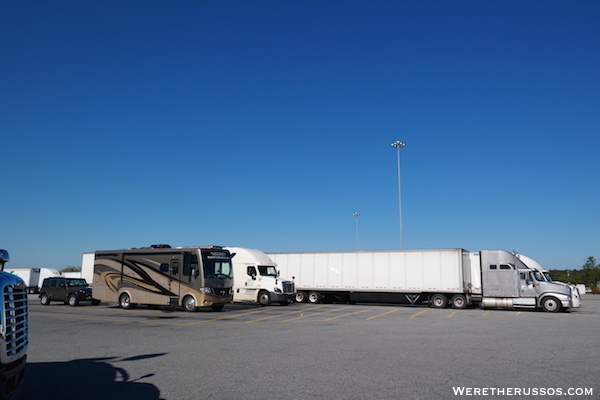 Overnight Parking Truck Stops
We located the Pilot using the Allstays Camp & RV app and the notes section indicated there were 200 parking spaces at this truck stop. I called ahead to make sure they allowed RVs to park overnight and to find out if they have a special section for RVs. The attendant told us we could spend the night and they did not have a special area for RVs to park. She did mention that Wednesdays were a busy day for them and to arrive before sundown to get a good spot.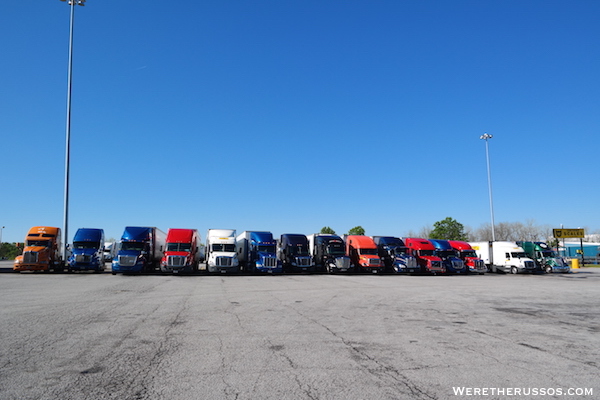 It's a good thing we arrived early (about 5pm) because most of the spaces are on a hill, but we were able to get one at the top on a flat surface. The parking area also has a row of back-in spaces with yellow cones and "Reserved" signs out front. For $12, you can purchase the spot for 23 hours (check in after 4pm and leave by 3pm). By night time, the free and paid spaces were mostly filled with trucks.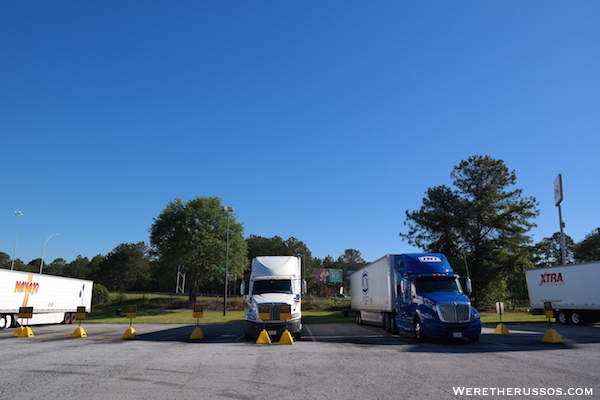 This Pilot had wifi for purchase at $3 for 24 hours. The store has 11 shower stalls for $12 per customer. The showers have all purpose body wash with hand soap and you get a wash cloth, towel and bath mat. It's not timed, so it's unlimited use until you're done. To purchase the shower, go to the register and you will get a receipt with a customer number and pin number. Wait for your customer number to be called to find out which shower stall to go into. We didn't use the shower, but I inquired while we were inside the store at the bottom of the hill.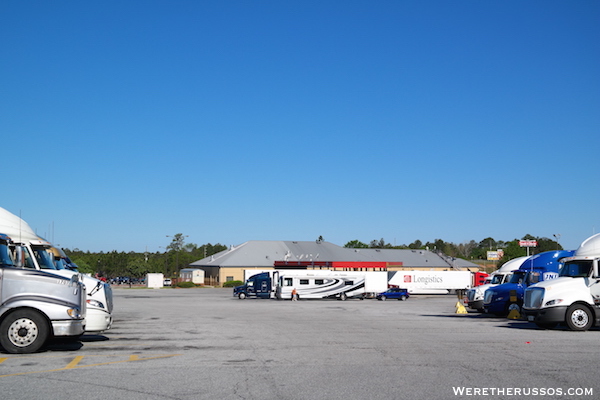 There was also a truck wash that was very busy. We've never used one, but we did see a few RVs roll through there. Before you take your RV through a wash, make sure to read up on it and do some research. We've been told that some truck wash have brushes that can damage items mounted on the roof.
In addition to everything mentioned above, there is also natural gas, a CAT scale, chapel and a 24 hour Steak 'n Shake attached to the store.
The one unfortunate thing about spending the night at a truck stop is not being able to put the bedroom slide out for room and air flow. Although, we have discovered that an empty soda/beer can comes in handy to keep our emergency window open for well needed air into the bedroom. Lucky Leo gets to sleep in the living room with plenty of air flow and he was a huge hit with the truckers, one even asked if he could have our fluff ball. I politely declined. 🙂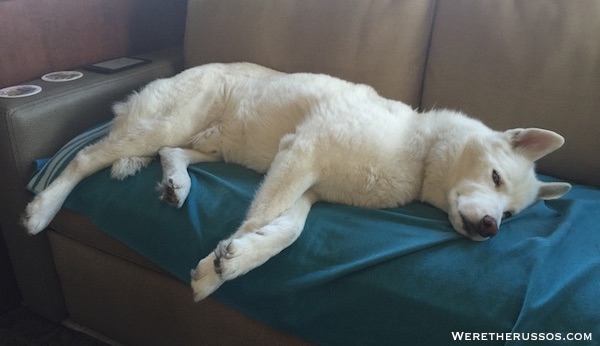 Before I conclude this post, I have to share a conversation Joe had while he was walking Leo around the truck stop. A man approached Joe and asked "Can I get your help with something?" Joe's response "What do you need help with?" This a rough recount of the conversation that followed.
Man – "I'm 18 and just got out of high school. I'm trying to find a job and looking every where for work. I live with my family right now. Over Easter weekend my homies came by the house and we smoked some weed. I don't usually smoke weed."
Joe – "Let me stop you there. What is it that you need help with?"
Man – "I am trying to get a job here that pays $12/hour and I need to pass this drug test. Will you pee in a cup for me?"
Joe – "No. That's not something I am comfortable with."
Man – "Would you think about it for a while?"
Joe – "No. I'm not going to do it."
The man moved on to his next target and before we pulled out of the truck stop, we saw someone hand him a cup.
Life on the road is full of interesting encounters and conversations. Feel free to share yours in the comments below.