Some of the links below are affiliate links, which means we will earn a commission on the products or services you purchase using the links. There is no additional cost to you and the earnings help keep this website running. Read the Affiliate Disclaimer for more information.
Did you know there's free overnight parking at truck stops throughout the United States? The Flying J, Pilot and Love's are some of the truck stops that offer designated overnight parking for big rigs, RVs and cars.
Overnight Parking at Truck Stops
Since we hit the road in 2015, we've stayed at different truck stops throughout the United States. The first truck stop we parked overnight was the Pilot in Tifton, Georgia. At the time, we were traveling full time in a Class A motorhome flat towing a Jeep Wrangler.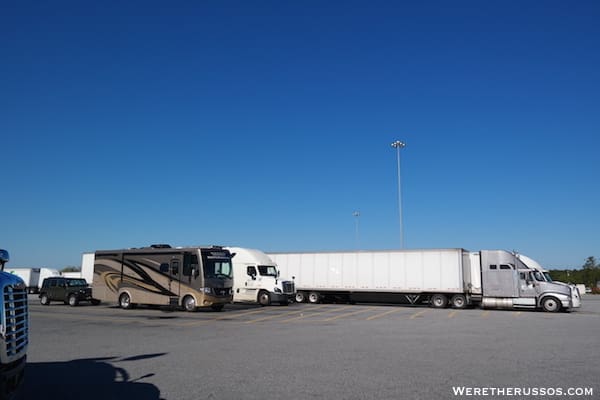 When we downsized to a Class B RV, it was even easier to stay overnight at the truck stop. After a long drive out of Yosemite National Park, we pulled into the Flying J in Ripon, California and park in a regular spot for the night. Catch a glimpse of our most recent overnight truck stop parking experience in the video below.
Most recently we spent the night at a Love's truck stop in our Four Wheel Pop Up Camper. It was an easy and convenient way to get a few hours of sleep before getting back on the road for a long cross country drive.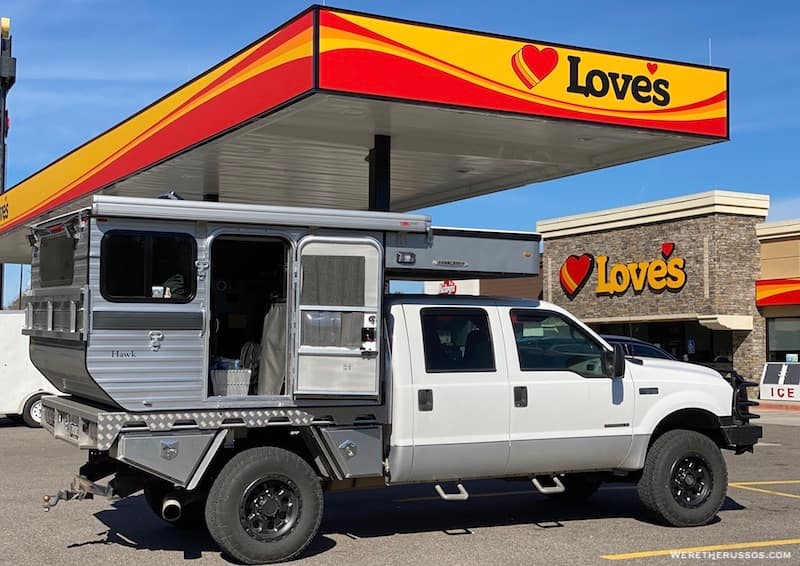 How to Find a Truck Stop
Our favorite way to find overnight parking at truck stops is through Allstays. By applying the truck stop filters, the map will display all the truck stops nearby.
We prefer the Allstays because the notes section has information such as number of parking spaces, whether there's a truck wash, CAT scale, shower facilities, chapel, restaurants and more.
Read Allstays Camp & RV App Review
Before we drive to a truck stop, we call to confirm that overnight parking is allowed.
Free and Paid Parking at Truck Stops
Free overnight parking at truck stops are available on a first-come, first-serve basis. For example, the Flying J in Ripon, CA has six reserved parking spots for RVs that are free. Remove the yellow cone and pull into the spot. The diesel side offers reserved truck and RV parking for a fee.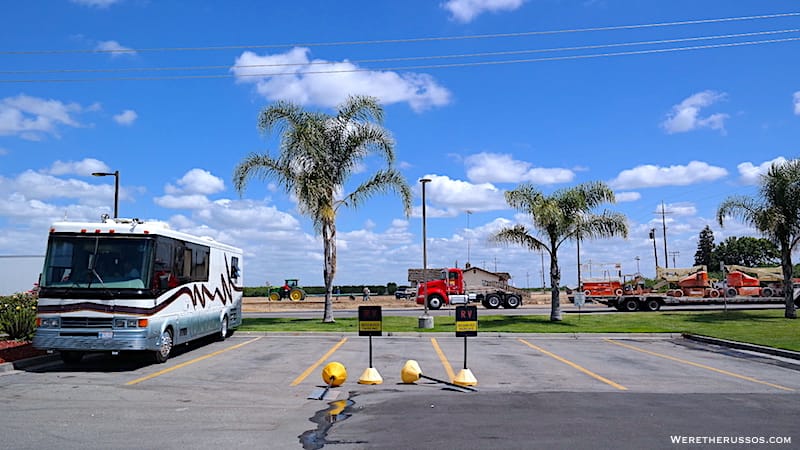 Truck Stop Amenities
The amenities vary depending on the truck stop. Below are some of the amenities offered at the Pilot in Tifton and the rates at the time of our visit. Keep in mind we did not use any of these amenities.
Wifi $3 for 24 hours.
Showers $12 per customer. There are 11 shower stalls with all purpose body wash and hand soap. $12 will buy you a wash cloth, towel and bath mat. The shower is not timed, which means unlimited use until you're done. Purchase the shower at the register where you will get a receipt with a customer number and pin number. Wait for your customer number to be called to find out which shower stall to go into.
Truck Wash There is a Blue Beacon truck wash that several RVs rolled through during our stay. Before you take your RV through a wash, make sure to do some research. Some truck wash facilities have brushes that can damage items mounted on the roof of the RV.
Other Amenities include natural gas, CAT scale, chapel, 24 hour restaurant, game room and more.
Tip: sign up for the Pilot/Flying J Professional Driver myRewards card to earn free showers, coffees and other perks.
A Truck Stop Encounter
Before I conclude this post, I have to share a conversation Joe had while he was walking our dog Leo around the truck stop.
A man approached Joe and asked "Can I get your help with something?" Joe's response "What do you need help with?" This a rough recount of the conversation that followed.
Man – "I'm 18 and just got out of high school. I'm trying to find a job and looking every where for work. I live with my family right now. Over Easter weekend my homies came by the house and we smoked some weed. I don't usually smoke weed."
Joe – "Let me stop you there. What is it that you need help with?"
Man – "I am trying to get a job here that pays $12/hour and I need to pass this drug test. Will you pee in a cup for me?"
Joe – "No. That's not something I am comfortable with."
Man – "Would you think about it for a while?"
Joe – "No. I'm not going to do it."
The man moved on to his next target and before we pulled out of the truck stop, we saw someone hand him a cup.
Life on the road is full of interesting encounters and conversations. Feel free to share yours in the comment section below.