Some of the links below are affiliate links, which means we will earn a commission on the products or services you purchase using the links. There is no additional cost to you and the earnings help keep this website running. Read the Affiliate Disclaimer for more information.
Why You Need a Garmin RV GPS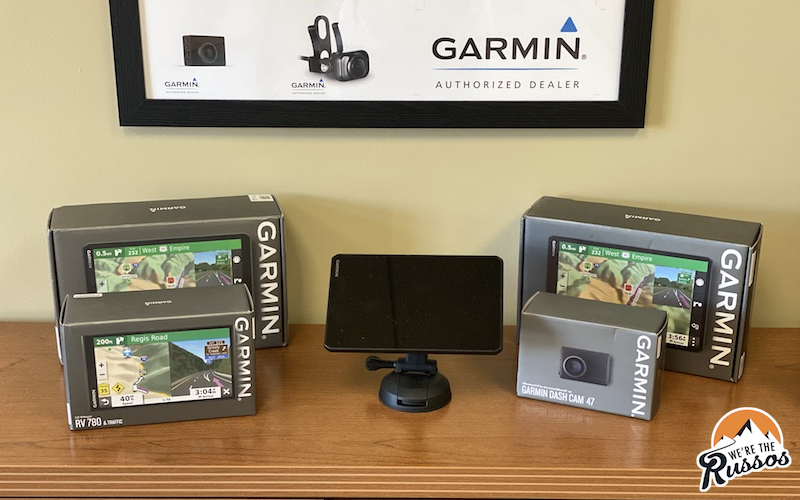 If you're thinking, "Why would I spend that much money on something I can get on my phone for free?", you're not alone. We too were hesitant to make this kind of investment when there are so many (free) mobile apps on the market that seem to perform the same function. GPS units seemed like dinosaurs, something that belonged in the early 2000s along with MapQuest.
And yet. After just a few months of navigating with the Garmin RV GPS in our first motorhome, we couldn't imagine life without it.
Reasons to Have a Garmin RV GPS
Customized Routing
Even the smallest RVs are bigger than your average sedan. An RV GPS will take your large vehicle size into account when it calculates your optimal route. If you've ever been heading toward a low bridge and thought, too late, "I wonder exactly how tall my rig is," you know how important the dimensions of your RV are when it comes to routing.
The Garmin RV GPS has a profile section where you can input the width, height and length of your RV. The RV GPS we used had two profile options so we set on up for our Class A motorhome, and one for our Jeep Wrangler tow vehicle.
When we drove, we selected the RV profile. This allowed the GPS to customize the route. The mapping included relevant restrictions like low overhangs or bridges over roads and highways. This helped ensure we didn't end up on a road with low clearance or a weight restriction.
Offline Capability
Unlike Google Maps and other mapping software on our phones, the GPS doesn't need connectivity to work. The device will work as long as it can connect to a satellite. We never ran into a situation where the Garmin GPS could not connect.
Offline capability also means the GPS does not eat up valuable gigabytes of data. This is incredibly useful when you're on Forest Service or BLM land looking for a boondocking spot, where service can be spotty or nonexistent.
Large Display and Intuitive Alerts
The large 7″ display size of the Garmin makes it easier to read than a cell phone screen. Yellow bars and audio notifications alert us if the road conditions are changing (sharp curve, steep grade, school zone, speed limit change, etc.). The turn-by-turn directions are clear and easy to follow. The RV GPS will also provide clear instruction on when to change lanes so that you're in the right place for a highway division or interchange.
Steer Clear of Tolls
The RV GPS allows you to preview possible routes before a trip. If you want to avoid tolls like we did, you can make that decision in advance. The routes will show estimate time of arrival and total mileage. These estimates are specific to an RV and not to a car, which is handy when it comes to estimating arrival time. Traditional mapping software assumes that you can always go at least the speed limit, and this isn't always the case for RVs.
See What's Coming
An RV GPS will also show stops that RVers care about: restaurants, gas stations, banks, rest stops and RV services. If you are looking for something specific such as a Costco gas station, you can use the search feature.
Plan Your RV Road Trips
Garmin also offers a trip planning service called BaseCamp. This allows users to mark points on a map, survey the terrain in 2-D or 3-D, and share their trip with others. We didn't use BaseCamp because we usually have no idea where we'll be heading next, but we like features that make it easier to stay safe and connected.
Latest Garmin RV GPS Models
As of writing this post, these are the latest RV GPS models from Garmin.
Garmin RV 780 GPS
The Garmin RV 780 is the lowest-priced offering from Garmin ($399.99 at time of writing). Don't let it's ranking as "lowest-priced" fool you, the 780 has a ton of great features.
Garmin 780 Features:
High-resolution 6.95″ edge-to-edge touch display
Custom routing for the size and weight of your RV
Road warnings
Directory of RV parks and services, TripAdvisor® traveler ratings plus integrated content from Ultimate Public Campgrounds, KOA®, iOverlander™, PlanRV™ TripAdvisor®, Foursquare® and more
Voice control, hands-free calling (phone integration) and built-in WiFi for easy updating without a computer
Preloaded street maps for North America with coverage of the U.S., Mexico, Canada, Puerto Rico, U.S. Virgin Islands, Cayman Islands and Bahamas
Garmin 780 Includes:
RV 780 GPS Unit
Vehicle suction cup mount
Traffic receiver/vehicle power cable
USB cable
Documentation
Purchase Garmin RV 780 from TechnoRV (phone, email, chat support included).
Garmin RV 890 GPS
The Garmin RV 890 is the next level up from the 780. The price is higher at $499.99 (at time of writing), but it does come with a larger edge-to-edge touch display.
Garmin RV 890 Features:
High-resolution 8" touch display
Plus, everything you get with the 780
Garmin 890 Includes:
RV 890 GPS Unit
Vehicle suction cup with powered magnetic mount
Screw-down mount
1″ ball adapter with AMPS plate
Vehicle power cable
USB Cable
Documentation
Purchase Garmin RV 890 from TechnoRV (phone, email, chat support included).
Garmin RV 1090 GPS
The Garmin RV 1090 has the largest GPS screen at 10″ and a price of $699.99 (at time of writing).
Garmin RV 1090 Features:
High-resolution 10" touch display
Plus, everything you get with the 890
Garmin 1090 Includes:
RV 1090 GPS Unit
Vehicle suction cup with powered magnetic mount
Screw-down mount
1″ ball adapter with AMPS plate
Vehicle power cable
USB Cable
Documentation
Purchase Garmin RV 1090 from TechnoRV (phone, email, chat support included).
Garmin Overlander
Last, but not least, there's the Garmin Overlander, the most expensive of the lineup ($699.99 at time of writing).
In a word, the Overlander is cool. The vast majority of RVers won't need an RV GPS unit this robust; as the name implies, it's built for four-wheelers who venture into some tough territory.
Garmin Overlander Features:
On- and off-road navigation
Topographic maps for North and South America
Spoken directions with street maps for North and South America
Share your travel plans through Garmin Explore
Powered magnet mount and RAM ball mount
64 GB of built-in storage
Compatible with HuntView maps (sold separately)
Military standard 810 for thermal and shock resistance
IP5X dust rating
Pre-loaded data from iOverlander, including public land boundaries
Integrated pitch and roll angles to assist on tricky terrain
Garmin RV GPS Review
The RV specific GPS unit we owned was the Garmin RV 760LMT. It is no longer in production and has been replaced with the newer Garmin GPS models listed above. Watch the video to learn more about why we thought the Garmin was the Best RV GPS.
Shortcomings of RV GPS
An RV GPS review would be incomplete without an acknowledgment of its shortcomings. GPS devices aren't perfect and here are some of the problems we had with ours.
Outdated Information or RV Access Unknown
The biggest struggle with RV GPS is that it needs to be manually updated. Unlike Google Maps or other app software that updates constantly in the cloud, your RV GPS software has been downloaded to your device. It's only ever as accurate as the last update.
We've seen the speed limit off by 5 to 10 miles an hour, or RV access for a main road is listed as unknown. We learned not to rely entirely on the GPS and to keep aware of signage. When RV access is unknown, the GPS will route to a road where access is known. This has led us to a few out-of-the-way and sketchy routes. This wasn't the norm but it did happen. That said, we've had apps like Google Maps route us down small country or dirt roads where a large RV would not want to go in an effort to provide the "quickest" route.
As Garmin stated on their website "Always defer to all posted road signs and road conditions when making driving decisions."
Summary
Overall, the Garmin RV GPS is a great tool and one of the best RV GPS out there. If you are in the market for a Garmin RV GPS, considering making a purchase through TechnoRV. Fellow RVers Eric and Tami provide customer support and education information for the RV products they carry.