Some of the links below are affiliate links, which means we will earn a commission on the products or services you purchase using the links. There is no additional cost to you and the earnings help keep this website running. Read the Affiliate Disclaimer for more information.
Instant coffee is consumed all around the world, so much so that almost half of all coffee production is in the form of instant. Despite the amount of instant coffee produced, someone looking for a really gourmet cup of coffee would typically look to a cup brewed using freshly ground beans. Today, all of that has changed and there is now craft instant coffee on the market. These are by far the best instant coffees around (in my opinion) and I'll share what I think is the best tasting instant coffee I've tried.
The history of instant coffee began with the American Civil War. Union soldiers were given a mix of concentrated coffee, sugar and milk which would be combined with hot water. It was so universally disliked that the first instant coffee was quickly discontinued. What we now know as instant coffee was born in the late 1800s. From there, it was continually refined by companies like Nescafe in the 1930's and NRC post WWII, which later changed its name to Minute Maid.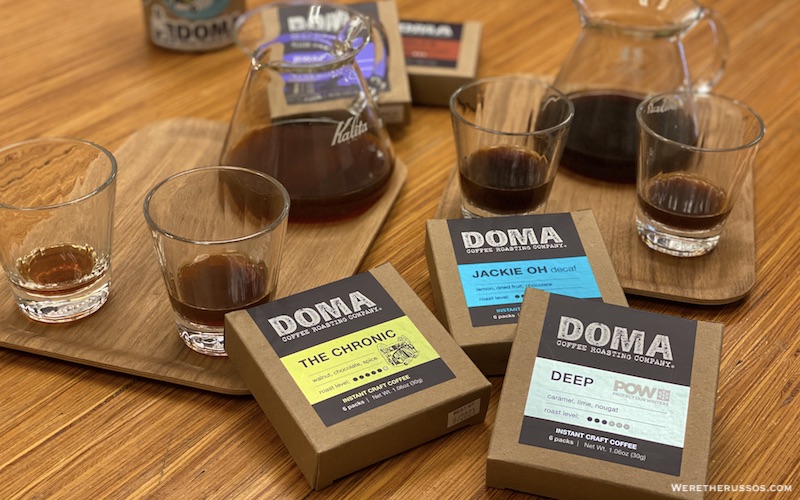 What's My Coffee Experience?
I've been drinking coffee since I was 4. Every weekend my parents would take us to a farmers market and before we'd do any shopping, they'd buy some donuts and coffee. They always got an extra one for me which I would use to dip my donuts in. While I continued to drink coffee as I got older, it wasn't until 2010 when I realized that there is more to coffee than the Starbucks' and Peet's Coffees of the world.
After spending some time in Costa Rica with Kait, I was introduced to what's become one of my favorite regions in the world for coffee. A couple years later, we visited Panama where we stayed on a coffee plantation and learned about the different varieties of coffee beans, how they're processed all the way through the roasting process. Since then, I've taken classes on how to brew the perfect cup of coffee, attended various cupping events and continue to grow my knowledge of what makes the perfect cup of coffee. The most surprising aspect of this to me is that I've grown to appreciate coffee in the same way that people appreciate wine.
My previous experiences with instant coffee were born out of necessity. I'd be traveling somewhere in the world and the only option I had for a cup of coffee was instant. In many countries outside of the US, instant is the primary coffee consumed. I would also keep a pack or two instant coffee in my backpack for times I needed a cup but had no other options.
Before I get into talking about what I think the best instant coffee is, I want to let you know this is a sponsored post. While I've been paid to write this, I only agreed to do it after I tried and fell in love with DOMA's products.
What is the Best Tasting Instant Coffee?
Ask a coffee connoisseur what is the best instant coffee and the answer you're most likely to get is, "None." At least that would have been my answer up until I first tried DOMA Coffee Roasting Company's new instant craft coffee. Located in Post Falls, Idaho, DOMA Coffee is a small craft coffee roaster that I found on our previous trip through scenic Idaho. I picked up a bag of their whole coffee beans on a whim and fell in love after the first cup. On a recent trip back to Idaho, we decided to stop in at DOMA's coffee lab and got a chance to try their craft instant coffee. After sampling a few different varieties, I realized that I enjoyed their instant almost as much as I enjoy their whole beans…which is saying a lot. This was the best tasting instant coffee I'd ever tried.
When trying DOMA's Instant side by side with the same coffee made from whole beans, I was able to taste the difference. While I tasted all of the same flavor notes I enjoyed with the whole bean equivalent, it still had a bit of that "instant" flavor to it. I've found that in other instant coffees, this "instant" flavor is very off putting and sometimes has a bit of a chemical taste to it. I don't get any of that overpowering or chemical "instant" flavor with DOMA's craft instant and it's the reason why I enjoy it so much.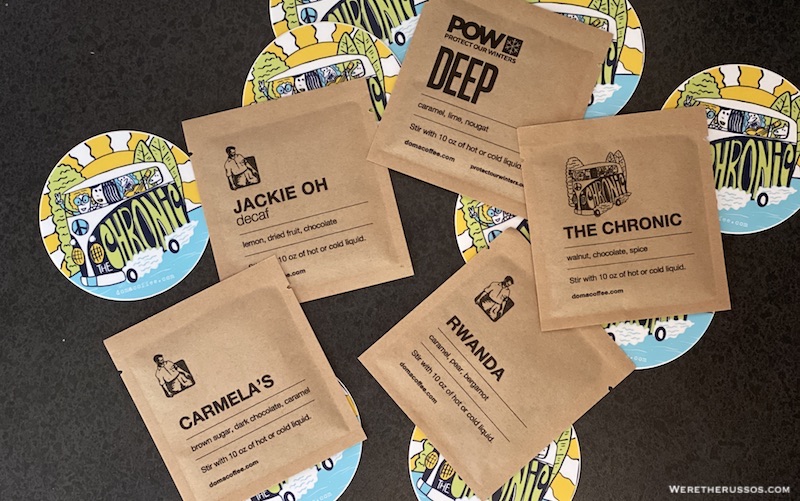 Why is DOMA's Craft Instant Coffee so Good?
DOMA's instant coffee is some of the best on the market because it's made with the same high quality coffee beans you buy at the store. Their craft instant coffee is made by using their roasted beans to brew the coffee to their standard before it's freeze-dried and packaged. So when you tear open that small packet and pour the contents into your cup, you're getting something special.
While DOMA roasts the coffee beans, a third party instant coffee producer handles turning their coffee into instant magic. Owners Terry and Rebecca Patano explained to me that they tested instant coffees from a variety of producers before deciding to go with Swift Cup Coffee.
How to Make Good Instant Coffee
DOMA recommends using 8-10 ounces of hot water when making a cup of their instant coffee. However, the magic of instant coffee really shines when you look at all the different ways you can use it. Because the coffee granules are so fine, they easy dissolve into liquids like cold water, milk and milk substitutes.
Hot day? Mix a packet of instant coffee into cold water and add ice for the perfect iced coffee. Feel like something decadent? Try adding a packet of instant coffee into a cup of hot chocolate on a cold night. I even sprinkled some on ice cream as a topping. Kait often asks me to make her a cup of decaf instant coffee over ice to enjoy on a hot afternoon. The options are endless and at the end of this article I'll share a recipe with you.
What is the Strongest Instant Coffee Available from DOMA?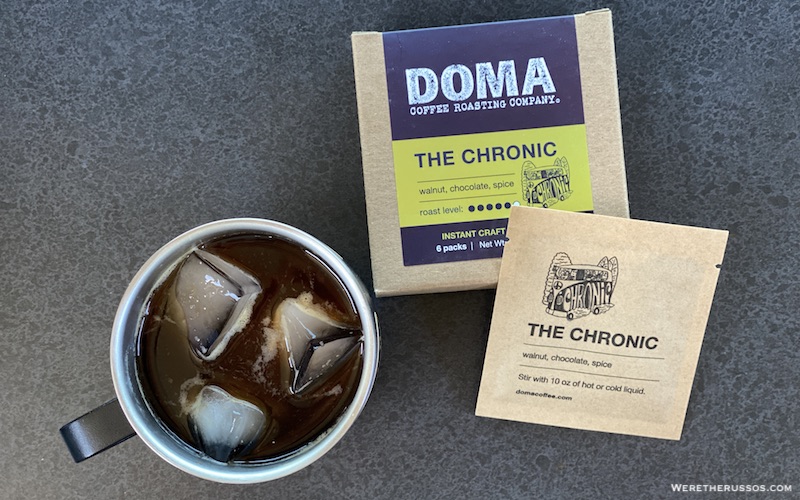 When talking about coffee, "strong" is a term that's used quite a bit. "This coffee is very strong," or "I like strong coffee." What I've realized is that when most people refer to strong coffee, they tend to be referring to dark roast coffee. Others, might use the term strong to refer to higher levels of caffeine (which many people incorrectly assume that dark roast has more caffeine when it's actually light roast).
One of DOMA's most popular coffees is their Chronic and is their darkest instant coffee roast available. My favorites are the DEEP, a medium roast Guatemalan, and the Rwanda which is a lighter roast and hence has more caffeine than the others. We found that Carmela's (also a medium roast) is perfect for making those iced coffees I mentioned before and for those of you who prefer decaffeinated coffee, the Jackie Oh Decaf is available.
DOMA has the best instant coffee packets. Each box of DOMA instant coffee comes with 5 packets. Both the packets and box are compostable and biodegradable unlike so many of the instants on the market today that come in plastic packets or containers. The packet itself is very slim so you can pack a lot of them in a small space and air tight so the coffee stays fresh for years.
Why Buy Instant Craft Coffee?
In the past, when Kait and I would hop on a plane and fly somewhere, I would pack my collapsable pour over, filters and pre-grind enough coffee for the trip. As I found, this would work great if we were only gone for a few days to a week, but any longer and I simply didn't have the room in my luggage for enough coffee. I also found that by pre-grinding my coffee, a lot of the flavor nuances would be lost the longer it sat.
As soon as I took my first sip of DOMA's Instant coffee, I saw the possibilities. Now I can simply pack enough instant coffee packets to make it through the trip. I can now fit about a month's worth of coffee in the same space as a week's worth of pre-ground coffee, my collapsible pour over and filters.
I've also found that there are times I don't want to set up all of my coffee gear or simply don't have the time to make a pour over and instead I'll make a cup of instant. As long as I have a cup and source of water (hot or cold), I can brew a cup. The bonus is that, as I mentioned before, the instant is almost as good as what I make from whole beans so I don't feel like I'm sacrificing anything.
Since we live in a VERY small space, I'm only able to make up to two cups of coffee at a time. When we go to events, I end up being the person everyone asks for a cup of coffee, so I'm constantly finding myself brewing cup after cup. Now, I can stock up on DOMA's instant coffee before the event and "cheat" a little by making people a cup of instant coffee rather than a freshly brewed cup of Joe. So far, no one has been able to tell the difference.
Who is the Best Instant Coffee For?
One packet of DOMA's instant coffee is the equivalent of 20 grams of ground coffee, which makes 10 ounces. Each packet (coffee and wrapper) of instant weighs only 8 grams. For a backpacker looking to carry coffee on the trail, instant weighs 40% of what ground coffee does.
But instant isn't just for backpackers. It's perfect for campers, van lifers, RVers, boaters or anyone who wants a great cup of coffee without having to brew it. Since it is so soluble, it's also great for anyone who likes to make coffee based drinks.
How much is DOMA's Instant Coffee?
DOMA sells their instant coffee in boxes with 6 packets each for $16 ($2.67/packet). Compare that to about $1 – $1.50/cup using their whole beans.
For me, the higher cost is the one downside of quality instant coffee, but being able to make a great cup of coffee on the go makes up for the price. Plus, you'll never know when having a stash of craft instant coffee packets can come in handy or put a smile on your face.
Recently, I made an instant coffee packet to enjoy a great cup of coffee while I waited on the side of the interstate for the tow truck to show up. It's also great when I am some place where I can't brew a cup of fresh coffee or when I'm on the run and don't have the time to make one.
Our friend who is also a coffee connoisseur will bring a few packets of quality instant coffee on his backpacking trips. Being able to start the morning with a great cup of coffee makes a big difference when you've been on a trail for a few days.
Where Can You Buy DOMA's Instant Coffee?
The easiest way to order DOMA's craft instant coffee is through their website https://www.domacoffee.com/. Use discount code RUSSOS10 at checkout to get 10% off your order.
If you will be traveling through the panhandle of Idaho, plan for a coffee break at DOMA's coffee lab in Post Falls. Enjoy a great cup of coffee and grab a few boxes of instant coffee for the road.
Best Instant Coffee Recipe
This instant coffee recipe is from DOMA Coffee's blog.
1 DOMA instant coffee packet of your choice
Pour coffee into your favorite cup or martini shaker
Add 2 ounces of hot water
Stir
Add ice
Top with your favorite brand of plain or flavored oat milk.
Stir or James Bond it.
Sit back and enjoy.

Why Instant Coffee?
Other Brands of Instant Coffee I've Tried
It was a long road to find the best tasting instant coffee packets. I've tried a wide range from instant coffee crystals to 3 in 1 instant coffee packets. Below is a list of all the other brands of instant coffee I've tried.
What's your favorite instant coffee packet?