Some of the links below are affiliate links, which means we will earn a commission on the products or services you purchase using the links. There is no additional cost to you and the earnings help keep this website running. Read the Affiliate Disclaimer for more information.
In this post we share a list of video equipment for YouTube and walk-through how we make videos for YouTube.
To give you some background information as a point of reference, we launched We're the Russos YouTube channel in 2014. Since then, we have published 300+ videos that have received close to 40 million total views.
Below is a breakdown of the camera gear and equipment we currently use to make YouTube videos as well as some of the gear we have used in the past. If you are just starting out and looking for YouTube equipment for beginners, this post will help you get going without spending too much money.
Video Equipment for YouTube
What equipment do you use to make YouTube videos? We get asked this question a lot, especially at creator summits and on social media. In the video above, we walk-through how we make videos using our iPhones and the process of making a YouTube video from start to finish. Check out the video or keep reading. Keep in mind, we have updated our iPhone since the filming of the video. (More on that later.)
Keep in mind that we have been living on the road since 2015 and currently live out of a pop-up truck camper. That means we are limited on space. The video equipment we use for making YouTube videos fits our lifestyle and what we have room for.
Best Camera for Making YouTube Videos
Having used a mirrorless digital camera, a compact action camera, a 4K HD video camcorder, a DSLR camera and a drone, we still vote for the iPhone or any smart phone with a high quality camera as the best camera for making YouTube videos.
iPhone for Making YouTube Videos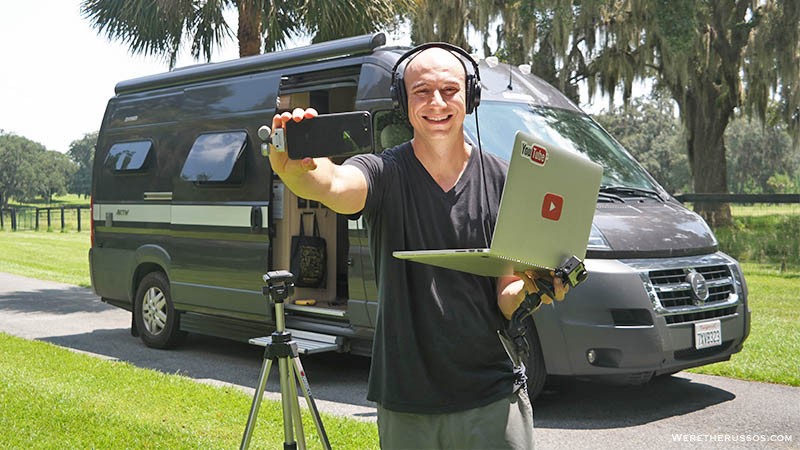 We started with the iPhone 6 and have worked our way up to an iPhone 11 Pro for making YouTube videos. It's great for the "run and gun" style of YouTube videos we create and the cameras on the iPhone capture the shots we need.
Some of the benefits of using a smartphone are:
lightweight,
easy to carry and access,
plus it doesn't draw much attention.
When we film one of our popular RV walk-through videos, we can put the iPhone on a tripod to setup certain shoots. Below is an example of a video filmed with our iPhone 11 Pro where some of the shots are filmed using a tripod.
This is an example of a travel style video where having an lightweight and easily accessible smartphone makes it easy to make those YouTube videos.
More Cameras for Making YouTube Videos
These are all the other cameras we have used to make videos for YouTube.
Samsung NX30. This mirrorless digital camera is good for taking still photos.
GoPro Hero. For driving shots and action shots, the GoPro action camera is a great option. Plus it's lightweight, shockproof, waterproof and it can be mounted to just about anything.
Sony FDRAX33. This 4K HD video camcorder records high quality footage and works well with external microphones.
We tested the Canon 80D, a digital SRL camera and a DJI Mavic Drone, but we found the gear didn't work with our style and the way we make our YouTube videos.
Audio Gear for YouTube Videos
More important than camera gear is audio gear when it comes to making YouTube videos. This fact was reiterated in the YouTube Space course we took.
Our favorite lavalier mic is the Zoom F1. Skip to the four minute mark in the video below to learn more about audio gear and to hear the quality of sound recorded by the mic.
Zoom iQ7. This stereo microphone for iOS works great with the iPhone. We also put the phone on airplane mode to eliminate any unwanted feedback.
Rode VideoMic Pro. This compact shotgun microphone will provide better sound than the built-in microphone on a video camera such as the Sony video camcorder or Samsung mirrorless camera we have..
Accessories For Your Video Equipment
Pelican Protector Case. If you're going to make YouTube videos with an iPhone or any smartphone, make sure to have a quality phone case to prevent damage from accidental drops.
Lightweight Tripod. A good tripod is essential for those shots were you need to mount a camera. The tripod is great for capturing those time lapses you see in our videos.
Universal Phone Mount. This mount is essential for securing the iPhone to the tripod.
SanDisk microSDHC. You'll likely need more than one good memory card for all the video gear you have. The Samsung, GoPro, Sony FDRAX33 and Zoom F1 all require memory cards.
Video Editing Gear
MacBook Pro. I used to have a 2014 MacBook Pro Retina 15″ 2.2 GHz Intel Core i7 processor and 16 GB memory. Kait has a refurbished 2015 MacBook Pro Retina 13″ with 2.7 GHz Intel Core i5 processor and 8 GB memory.
Seagate Portable Hard Drive. To manage all the footage, we use portable hard drives to easily store and access the content for editing. The size of these portable hard drives change constantly, we have several of the 4T portable hard drives.
Sony MDR7506 Headphone. A good pair of closed-back headphones are recommended for video editing and to check audio levels.
The Apple Magic Mouse works well, but I'm looking to upgrade to a Wacom tablet.
Final Cut Pro X. If you plan to edit your own YouTube videos, then you'll need an editing software. The one we use is Final Cut Pro X by Apple. Before we upgraded to this software we used iMovie, a free editing software installed on MacBook Pro laptops.
Tips On Making Videos for YouTube
Make videos with the video equipment you already have. Our most popular YouTube video was filmed with an old GoPro action camera. Check it out below.
Figure out your style. Before you go out and buy all the video equipment you think you need, figure out your style first. That way you can get the right video gear to support the type of videos you want to make. Most people already have a smartphone with a decent camera which makes it an economical way to start making YouTube videos.
Thanks for reading and have fun making your next video! If you are interested in booking some time with us to go over your YouTube channel, head over to our caching page.