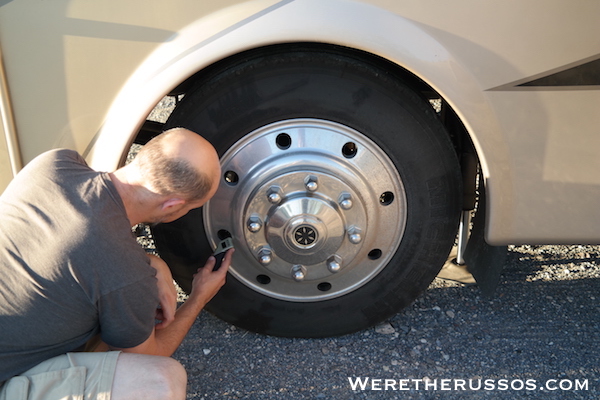 One of the first things we put together after we bought our motorhome was a pre-departure checklist. We use this every time we pack up the RV and move to a new destination. It has come in very handy and we find it's a great way to ensure we don't leave anything behind or worse, break something. Kait keeps this list handy as a note on her cell phone.
RV Checklist – Pre-departure Video
We hope you find this helpful and a good reference to help create your own list. Note: this list is for our Class A gas coach.
RV Check List – Pre-Departure
– Portable solar unit detached and put away (read our full review on the Renogy 100 watt portable solar panel)
– Carpets and mats put away
– Bay doors locked
– Awning retracted
– Windshield cleaned
– Side view and rear view cameras cleaned
– Tire pressure checked and visual inspection (RV and tow car)
– Hoses and cables disconnected
– Portable electrical management system box stowed (read our full review on the Progressive Industries Portable EMS)
– Locks and keys collected and stored
– Steps are cleared and carpet is put away
– Antenna down
– Fans on the roof are closed (now that we have the Fan-tastic Ultra Breeze vent cover, we leave that fan open, but not running)
– Slides in, locked and post-it secured
– Kitchen secured
– Water pump off
– Water heater off
– Lights off including bays and closets
– Generator off
– Bathroom products secured
– Shower door latched
– Toilet flushed
– Drawers pushed in all the way
– Doors closed
– Refrigerator items secured
– Windows closed
– Dog water bowl level check (we usually leave the bowl half full for Leo)
– Fuel check
– Windshield wipers in working order
– Leveling jacks retracted
– Steps retracted when engine is on
– Leveling blocks and Hosspads put away
– Tire chock put away
– Tow car in tow mode (read our post on How to Flat Tow a Jeep Wrangler)
– Secure tow car to RV
– Check all safety pins
– Attach brake line to tow car
– Check turn signals and brake lights
– Walkie talkies charged and ready to use
– Water, coffee and snacks easily accessible by the passenger