Some of the links below are affiliate links, which means we will earn a commission on the products or services you purchase using the links. There is no additional cost to you and the earnings help keep this website running. Read the Affiliate Disclaimer for more information.
Access to clean drinking water is important whether you live in a traditional home or in an RV. Kait and I have been using the Berkey water filtration system for over nine years. I hope you find this Berkey water filter review helpful in your search for the best water filter system.
We're the Russos readers get a 5% discount on Berkey Water Filters sold through TechnoRV. Use RUSSO5 at check out for a 5% discount on your entire order.
Why Use a Berkey Water Filter System?
When we purchased the Travel Berkey water filter, we were living in a traditional home in the suburbs of Los Angeles. As with most major metropolitan cities, the water is treated with a variety of chemicals, including fluoride. In order to remove the fluoride and other unwanted chemicals from the water, we needed a water filtration system.
After months of research, we found many options to choose from – built-in water filtration systems with reverse osmosis to water pitchers with a carbon filter and everything in between. We ended up going with the Berkey water purification system because it fit all our water filter requirements.
In 2015, we started traveling in an RV and realized that access to clean water is not always possible. We've been to areas with boil alerts due to contamination in the water supply and have camped in places where the only water supply is a nearby stream or lake. The benefit of having the Berkey purification water system is that we can fill it with water from any source and have safe drinking water.
During a natural disaster or amid concerns of supply shortages where the shelves are wiped clean of bottled water, as long as we have a water source, we can fill our Berkey water filter and have clean drinking water whenever we need it. Having a good water filter for the RV is also part of being prepared on the road.
Berkey Water Filter Sizes
As of writing this post, Berkey water filter comes in five sizes.
Big Berkey is the most popular size, with a storage capacity of 2.1 gallons
Travel Berkey is the one we have, with a storage capacity of 1.5 gallons
We find the 1.5 gallon storage capacity of the Travel Berkey works well for two adults. Kait and I have developed a system of how often we need to fill the top chamber to ensure we have enough drinking water when we need it.
My mom purchased the Big Berkey for her and my aunt to use on a daily basis. While the Travel Berkey would have been big enough for the two of them, when they have company and entertain, having the larger capacity is important. Otherwise they would need to constantly fill the top chamber as people are draining drinking water from the bottom chamber.
Berkey water filters range from 19″ to 31″ tall. Depending on the size of your kitchen, finding room for the Berkey could present a challenge. The average space between the countertop and cabinet is 18″. So make sure to find an open space with enough height to fill the top portion with unfiltered water.
It does take some time for the purified water to filter through. According to the website, the Travel Berkey can produce "up to 2.75 gallons of purified drinking water per hour."
How Does the Berkey Filter Water?
Berkey is a gravity fed countertop water purification system that consists of two main chambers/cylinders. The top chamber is where you pour in the water for filtering. Inside the chamber are the Black Berkey filters, the heart of the Berkey water purification system. The water flows through these filters into the lower chamber, the reservoir for the filtered water. Depending on the size of the Berkey, there can be up to 4 filters inside this chamber.
Another thing to note is that there is a difference between a water purifier (what the Berkey is) and simply a water filter.
Black Berkey Filters remove chemicals, bacteria, viruses, heavy metals, fertilizers and a long list of additional contaminants from tap water – while keeping the good minerals in. We found other systems that removed all of the minerals in the water (which could be detrimental), but didn't remove the harmful bacteria and viruses. Bacteria and viruses may not be an issue with tap water, but in a situation where the water is compromised, the Berkey will purify the water.
Fluoride Water Filter
If you have fluoridated water, you can add fluoride water filters to your Berkey. The fluoride filters sit in the lower chamber. Once the water flows through the top chamber, it flows through the fluoride filters before making its way to the lower chamber.
More Information: Benefits of Berkey Filters
Note: We found when using the fluoride filters, the water filtered much slower than not using them.
Berkey Water Filter Set Up
It took me an half hour to setup the Travel Berkey. In the box the Berkey doesn't look like much – two stainless steel cylinders, some filters and fittings. The system arrived well packaged with a variety of detailed instructions that make setup easy but time consuming.
First step is to clean everything thoroughly. Next step is to put together pieces like the water spout and lid. The time consuming step is priming all the filters. I highly recommend buying the priming tool if it doesn't come with your Berkey purchase. It made my life much easier and avoid any issues with not properly priming the filters.
The primed filters fit in the top chamber via nuts and rubber washers. To ensure everything is tight and filtering properly, put some red food coloring into the water (one tsp for every gallon). Check the filtered water to make sure it's clear. Note: When screwing the fittings for the filters onto the top chamber, they will be saturated with water from priming and will start to drip. This is fine. Just don't let the filters sit for too long or they will need to be re-primed.
Once the Berkey is assembled, add water to the top chamber and run a few gallons through. We noticed that the first couple gallons had a bit of a taste to it, most likely from the filters. We added the fluoride filters when we first started using the Berkey. Today, our Travel Berkey is setup with the black Berkey filters.
Note: Fluoride filters aren't needed if your water isn't treated with fluoride.
Berkey Water Tastes Great!
It's difficult to describe the change in taste of the water, but it tastes better. We use the water for everything and have noticed a difference in the taste of coffee and tea. Before heading out for the day, we always fill our water bottles with Berkey water. We also gave Berkey water to our dog and use it for brushing our teeth.
How Long Will Berkey Filters Last?
Berkey's website states that you can determine the approximate life of your filter(s). Take the number of filters in your specific unit (we have two) and multiple that by 3000 and that will give you the total life in gallons that your filters have. With a total of 6000 total life gallons at a consumption of 2 gallons per day, our filters should last about 8 years.
Berkey Water Filter Maintenance
While a Berkey is supposed to last a long time, it's important to maintain it regularly. Berkeyfilter.com recommends "cleaning your Berkey stainless steel chambers monthly, and the Black Berkey Purification elements every six months or as filtration speed slows."
Berkey sells a maintenance kit makes it easy to clean and to keep your Berkey in good working order. I especially like using the Prime Rite for priming the black filters after cleaning them. How to Clean Black Berkey Filter.
Is Berkey Worth the Money?
Despite some short comings, we recommend the Berkey water filtration system. The initial cost is high, but it's worth the money considering how long the filters will last. At about $130 per set for replacement Black Berkey Filters, it's a good investment.
Having a Berkey water filtration system also provides peace of mind during an emergency. If we need to use pool or stream water, we know the Berkey will filter that water so it's safe for us to drink.
What We Don't Like About Our Berkey
Water level indicator is not included. The only way to figure out how much water is left in the bottom chamber is to guess based on the flow rate through the standard spigot. We noticed the flow rate is fairly slow when the bottom reservoir is close to empty.
You can buy a Water View Spigot accessory which has a sight glass that allows you to see how much water is left.
It can be easy to overfill the Berkey. When this happens, a slow drip of water starts at the point where the top and bottom chambers connect.
Best Berkey for Travelers/RVers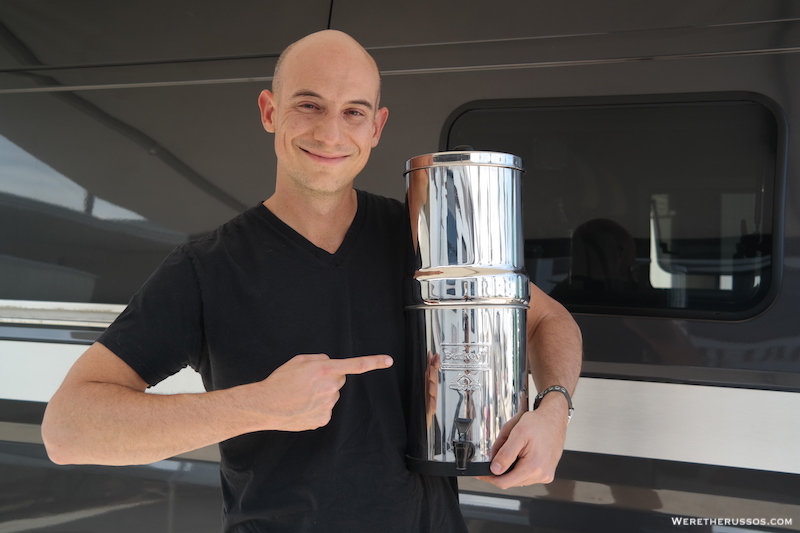 Travel Berkey is the size we recommend to fellow travelers and RVers. It's compact and fits well in a tiny space. It's also the size we've used for over nine years. This size has worked well in our Class A RV, various Class B RVs and in our pop-up truck camper.
If you found this review helpful and decide to purchase the Berkey, please consider ordering through our Berkey affiliate link. There is no additional fee for the buyer and in return we receive a small percentage of the sale. Thanks for your support! We really appreciate it.