Some of the links below are affiliate links, which means we will earn a commission on the products or services you purchase using the links. There is no additional cost to you and the earnings help keep this website running. Read the Affiliate Disclaimer for more information.
Red Rock Canyon National Conservation Area is a peaceful oasis away from the hustle and bustle of the Las Vegas strip. For anyone looking for nature camping near Las Vegas, Red Rock Canyon Campground is a great option. After countless visits to Sin City, we finally made it to this slice of desert beauty a short drive west of Las Vegas, Nevada.
Red Rock Canyon – Camping Near Las Vegas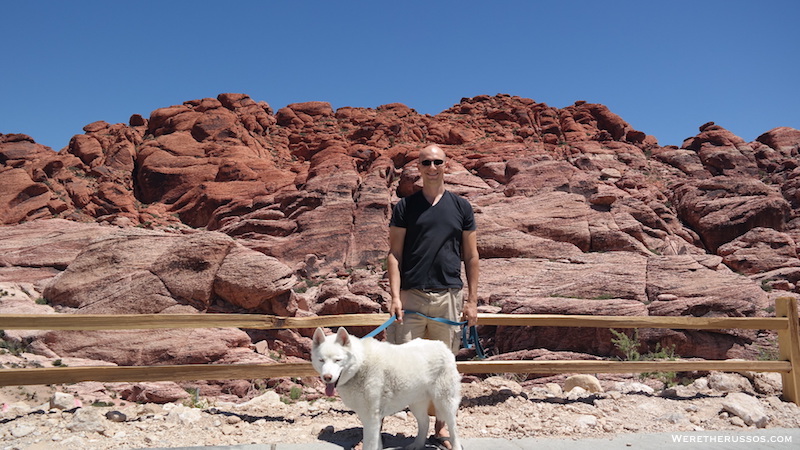 Start with the 13 mile scenic drive which offers various lookouts, hikes and trails to admire Red Rock Canyon up close. The canyon gets its name from the sandstone rocks that have centuries of iron oxide built up giving it the vibrant color.
The area is home to a wide range of animals from wild burros and rabbits to red tailed hawks, hummingbirds and even mountain lions. We saw hummingbirds, hawks and plenty of lizards during our visit. We also admired the many blooming flowers and unique plants native to the area.
Watch out our video of Red Rock Canyon or keep reading for information about the campground.
Red Rock Canyon Campground
A few miles from the visitor center is Red Rock Canyon Campground. Campsites are first-come, first-served with limited amenities and cell phone service. If you're looking to unplug from city life, this is a good public land campground near Las Vegas.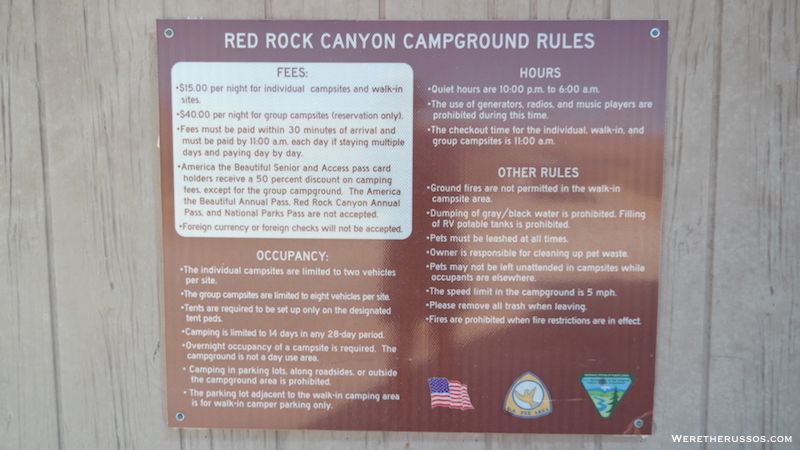 Sites are $20/night for dry camping. Pit toilets and drinking water are the only amenities available. To remove any harmful chemicals or bacteria, we purify the water through our gravity fed water purification system. Read our Berkey Water Filter Review.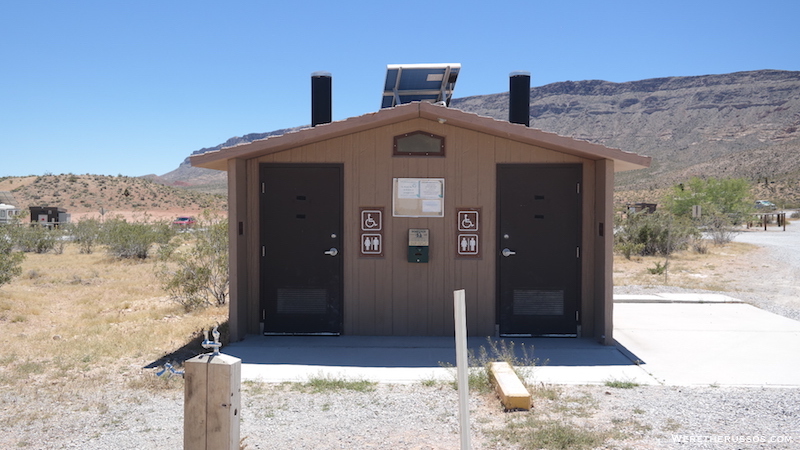 The campground was half full on a busy Saturday afternoon. With many sites to choose from, we camped in site 3. Each site has a fire ring, picnic table, grill, gravel spot for vehicles, and flat gravel spot for tents. Some sites offer a large gazebo over the picnic area.
To get level, we used one rubber leveling pad and one plastic level block under each front tire.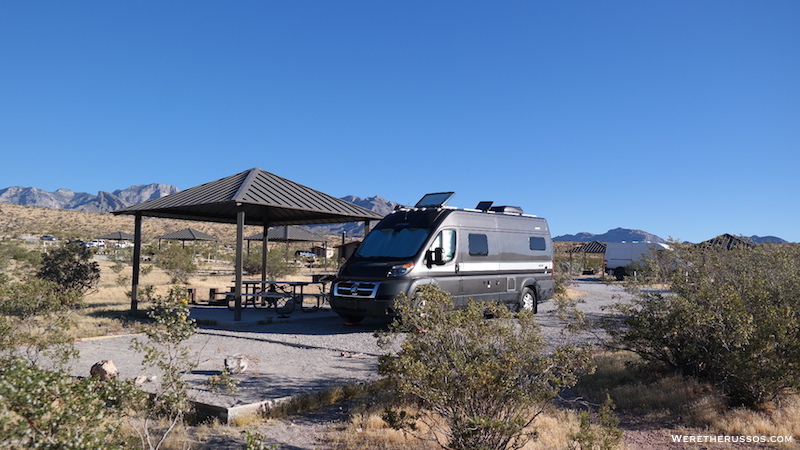 By dusk, the smell of campfires and grilled meat filled the air. We walked around the campground to meet the neighbors who ranged from solo tent campers who finished a day of rock climbing to couples on a weekend getaway.
The campground filled up by early evening. Vehicles drove through the campground into the night in search of an open site. As the temperature dropped from the 90s during the day to the low 50s at night, we were glad to spend the night in our camper van.
For anyone planning a visit, I highly recommend checking Red Rock Canyon website or BLM National Conservation website for the latest information on hours, closures, events and other news.
If you do run low on supplies at this campground, civilization is a short five miles away where you'll find a large shopping center with many shops including a Costco.
Notes:
$20/night no hookups – there is a designated RV only area where no tents are allowed
Pit toilets throughout the campground
Dog friendly
No dump
Camp host on site
Some noise from nearby airports and gun range
1x to 3G Verizon cell service