Some of the links below are affiliate links, which means we will earn a commission on the products or services you purchase using the links. There is no additional cost to you and the earnings help keep this website running. Read the Affiliate Disclaimer for more information.
On a trip from JFK to LAX, the Delta gate agent announced that the flight was over sold and they were looking for 16 volunteers to give up their seat for a later flight and a $1,000 voucher or gift card. As you can imagine, the second $1,000 was announced, the counter was flooded with volunteers.
I happened to be waiting next to the counter and got on the list. $1,000 is a lot of money and the first time I've ever heard it offered for a flight. According to the gate agent, Delta has offered up to $1,200 to avoid a $1,300+ fine.
The process of rebooking my flight, getting a hotel room and transportation to and from the airport (all paid for by Delta) was fairly easy. The gate had to be closed before the agent could rebook all the volunteers. I did get a good seat on the next flight out and spent the night in a half decent airport hotel room. If the opportunity came up again, I would volunteer without hesitation. Props to Delta for making the process seamless.
Getting the $1,000 – Gift Card or Voucher?
The options were a Delta flight voucher or select from a variety of gift cards including American Express, Target, and Macy's. The great thing about this offer is not being limited to another Delta flight. For me, the $1,000 American Express gift card was the best option since it could be used anywhere American Express is accepted. To get the gift card, the Delta agent entered my email address into their system and within a few minutes, I had an email from Delta thanking me for volunteering and included a link to redeem my gift card.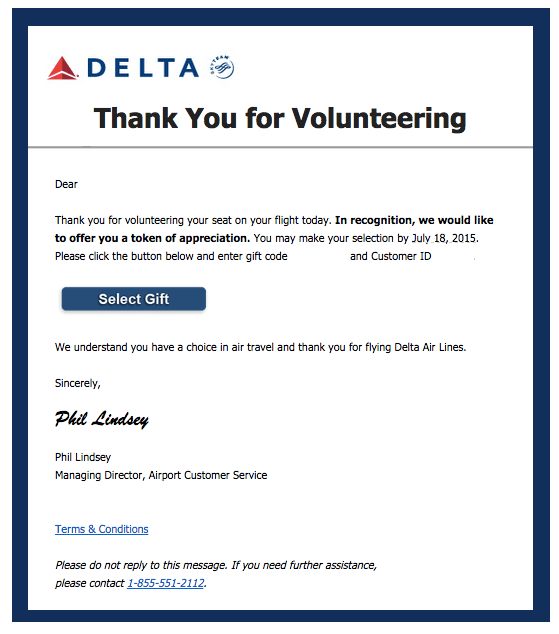 The link took me to a website to select my gift card option and to enter my shipping information.
I completed the form on a Tuesday night and received a confirmation email immediately.
The gift cards arrived on Friday via FedEx with another thank you letter from Delta. The only thing about the rewards cards is they do expire at the end of the year.
Discover Travel Destinations in the U.S. and Around the World