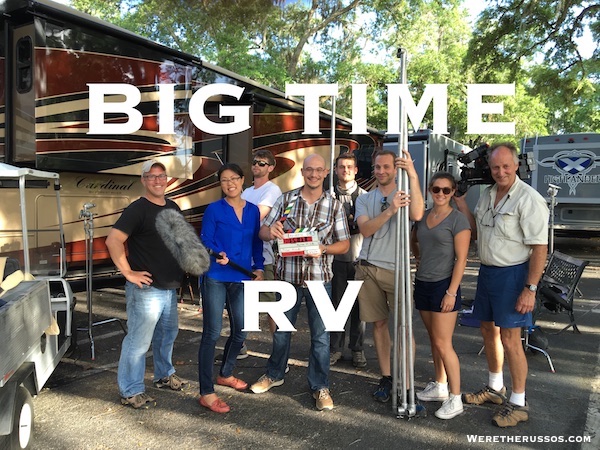 Nearly one year ago, we received an email in our inbox with the subject line "Travel Channel Casting". We were on the edge of our seats reading through the email from the casting representative at Half Yard Productions. As you can imagine, we were curious, surprised, excited, nervous all at the same time. Big Time RV is a popular Travel Channel show that is well known in the RVing community. The premise of each episode is to follow shoppers around Lazydays RV as they look for their next RV. The timing couldn't have been more perfect as we were looking for a smaller RV.
Before we knew it, we were at Lazydays RV in Florida filming our shopping experience. We were told the episode would air in season 3 which premiered September 2016. After all the episodes aired and we weren't in any of them, we figured our episode ended up on the cutting room floor. A few weeks ago we received an email from the production company to let us know our episode ended up in Season 4 of Big Time RV. Since we don't have satellite TV, we will be watching the episode at Joe's mom's house. We're a little nervous and very excited to see how the episode turned out. For those of you who have Travel Channel, you can tune in with us on Sunday, March 5, 2017 at 9pm to watch Big Time RV Season 4 "Europe or Bust".
The experience of being on a reality show was fun, interesting, and challenging at times. We enjoyed the crew, who took great care of us, especially Leo. It was interesting to see how shows like these are put together. We even picked up a few tricks that we try to incorporate into our own videos. It makes us appreciate the amount of work that goes into producing a TV show and the equipment that goes along with it. We hope it turns out to be a fun and entertaining episode. For those of you who are Patrons, be sure to head over to our Patreon page to see behind the scenes footage from our Big Time RV episode.
For those of you who have been following our downsizing journey, we sold the Class A RV and are waiting for delivery of our new Class B RV (we did not end up with the RV we picked on the show). Once we have our new RV in hand, we'll be sure to share it with you all.
Want to learn more about why we decided to downsize from a Class A to a Class B? Check out this post on downsizing to a Class B RV for full time RVing.