Some of the links below are affiliate links, which means we will earn a commission on the products or services you purchase using the links. There is no additional cost to you and the earnings help keep this website running. Read the Affiliate Disclaimer for more information.
Thousand Trails Orlando is a huge campground near Walt Disney World with full hookup RV sites, tent sites and rental units. We have stayed at Thousand Trails Orlando twice, once in a Class A motorhome and most recently in a Class B camper van.
To help organize the information in this post, it's divided it into two sections.
Thousand Trails Orlando Review
Thousand Trails Membership
Whether you're looking for camping around Disney or a place to spend the winter in Florida, I hope you'll find the post helpful.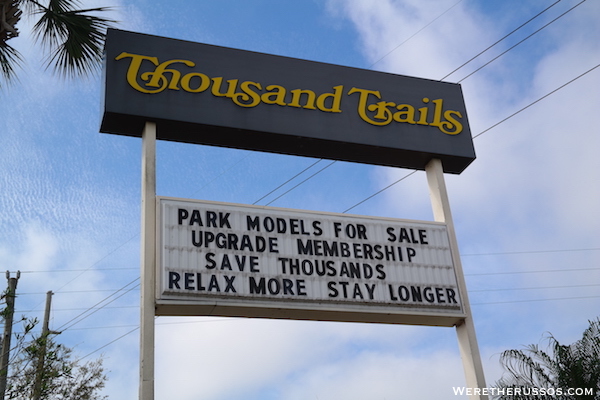 Thousand Trails Orlando Review
Located in Clermont, Florida, Thousand Trails Orlando offers over 800 campsites to members and non-members. Some RVers stay here for an entire season while others stay here for the campground's close proximity to Walt Disney World, especially when Disney's Fort Wilderness is fully booked.
As I mentioned earlier, we've stayed at Thousand Trails Orlando twice. This campground review video is from our first stay in a Class A motorhome towing a Jeep Wrangler.
Getting to Thousand Trails Orlando
Let me start by pointing out that the campground entrance is easy to miss. I almost drove past it heading north on 27 because the sign is blocked by trees. By the time I saw the sign, it was almost too late to make the turn. If you're staying at Thousand Trails Orlando for the first time, drive slowly and have your GPS on to avoid missing the turn. There are places to make a U-turn if you miss it.
Campground Registration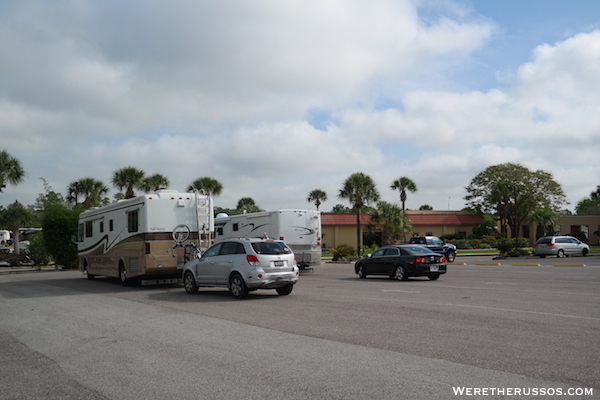 The registration area has several large pull-thru parking spots to accommodate RVs and tow cars. At check-in we received a map of the campground, activities calendar, the gate code and an invitation to learn more about Thousand Trails at the weekly seminar.
Sites are not assigned at Thousand Trails Orlando. After check-in, follow the map to find an open site. Once you've picked your site, call the office to notify them of your site number. With over 800 sites to choose from, it can take a while to find a site that meet your needs.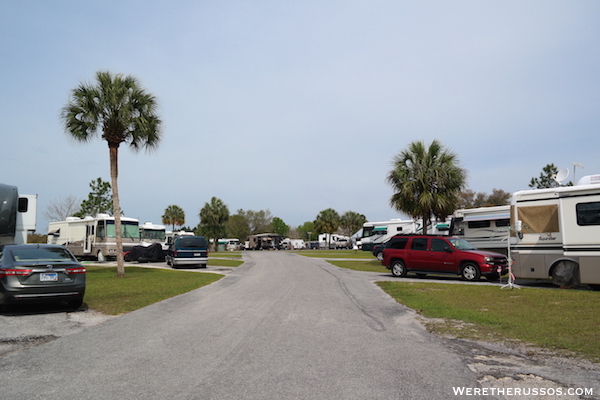 RV Sites
Since our first visit in 2016, Thousand Trails Orlando has been upgrading their RV sites. During our first stay we ended up in site C-15 with 30amp full hookups, which has been upgraded to include 50 amp service.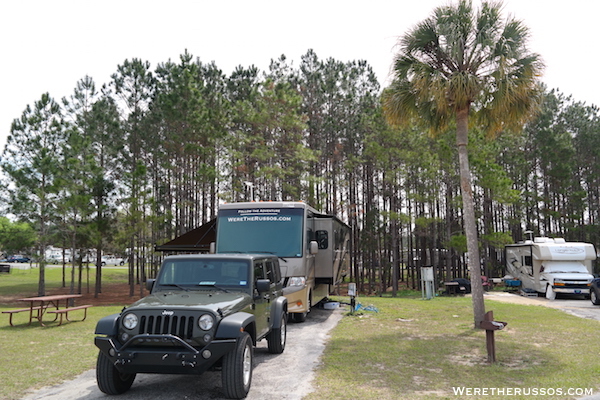 During our most recent stay in the Class B camper van, we stayed in site G-28 with 30 and 50 amp full hookups. We picked this site because it has a large tree that offers shelter from the Florida sun.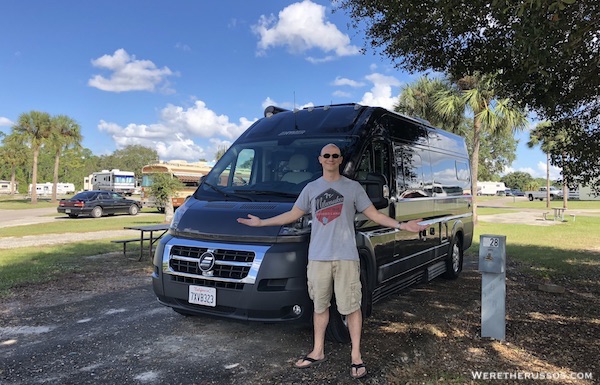 Campground Amenities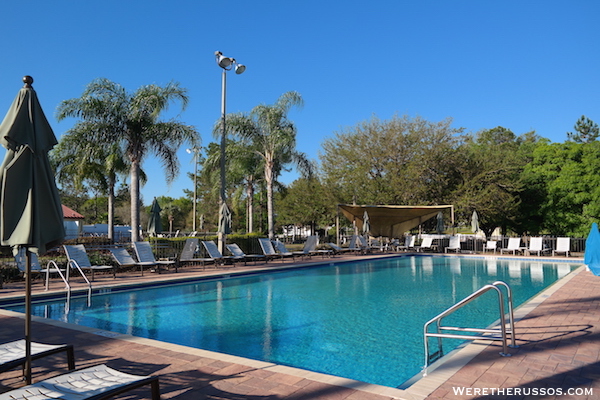 Swimming pool, spa, playground, pickleball. These are a few of the amenities you'll find at Thousand Trails Orlando. The most important amenity to us is the bathhouse. We were pleasantly surprised to see that they have been upgraded since our first visit. Clean, stocked, good water pressure, what else can one ask for?
Be sure to reference the activities calendar if you're up for some socializing. Although we didn't participate, Joe and Leo had some fun with the large chess pieces outside the activity center.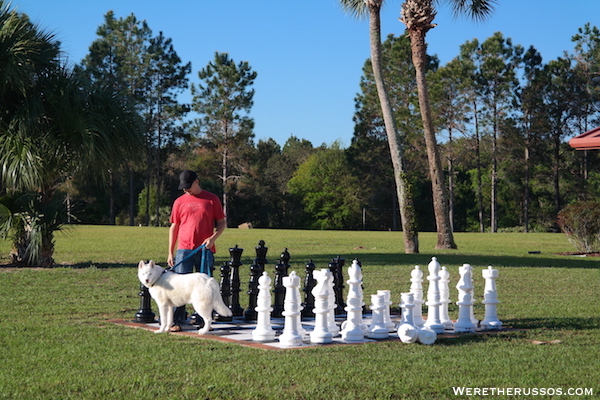 Keep your eyes open for wildlife viewing. We saw sandhill cranes, gopher tortoises and even a baby alligator by the harbor.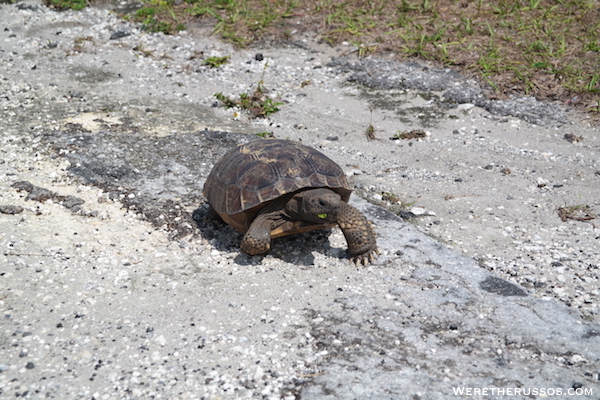 Wifi is free inside the activity center. A pay option is available throughout the campground.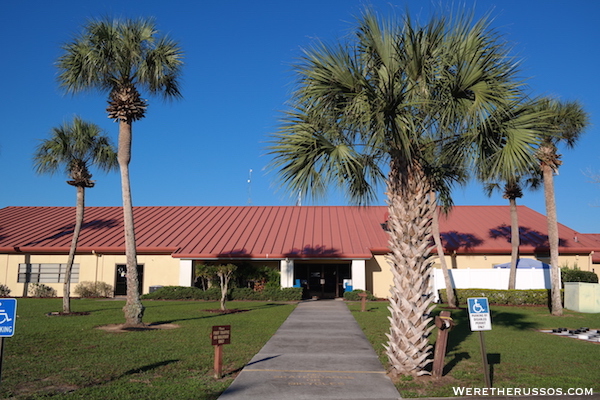 Inside the activity center is the trading post where campers can purchase supplies from beer to snacks as well as pick up mail.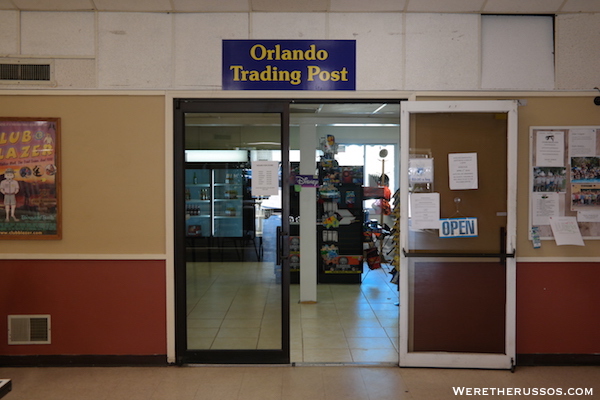 There is an adult room with puzzles, books and camping games for those who want a break from the under 18 crowd.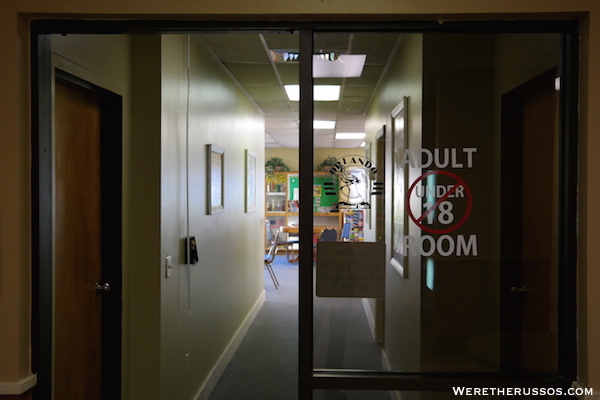 For those of you traveling with your dog, there is a fenced in dog park behind the trees as well as a nature trail.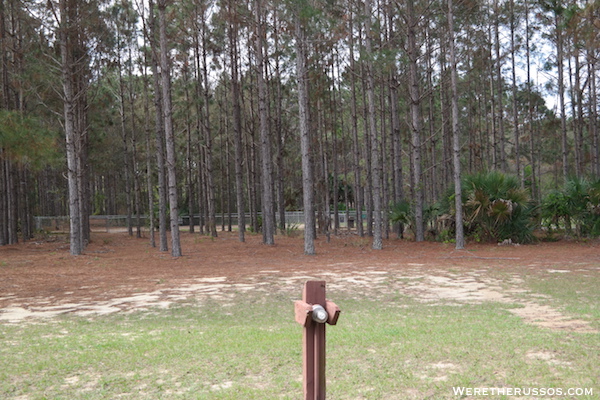 The campground is very peaceful and at night and don't be surprised when you hear the fireworks from Walt Disney World.
Notes:
$61/night full hookups
30/50 amp
Pull-thru and back-in sites
Restrooms, showers and laundry
Dog friendly
Good Verizon cell service
Free wifi in activity center, pay for wifi in campground
Thousand Trails Membership
Thousand Trails Orlando is part of the Thousand Trails network of campgrounds around the U.S. Although you don't have to be a member to camp at a Thousand Trails property, you end up paying more to stay at the retail rate.
A Thousand Trails membership isn't for everyone. When we first started RVing, we didn't see the benefit of having a Thousand Trails camping pass. As we met more members who enjoyed the benefits of their Thousand Trails Membership, we started looking into it more seriously.
Is a Thousand Trails Membership Worth It?
To answer the question, you have to figure out how many nights you're going to use the membership in one year and how many campgrounds you plan to visit. The most basic Thousand Trails membership is 1 zone camping pass for $575/year.
Thousand Trails Orlando is in the Southeast Zone which has 24 campgrounds. Using this zone as an example, if you buy a Southeast Zone pass, you will receive 30 nights of camping which comes out to $19.17/night. There are some restrictions so be sure to do your research before you buy.
Is $19.17/night for a full hook-up site at any of the 24 campgrounds in the Southeast Zone for 30 nights a year worth it to you? If you're answer is yes, then you may want to consider a Thousand Trails Membership.
Not All Thousand Trails Membership are the Same
Depending on the type of membership you have, there are different rules and restrictions. Before you buy a membership, make sure you understand the terms.
For example, some members have to abide by the 14 nights in, 7 nights out rule. If you stay 5 nights or more at a Thousand Trails campground, you are bound to the 14 in 7 out rule. This means, you can stay at a campground for up to 14 nights, but you need to leave the system for 7 nights before you can return to the same campground or another Thousand Trails campground. If you stay 10 nights at the Thousand Trails Orlando as a member, you cannot return to Thousand Trails Orlando or any of the other Southeast Zone campgrounds until 7 nights have passed.
To avoid this rule, you can stay 1 to 4 nights at each Thousand Trails campground and move from park to park. If there are two Thousand Trails campgrounds close together, you can spend 4 nights at one and 4 nights at another and keep going back and forth as long as there is availability.
If you are serious about a Thousand Trails membership, my advice is to attend a membership seminar at a campground. This way you can speak to the membership advisor and get feedback from current members.
Deals. During the membership seminar we attended, they were running a special – buy one zone, get one free. Depending on where you plan to travel, it may be a good to have multiple zones.
Love camping? Check out more Campground Reviews.
Editor's Note: This post was originally published on February 8, 2016 and has been updated for comprehensiveness.